The Bakken and North Dakota production data for October is out. The Numbers a little surprising.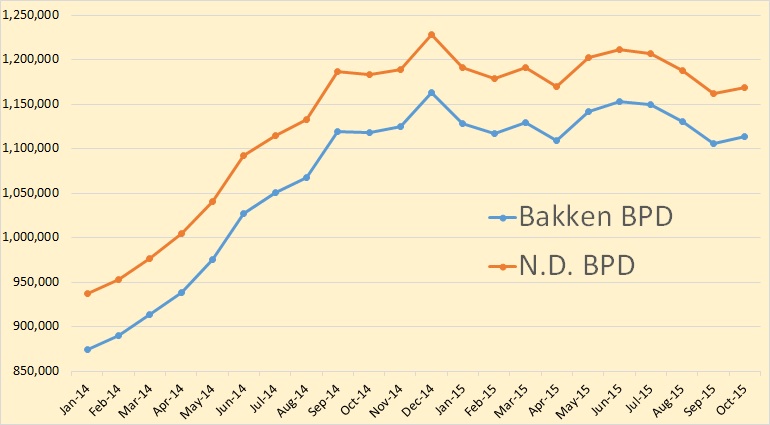 Bakken production was up 7,520 barrels per day to 1,113,930 bpd while all North Dakota was up 6,787 bpd to 1,168,950 bpd.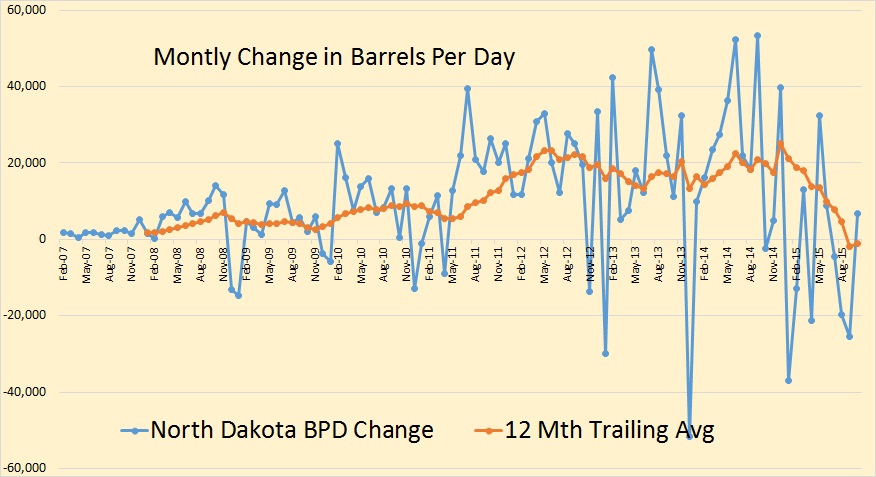 The month to month change in North Dakota oil production is really all over the map. The 12 month trailing average gives a better indication of what is happening. It went slightly negative last month and is still negative after October numbers were added.
From the Director's Cut.
September Producing Wells = 13,036
October Producing Wells = 13,174 (preliminary)
10,567 wells or 80% are now unconventional Bakken Three forks wells
2,607 wells or 20% produce from legacy conventional pools
September Sweet Crude Price = $31.17/barrel
October Sweet Crude Price = $34.37/barrel
November Sweet Crude Price = $32.16/barrel
Today's Sweet Crude Price = $27.00/barrel
(low point since Bakken play began was
$22.00 in Dec 2008)(all time high was $136.29 7/3/2008)
(in November 2009 it was 63)(all time high was 218 on 5/29/2012)
The drilling rig count decreased 6 from September to October, decreased 1 from October to November, and increased 1 so far this month. Operators are now committed to running fewer rigs, but drill times and efficiencies continue to improve while oil prices continue to fall. The number of well completions fell sharply from 123(final) in September to 43(preliminary) in October. Oil price weakness is now anticipated to last through next year and is the main reason for the continued slow down. There were no
significant precipitation events, 8 days with wind speeds in excess of 35 mph (too high for completion work), and no days with temperatures below 10F.
At the end of October there were an estimated 975 wells waiting on completion services 105 less than at the end of September.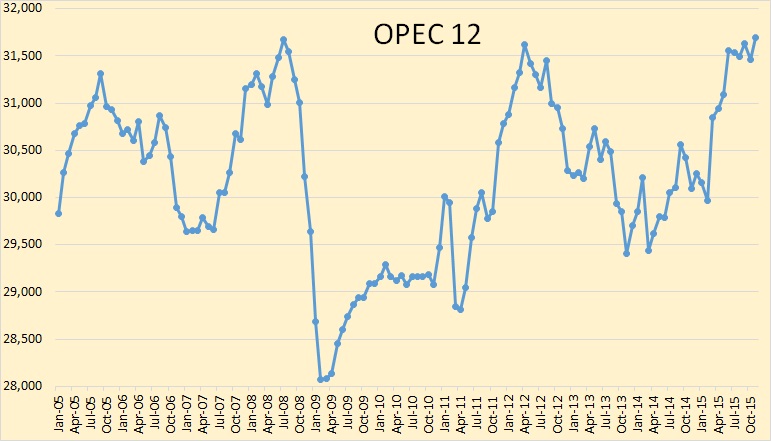 There was an increase of 230,100 barrels per day.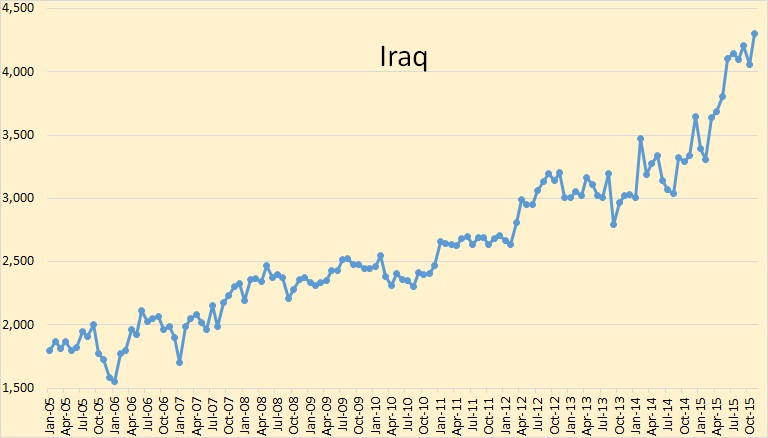 All of that increase, and then some, came from Iraq. Iraq was up 247,500 barrels per day.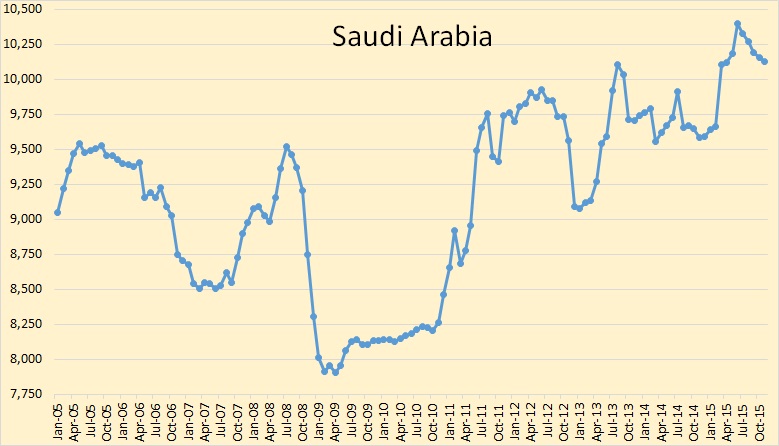 There has been no big changes in Saudi Arabia's production numbers for the last 9 months.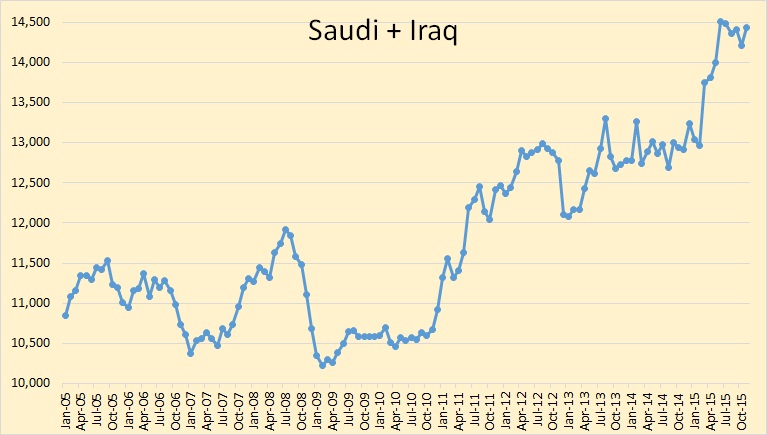 However all the increase in the last nine months comes from Saudi Arabia and Iraq.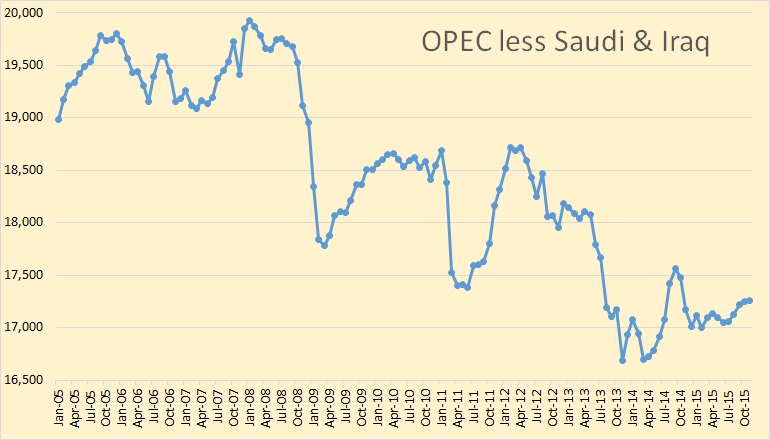 In fact OPEC, without Saudi and Iraq would be in decline.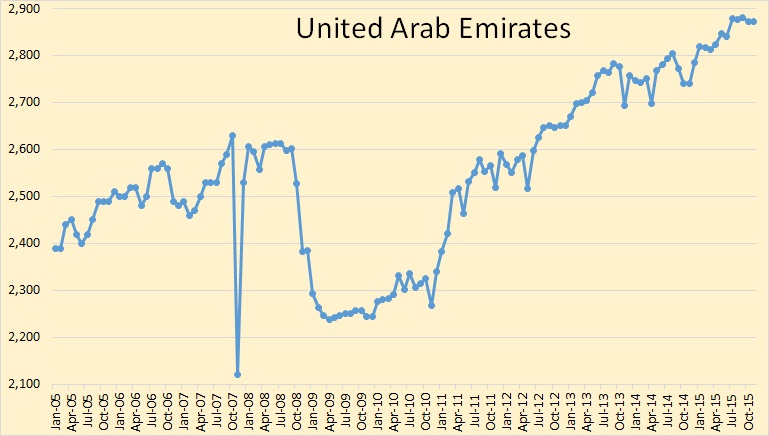 Of all other OPEC producers only the UAE has shown any significant increase in production.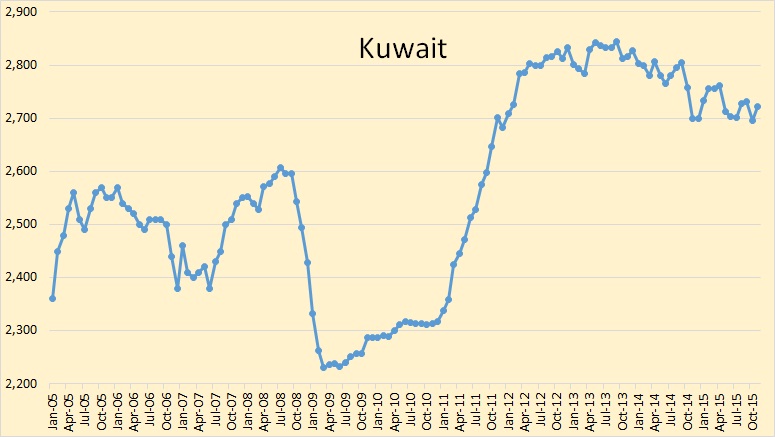 Kuwait started a massive infill drilling program a few years ago but their production seems to have peaked in and rolled ver in 2013.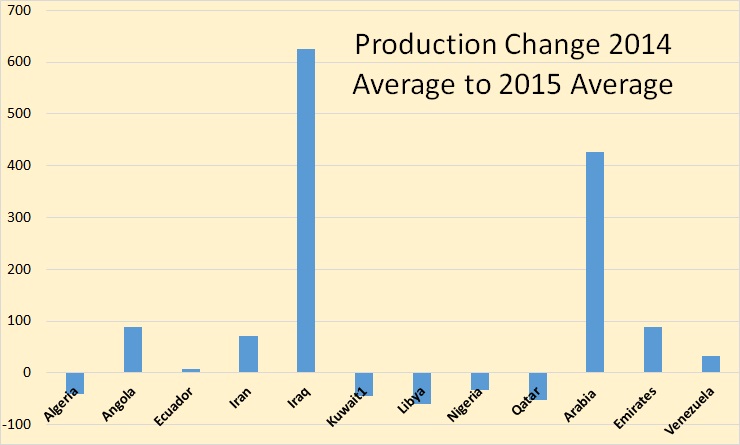 This chart shows the change in the average production from 2014 to 2015. Of course we are only averaging the first 11 months of 2015 versus all 12 months of 2014. The data is in thousand barrels per day.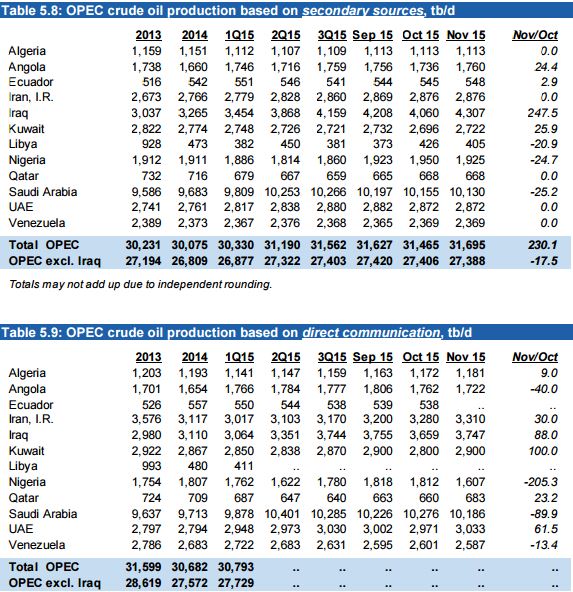 This month there has been a large diversion in what those "secondary sources" say and what the countries themselves say they are producing. Iraq says their production only increased 88 thousand barrels per day while secondary sources say they increased 247.5 bpd. Nigeria says their production fell by 205.2 thousand bpd while secondary sources says they fell by only 24.7 thousand bpd.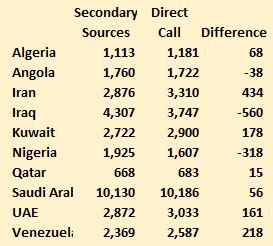 Here is the difference between "secondary sources" and "direct communication" OPEC production for November crude only production.
The Page OPEC Charts has been updated with the November Data. Charts of all 12 OPEC nations can be found there.