The Bakken and All North Dakota oil production data is out.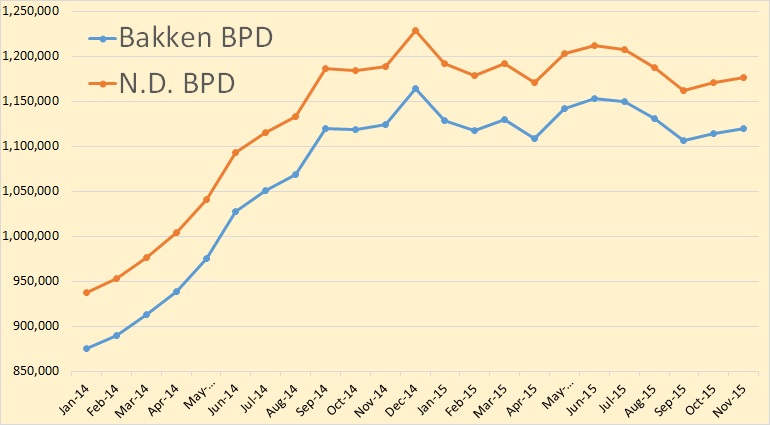 Bakken production was up by 5,166 barrels per day to 1,119,380 bpd While all North Dakt0a was up 5,195 bpd to 1,176,314 bpd.
North Dakota production has been basically flat for 14 months. Both North Dakota and Bakken production is still below their September 2014 levels.
From the Director's cut
Producing Wells
October 13,190 (all time high)
November 13,077
10,655 wells or 81% are now unconventional Bakken – Three forks wells 2,422 wells or 19% produce from legacy conventional pools.
ND Sweet Crude Price
October $34.37/barrel
November $32.16/barrel
December $27.57/barrel
Today's $20.00/barrel (lowest since March 2002)
(all-time high was $136.29 7/3/2008)
Rig Count
October 65
November 64
December 64
Today's rig count is 49 (lowest since August 2009 when it was 45)(all-time high was 218 on 5/29/2012)
The statewide rig count is down 78% from the high and in the five most active counties rig count is down as follows:
Divide      -77% (high was 3/2013)
Dunn        -74% (high was 6/2012)
McKenzie    -72% (high was 1/2014)
Mountrail   -88% (high was 6/2011)
Williams    -88% (high was 10/2014)
Comments: The drilling rig count decreased 1 from October to November, held steady from November to December, and decreased 15 so far this month. Operators are now committed to run fewer rigs as oil prices continue to fall. The number of well completions fell sharply from 43(final) in October to 26(preliminary) in November. Oil price weakness is now anticipated to last through this year and is the main reason for the continued slow-down. There were no significant precipitation events, 5 days with wind speeds in excess of 35 mph (too high for completion work), and no days with temperatures below -10F.

Over 97% of drilling now targets the Bakken and Three Forks formations.

At the end of November there were an estimated 969 wells waiting on completion services, only 6 less than at the end of October.

Crude oil take away capacity depends on rail deliveries to coastal refineries to remain adequate.

The drop in oil price associated with anticipation of lifting sanctions on Iran and a weaker economy in China is leading to further cuts in the drilling rig count. Utilization rate for rigs capable of 20,000+ feet is about 35% and for shallow well rigs (7,000 feet or less) about 20%.

Drilling permit activity declined October through November then fell further in December as operators continued to position themselves for low 2016 price scenarios. Operators have a significant permit inventory should a return to the drilling price point occur in the next 12 months.
The EIA's Short Term Energy Outlook  came out a few days ago. They are expecting production growth to continue in 2016 and 2017. But all the growth plus some, they say, must come from OPEC. Non-OPEC production will be down so the "Call on OPEC" must make up the difference between supply and demand.
In other words they are saying "OPEC will save us from peak oil".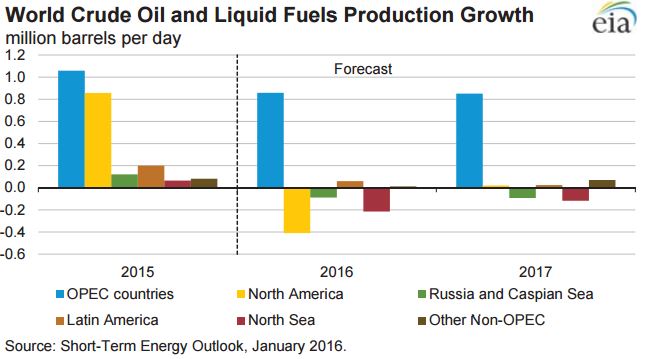 They are expecting OPEC to continue to increase production while North America takes the largest drop followed by the North Sea then by Russia and the Caspian Sea area. The Caspian area is basically Azerbaijan and Kazakhstan.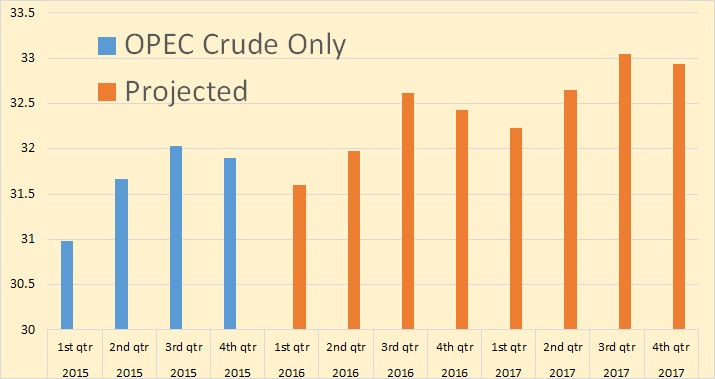 This is their quarterly expectations of OPEC. Down in the first quarter of 2016 but above  the fourth quarter of 2015 for every quarter thereafter.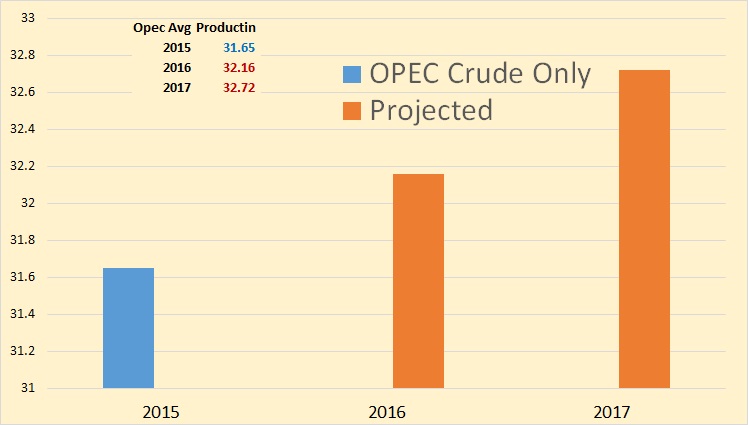 This annual chart fives a somewhat better look at what the EIA expects OPEC to do in the next two years.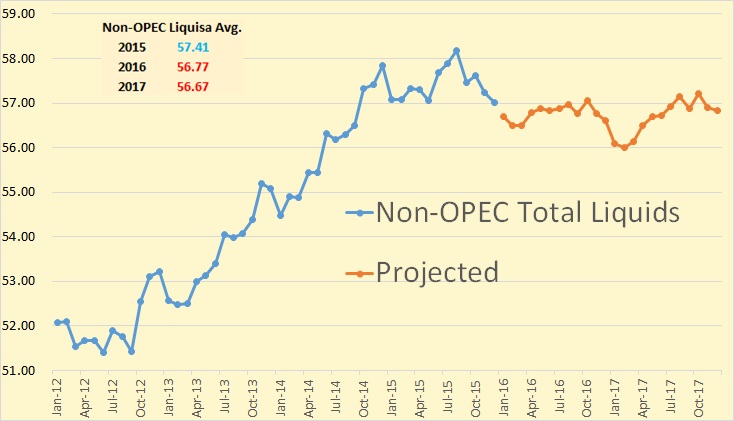 Here is what the EIA expects Non-OPEC total liquids to do in the next two years. They are expecting the Average Non-OPEC production to be down 640,000 barrels per day in 2016 and down another 100,000 bpd in 2017.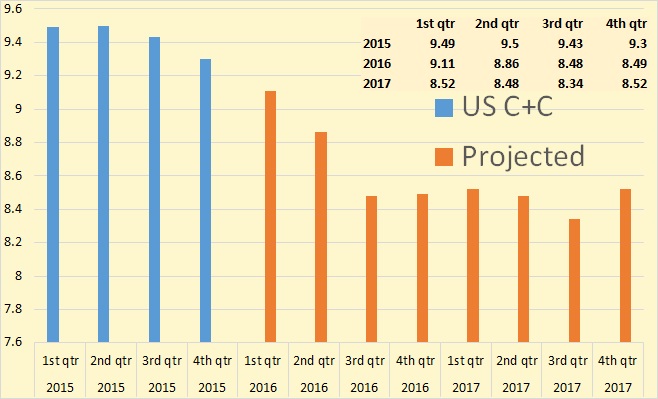 The EIA STEO gives us their Quarterly C+C numbers for the US, but not other countries. The EIA says US Crude + Condensate averaged 9.43 million bpd in 2015, and will average 8.73 million bpd in 2016 and 8.46 million bpd in 2017.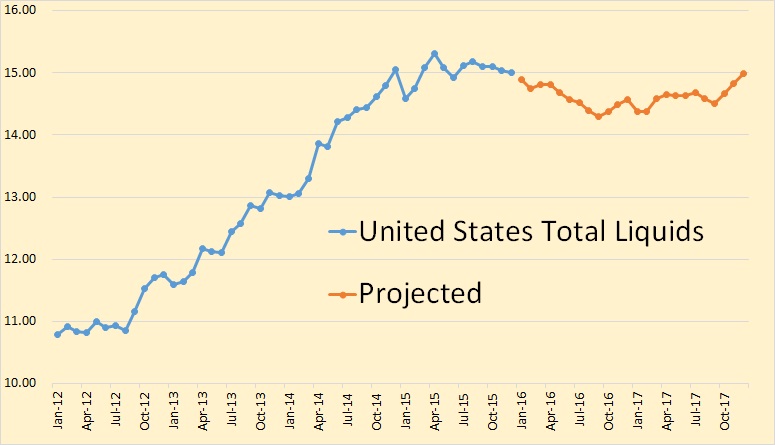 The EIA is expecting US total liquids to do a bit better than C+C. They have total liquids averaging 15.02 million bpd in 2015, 14.6 million bpd in 2016 and 14.63 million bpd in 2017. That has C+C dropping 700,000 bpd in 2016 and another 270,000 bpd in 2017. But they have total liquids dropping only 420,000 bpd in 2016 and increasing by 30,000 bpd in 2017.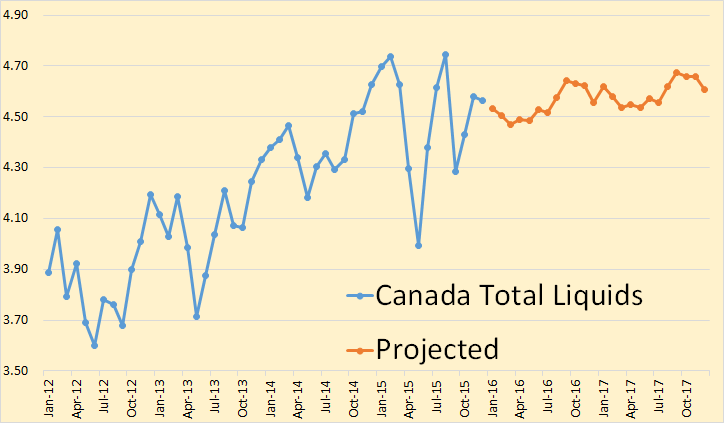 The EIA has Canada basically flat for the next two years. They have Canadian total liquids averaging 4.5 million bpd in 2015, 4.55 million bpd in 2016 and 4.6 million bpd in 2017.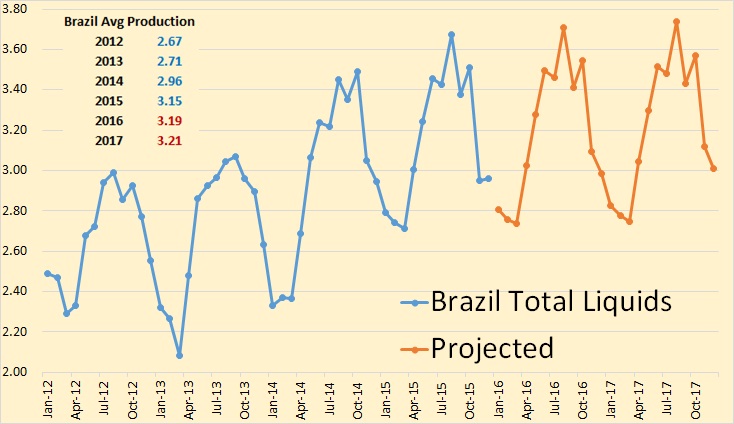 The oscillations you see in Brazil's total liquids production is caused by their seasonal ethanol production. But basically they have Brazil almost flat but slightly up for the next two years.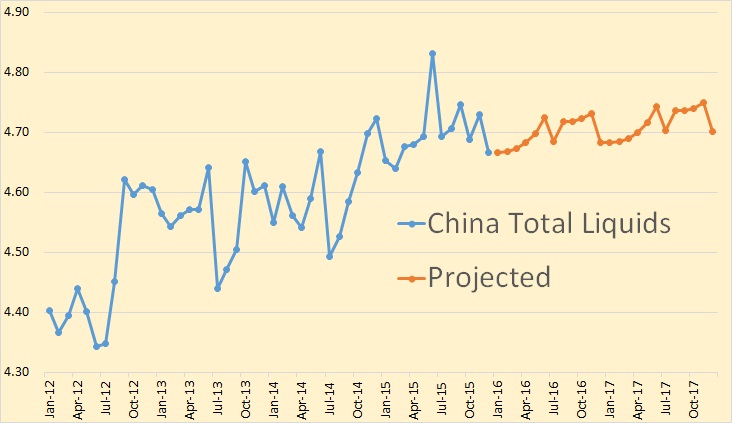 They have China total liquids almost flat for the next two years. They have them averaging 4.7 million bpd in 2015, 4.7 million bpd in 2016 and 4.72 million bpd in 2017.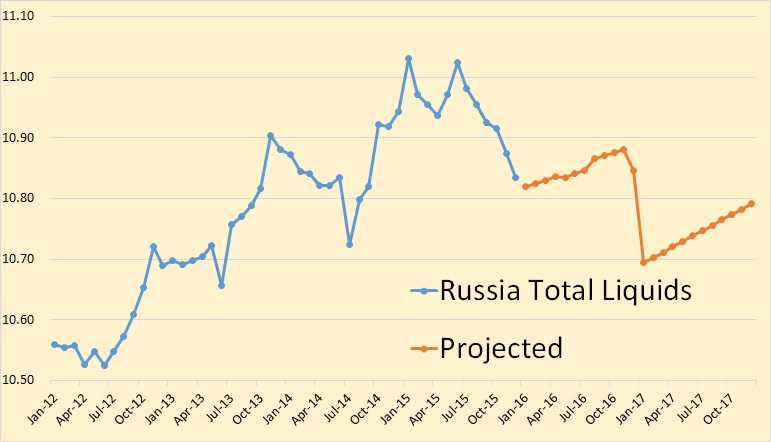 And last but not least we have Russia. The EIA has Russian total liquids dropping by 100,000 bpd in 2016 and another 110,000 bpd in 2017.
Looking at these numbers it becomes obvious that the EIA is just making a wild guess at future oil production for everyone in the world except the USA. And their guess for the USA is only a slightly better educated guess than elsewhere.

And here is what the EIA expects the price to do in the next two years.