North Dakota Spuds hit 5 year low. Not since January of 2010 have spuds been below 77, the point they hit in September.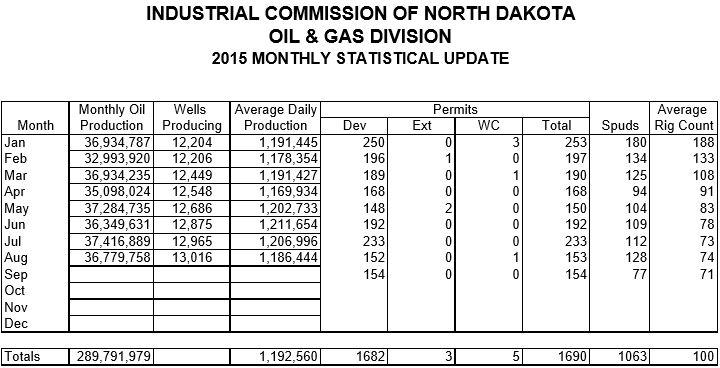 Indonesia: Missing pieces needed to revive oil and gas sector
The future of Indonesia's oil and gas industry is in peril. Since the early 2000s, the resource-rich country has been experiencing a persistent annual oil production decline of 4 percent, significantly under performing relative to most producing countries.
The continued oil-production decline is mainly down to fields maturing and a downtrend in discoveries of new reserves. Indonesian oil production only is around 800,000 barrels per day (bpd), barely half the 1.4 million bpd production in 2000.
The reserves-replacement ratio is even more worrisome, averaging merely 75 percent over the same period, which means a quarter of oil produced is not replaced. Projecting the future from these numbers alone, oil production will tumble to around 500,000 bpd by 2025 before ceasing altogether by 2050.
I posted this to show just how fast some areas can decline. With new discoveries, Indonesia is replacing 75 percent of production each year. Yet their production is still declining by 4 percent per year.
Devon Energy Corp. posts record oil production but $3.5 billion loss in third quarter
Despite record oil production, Devon Energy Corp. on Tuesday reported a third-quarter loss of $3.5 billion, or $8.64 a share.
The loss compares to a profit of $1 billion, or $2.47 a share in the third quarter of 2014. The loss was fueled by a $5.05 billion noncash asset impairment charge based on the reduced value of the oil Devon controls that is still in the ground.
Even if you deduct the write down of assets they still lost $3.59 a share. How can oil producers keep producing and keep losing money at the same time?
Yergin predicts a 10 percent drop in US oil production, April 2015 to April 2016. That's a 960,000 bpd drop and will take us to 8,638,000 bpd  in April 2016 if he is correct.
Yergin Sees Oil Price Near Bottom as U.S. Output Set to Fall
U.S. crude output, which surged to the most in more than three decades this year and triggered a price collapse, will retreat by about 10 percent in the 12-months ending April, according to Yergin, vice chairman at IHS Inc.