The monthly Baker Hughes International Rig Count came out a few days ago. Baker Hughes international rig counts do not include US, Canada, FSU countries or on shore China. All rig count data here is through December 2015 and includes all rigs, gas, oil and misc.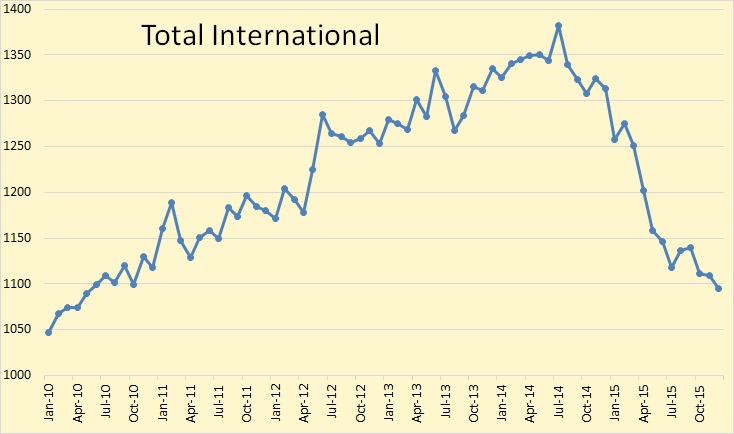 Total international rig count was down 14 rigs from November to December. From December 2014 to December 2015 rig count was down 218 rigs or 16.6 percent.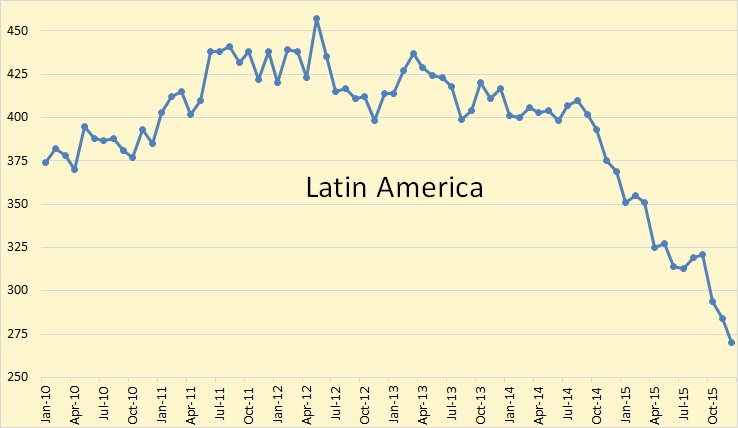 Latin America was down 14 rigs from November and down 99 rigs or 26.8 percent since December of 2014.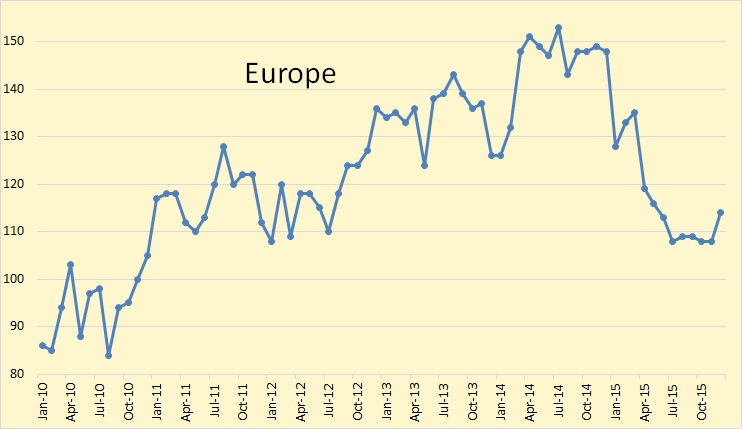 Europe was up 6 rigs in December but down 34 rigs from December or 23 percent from December 2014.
Africa was up 1 rig in December but down 47 rigs or 34.1 percent since December 2014.
The Middle East was up 3 rigs in December and up 19 rigs or 19 percent since December 2014.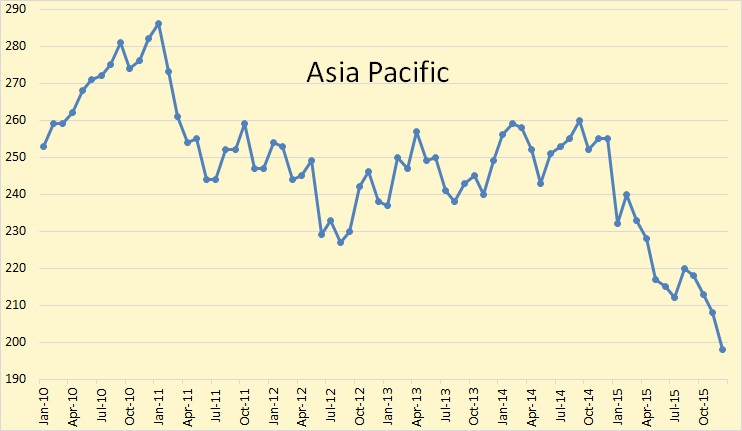 Asia Pacific was down 10 rigs in December and down 57 rigs or 22.4 percent since December 2014.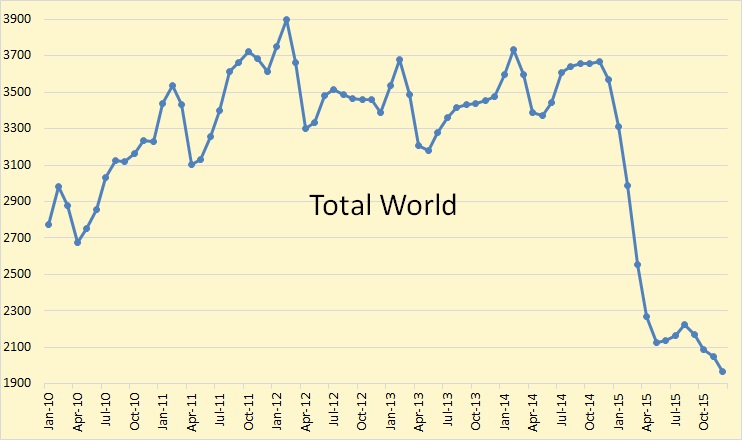 Baker Hughes Total World is just Total International plus the US and Canada. It still does not include any FSU nation or on shore China.
Total World rigs were down 78 rigs in December and down 1,601 rigs or 44.9 percent since December 2014.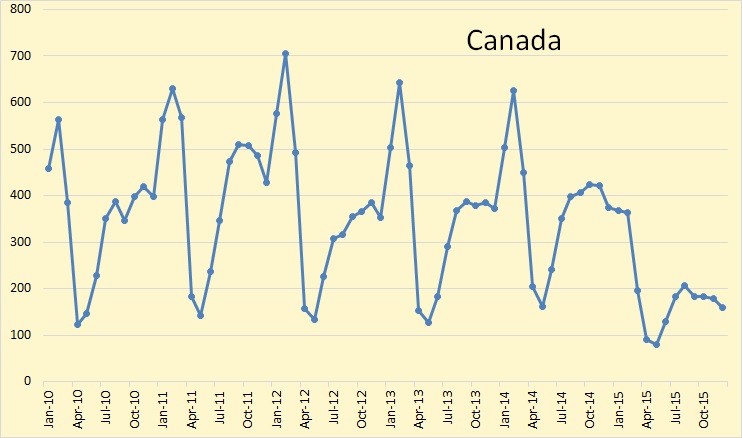 Canadian rigs were down 18 in December and down 215 rigs. or 57.3 percent since December 2014.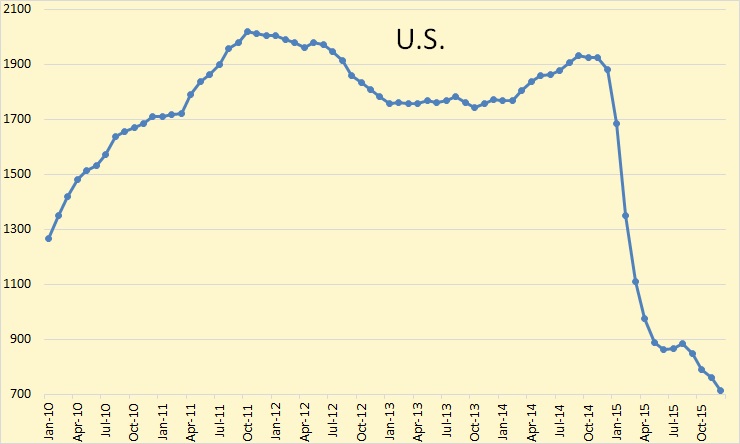 Total US rigs were down 46 in December and down 1168 or 62.1 percent since December 2014.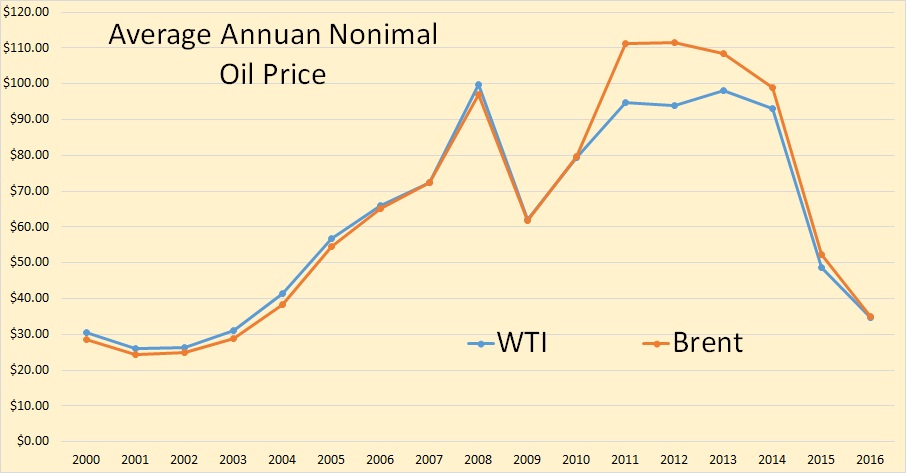 I had to include this chart. The 2016 average is only the average for the first 5 days of 2016. This is a very interesting chart. It shows that the price increase in 2008 was very short lived. Likewise the price crash of 2008 was also short lived. The price increase of 2011 lasted for four years. And the price crash of 2015 has already lasted just over a year. It is far deeper and already lasted far longer than the crash of 2008.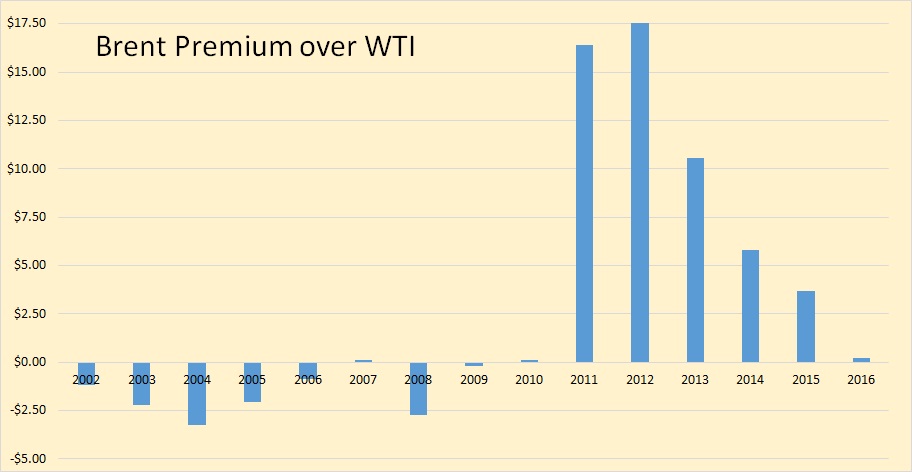 This is Brent premium over WTI. Normally WTI sells at a premium over Brent. What happened in 2011 to cause the sudden differential? And again in 2012 but began to decline in 2013. And now it's gone.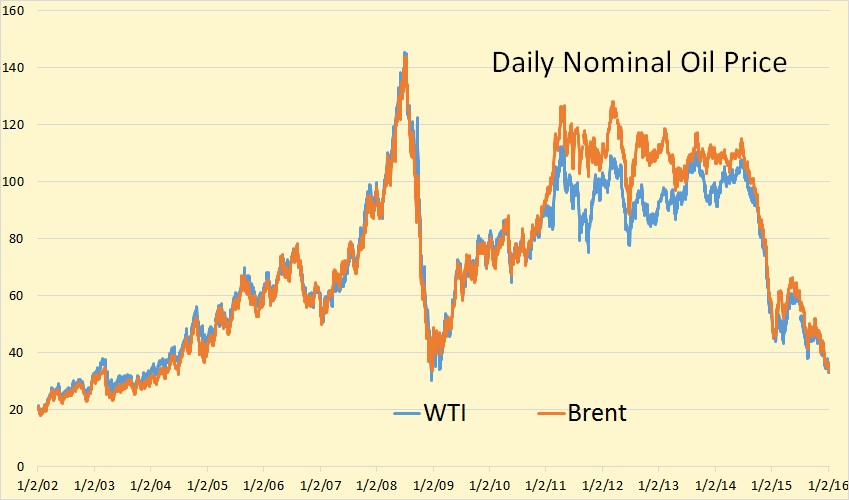 This chart shows it a bit better. The price of WTI dropped below $80 a barrel in October of 2008 and broke $80 on the upside in October 2009. (Actually 1 year and 11 days later.) WTI broke $80 on the downside again on the 3 day of November 2014 and here 14 months later it shows no signs of broaching that number any time in the near future.
The point I am trying to make is this time it is different. After 4 years of very high oil prices it is quite possible, even likely, that we will have low oil prices lasting that long as well. That is because something other than the oil supply is in play here. Of course the oil supply is a very important part of it but demand just may be falling due to the state of the world economy. I think China is the wild card here.
From an Indian publication, bold mine.
Dark clouds over Chinese economy, world wide impact and what it means for India
Our largest and the most powerful neighbour China is causing tremors in India. The reason is not the Chinese military power. The cause for the worry is volatile Chinese stock market. The Chinese market is continuously crashing and its effects are already being felt all over the world. Will the Chinese markets stabilise? Will they affect the world economy in a big way? Or is it just a temporary phase which can end soon?
Even though the Chinese stock market is one of the largest in the world and the Chinese economy is the second largest in the world, it is not actually a transparent, first world market. In a single party Communist China, the markets are heavily regulated by the Communist government and the manipulation to suit the interests of the select few investors is rampant. Stock market scams are also quiet common in a very corrupt country like China.
It just may be that China is on the cusp of collapse. And if it does other economies around the world will likely go down with it.
_________________________________________________________
To receive an email notice of all new posts, post me at DarwinianOne at Gmail.com.