I need to tell you of a very special talent I have. I have the very unusual and rare ability to find, to ferret out if you will, the blatantly obvious. I mean if it is as plain as the nose on your face, I am going to figure it out. What shocks me is that this ability is so rare. What is happening to our earth and our species is so obvious it is mind blowing.
I could give you thousands of forest disappearing, deserts expanding, rivers drying up, water tables dropping, top soil disappearing, species going extinct, ocean fish disappearing, pollution and plastic waste killing sea birds, and on and on and on. But I will start with one example that exemplifies what is happening to the entire world, the Aral Sea.
What has been happening to the world can be exemplified by this short 3 minute video on the Aral Sea: The Aral Sea story.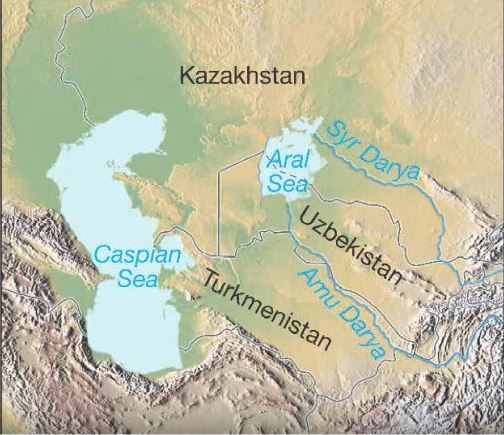 The Aral Sea was once the fifth largest inland sea in the world. It supported a huge fishing industry. But that was before they dammed its tributaries to irrigate cotton fields.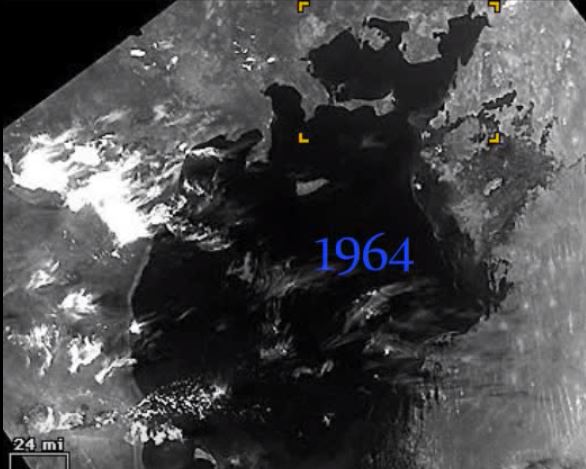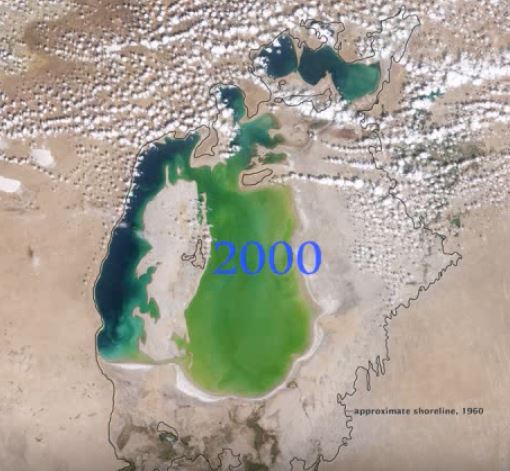 By 2000 it was mostly gone. The 1960 shoreline is shown on this photograph.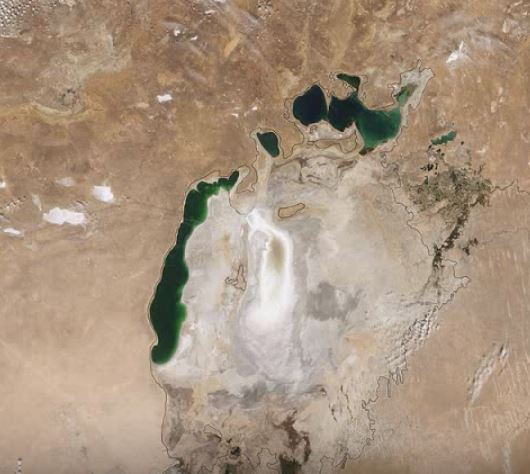 And today it is almost completely gone.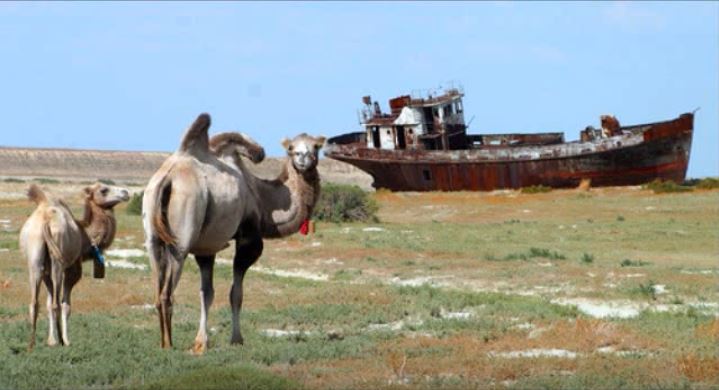 Of course the fishing fleet is still there.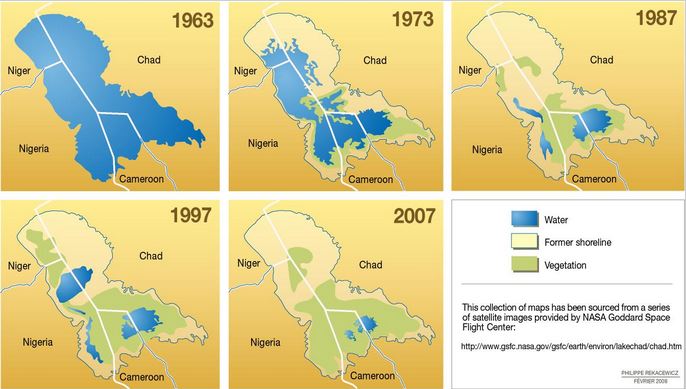 Of course almost the exact same story can be told about Lake Chad. This once vast inland body of water once supported tens of thousands with its bountiful fish supply is now not much more than a small mud hole.
What is happening to the Aral Sea and Lake Chad is happening to the entire world. Rivers are drying up. Water tables all over the world are dropping, some by meters per year. Land in India and China, as well as in other Asian nations, irrigated from underground water, that once fed billions, now feed far less and will soon feed none.
Of course the rain forests are disappearing very fast. Some, like the forest of Borneo is being slashed and burned to cultivate palm oil. Some are being cut for lumber. But the biggest culprit is cattle ranching. 
It is estimated that for each pound of beef produced, 200 square feet of rainforest is destroyed. In the past 20 years Costa Rica has lost the majority of its forests to beef cattle ranching. This is known as slash and burn farming and is believed to account for 50% of rainforest destruction. However, the land cannot be used for long: the soil is of poor quality and, without the forest, quickly becomes very dry. The grass often dies after only a few years and the land becomes a crusty desert. The cattle farmers then have to move on and destroy more rainforest to create new cattle pastures.
And because our appetite for meat is so great, it will not stop until all the rain forests are gone.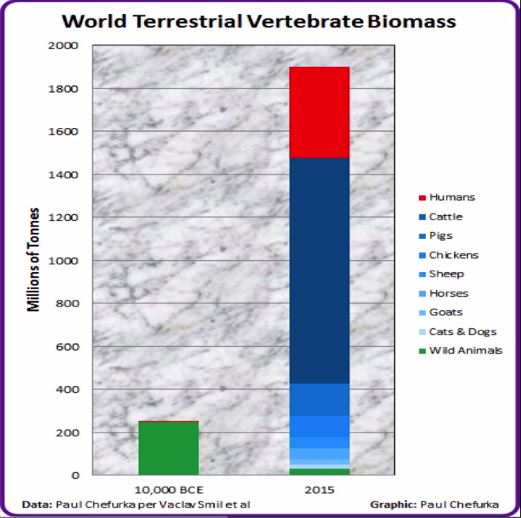 10,000 years ago humans and their domestic animals were one tenth of one percent of the land and air vertebrate biomass of the world. Today they are over 97 percent of the land and air vertebrate biomass of the world.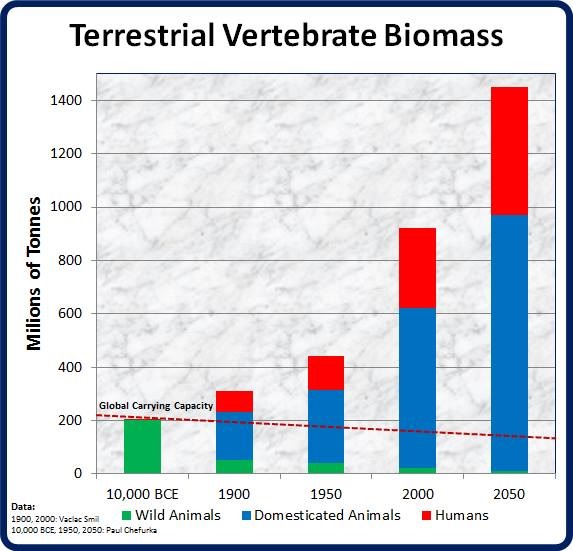 Examine the two charts above. It will continue. The biomass of all wild animals will continue to shrink while the biomass of humans and their animals will continue to increase. If you believe it will change simply means you do not understand why it is happening in the first place.
The amount of humans and their animals terrestrial vertebrate biomass is increasing at an alarming rate while that of all wild animals is decreasing at an alarming rate. The dotted line in the chart above, the long term carrying capacity of terrestrial vertebrate biomass, is declining because of our destruction of animal habitat, which means our habitat. 
This brings up a very misunderstood point about all mass extinctions. In all past extinctions, as well as the current ongoing mass extinction, it is the megafauna that have suffered the most. In all past extinctions all the megafauna went extinct.  This current extinction, the sixth great extinction, will be no different. All the megafauna, save one species, will go extinct.
Mice will survive, elephants will not. Rats will survive, orangutans will not. All great apes will be driven to extinction except one, Homo sapiens. Some small monkeys will survive. The larger monkeys and lesser apes will not. Most of them will be killed for food. The rest will die because of loss of habitat.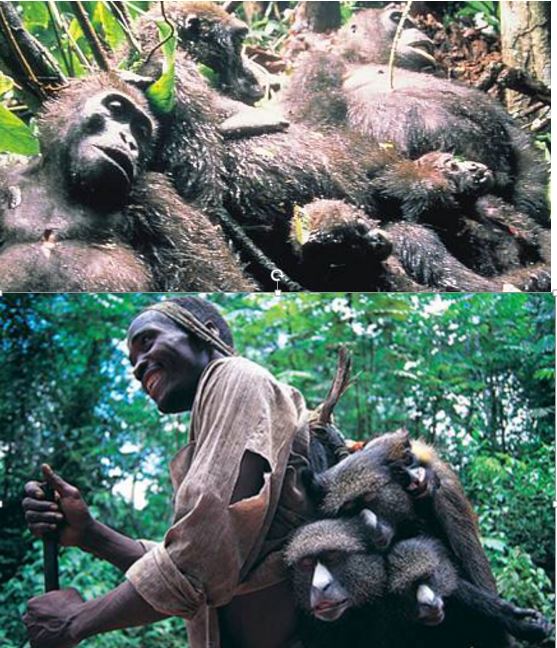 It is called bush meat and it is a very important food source for Sub Sahara Africa's booming population.
If I saw a way out, a way to save humanity from catastrophe, a way to stop the destruction of our environment, then I would do everything in my power to show it to the world. But it is already way, way too late.
Now I hope you see the reason for my despondence. I hope you understand why I don't get excited about solar or wind power, or electric vehicles. It simply doesn't matter. There is no hope. We are already in deep overshoot. Our numbers are already at least six billion above the long term carrying capacity of the earth.
And when it crashes it will get worse… a lot worse. We will eat the songbirds out of the trees.