The latest Petroleum Supply Monthly is out with the USA production numbers for January 2015. The data is thousand barrels per day with the last data point January 2015.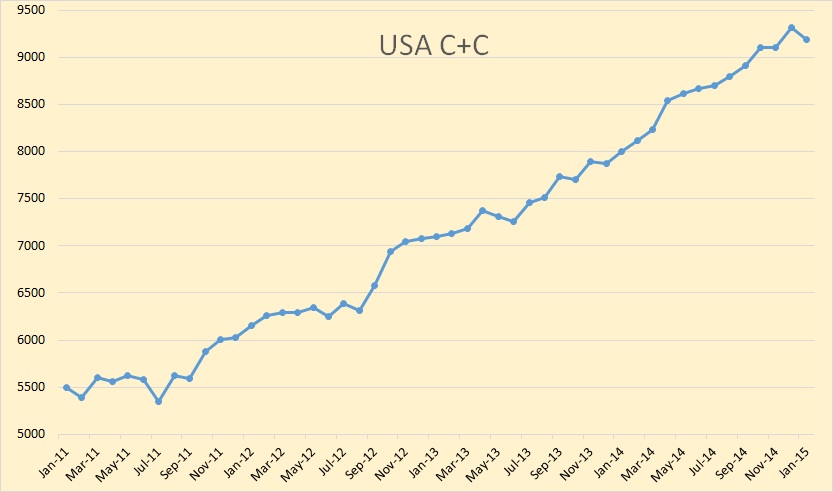 US C+C production was down 135,000 barrels per day in January. That is the biggest monthly decline since July of 2011.
I have shortened the states data to 25 months in order to give more emphasis on the January 2015 data.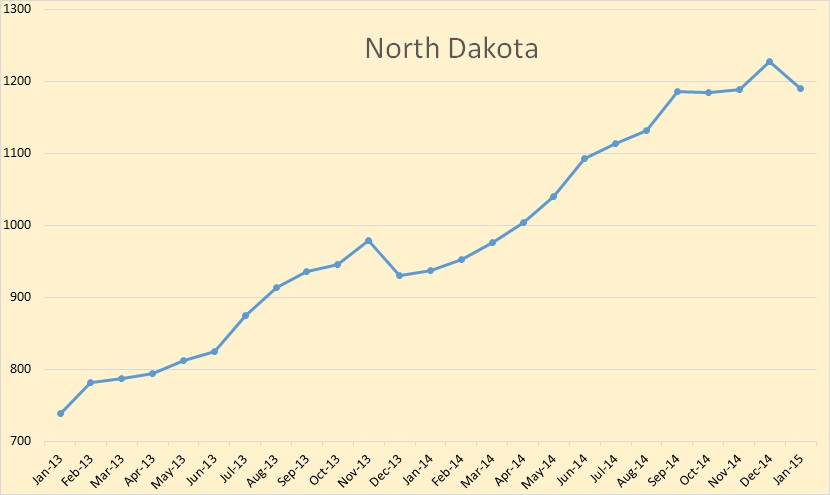 North Dakota was down 37,000 barrels per day, exactly what the NDIC reported. That is because the EIA gets their data from the states.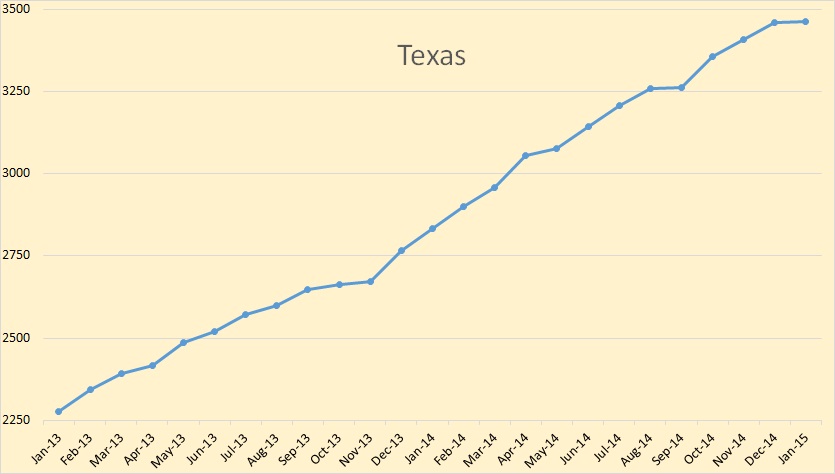 Texas was almost unchanged, up 3,000 bpd. The EIA gets the same data as we do from the Texas RRC so we know the data is incomplete and this is just an estimate. I believe this estimate is too high. I believe Texas should show a decline in January.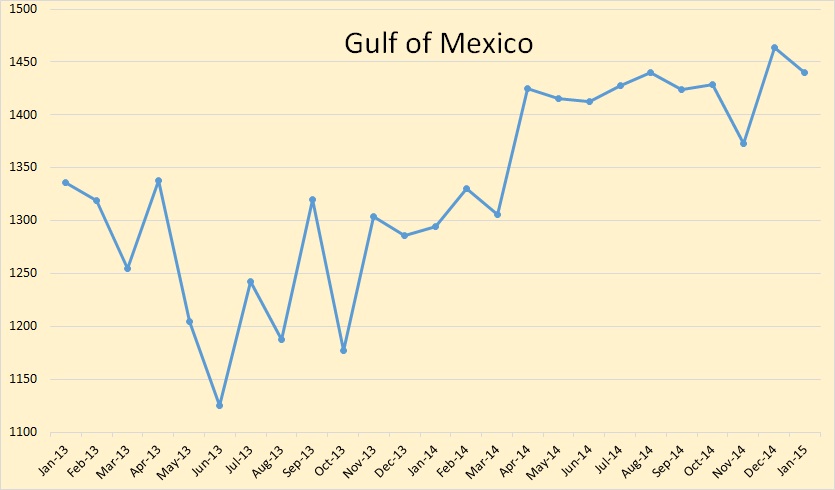 Production in the Gulf of Mexico was down 24,000 barrels per day. This could just be normal variation however, as such variation is common in the GOM.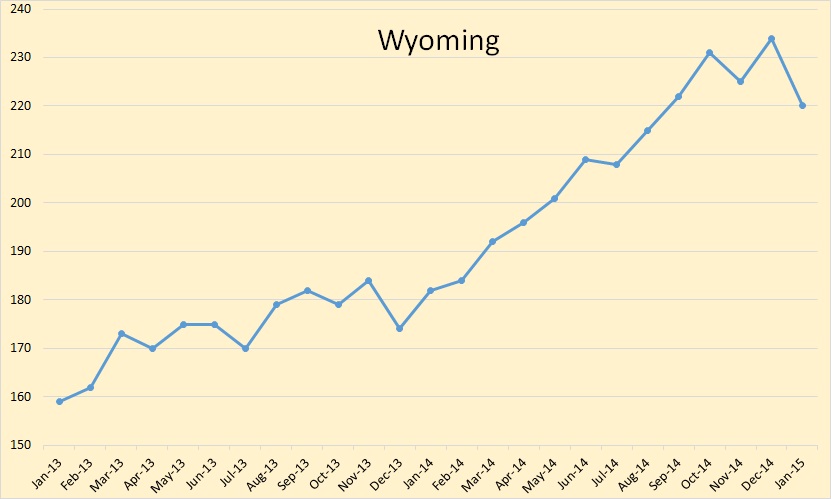 Wyoming was down 14,000 barrels per day. A huge drop for such a small producer.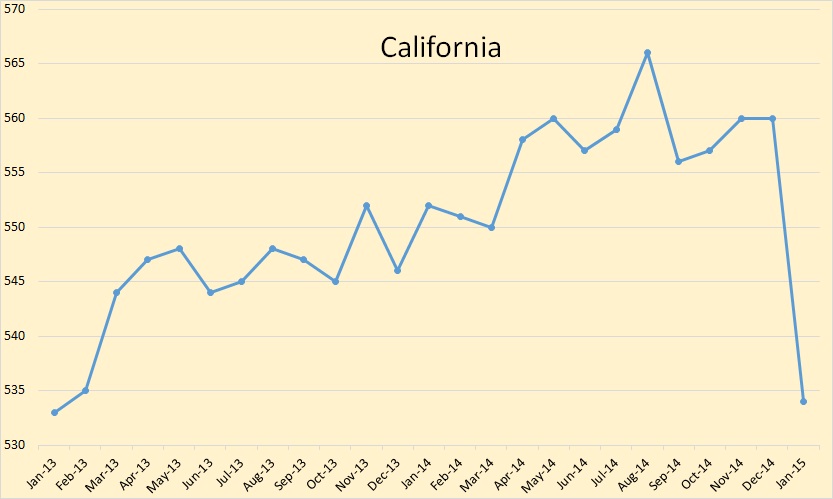 I don't know what happened to California but they took a real hit, down 26,000 bpd or almost 5 percent of their production.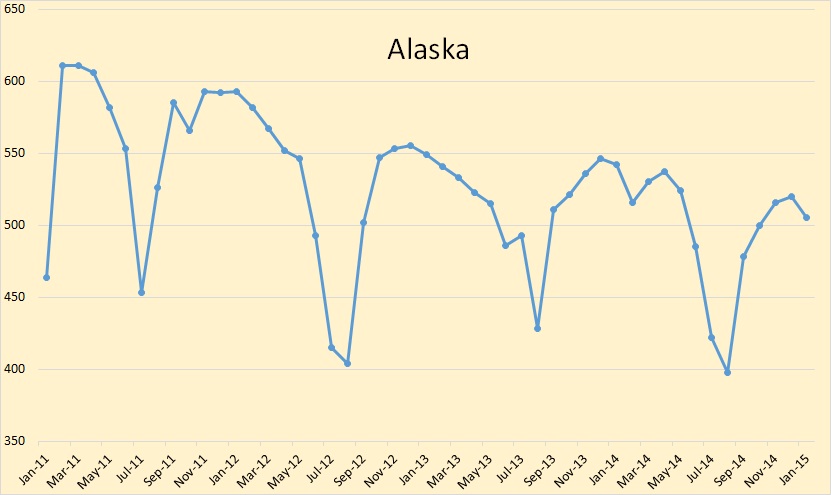 I am back to a 4 year chart with Alaska. Alaska was down 15,000 bpd. December is usually the peak month for Alaska and they do their maintenance in the summer.
Will the Kuwait-Saudi Neutral Zone be the first area to go over the Seneca Cliff.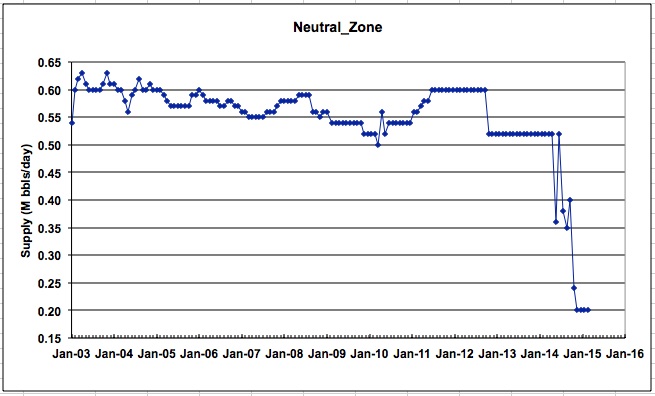 The Neutral Zone consist of four fields and part of a fifth. Not shown here is the Khafji field which is offshore.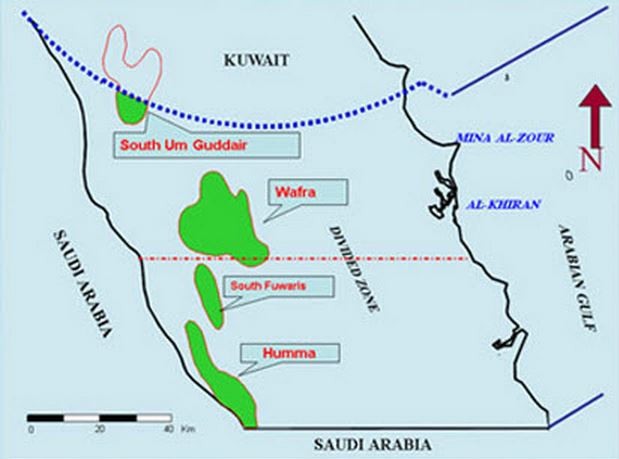 Chevron – Aramco – KOC validate Wafra Steamflooding
In 2009, Chevron decided to test the thermal "EOR" enhanced oil recovery techniques with steam injection through the Large-scale Steamflood Pilot (LSP) project.
Since then the results of the steam flooding process enabled Chevron and its partners Saudi Aramco and its partners to envisage the development of Wafra in phases.
For the Wafra Phase-1 project, the operator KGOC is planning to invest $5 billion capital expenditure  to produce 80,000 barrels per day (b/d).
The whole area is down from 600,000 barrels per day in 2011 to 200,000 barrels per day today. Apparently Wafra is down to almost nothing. But there is no doubt that part of the huge drop in Neutral Zone production is due to the shutdown of the Khafji field.
Kuwaiti production slid 60 kb/d to 2.76 mb/d in November due to the extended closure of the Khafji oil field in the Neutral Zone, run jointly with Saudi Arabia. The offshore field had been pumping about 300 kb/d before Riyadh shut it down on technical and environmental grounds. The Wafra oil field, in the onshore portion of the Neutral Zone, continues to produce about 200 kb/d. It is still not clear when Khafji will return to full production. For Kuwait, the Neutral Zone, which accounts for nearly 10% of its overall capacity, is vital to meeting output goals. In terms of Saudi capacity, however, the Neutral Zone accounts for only 2%.
In other news: Rosneft's Vankor oil output may start declining next year
"(Vankor's) oil production will stay at the plateau of 22 million tonnes this year, while next year it may decline slightly," said Alexander Cherepanov, the chief engineer of Vankorneft, a Rosneft subsidiary which is developing the field.
The latest giant, or almost giant, to come on line in several years may be not what it was originally cracked up to be.
EDIT: Texas natural gas, oil production down in latest reporting periods: regulator
In the commission's final production estimate for January, the state produced 81 million barrels of oil and 536.3 Bcf of natural gas. The commission's final production estimate for December was 83.7 million barrels of oil and 553.2 Bcf of natural gas. The commission's final January 2014 production estimate was 69.9 million barrels of oil and 566.5 Bcf of natural gas.
This works out to be 2,700,000 barrels of oil in December and 2,613,000 barrels of oil in January, a decline of 87,000 barrels per day. This does not include condensate.
_______________________________________________________
Note: If you would like to receive an email notice when I publish a new post, then email me at DarwinianOne@gmail.com