Second Update: I am still waiting for the Texas Railroad Commission monthly update. I had hoped it would be out today. However I will have a new post out tomorrow evening, March 21, whether they update tomorrow, or not. I have some good graphs from Jean Laherrere and one from Roger Blanchard that I will post.
Okay Another Update: Dennis Coyne has just posted me the numbers and link for Texas Condensate production. Now we can finally figure out what is going on in Texas.
More tomorrow
The North Dakota January production data is out for The Bakken and All North Dakota. Bakken production was up by 6,031 bp/d to 871,672 bp/d. But that was after December production was revised up by 2,744 bp/d. All North Dakota production was up by 6,446 to 933,133 bp/d. But that was after December production was revised up by 3,460 bp/d.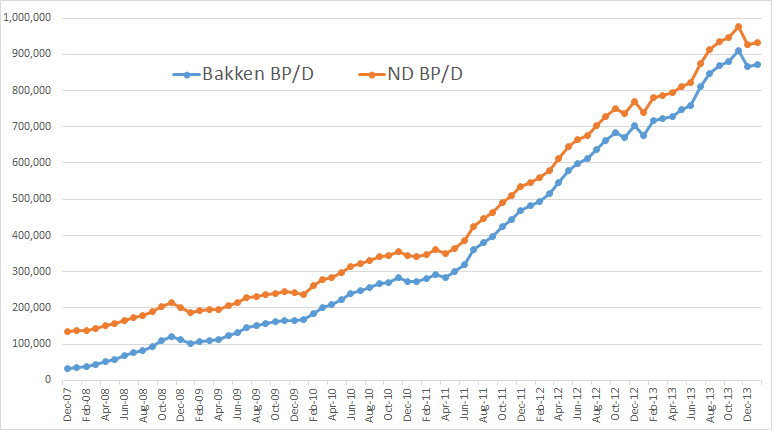 From the Director's Cut
The drilling rig count was down from Dec to Jan and the number of well completions
dropped from 119 to 60. Days from spud to initial production decreased 10 days to 122.
Investor confidence appears to be growing. There are over 100 wells shut in for the Tioga gas plant conversion in an attempt to minimize flaring, but the biggest production impact story continues to be the weather. January temperatures were only 6 degrees below normal with only 3 days too cold for fracturing work, and there were no major snow events, but 12 days had sustained wind speeds too high for well completion work.
At the end of Jan there were about 660 wells waiting on completion services, an increase of 25.
North Dakota wells increased by 59 to 9,734 while Bakken wells increased by 92 to 6,926.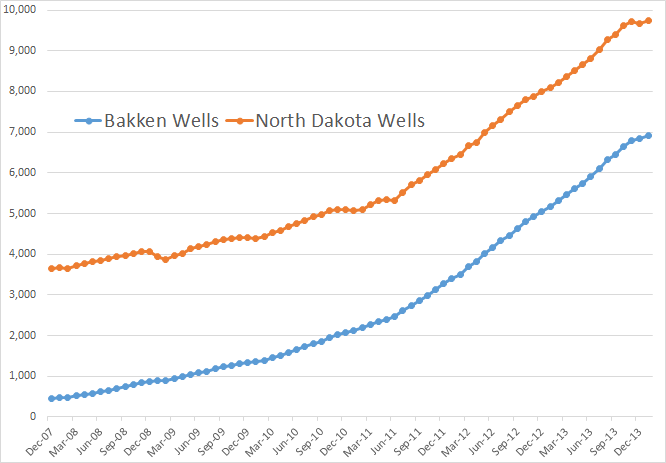 Perhaps it is just bad weather but there is definitely a slowdown in number of wells.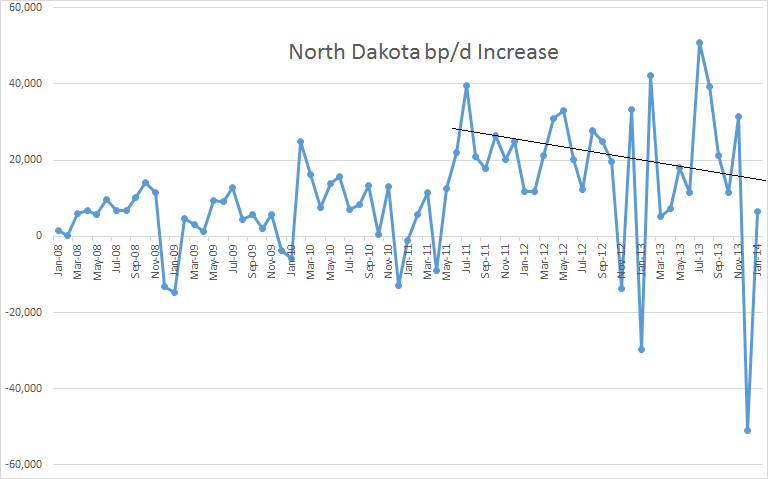 Is there a trend here?
If not there is definitely a trend here.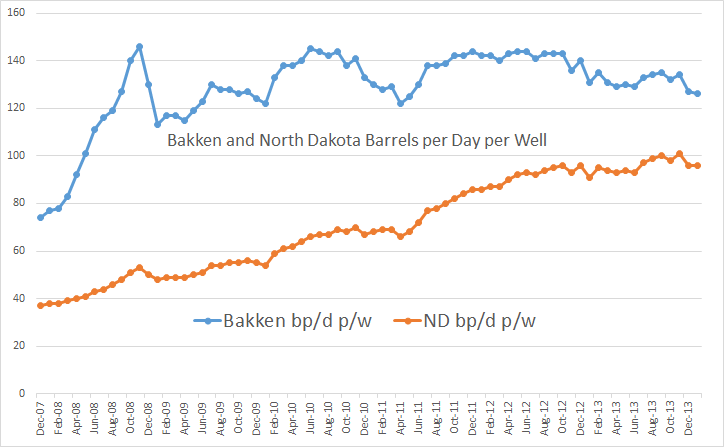 The Crude Oil Peak blog put up a great post yesterday with this graph.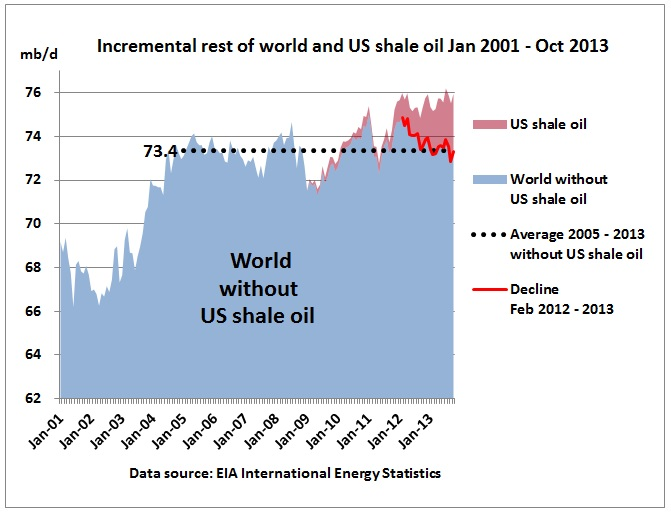 Talk about hyperbole: A billion-dollar daily shot in the arm for the American economy
Given that this technology is just beginning to unlock the state's vast resources – perhaps 12-20 billion barrels (or 60 years' worth) of recoverable oil in western North Dakota – Jenkinson dismisses the idea of a regional "oil boom." That term is inadequate. "It's an industrial revolution."
Note: I send out an email notification to about 110 people when I have published a new post. If you would like to be added to that list, or your name removed from it, please notify me at: DarwinianOne at Gmail.com