North Dakota publishes Historical Oil Production by County. However confidential wells are not included in these totals. But they also publish a State Summary Report which does include confidential well data for the previous two months. Working with both we can get a pretty good estimate of production from each county.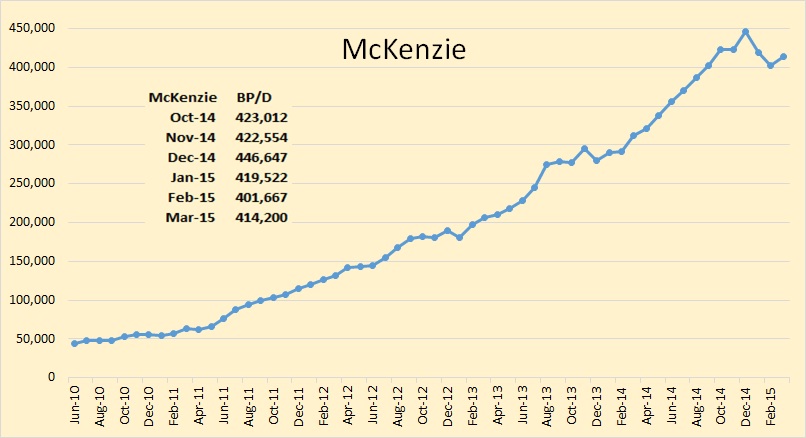 McKenzie had  a 12,533 bp/d gain in March but they are still 32,447 below their December high.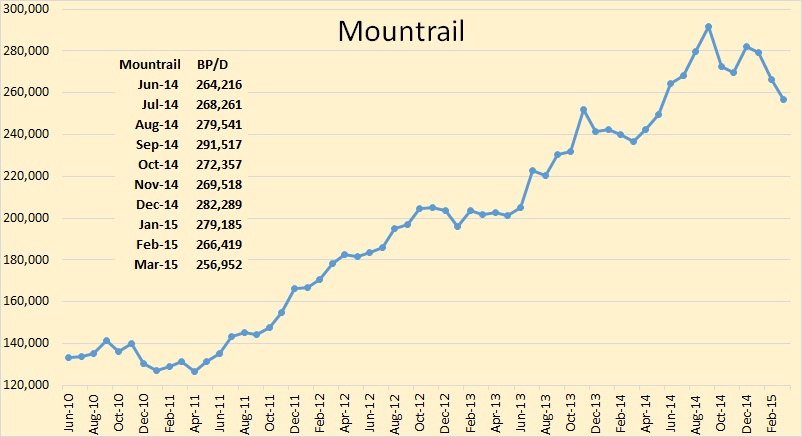 Mountrail peaked back in September 2014 and dropped another 9,467 bp/d in March. Mountrail dropped the most in October when the Bakken rig count averaged 191 and WTI averaged in the mid $80s. Once North Dakota's largest producer, I don't think there is any question that Mountrail has peaked.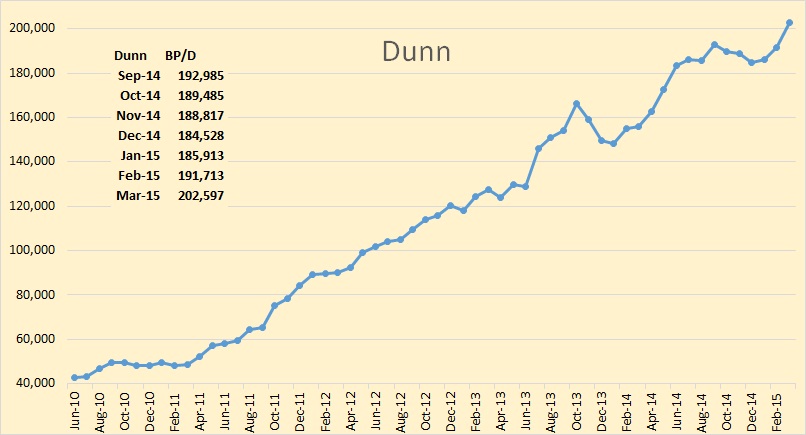 Dunn had a big increase of 10,884 bp/d in March and surpassed its previous peak in September.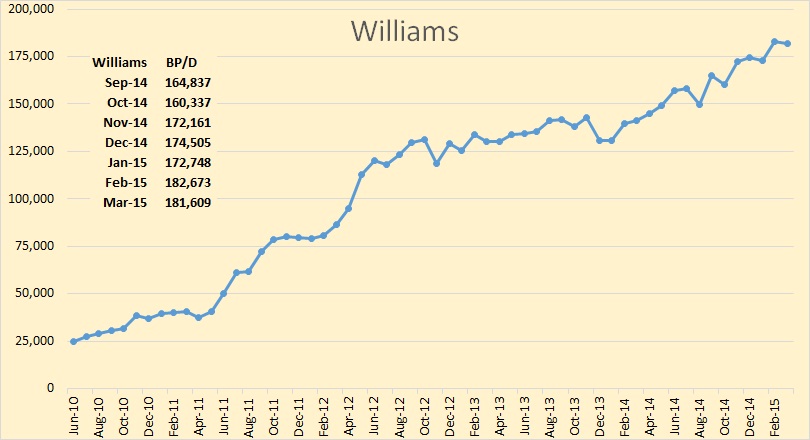 Williams was down by just over 1,000 bp/d in March.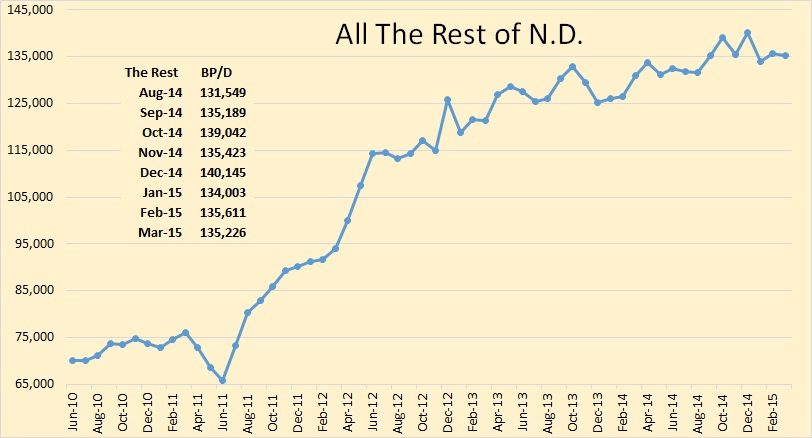 North Dakota outside the big four counties has been basically flat for about a year now.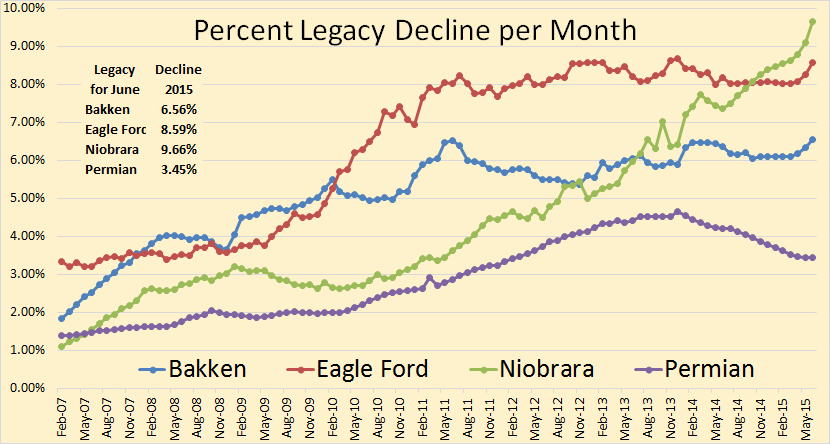 Here I have plotted the legacy decline of all four major shale plays according to the EIA's Drilling Productivity Report. The legacy decline, in barrels per day, is the total decline all wells combined except those that came on line during the current month. So the plot above is the percentage of this months decline of the previous months production.
I don't really believe those numbers are accurate. There is no reason that I can think of that would make the decline of previously drilled wells to increase as production of new wells brought on line declines. What the EIA has done here, I think, is to keep the legacy decline increasing every month as if production were increasing also. I cannot imagine the EIA overlooking something so obvious. However apparently they did.
That being said, I think they have the legacy decline relatively accurate before the production in three of the four plays began their decline a few months ago.
On another subject. Art Berman posted the below chart a while back.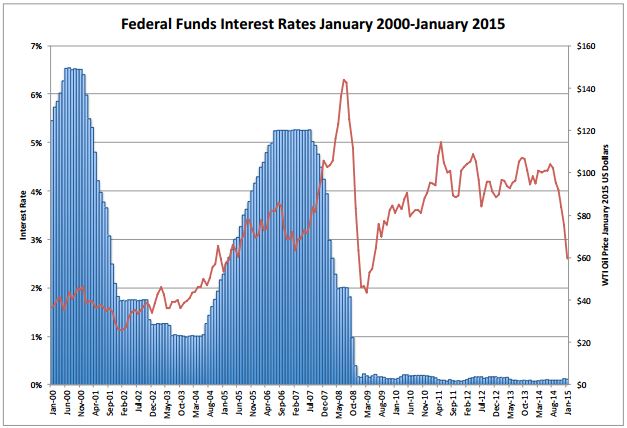 Notice that since the crash of 2008 the Federal Funds rate has been almost zero at at time when oil prices enjoyed years of very high prices. Art argues that all this shale drilling has been done with Stupid Money. Stupid money is really stupid investors looking for a higher rate of return than they can get from the money market where returns are almost zero.
Greenlight's Einhorn slams oil frackers at Sohn conference and Jim Cramer says Einhorn has spooked the shale oil market, making this a good time to buy them. (Video).
One more comment on stupid money, that is exactly what is driving the Chinese real estate boom. The flood of capitalism into china has created a wealthy class. Though this is still a very small percentage of the people, a small percentage of 1.4 billion people is still an awful lot of people. And they have money and no place to put it. China has a law against people investing outside China. The Chinese stock market is a roller coaster where money can be lost almost as fast as it is invested. So people invest in real estate. To create a market for all this money China is building between 12 and 24 new cities every year. Every piece of those cities has already been sold to the new Chinese middle class. And they are all empty. And they just keep building and building because the money just keeps coming and coming and coming.
That story is told in this twelve and one half minute video. Please watch it before you post below and say that there is no Chinese real estate bubble.
China's massive real estate bubble, ghost cities
___________________________________________________________
Note: If you would like to receive an email notice when I publish a new post, then email me at DarwinianOne at gmail.com .