All charts below were created with data from JODI, the EIA and OPEC MOMR. It is in thousand barrels per day and the last data point is September 2015.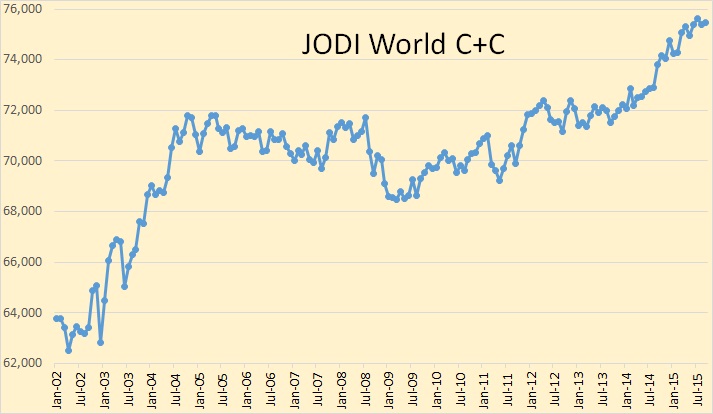 World crude oil production has taken off during the last two years due primarily to US shale oil production and higher output from OPEC. However very high oil prices has enabled many other countries to increase drilling rigs and production.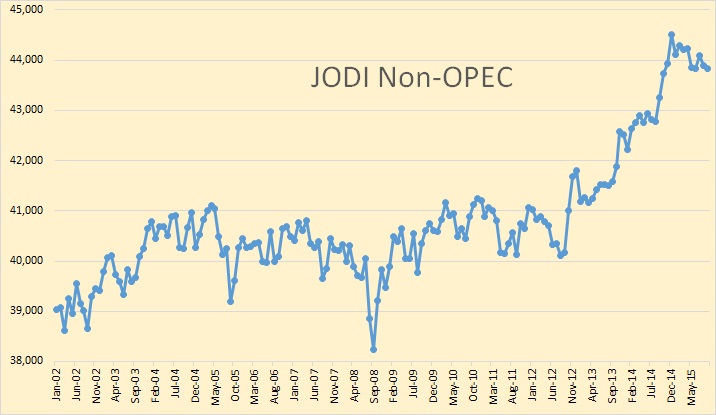 Low oil prices are having an effect on Non-OPEC oil production though not nearly as much as a lot of people thought they would, and not nearly as soon either.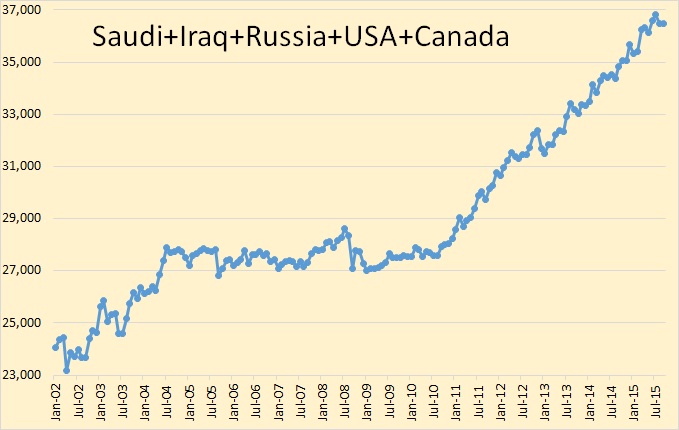 Five nations, Saudi Arabia, Iraq, Russia, USA and Canada, have been responsible for way more than 100 percent of the increase in oil production in the last decade.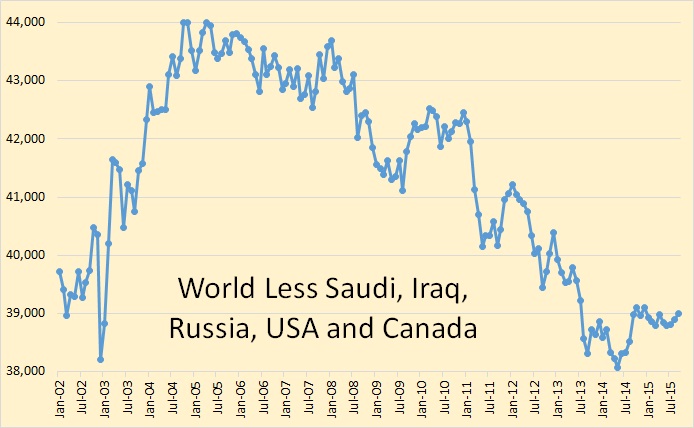 The world less the five nations charted above is down 5,000,000 barrels per day since 2005. This decline is despite the fact that oil prices, during much of that time, has been above $100 a barrel.
A look at the Non-OPEC segment of this group.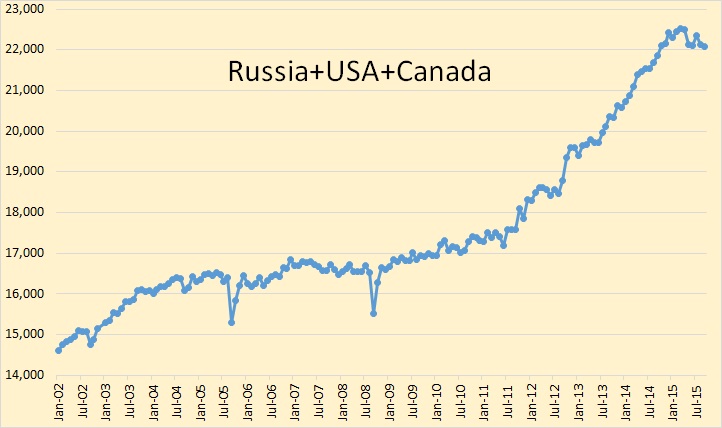 The combined production of these three nations peaked in March and is down 431,000 bpd since then, back to basically where they were in October 2014.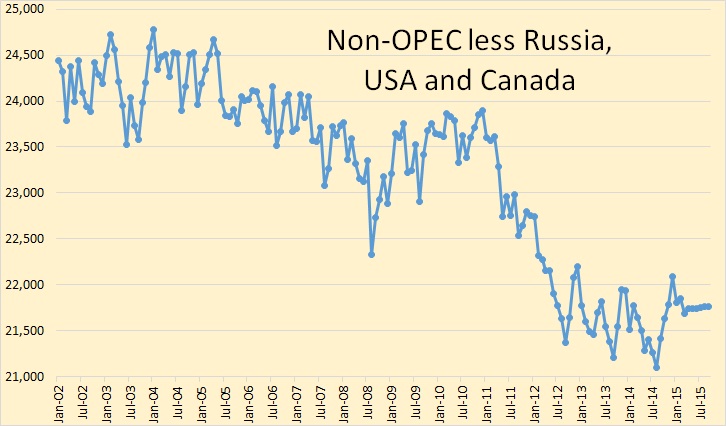 There is little doubt, given that oil prices are where they are, that the rest of non-OPEC will continue to decline. Though they have been relatively flat for seven months now, I expect them to head down sharply in the fourth quarter and next year.
We have already discussed Russia and the USA. Just about everyone expects the USA to drop sharply next year but many believe Russia will stay flat for the next two decades. That is not my opinion of course but at least these folks don't expect much, if any, increase in Russian crude production. 
But what about Canada?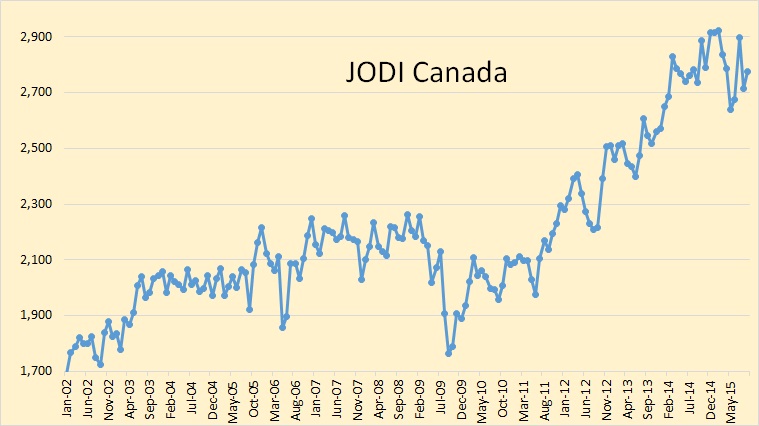 The below is EIA Canada. The data is only through April 2015.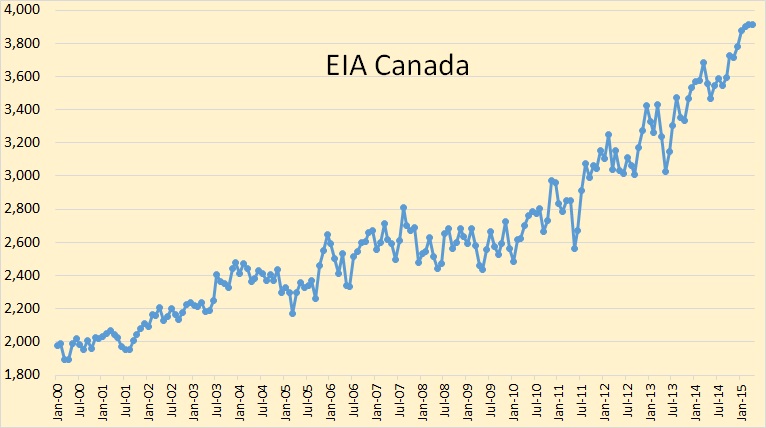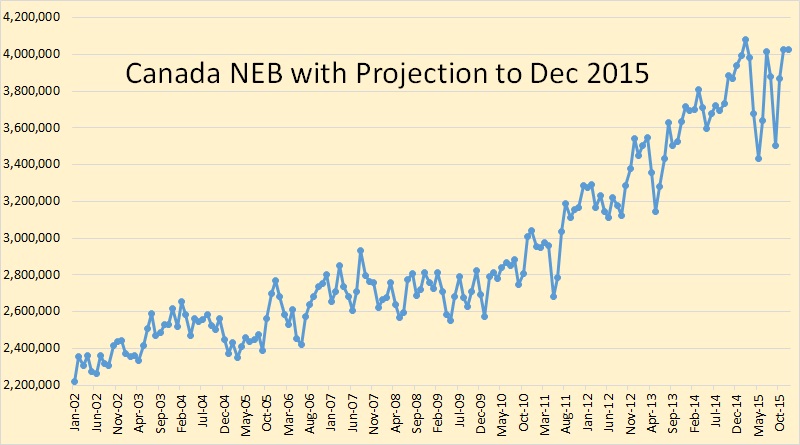 I have inserted Canada's total oil production according to Canada's National Energy Board. The data is through December 2015 with the last few months being mostly projections. The peak month, so far, is February 2015.
A lot of prognosticators expect Canada to massively increase production during the next couple of decades. I don't. Notice that Canada's production started to stall in April 2014, well before prices started to fall.
Canada's rig count has fallen by about 60 percent and capex has declined considerably in the oil sands. I expect Canadian production to decline and even if prices return to $70 a barrel, (they ain't going much higher than that,) it will still be years before Canadian production reaches 4 million barrels per day, if it ever does.
Production decline, throughout the world, seems to be lagging the rig count by about one year. This should not be a surprise because this is historically the norm, whether rig count is increasing or decreasing. But a lot of people seems to have expected the decline a lot sooner. And that includes Lukoil Vice President Leonid Fedun. The below article was written in March.
Lukoil predicts 8 pct Russian oil output decline in next two years
* Lukoil's Fedun says drilling to drop steeply in Russia
* Refining hit by new tax changes, some refineries to close
* Sees oil prices returning to $80-$100/bbl by year end 
By Dmitry Zhdannikov
LONDON, March 3 Russian oil output is expected to fall 8 percent in the next two years, the steepest fall since President Vladimir Putin took power at the end of 1990s, as low prices force companies to cut back on drilling in Siberia, a top Russian oil executive said.
Leonid Fedun, vice-president and a large shareholder in Russia's top private oil firm Lukoil, said the drop could amount to as much as 800,000 barrels per day (bpd) by the end of 2016.
His forecast is one of the most pessimistic yet by a Russian oil executive since the country was hit by sanctions and a steep drop in oil prices.
By contrast, the energy ministry expects Russian output to be steady this year at around 10.56-10.60 million bpd. Oil and gas sales account for half of Russia's budget revenue.
Russian oil output halved in the 1990s following the collapse of the Soviet Union but has recovered by more than 70 percent on the back of high oil prices since Putin took over as president in 1999. Russia is the world's largest oil producer.
Sanctions imposed on the country over its role in the Ukraine crisis have drastically limited Russian firms' access to Western capital and technology over the past year while low oil prices are forcing them to slash exploration budgets.
"Everyone will reduce production because everyone is reducing drilling," Fedun said. He said he expected drilling in Siberia to drop by as much as 15-20 percent.
Fedun said Lukoil's output was likely to stay flat or drop slightly in 2015 as the company was drilling fewer wells in Siberia. In 2016, it could recover as it brings new fields in Russia on-stream, he said.
$100 PER BARREL AGAIN
Fedun said he saw oil prices returning to $80 per barrel or even $100 by the end of the year as production around the world was set to drop due to lower drilling activity.
"We are seeing a decline in drilling rigs in the United States. We see this happening in Russia … Latin America is also actively cutting drilling and in Nigeria we expect production to decline significantly. These are also difficult times for the North Sea," he said.
"In the second half of the year, we can confidently say we will see oil surpluses in storage and production beginning to disappear".
Fedun also said he expected U.S. shale oil to deter risky and expensive exploration such as deep water in the decades to come.
Of course Fedun is very wrong concerning the price of oil. It shows no signs of recovering any time soon and most definitely it will not recover very much by year's end. And I think Russian oil production will not decline as fast as he predicts. However on that count he is wrong only in the fact that he is too early with his prediction.
Unless oil goes above $100 soon then I must conclude that the USA has peaked. Ditto for Canada. Russia has peaked regardless of what oil prices do. Ditto for Saudi Arabia. The only one I am not so sure of is Iraq. But they have serious political problems and my prognosis is that they have far more downside potential than upside potential. 
The political situation in North Africa and the Middle East will get a lot worse before it gets better. That could prove to be very bad for many Middle East and North Africa oil producers.
I am more convinced than ever that 2015 will be the final peak in world oil production. And we may know well before a lot of people realize. It all depends on the decline rate… and on the state of the economy… and on the political situation in MENA… an on…
Ther Baker Hughes Rig Count is out. Another big drop in US Rigs.