There has been a dearth of oil production data lately so I have been scratching to find something to post. So I have gathered this and that in hopes of making it interesting.
US stocks had the first uptick in nine weeks, gaining 990 kb. (See the slight uptick in the blue line.) But they still stand at their lowest point in 21 months.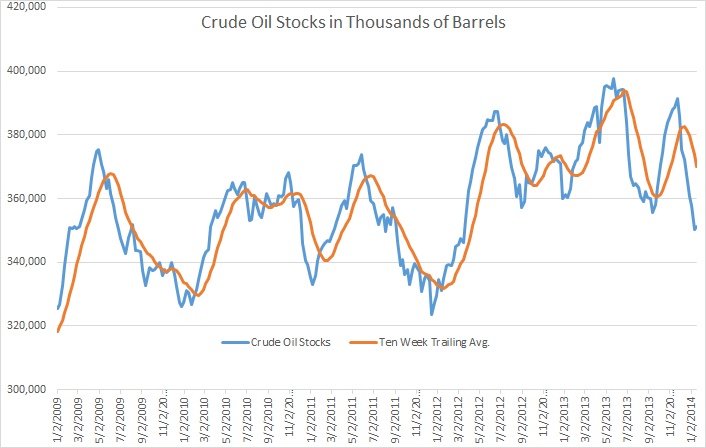 Incidentally the EIA's Weekly Petroleum Status Report had US crude oil production down last week. Their estimate of production went from 8,159 kb/d to 8,052 kb/d. That was the first decline in nine weeks. Of course that is really just a guess by the EIA.
Based on the weekly US production data I have charted US production through Januay 2014. The data through November 2013 is from the EIA's Monthly Energy Review. The data for December and January is from the Weekly Petroleum Status Report, link above. That data is through January 17th. I have estimated the rest of the month.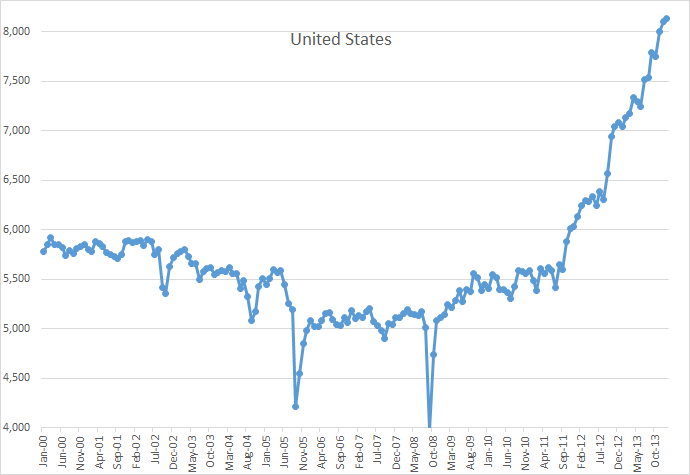 US production was up almost exactly 1 million barrels per day in 2013. That is true if you measure December 2012 to December 2013 or if you measure average for the year 2012 to the average for 2013. I am betting it will not be up that much this year.
And incidentally the EIA's AEO 2014 had US C+C average production at 7,755,767 in 2013. But according to the latest EIA numbers that will be about 280,000 bp/d too high. So already they are a bit high on their estimate. However the EIA does acknowledge a slowdown in 2014. AEO 2014 has the average US production up by 1,239,693 bp/d in 2013 but up by only 806,393 bp/d in 2014 to 8,562,159 bp/d.
However there are different departments of the EIA. AEO 2014 has US  2012 C+C average production about 27,000 bp/d higher than the Monthly Energy Review has it.
I don't track natural gas with a spreadsheet but I do follow it. This week's draw was slightly less than the this week last year but we are still well below the five year average and below any point, for this week, in the last five years.  We were down 105 BCF this week and the natural gas storage level now stands at 2,423 BCF.  AmericanOilMan.com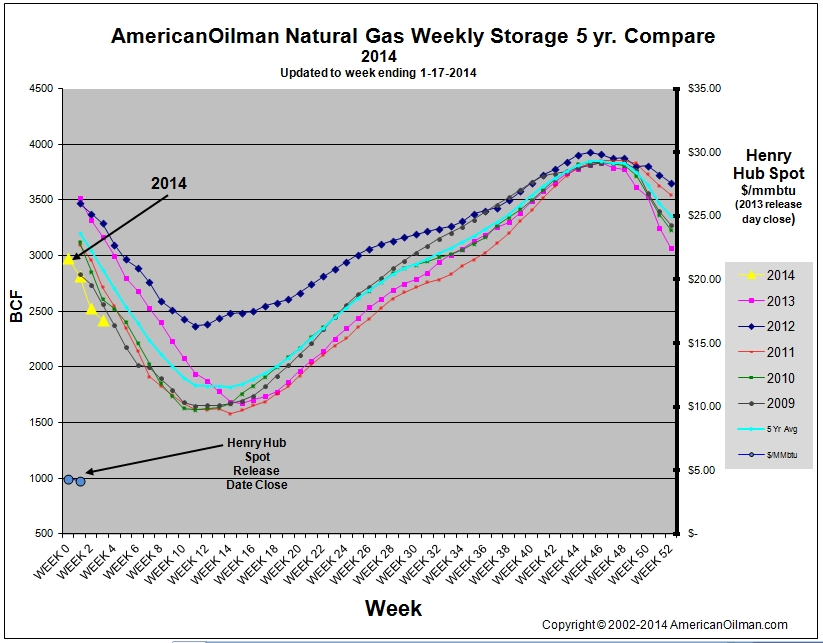 The following came to me from Canada courtesy of Ovi Colavincenzo. It is entirely behind a pay wall but I have posted enough of it below that I think you will get the general idea. The article gives the opinion of Scott Saxberg, CEO of Crescent Point Energy Corp who says the numbers don't add up.
From the Globe and Mail: Can the Bakken fuel America? Don't bet on it.
The IEA has the United States poised to become the world's top oil producer in 2015. In fact, it predicts, America could be self-sufficient in the next two decades. To some, though, it's not an open-and-shut case…
He said the state cannot sustain annual growth rates in the 40 per cent range, which it has averaged since 2008. There just isn't enough industry-related equipment, or even housing and other social necessities, to support a major increase in the manpower that would be needed.
"They have to add a significant number of rigs to continue the pace of growth that they're on today, and it's physically impossible," Mr. Saxberg said in an interview.
There are other factors. At least some of the North Dakota drilling boom was driven by a land-tenure system that required investment within two years to hang on to acreage, he said. That phase is ending.
I didn't know about that "two year investment" thing. I wonder what effect that phase ending will have on Bakken production. Anyway I am predicting that US production will hit peak about a year earlier than the EIA predicts. Also they are prediction a four year plateau. I think it will be two years at the most. But then that is just my wild ass guess.