This is a guest post by David Archibald
The Imminent Peak in US Oil Production
The seven years of production of tight oil in the US has produced enough data to
enable estimation of the amount of oil that will be recovered from these systems and
the timing of peak production. Based on data to May 2014, the four main tight oil
basins will produce a total of 7.7 billion barrels with a peak production rate of 3.9
million barrels per day in mid-2015. Following that peak, production is predicted to
decline as rapidly as it rose. That in turn is expected to cause a re-assessment of the
ability to produce sufficient transport fuels based on current policies.
The Bakken in North Dakota
Jean Laherrere has plotted monthly oil production from the Bakken Fm in North
Dakota using Hubbert linearization: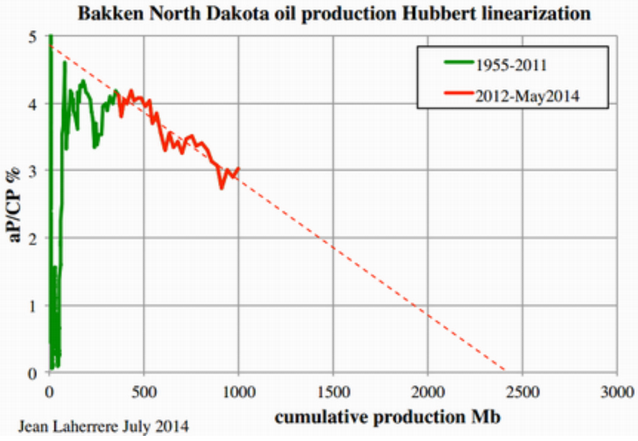 FIG. 1
Also called a logistic decline plot, Hubbert linearization plots annual production divided by cumulative production to that date on the y axis against cumulative production on the x axis. This is the method that M. King Hubbert famously used in 1956 to predict the peak of US oil production in 1970. He was also largely correct in predicting the rate of decline from that peak. This methodology is based on the theory of the rate of extraction from a finite resource originally developed by the early nineteenth-century Belgian mathematician Pierre Francois Verhulst (1804–1849). The fact that Bakken production from 2012 has plotted as a straight line on this graph reflects depletion of a resource close to 2,500 million barrels.
Nearly 90% of Bakken production in North Dakota comes from four counties:Williams, Dunn, Mountrail and McKenzie. Figure 2 shows the monthly production history of these counties from 2005: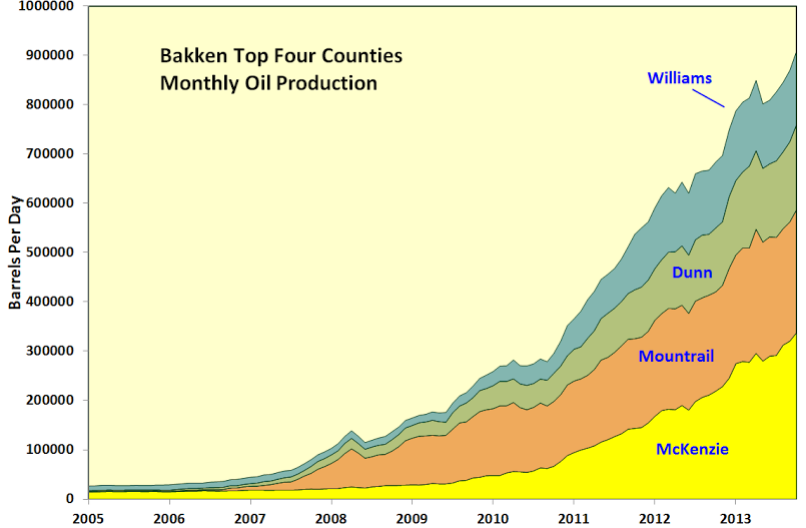 FIG. 2

Each of these counties also demonstrate Hubbert linearization as shown in Figure 3: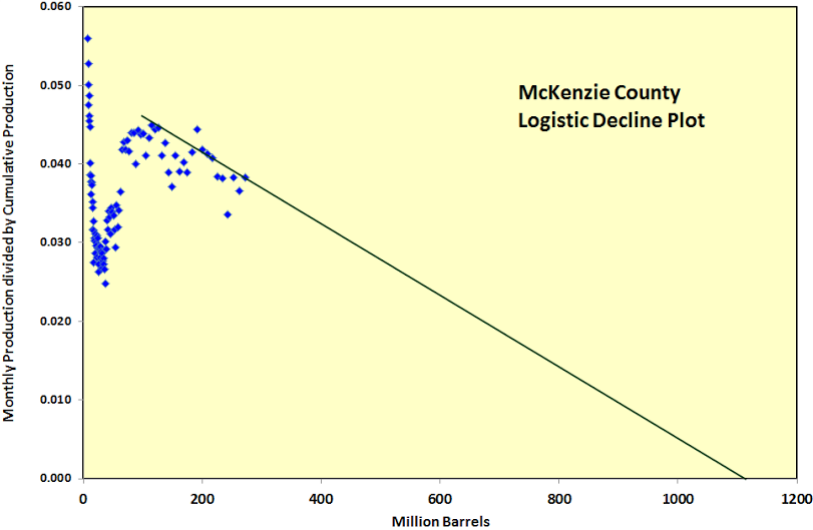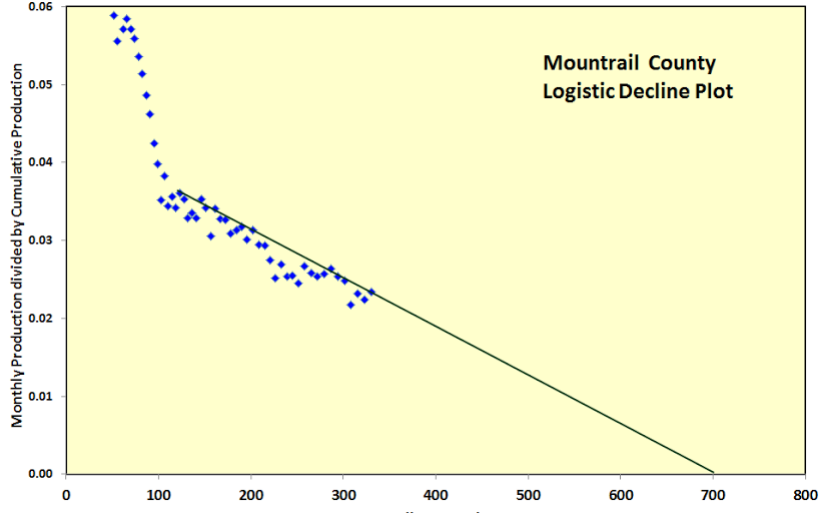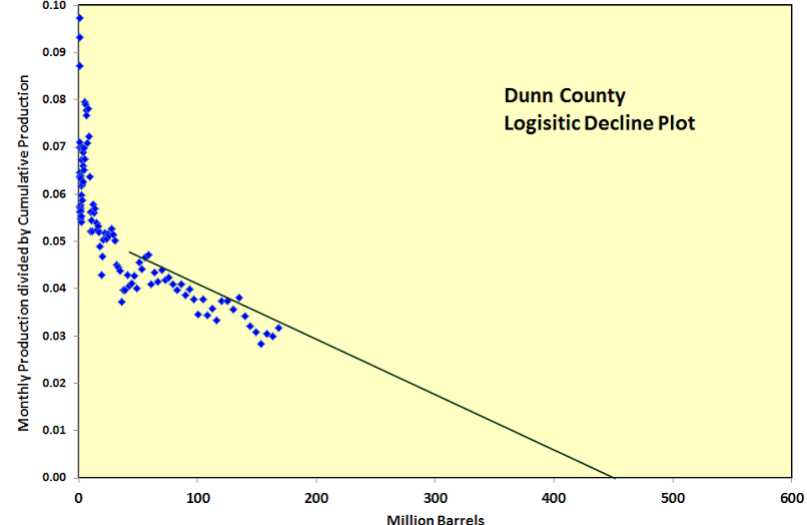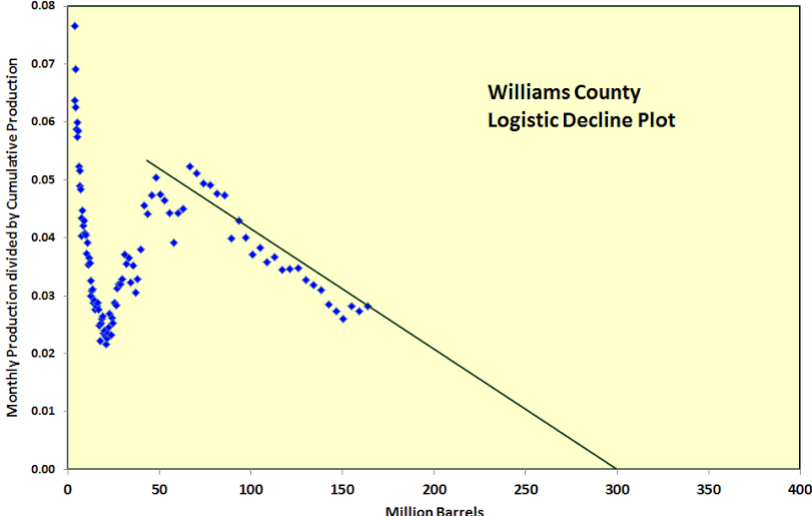 FIG. 3
Analysis by county confirms the play-wide assessment. Based on data to May 2014,Table 1 details the amount of oil produced to date, the estimated ultimate recovery (EUR) and the percentage depleted: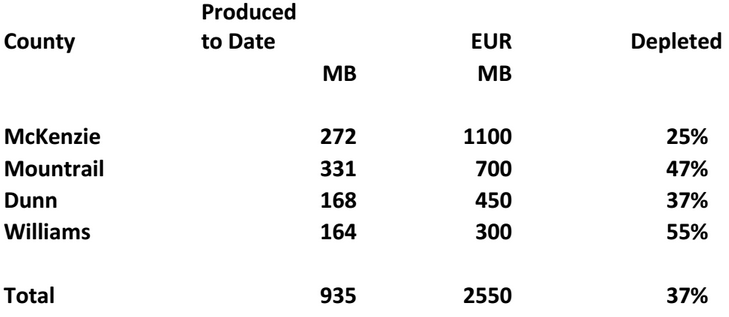 Table 1
As well as the Bakken, the other three main US tight oil basins/formations are the Niobrara, Eagle Ford and the Permian. Using Hubbert linearization, the EUR, peak production rate and year of peak for these plays is shown in Table 2:

The expected production profile of these basins/formations to 2019 is shown in Figure 4 following: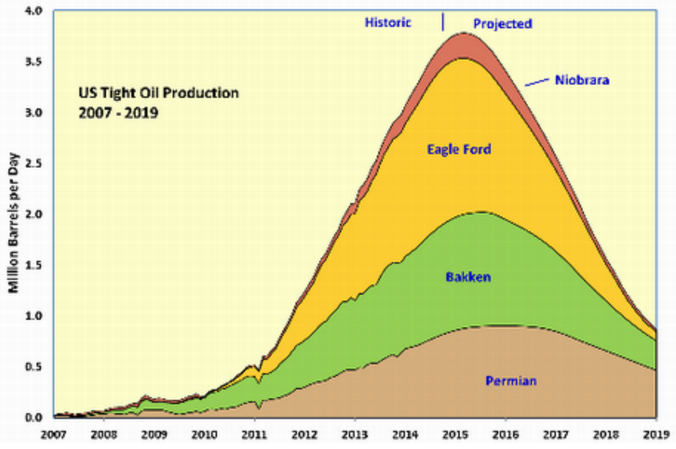 FIG. 4
The contribution of tight oil to US production has been welcome but will be short-
lived. The shale gas boom has different dynamics and will be more enduring. US tight oil production has stopped world oil production from declining over the last five years. The projected decline in US tight oil production from mid-2015 can be expected to have a price impact. Figure 5 following shows the WTI oil price and the Henry Hub gas price (x6) from 1997 and the modeled internal rates of return for coal-to-liquids facilities at $100, $120 and $140 per barrel based on a capital expenditure of $130,000 per barrel of daily capacity: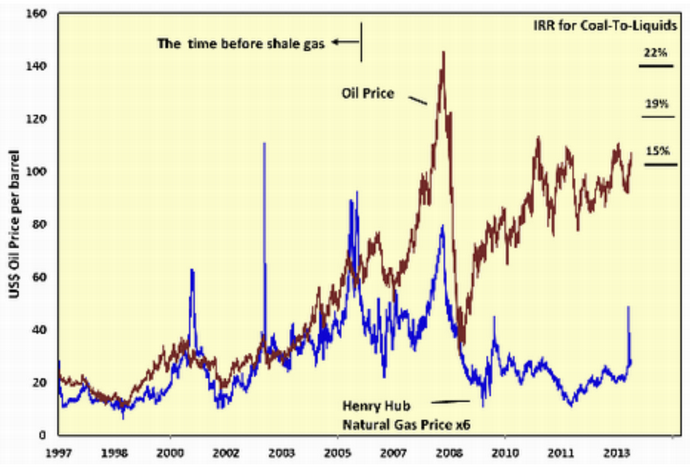 FIG 5.
David Archibald, a Visiting Fellow at the Institute of World Politics in Washington,
D.C., is the author of Twilight of Abundance: Why Life in the 21st Century Will Be
Nasty, Brutish, and Short (Regnery, 2014). He also operates five million acres in the
Canning Basin of Western Australia.