North Dakota has released their Bakken and North Dakota production numbers for July.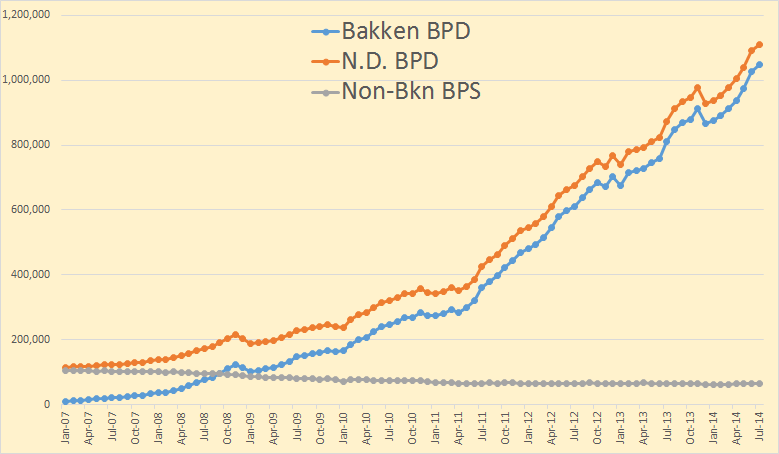 Bakken production was up 19,456 bpd while all North Dakota production was up 18,134 barrels per day. This means that North Dakota production outside the Bakken fell by 1,322 bpd or a little over 2%.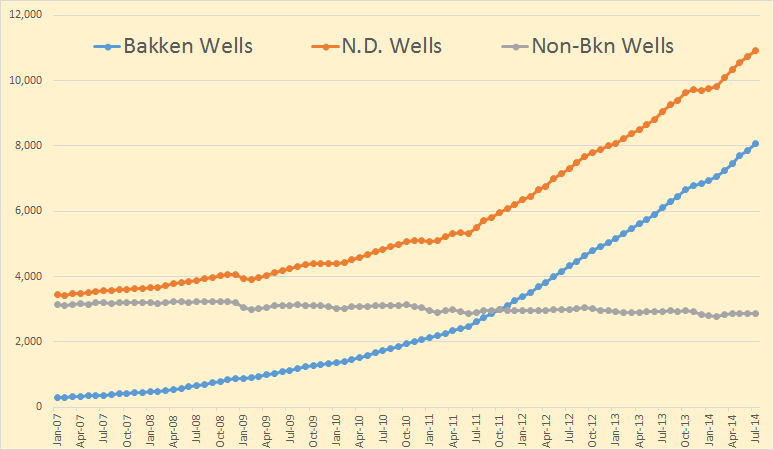 Bakken wells producing increased by 195 to 8,065. North Dakota wells increased by the same amount to 10,952 so non-Bakken wells were unchanged at 2,860.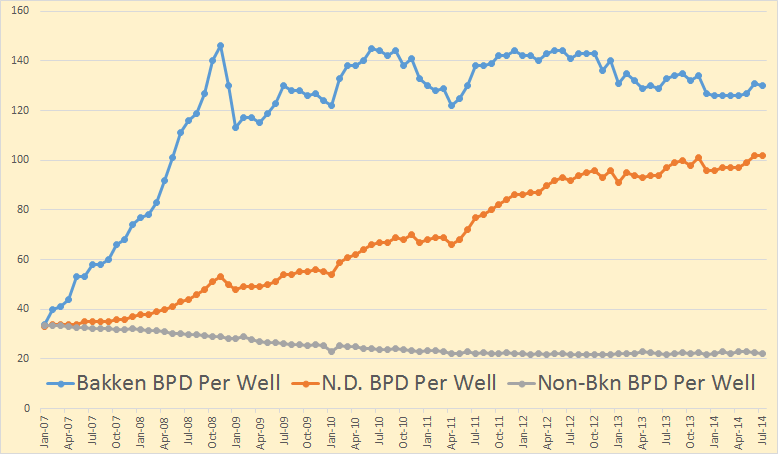 Bakken bpd per well fell by one to 130. All North Dakota bpd per well was unchanged at 102 bpd per well and wells outside the Bakken were unchanged at 22 bpd per well.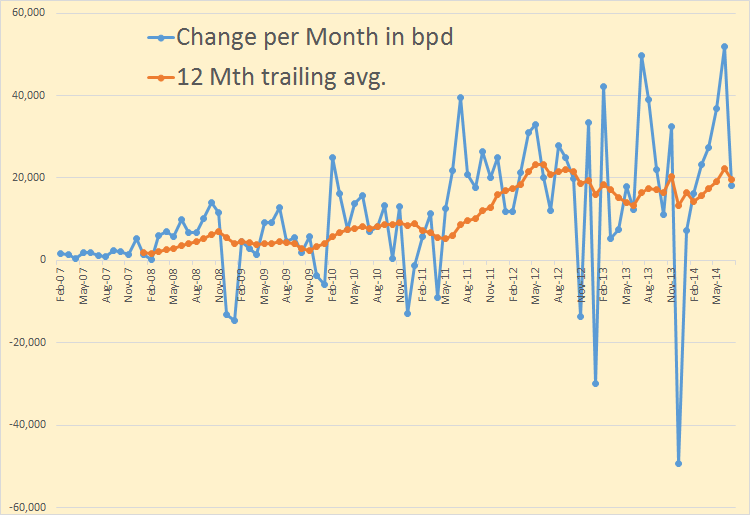 The last 12 months has saw an average per month increase in production of 19,708 bpd. That works out to be 236,496 bpd increase over the last 12 months. I am betting that will drop considerably in the next 12 months.
From the Director's Cut:
The drilling rig count was up two from June to July, and up one more from July to August. The number of well completions increased from 188 in June to 197 in July with summer weather and no significant rain events. However, there were still 4 to 5 days with wind speeds in excess of 35 mph (too high for completion work).
 The drillers continue to outpace the completion crews. At the end of July there were about 630 wells waiting on completion services, an increase of 45.
I was mislead by Helms when in last month's Director's Cut he said:
The drilling rig count was up one from May to June, and up two more from June to July.
The number of well completions increased as weather impacts eased in June…
They did not. They decreased from 227 to 188. Or at least that is what he is saying now. So here is what Helms is saying about wells completed:
May 227 wells completed. Production up 36,869 bpd.
June 188 wells completed. Production up 51,858 bpd
July 197 wells completed. Production up 18,134 bpd
It is becoming obvious that "wells completed"  is a poor guide as to how much production is up or down. And I will have to adjust my estimate of the number of completed wells needed to keep production flat. At present I can only say the number is somewhere above 150.
EDIT: Regex Wald, in the comments section below, pointed out something I completely missed when I skimmed this month's Director's Cut. At the bottom of the last page, in very small print, we have this. Bold mine:
Disclaimer: The number of completions is an estimate on the part of the director based on idle well count and a typical five year average. Neither the State of North Dakota, nor any agency officer, or employee of the State of North Dakota warrants the accuracy or reliability of this product and shall not be held responsible for any losses caused by this product. Portions of the information may be incorrect or out of date. Any person or entity that relies on any information obtained from this product does so at his or her own risk.
Now someone please tell me how the number of new well completions can be estimated by counting the number of idle wells or by looking as some "typical five year average"? What on earth is he talking about? What typical five year average?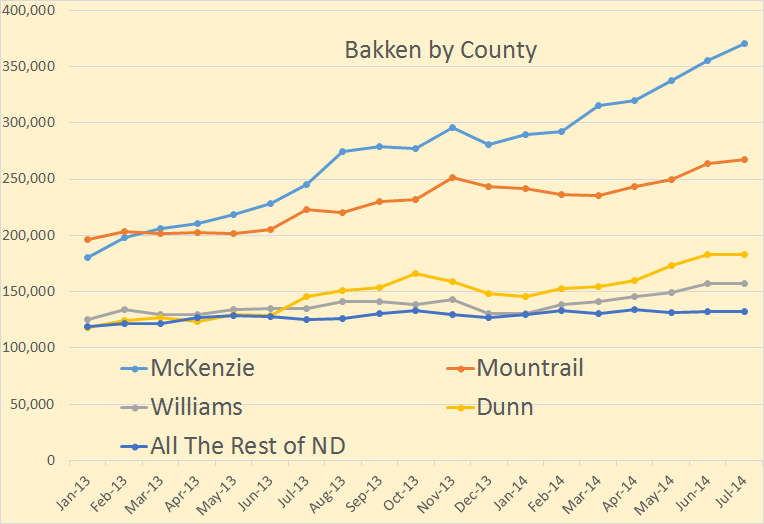 Using the State Summary Report July 2014 adjustment for confidential wells, county production was:
McKenzie county,     up 14,674 bpd      to 370,272 bpd.
Mountrail county,     up 3,600 bpd       to 267,837 bpd.
Williams county,      up     591 bpd        to 157,481 bpd.
Dunn County       down     277 bpd        to 183,067 bpd.
The Rest of N.D.  down    454 bpd        to  132,059 bpd.
Wes435 posted the below chart in the comments of my last post. It is the producing wells of Emerald oil, a rather small company with some sweet spot acreage in the Bakken. The numbers are BOE or barrels of oil equivalent, so it includes natural gas and natural gas liquids as well as oil.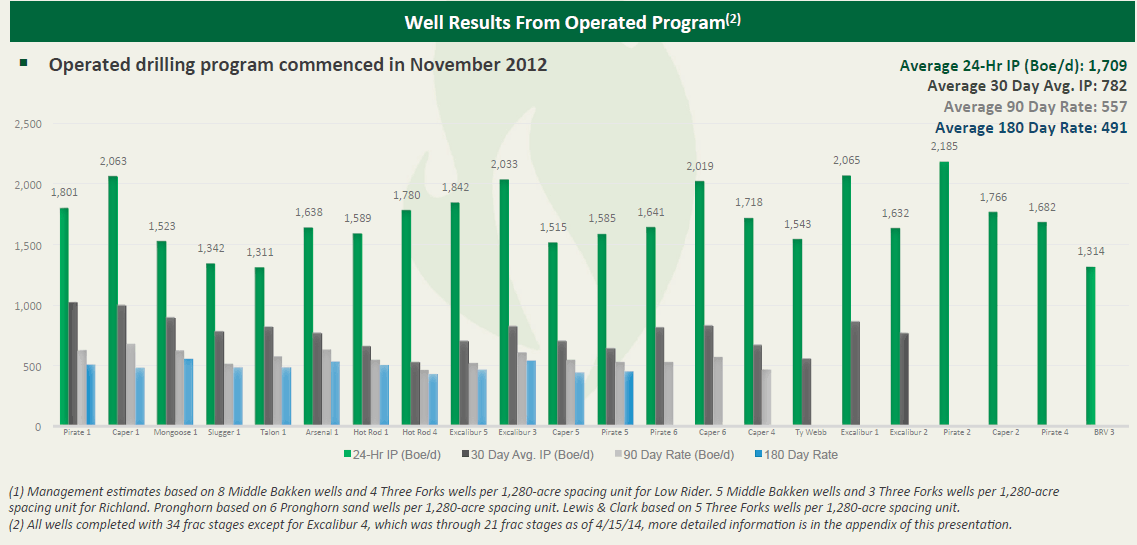 Here is a link to a full screen graph of this post. And the data and some other interesting charts can be found here Emerald Oil Corporate Presentation. The data for the above post can be found on page 20 of that presentation.
I took the data for the 17 wells that show the data out to 90 days, (the chart shows only 15 but the data has 17 wells out to 90 days), and found that their 24 hour average production was 1,631 bpd, their 30 day average production was 758 bpd and their 90 bpd average was 544. 
The data has 5 wells with 270 day production numbers. They average 445 barrels per day for the first 270 days. So obviously the decline rate drops quite rapidly after the first few month. It is like popping the top on a seltzer bottle, it all gushes out suddenly then the decline slows.
But Eagle Ford is much worse. The chart below is from the "Market Realist", Must-know: The relationship between oil production and oil rigs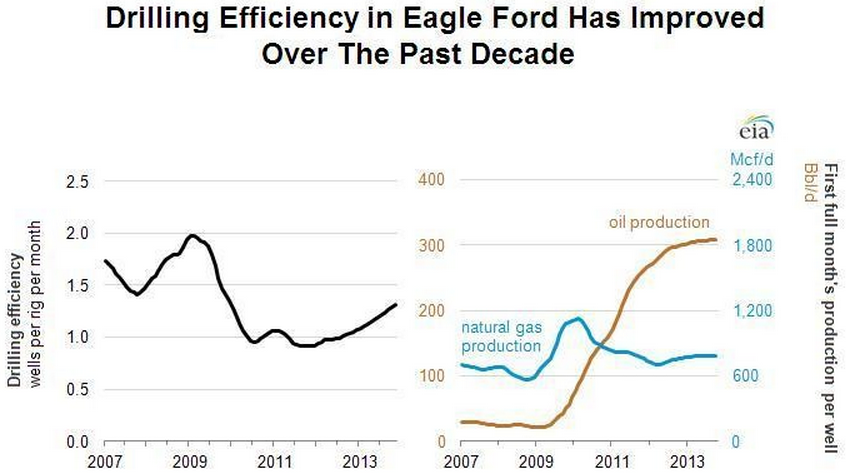 The first full month production from Eagle Ford wells is just a tad over 300 barrels per day.