The EIA has updated their International Energy Statistics with the October data. There were some major revisions in the September data. I only track Crude + Condensate so all figures and graphs are for C+C only.
Revisions for September were World, revised down 417 kb/d, Non-OPEC revised down 377 kb/d, Canada revised down 327 kb/d and Brazil revised down 54 kb/d. All other revisions were minor.
After revisions World C+C production was up 454 kb/d, Non-OPEC up 469 kb/d, Canada up 338 kb/d,  China up 148 kb/d, Libya up 190 kb/d, Iraq up 150 kb/d, Saudi Arabia was down 300 kb/d and Australia was down 71 kb/d. Lots of other ups and downs but all smaller.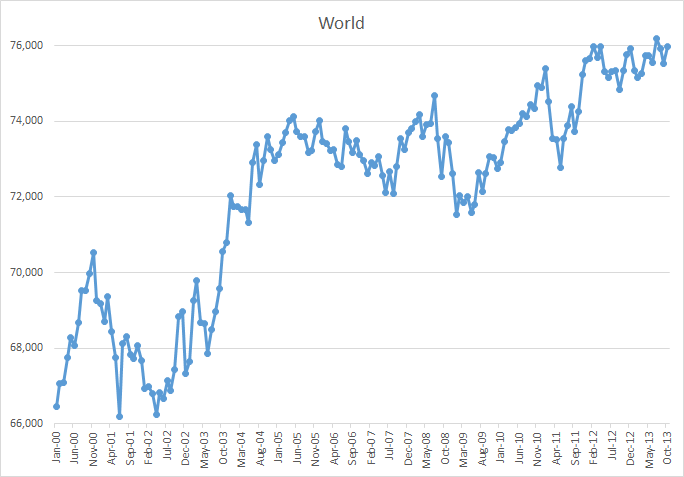 World C+C, average through October for 2013 is up 115 kb/d over the average of 2012.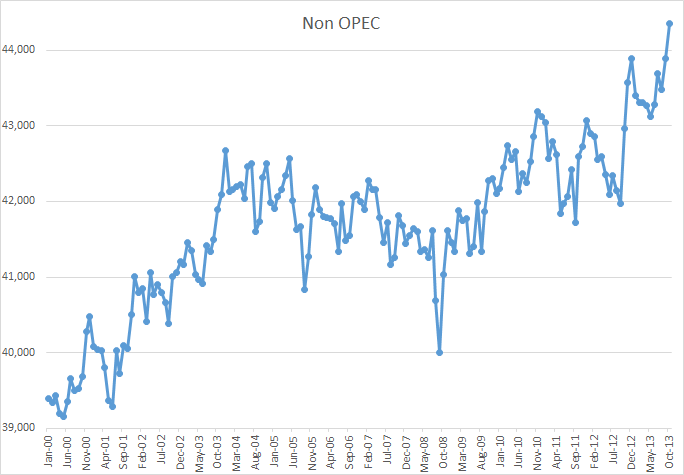 Non-OPEC average C+C for 2013 through October is up 825 kb/d over 2012.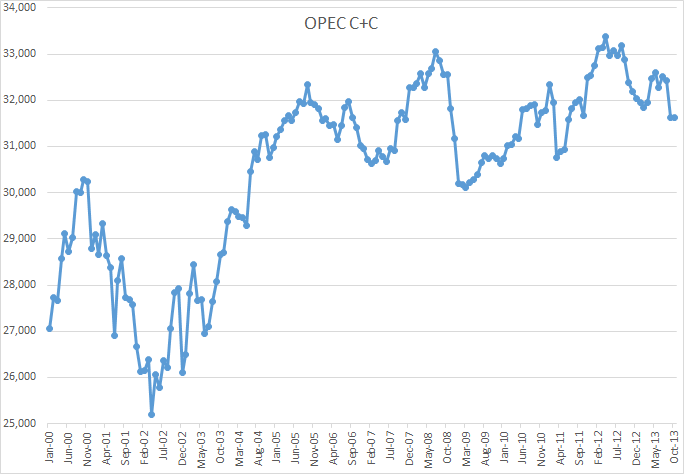 OPEC C+C average for 2013 through October is down 710 kb/d from the average for 2012.
USA C+C production was down 23 kb/d in October and that was after September production was revised down 18 kb/d. I did have the USA plotted through January based on the weekly data from the EIA but I have removed those last three months because I expect them to be revised downward quite a bit. The last data point here is October where production stood at 7,753,000 barrels per day.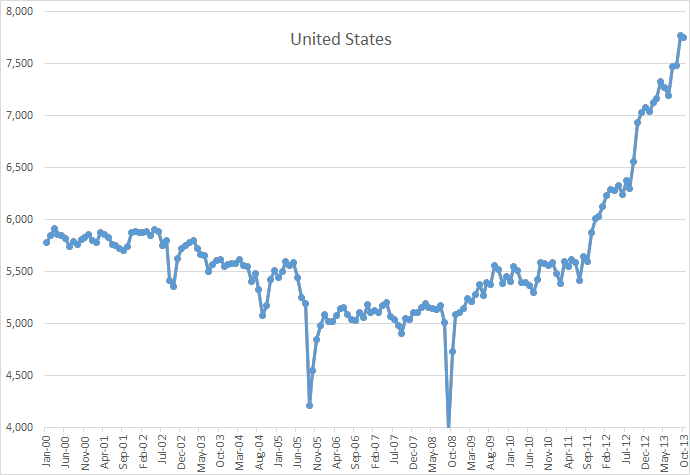 As I have maintained all along it is only the increased LTO production from the USA that is keeping peak oil from being clearly in the rear view mirror.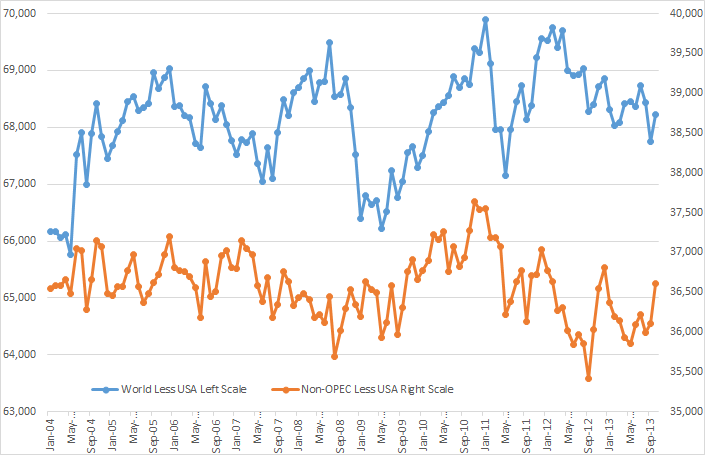 You can find updated charts of all Non-OPEC nations here: Non-OPEC Charts
Also the page World Oil Production by Geographical Area. Both pages have been updated with the October production numbers.
I just watched the documentary "Ethos" on Netflix but it can also be found here:
Ethos,Top Documentary Films And here:
Woody Harrelson 'Ethos' Epic Documentary! Time to Unslave Humanity
It is 1 hour and 8 minutes long. Exactly at the 1 hour mark Woody Harrelson says:
There are some very troubling possible futures for our society. Climate change will displace millions of people and we will hit peak oil in 2015. Thereafter the price of oil will skyrocket. So we will see supply decrease and we will see the prices of food and every basic commodity spiral upwards. 
The documentary was made in 2011 and is one of the best I have watched lately. I did not agree with everything in the documentary, only with about 80 percent or so. But it made me feel good to hear people outside outside peak oil groups mention the subject.