North Dakota published their monthly report on Bakken Production and All North Dakota Prouction. Nothing to get excited about. Bakken production was up 28,285 barrels per day while all north Dakota was up 27,864 barrels per day. This means that North Dakota production outside the Bakken was down 421 bp/d.
The Director's Cut comments on the price they are getting for Bakken Oil:
Oct Sweet Crude Price = $85.16/barrel
Nov Sweet Crude Price = $71.42/barrel
Dec Sweet Crude Price = $73.47/barrel
Today Sweet Crude Price = $71.25/barrel (all-time high was $136.29 7/3/2008)
Interesting that they are selling their oil at about a $21 discount to WTI about a $35 discount to Brent. More of the Director's comments:
The drilling rig count was unchanged from Oct to Nov, but the number of well
completions dropped from 166 to 138. Days from spud to initial production remained
steady at 114. Investors remain concerned about the uncertainty surrounding federal
policies on taxation and hydraulic fracturing regulation. 
We estimate that at the end of Nov there were about 510 wells waiting on completion
services, an increase of 50.
This plot is "Bakken Additional Wells" and the 12 month trailing average. As you can see the average for the last 15 months or so has been pretty flat, around 150 additional wells per month.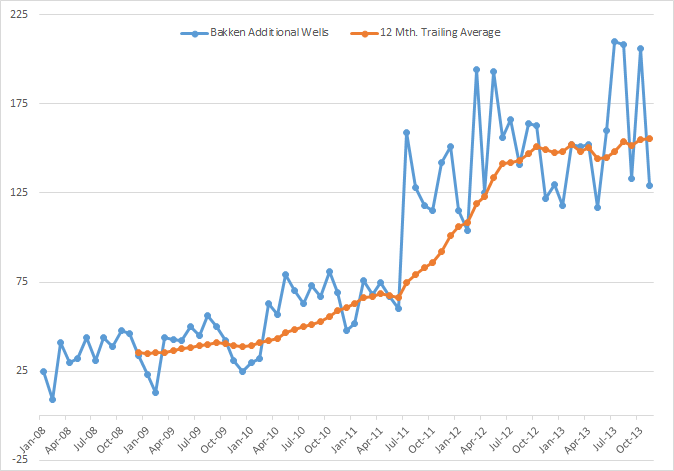 I find the following two charts very interesting. I am comparing the EIA data, that came out Monday with the North Daakota data that came out Tuesday. Keep in mind that the EIA data includes the Montana part of the Bakken and the North Dakota data does not. Montana Oil Production was 77,000 bp/d in October down from 82,000 bp/d in April of last year. They reached a high of 102,000 barrels per day back in September 2006 so they are in general decline. Also, the Montana data is for all Montana, not just their share of the Bakken
The EIA data is through February 2014 and the North Dakota data is through November 2013. The data is actually additional barrels added to production. The Bakken was up 28,285 bp/d in November.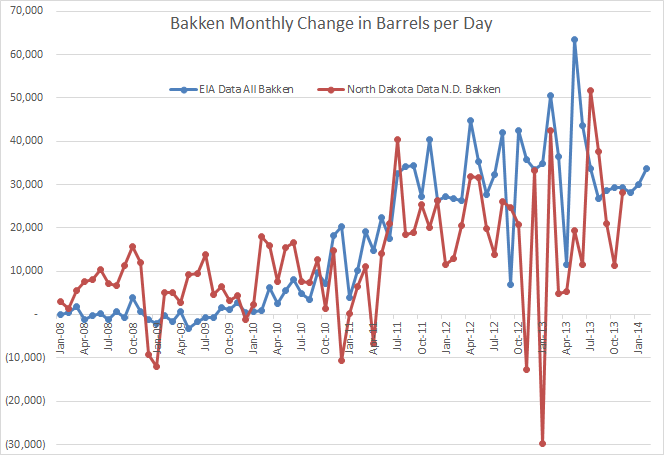 Notice that, on average, the EIA monthly additional barrels is a lot more than the North Dakota additional barrels. This cannot be accounted for by Montana production because it is down the last few months and it has very little change from month to month.
But this chart is the one that blows me away: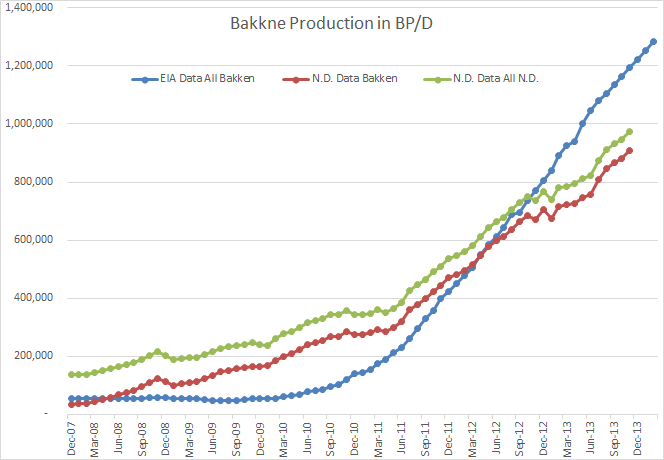 In November North Dakota had their share of the Bakken at 908,304 bp/d and all North Dakota at 973,280 bp/d. For the same month, November, the EIA had the Bakken at 1,193,496 bp/d. So even if you add Montana's 77,000 barrels to the N.D. Bakken you only come up with 985 kb/d or so.
And how could they have the total Bakken lower than just the North Dakota part of the Bakken from June 2008 through January 2012?
The following comments and charts are provided by  Wes538. Thanks Wes.
Following the release of production data from last November today by the North Dakota Oil & Gas Division, I have updated county-by-county production charts. Hopefully I have used the image upload feature correctly and they display.
Although I still have them labeled as North Dakota production, that is no longer strictly the case, as I have begun to include production data from Richland County, Montana. More than any other county, I thought Richland ought to be included due to being the most noteworthy county within the Bakken in Montana as well as the historical significance of the county being home to the Elm Coulee oil field, where about a decade ago early indications as to the potential of the Bakken formation were obtained.
Going back to North Dakota, McKenzie and Mountrail Counties had an especially good month in November. Oil production in Mountrail County increased by a little over 20,000 bbl/d, the biggest one-month increase in the history of the county and one of the largest monthly increases of an individual county in North Dakota history. For Mountrail, this comes on the heals of a 17,480 bbl/d monthly increase in July 2013 that was the largest monthly production increase in county history at the time. Evidently writing off production Mountrail County may be a bit premature.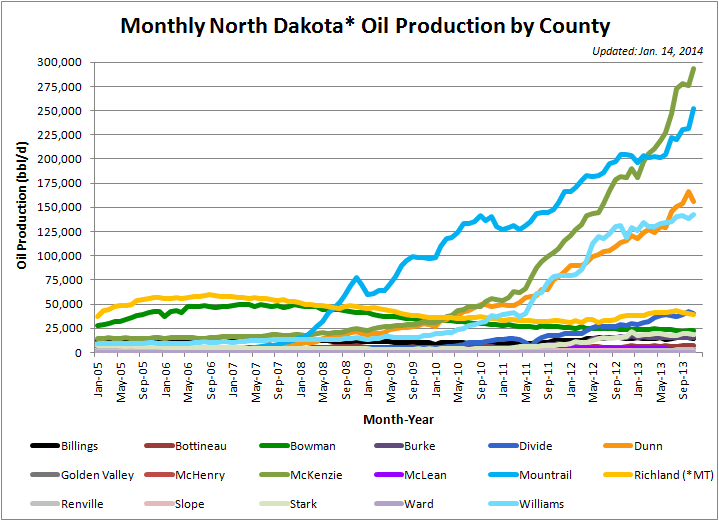 Here is an up-to-date chart of daily oil production per well in the ten most productive "North Dakota" counties (Richland County, Montana is included, too; it would be the sixth most productive North Dakota county).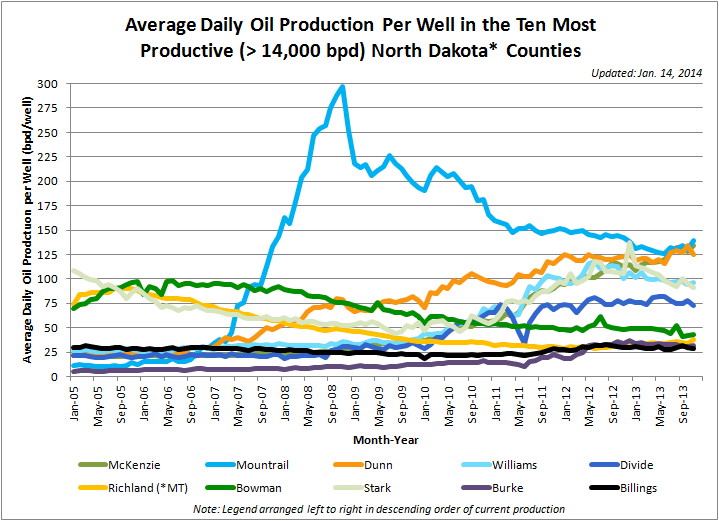 To see all comments, or to leave a comment, click on the COMMENTS link below this line.