The Texas RRC Oil and Gas Production Data is out with the June production numbers. I must repeat, as I do every month, that this data is much delayed and is and will be subject to updates every month, for about two years. Of course the latest months will be the ones which will be subject to the greatest revisions.
All oil data is in barrels per day. The last data point on all charts is June 2014.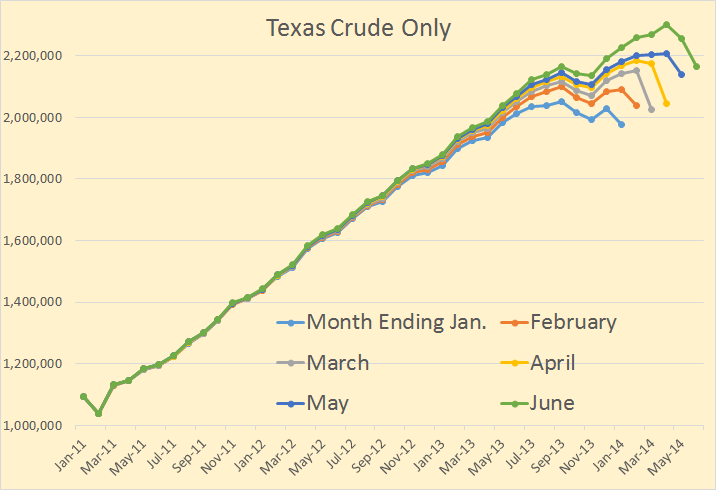 I have six months of data here to give you some idea of the revisions that can be expected in the coming months. Texas crude only is still increasing. My guess is that it is increasing by about 40 thousand barrels per month.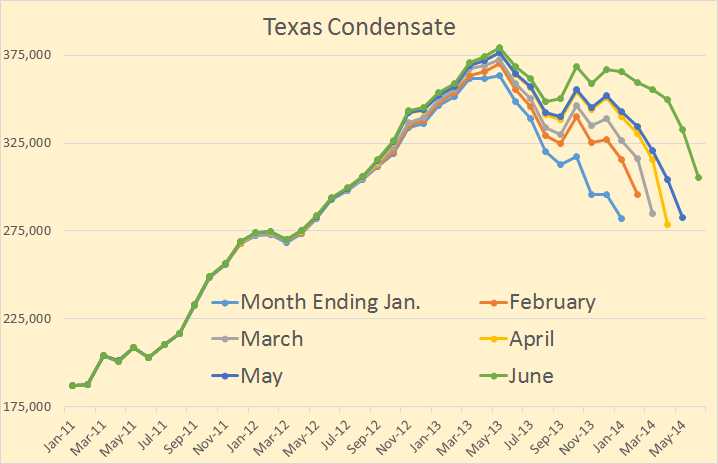 Texas condensate declined for three months in June, July and August of 2013 but has now started to increase again. I estimate that Texas condensate is currently increasing but only some months. It looks like Texas condensate production in some months is declining but in other months is still increasing by as much as 4 to 6 thousand barrels per month.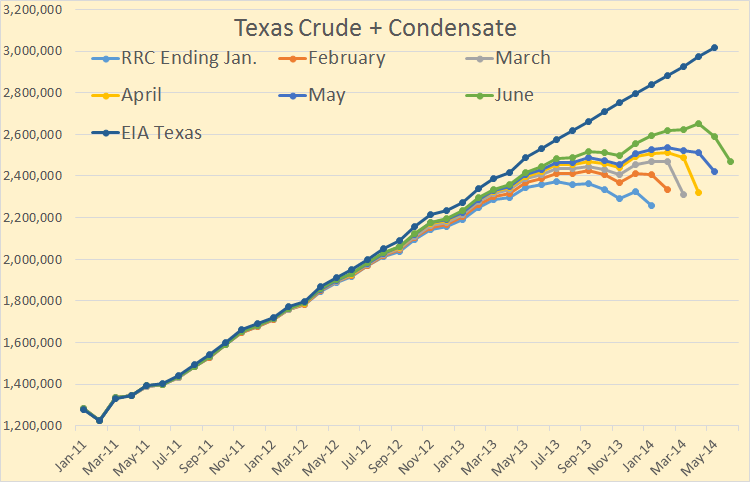 Texas Crude + Condensate is still increasing from between 40 and 45 thousand barrels per day. The EIA has estimated that Texas C+C will increase by 44 thousand barrels per day after all the revisions have come in. I originally thought that was a little high but now believe that is pretty close.
Below are charts for Texas oil well gas and casinghead or associated gas. All gas numbers are in thousand cubic feet per day. I currently only have two months data but will keep it until I have six months data and will hold all charts at that number.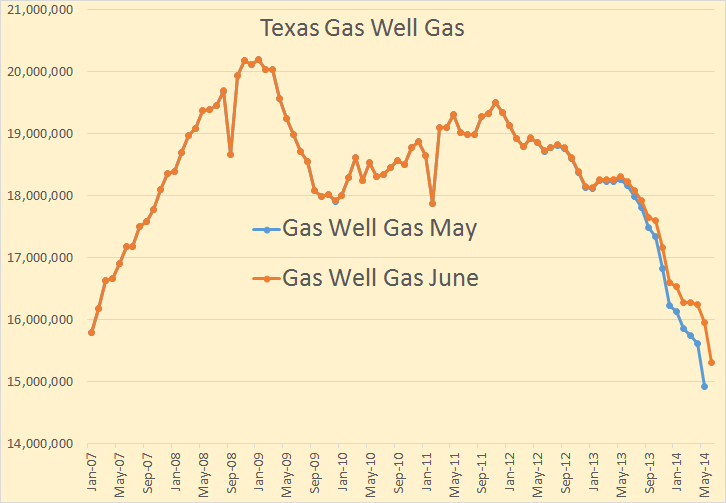 Texas gas well gas is clearly in decline though there are and will continue to be some months where production will increase. The decline is primarily because of the price of gas. Rigs are switching from gas to oil.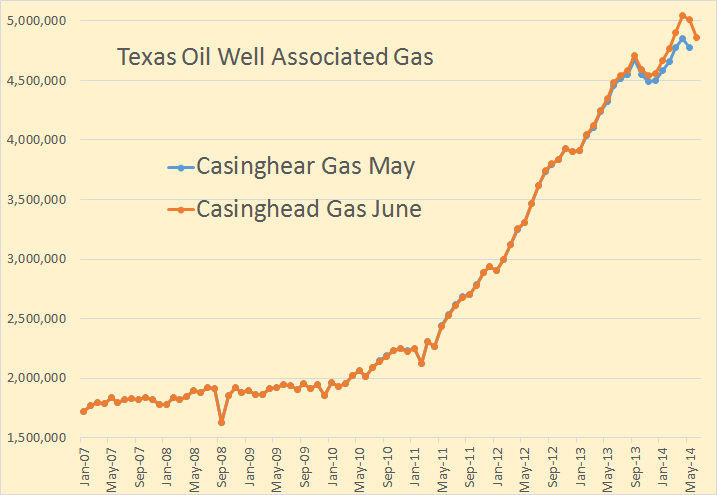 Associated gas production continues to increase as rigs switch to oil drilling.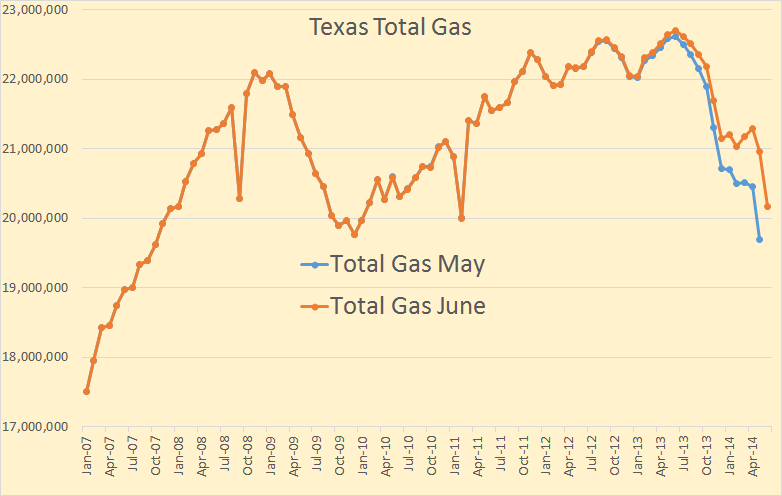 Combine the two and we get Texas total gas production. Texas total gas appears to have peaked in June 2013. It declined for six months and has now started to increase slightly. But unless the price of gas increases I don't believe it will reach last year's high again.
Now I would like to mention a couple of things about Russia that I missed in my last Russian post, starting with the following graph from this PDF file: Global and Russian Energy Outlook to 2040.
Between 60 and 70% of Russia's oil production comes from their old super giant fields in Western Siberia. But they are depleted and declining pretty fast. For several years massive infield drilling kept their production relatively flat while production from other areas of Russia increased. So where will Russia's future oil production come from?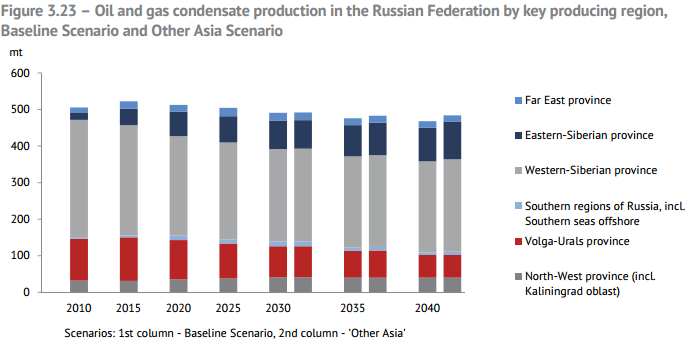 Now wait a cotton picking minute here. The lions share of future Russian Oil production is still coming from those tired old field in Western Siberia. How is that possible? They say the answer is simple, those tired old fields are gonna grow!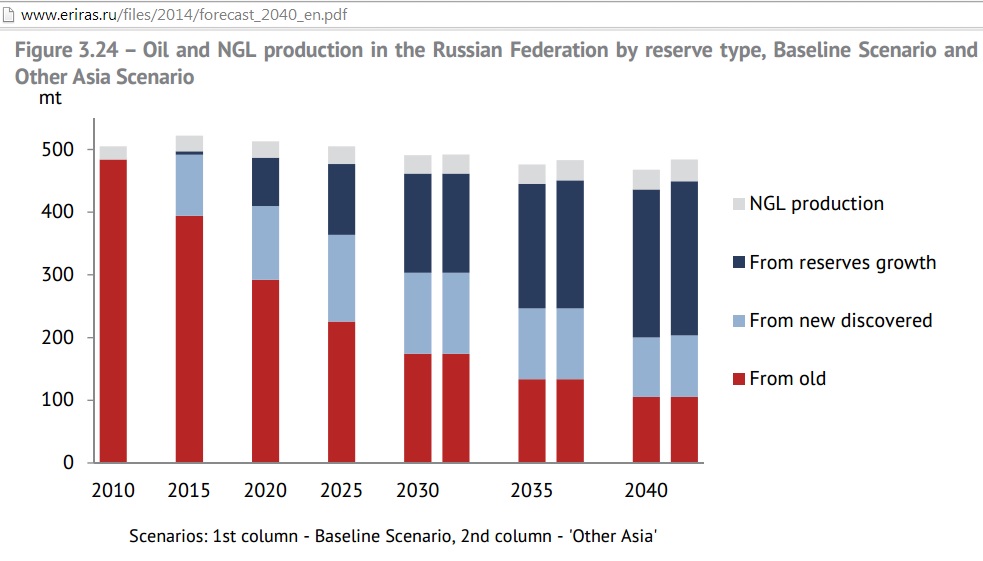 In 2015 old fields are producing about four fifths of Russia's crude oil with new discoveries about one fifth. In future years those old fields will decline until in 2040 they will produce a little over one fifth of Russia's production. New production will then produce about the same amount as those old fields. All the rest, about 60 percent of Russia's oil will then come from"Reserve Growth".
Now reserve growth, as described by the EIA and other oil reporting agencies, is nothing more than a revision of original estimates of the URR of a field. And since Russia's old fields were discovered many decades ago shouldn't they have already undergone all the growth they are going to grow? Well not exactly because in Russia the term "reserve growth" means something slightly different.
Russian reserves are A, B, C1 and C2. The first three correspond to what we would classify as 1P, 2P and 3P reserves. We don't have a 4P. They do and they call it C2. Well they even have a C3, D1 and D2. But C2 is as far as we need to go because that is where all this reserve growth is going to come from. From afore mentioned PDF flile:
One should point out the significant role that will need to be played by geological exploration during the forecast period, since by 2040 more than 50 per cent of production in all scenarios will need to come from growth in reserves, and final reconnaissance of fields resulting in category C2 reserves becoming category C1.
Russian Classification of Reserves
Category C2 reserves are preliminary estimated reserves of a deposit calculated on the basis of geological and geophysical research of unexplored sections of deposits adjoining sections of a field containing reserves of higher categories and of untested deposits of explored fields. The shape, size, structure, level, reservoir types, content and characteristics of the hydrocarbon deposit are determined in general terms based on the results of the geological and geophysical exploration and information on the more fully explored portions of a deposit. Category C2 reserves are used to determine the development potential of a field and to plan geological, exploration and production activities.
They are talking about the area adjoining the old fields! The damn fields are literally going to grow! Or so they believe.
Notice: Not much data is due to be released in the next couple of weeks or so, so unless I have a guest post or two there will not be a lot of new posts coming out in the next couple of weeks. There are likely to be more than three days between posts for a while.