The Texas Railroad Commission has released its  incomplete production data for February.  The RRC also estimates final production but that data has not been posted yet.
All Texas RRC data is through February. The EIA data is through January.
It looks like, after the final Texas data comes in, that February crude oil will be above January production but still below December production. It is my best guess that Texas production will be down about 80,000 barrels per day in January and up about 50,000 bpd in February or about 30,000 bpd below December production.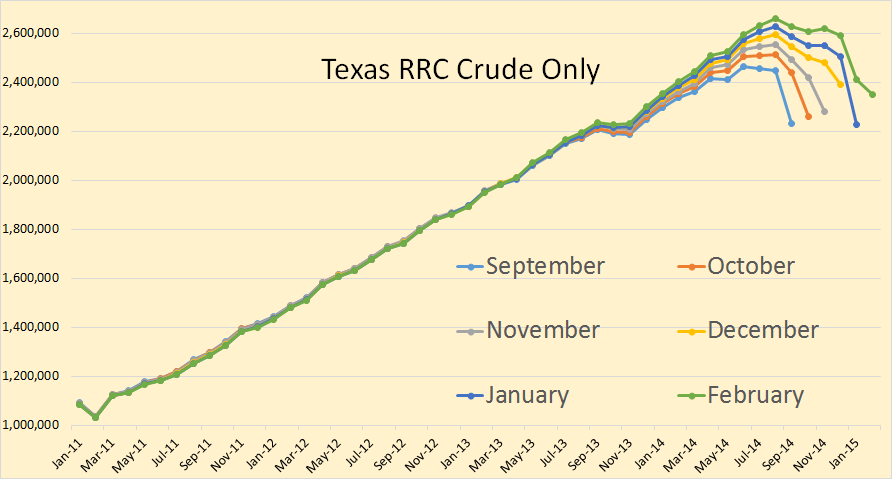 I always post the last six months data just so we can get some idea of the general trend. You can see the general trend is up until January when it took a huge hit and only partially recovered in February.
Texas condensate likely peaked back in April 2014 but it will be close. December condensate production could, after all the data comes in, could be a bit higher.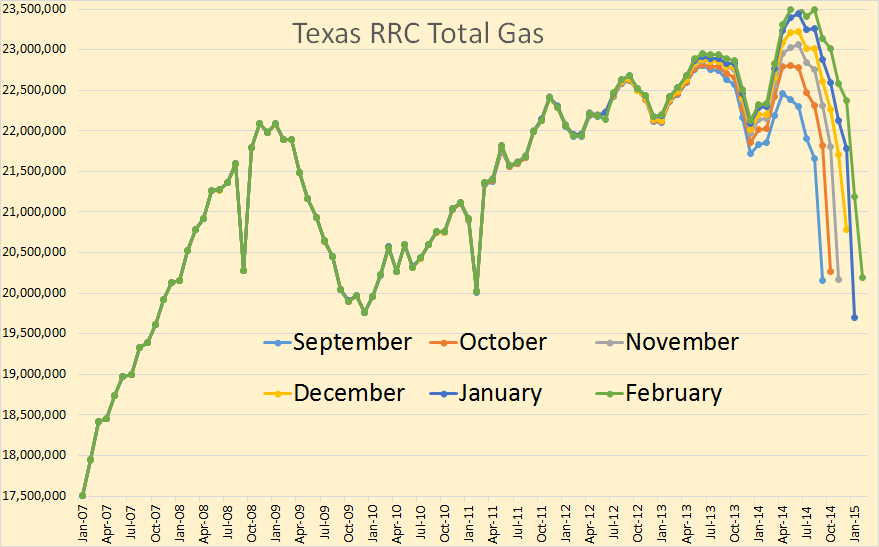 Texas gas production is in MCF. Texas total gas has been going up and down for about six years now. I have no idea how much natural gas Texas could produce if gas prices were higher. But it looks like, at current prices, Texas natural gas production peaked back in August.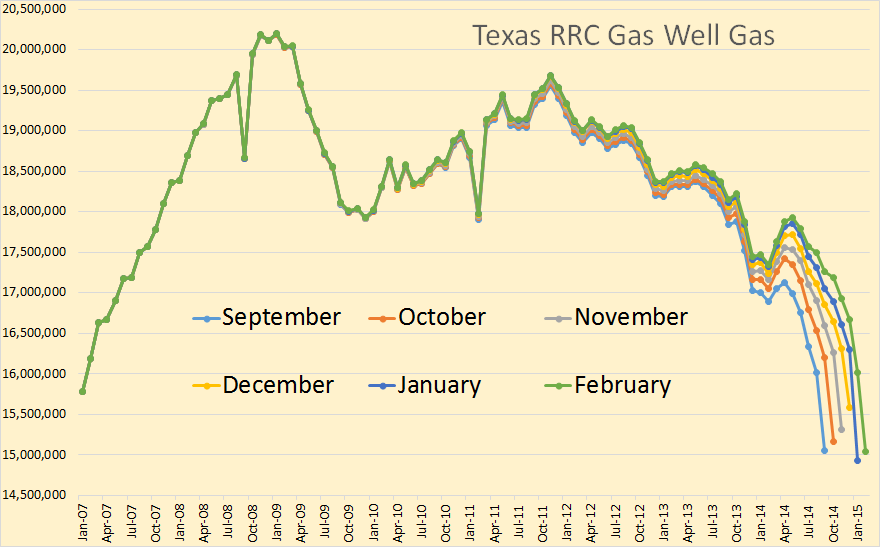 Texas gas well gas inched up slightly in February after that huge decline in January. So February numbers will still be well below the December production numbers.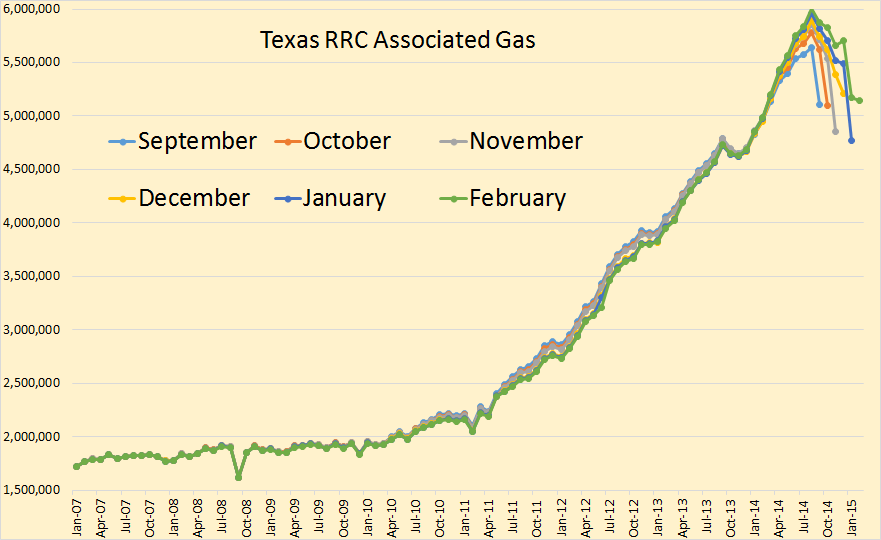 Texas associated gas production in February was well above their January production numbers. Associated gas accounts for about one fourth of total Texas gas production.
Survey shows Texans confused over Railroad Commission, favor name change
Given the choice, the majority of Texans would trust the Texas Energy Commission to ensure safe and responsible oil and gas drilling, according to a survey conducted by Dallas-based Breitling Energy.
There's just one problem: That agency does not exist, at lease not by that name. Not yet.
It's the Texas Railroad Commission that actually regulates oil and gas in Texas…
"The RRC has nothing to do with trains! Did you know that? If not, you aren't alone," Sitton wrote. "There's a woefully inadequate level of understanding regarding what the RRC does."
The below article has likely been discussed before in the comments section but if so I missed it.
How Long Can the U.S. Oil Boom Last?
The long-term problem for oil frackers isn't just low prices. It's low reserves…
The basis for these forecasts are estimates of shale oil reserves. A 2013 Energy Department report on technically recoverable shale oil—the amount that's recoverable without regard to cost—puts U.S. potential at 58 billion barrels. That's equivalent to a little more than eight years of U.S. consumption at the current rate of almost 19 million barrels a day.
The Energy Department's estimate of "proved reserves" of shale oil—those that can be recovered economically today—is only about ten billion barrels. That's about a sixth of technically recoverable reserves, and less than a year and a half's worth of current consumption. Proved reserves include all currently known U.S. oil shale resources-North Dakota Bakken, Texas Eagle Ford, Colorado and Nebraska Niobrara, Texas Barnett, and others.
Economically recoverable shale oil reserves, at $55 a barrel, are a lot less than 10 billion barrels. In fact if all expenses are included, lease costs to taxes and interest payments, the break even point is likely a lot more than $55 a barrel.
_______________________________________________________
Note: If you would like to receive an email notice when I publish a new post, then email me at DarwinianOne@gmail.com