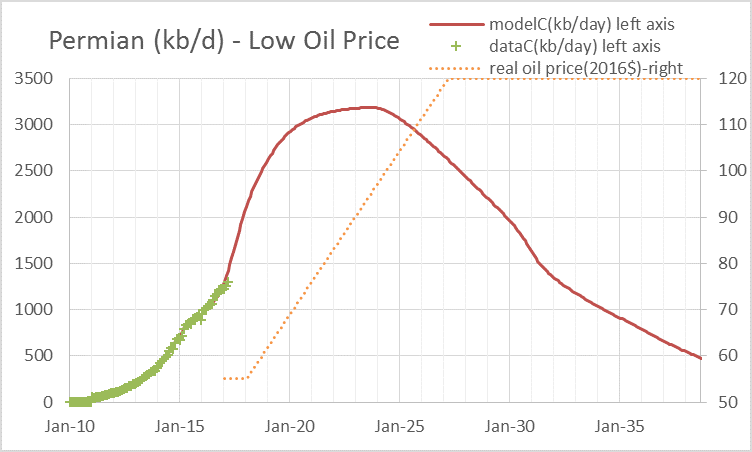 Chart 1 – A Model using data from Enno Peter's shaleprofile.com.
The chart above (chart 1) needs some explanation. It is based on the Permian LTO model found by using Enno Peters' data from shaleprofile.com and an estimate of future well completions. I doubt output will rise this quickly, but the peak level may be about right if oil prices follow the assumed scenario.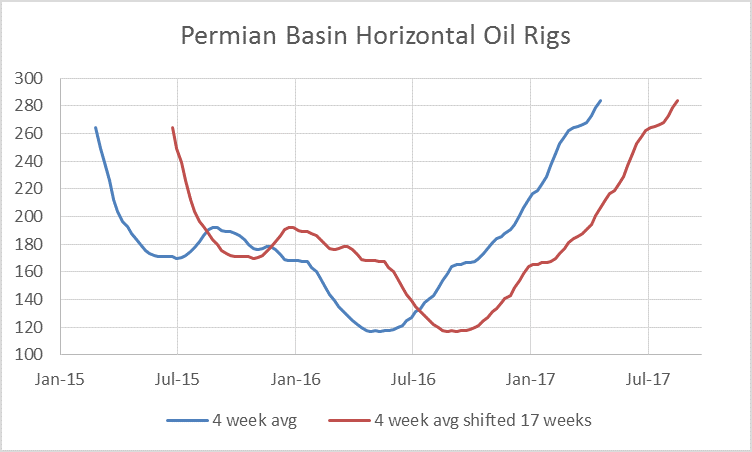 Chart 2
The estimate of future well completions is based on past well completions and horizontal oil rig counts from Baker Hughes in Chart 2.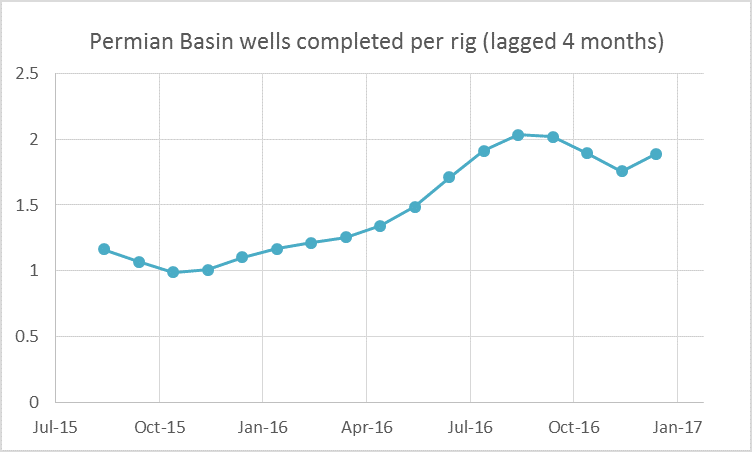 Chart 3
For the most recent 3 months the average wells completed per horizontal oil rig count from 17 weeks ago (3.9 months) was about 1.89 wells per rig as seen in Chart 3.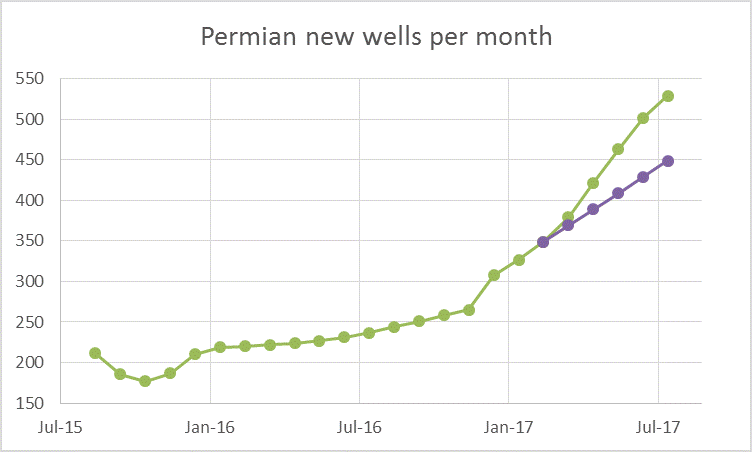 Chart 4
If it is assumed that this value (1.89 wells/rig) remains constant over the next 4 months, we can use the horizontal oil rig counts from the past 17 weeks to project well completion rates 17 weeks into the future. These were used as the estimate for Permian new wells per month for April to July 2017.
In the model, I assumed a well completion rate of 509 new wells per month was reached by Dec 2017 (rather than July which seemed too fast) and then remains fixed at that level until economics requires a decrease in Dec 2023.
The well completion rate for the model (see chart 1) was less steep from Feb 2017 (349 wells completed) to July 2017 (449 wells completed) compared to chart 4 (with a completion rate of 500 new wells per month by June 2017). The completion rate for the model is the lower line in purple from Feb 2017 to July 2017 and the 20 well per month increase in completion rate continues to Dec 2017 for the model in chart 1.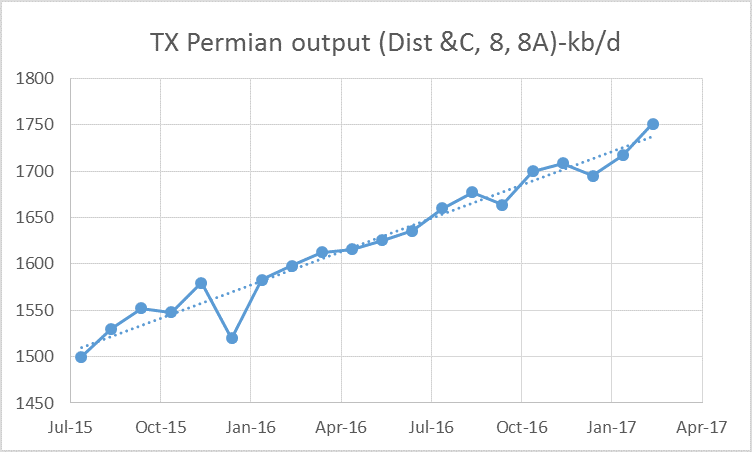 Chart 5
The chart above is based on RRC of Texas data and Dean Fantazzini's output estimate for Texas. In Sept 2016 about 523 kb/d of the output is from conventional C+C output which has declined while LTO output has increased based on estimates from the EIA's Drilling Productivity Report (DPR).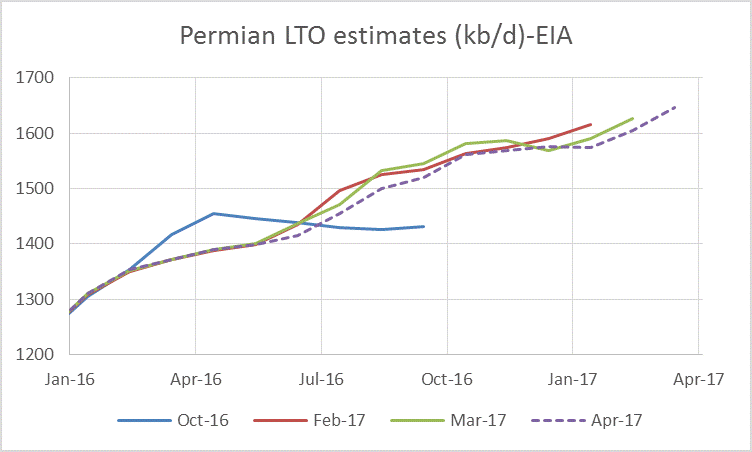 Chart 6
The chart above shows how EIA estimates of Permian LTO output have changed from Oct 2016 to April 2017, it is possible that a change in trend might be missed currently, just as in Oct 2016 the change in trend from May 2016 was missed. It is possible the EIA's Drilling Productivity Report (DPR) has this right (see chart 7 below) and Permian output for Jan and Feb 2017 may be revised upward in the future (just as the Oct 2016 estimate had to be revised for August and Sept 2016).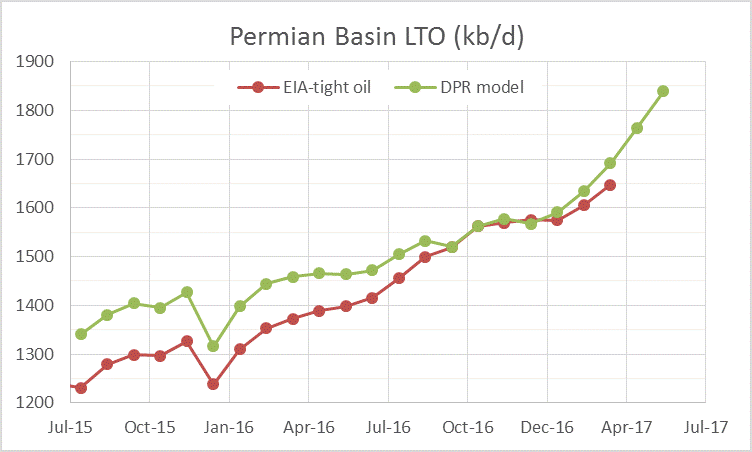 Chart 7
The DPR estimate matches fairly well with the model in chart 1 which does not include about 350 kb/d of Permian Basin LTO output from vertical wells (only horizontal well output is modelled) in May 2017.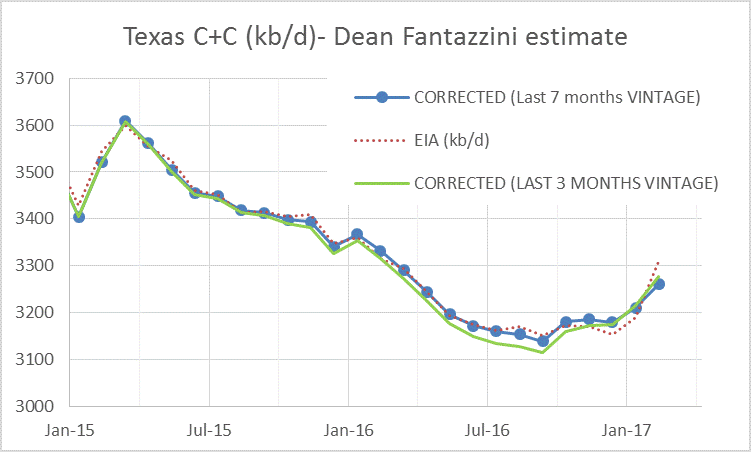 Chart 8
For the past 5 months Texas output has risen at an average rate of 31.4 kb/d or an annual rate of 377 kb/d.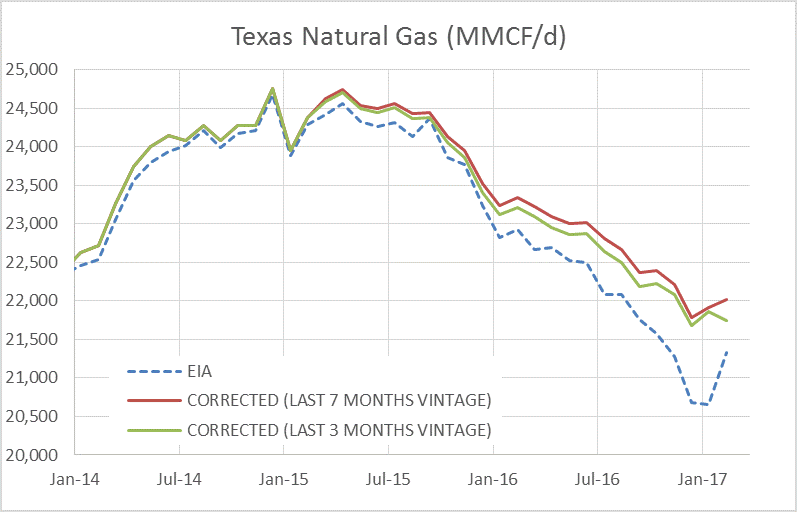 Chart 9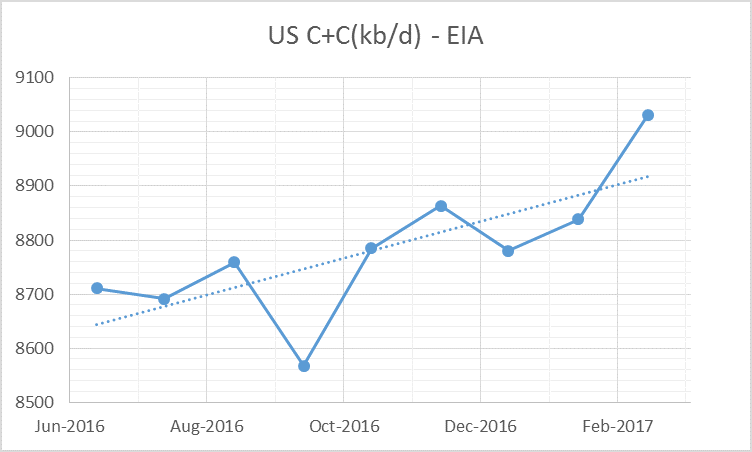 Chart 10
US C+C output is up by an average rate of 49 kb/d each month for the past 7 months (July 2016 to Feb 2017). About half of this increase was from the Gulf of Mexico (GOM), 25 kb/d each month from July 2016 to Feb 2017. The increase in GOM output is not expected to continue so if the L48 onshore increase continues we would see an increase of 250 kb/d over the next 10 months and about 300 kb/d for the year. If optimistic estimates (see Chart 1 above) of Permian basin future output are correct, we might see higher growth rates of 850 kb/d for the year. Reality will probably fall between 250 kb/d and 850 kb/d, 450 to 650 kb/d would be my estimate for the US C+C output increase from Dec 2016 to Dec 2017.