This is an open thread. Post on any subject if it relates to energy… even slightly.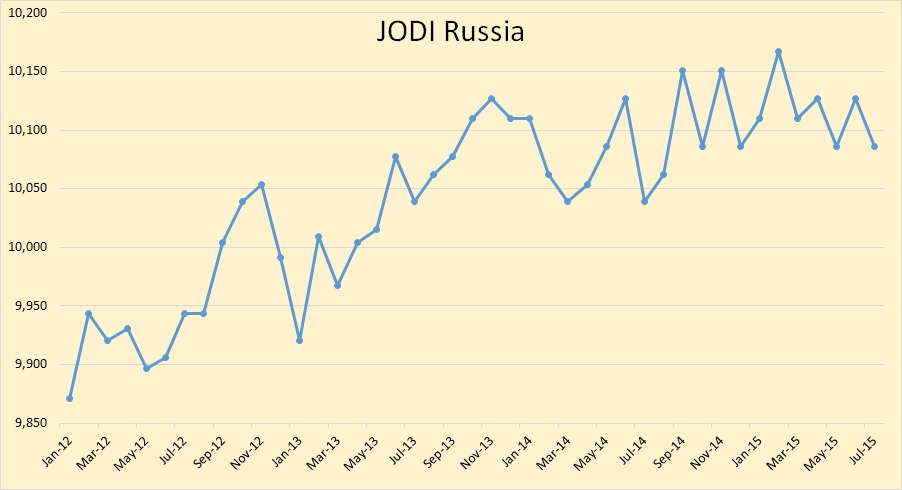 Russian production has flattened out during the last 12 months. Russia is the world's second largest producer of crude oil, only slightly below Saudi Arabia.
Iran unveils a three stage plan to get its Persian Gulf oil back to pre sanction levels… in five years.
3-stage plan to raise oil production unveiled
Managing director of the Iranian Offshore Oil Company has explained details of Iran's three-stage plan to increase oil production during the post-sanction era.
Explaining the detail of Iran's three-stage plan to increase crude oil production in Persian Gulf, Saeed Hafezi said that, "currently, the natural decline in Iran's oil production in offshore fields exceeds the decline in onshore fields."
Pointing to the 10-12 percent drop in oil production at Persian Gulf fields, Hafezi asserted that, "accordingly, implementing plans to increase oil production in these areas will be time consuming and only after compensating for the natural decrease we can begin to increase our production capacity."
This official reiterated that by the removal of sanctions, Iran will undertake a three-stage plan to increase oil production adding that, "based on this plan, during the first stage we will implement emergency techniques to increase daily production of crude oil in Persian Gulf by 32 thousand barrels."
Announcing a medium-term program to increase daily production in Persian Gulf and the Strait of Hormuz by 130 thousand barrels, Hafezi added that, "by undertaking a four to five-year plan, the natural drop in annual production capacity will be compensated in order to reach the quota of 800 thousand barrels per day."
I found the above article extremely revealing. First, much of Iran's decline during sanctions has been due to "natural decline". Of course we knew that but I had no idea it was as high as 10 to 12 percent. That was just their Persian Gulf fields, but their inland fields have been declining also. It will be interesting to see how long it takes them to get those fields up to their previous levels.
US Oil Production Fall Will be Worse than Markets Expect
Based on our projections of a horizontal rig count of 500-500 in the tight oil plays (the industry has been running between 540-560 during the past three months), we expect U.S. oil production to fall by 600-800mb/d during 2016, with monthly volumes bottoming around 8.2mmb/d later next year. This is a bearish outlook relative to consensus, with the variance explained by the fact many forecasters continue to hedge their bets on what 2016 activity levels will be. 
August 2015 Had Highest Sea Surface Temperature on Record
Across the oceans, the August 2015 globally-averaged sea surface temperature was 0.78°C (1.40°F) above the 20th century average—the highest temperature for any month in the 1880–2015 record.NOAA analysis further shows that in August 2015, the sea surface on the Northern Hemisphere was 1.02°C (1.84°F) warmer than it was in the 20th century, as illustrated by the graph below.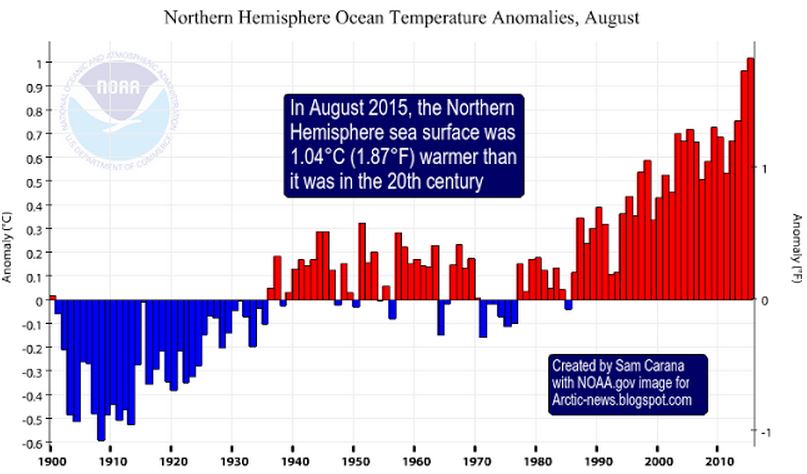 As the image below shows, the August data for sea surface temperature anomalies on the Northern Hemisphere contain a trendline pointing at a rise of 2°C (3.6°F) well before the year 2030. In other words, if this trend continues, the Northern Hemisphere sea surface will be 2°C (3.6°F) warmer in about a dozen years time from now.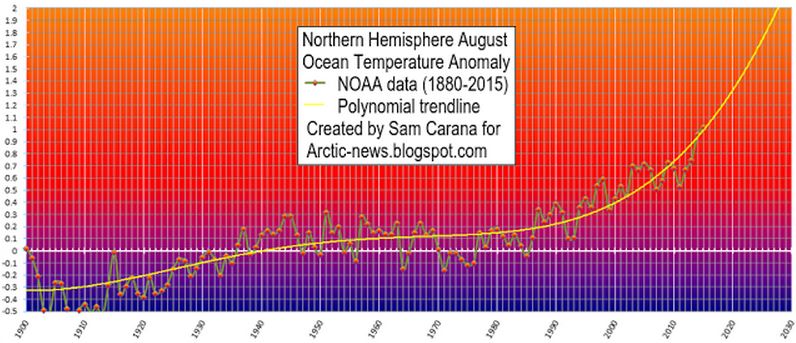 Such a temperature rise would be catastrophic, as there are huge amounts of methane contained in the form of hydrates and free gas in sediments under the Arctic Ocean seafloor. A relatively small temperature rise of part of these sediments could cause a huge abrupt methane eruption, further speeding up local warming and triggering further methane eruptions, in a spiral of runaway warming that will cause mass destruction and extinction, as described in the reference page The Mechanism.
And last I must apologize for posting a political link. But this does slightly relate to energy. If this man got elected what would our energy policy look like?
Ben Carson: Darwin's Evolution Theory 'Was Encouraged by the Adversary,' Satan
Dr. Ben Carson, a pediatric neurosurgeon and author of six best-selling books, gave a talk about creationism vs. evolution and said he believes the theory Charles Darwin "came up with was something that was encouraged by the adversary," Satan, the Devil.
"Interestingly enough, this [evolution theory] is a relatively modern science concept," said Dr. Carson at the conference Celebration of Creation. "Before Darwin came along, it wasn't."
The man is second in the republican race for president.