OPEC has just published their latest Monthly Oil Market Report with the June production numbers. All data is in thousand barrels per day and is Crude Only.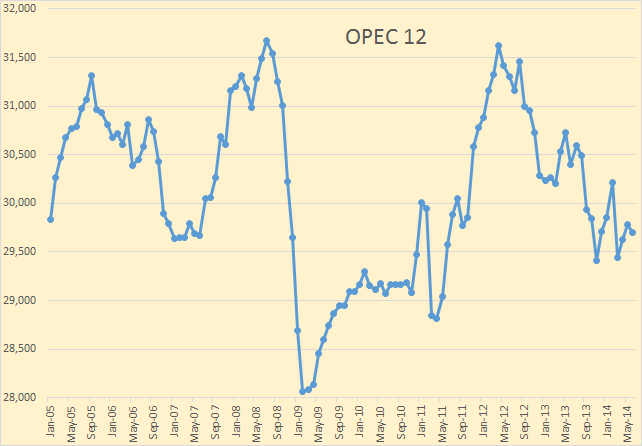 All revisions in the May data were minor. The June OPEC Crude Only production was down 80,000 bp/d from May.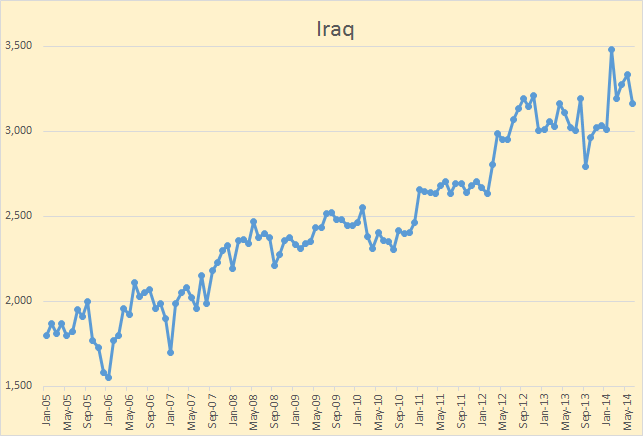 The big story in June was the invasion or Iraq. It has has only minor effect on production. Iraqi production was down 169,000 bp/d in June.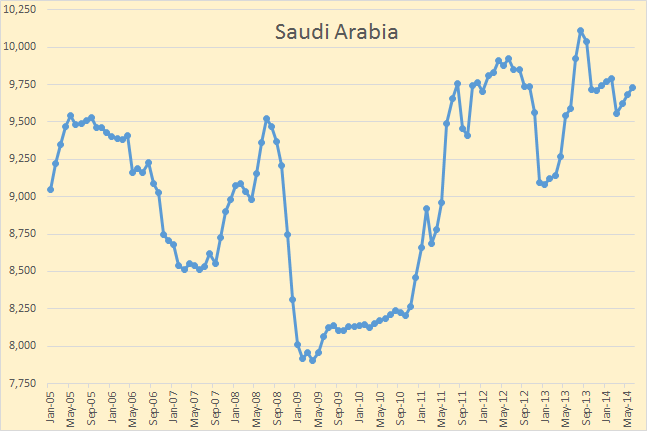 OPEC's largest produce and the World's largest exporter, Saudi Arabia, increased Crude production by 48,000 bp/d in June. There has been very little change in Saudi production in the last nine months.
All other OPEC producers had very little change from May to June. Charts of all 12 OPEC nations can be found on the OPEC Charts page.

The big story this month comes from Russia.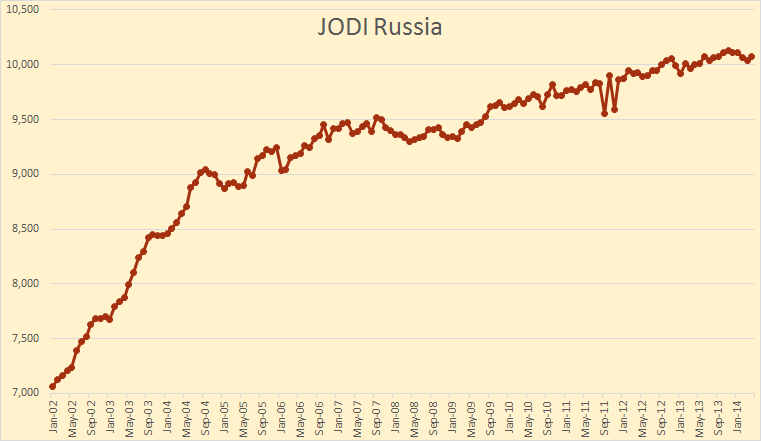 The JODI data, through April 2014, shows Russia peaked in December at 10,127,000 bp/d and down only 50 kb/d since then. But the worst is yet to come.
Moscow has confirmed Russia is in decline!
From Tass: Russia expects decline of oil export revenue in 2016
MOSCOW, July 07. /ITAR-TASS/. Russian finance ministry predicts a 156.4 billion roubles ($4.5 billion) decline in 2016 oil export revenue from the earlier figure stipulated in the federal budget law for 2014 and the planned period 2015 and 2016, says the Ministry's draft federal budget for 2015-2017.
 The decrease is due to the expected fall in oil production to 193.4 million tonnes from 206.4 million tonnes.
In 2015, the budget will receive 78.9 billion roubles less than expected earlier, as export will contract to 195.4 million tonnes from 202.6 million tonnes.
Those production numbers make no sense and are an obvious error. Russian production, for the last 12 months, July through June has averaged around 1,440,000 tons per day. That comes to about 530 million tons per year. The numbers could be export numbers, I am not sure. Or, they could be production numbers from Rosneft because that is almost exactly what they are producing. Rosneft is Russia's largest producer and is 75% owned by the state.
It looks like both Jodi and the EIA, to convert tons to barrels, are using a number very close to 7 barrels per ton. The usual multiplier of 7.3 gives a number about 450,000 barrels per day higher than they are reporting.

Note:
 I currently send out an email notice to many people notifying them whenever I have a new post. If you would like to be added to, or removed from, that list please post me at DarwinianOne at Gmail.com.