There has been very little new data to report lately. The JODI, Joint Organizations Data Initiative, data for March came out a few days ago. JODI is very good as far as the data it reports goes. The problem is there is a lot of data they just don't report. If a country does not report their production for a given month then JODI just leaves it blank. And some countries they can't seem to get any data from, so JODI just gives them zero for every month. For those countries I just substitute EIA numbers.
As far as OPEC goes JODI is very political, reporting the inflated numbers that Iran and Venezuela report. I use instead the EIA data for those two countries.  Anyway here is what I have from JODI. The Data is in kb/d, last data point March 2014: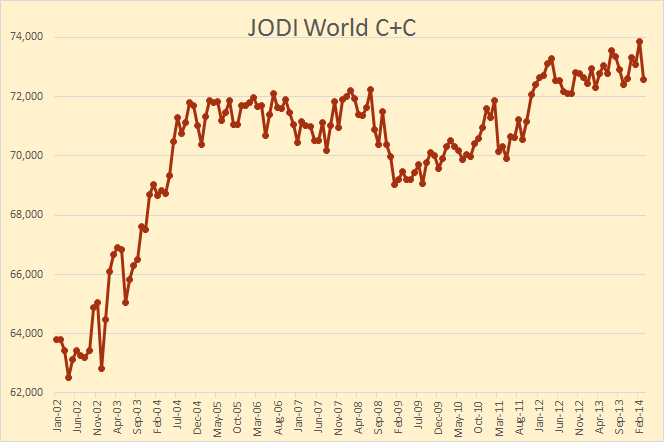 But for a few countries JODI is a pretty good data source. Russia is a good example.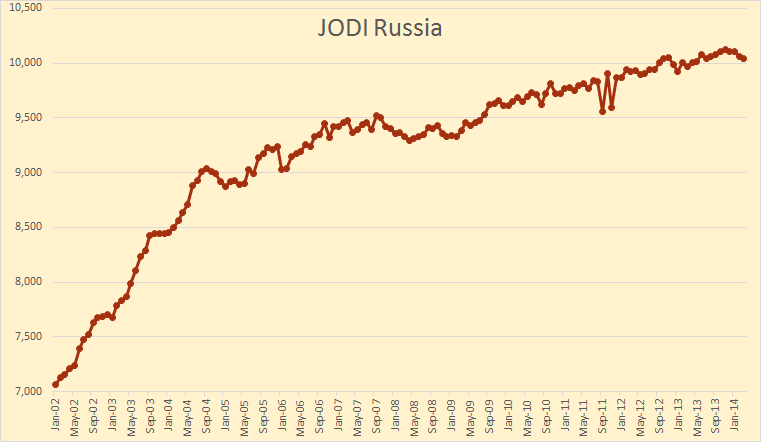 JODI has Russia peaking, so far, in November at 10,127 kb/d and now about 100 kb/d below that point. Analysis have, for years, been expecting Russian production to decline but new fields in Siberia have kept inching up a little bit each year. But with over 60% of their production still coming from Western Siberia's giant, largely depleted, fields it looks like that long overdue decline may have finally arrived.

This from 5 years ago: Russian Oil and Gas Industry Surprises Analysts
There are plenty of projects in Russia, both, new projects and existing brownfield projects. Russia is a very mature producer. If you exclude all the drilling activity taking place every year, then Russian organic decline in production is close to 19%. To compensate for that organic decline, Russia drills somewhere between 5,000 and 6,000 wells every year.
5,000 to 6,000 wells is a lot of wells. Most of that was just infill drilling. But they did bring on line their last giant in 2009, Vankor. Vankor is almost at full production of 500 kb/d. But with very little new oil coming down the pike, and infill drilling in their old giants beginning to peter out, it looks like the long expected decline in Russian oil production has finally arrived.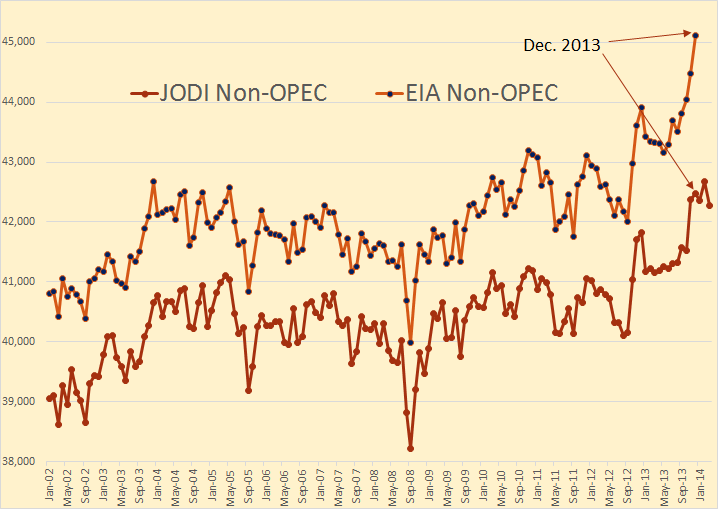 Here I have the EIA Non-OPEC C+C production versus JODI Non-OPEC production. Part of the huge difference between the two can be explained by a few very small producers that do not report to JODI. But only half a million bp/d or less can be explained because of that discrepancy. But…. this discrepancy is getting worse. The last data point here is December 2013: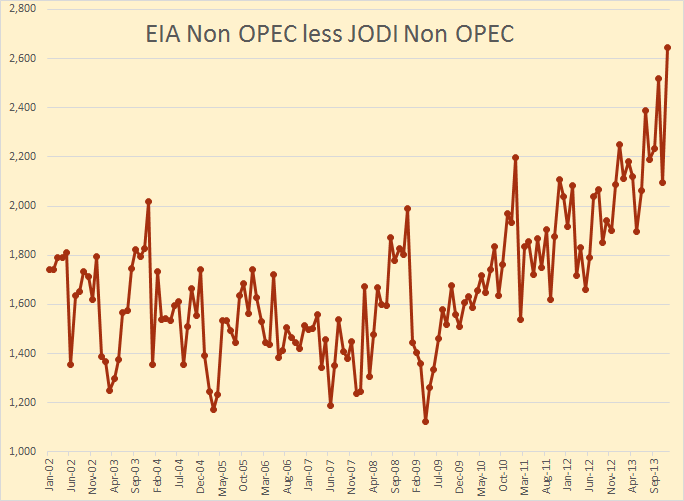 Through 2007 the difference was averaging about 1,500 kb/d but since it has increased to around 2,400 kb/d. I don't know if this is the EIA over reporting or Jodi under reporting.
But the JODI data is two to three months ahead of the EIA data. The EIA data may be out next week with the January numbers. Then again those numbers may not be out next week. But one can get an idea of what some countries will do in the next three months. The last data point this and the next chart is March 2014.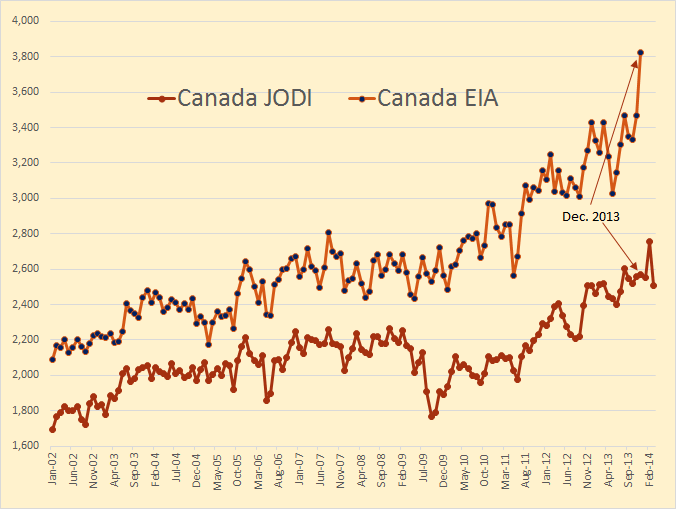 The EIA has Canada up 133 kb/d in November and up another 354 kb/d in December. But JODI shows no such increase. Jodi shows Canadan production jumping in February then dropping back to even lower levels in March. Apparently there are some tar sands production that JODI does not count.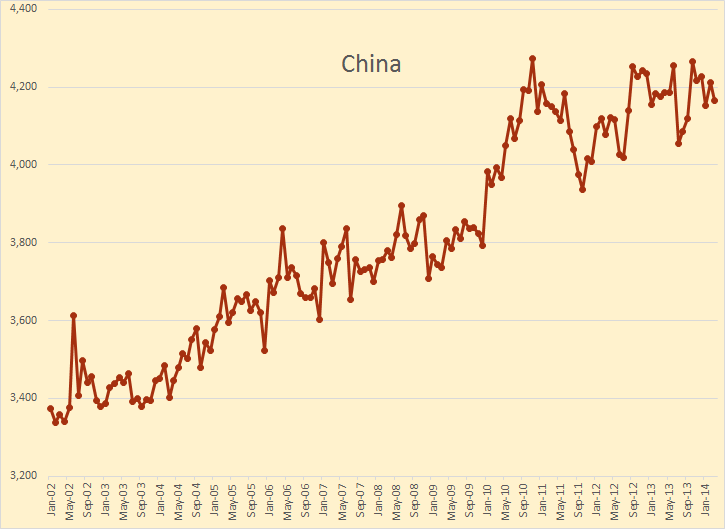 China appears to be on a plateau, not up and not down. But they are 110 kb/d below their peak in November of 2010.