Folks who follow this blog know that I am a data hog. That is I track data from the US as well as production from the rest of the world. But there are periods during the month when there is just no new data coming in. During the first 10 days or so of a month is such a time, almost no new data is posted anywhere. So I try to find something else to post. It is on the oil production in the Gulf of Mexico.
The last data point on all charts is March 2014. All data is in barrels per day except the first chart below which is in thousand barrels per day.
The EIA gets their data from BSEE, (Bureau of Safety and Environmental Enforcement), a branch of Department of the Interior, not the Department of Energy as you might expect.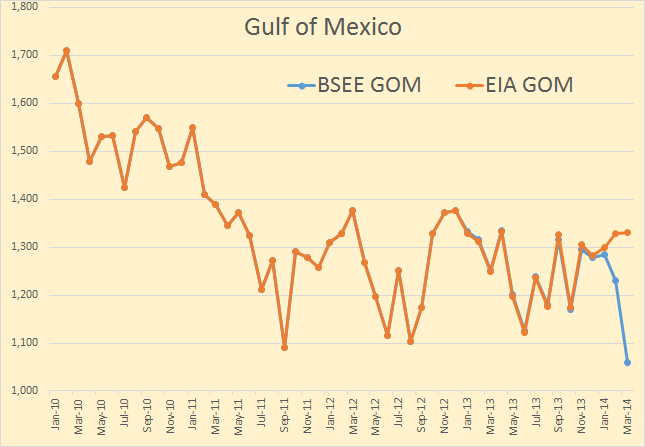 The BSEE is a little like the Texas RRC, that is they report the data they have even though they know it will be revised later. The EIA on the other hand, estimates where they think the data will be after it has all come in. So the chart above shows where they think production in the GOM will be after all the data comes in.

The few deep water leases that I follow seems to have leveled of somewhat. The charts below reflect final data for these platforms. When a company reports their production numbers it is seldom if ever revised. The problem is late reporting, not bad data reported.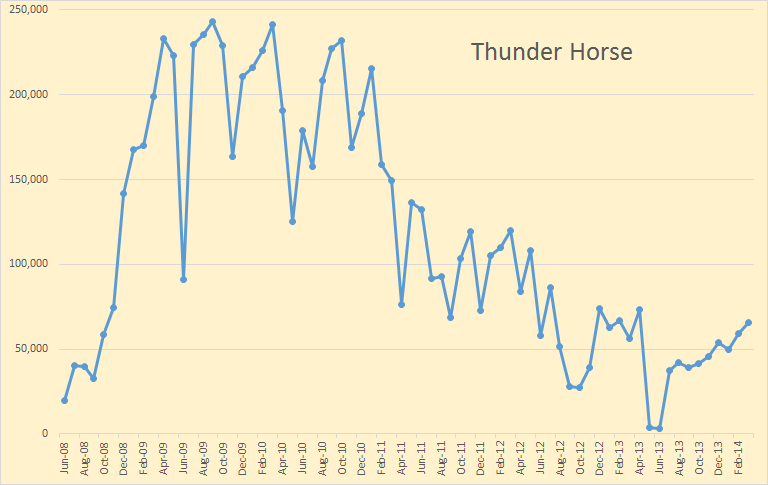 Thunder Horse peaked in 2009 and 2010 then declined pretty fast. But after shutting down for maintenance in June and July of last year they seem to have stopped the decline. Thunder Horse produced 65,563 barrels per day in March.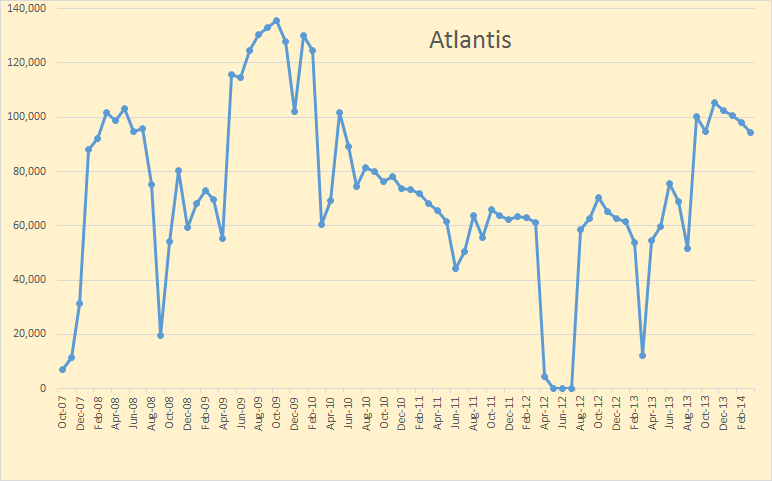 Atlantis has had erratic production throughout its history but as of late has increased production somewhat. Atlantis produced 94,440 bpd in March.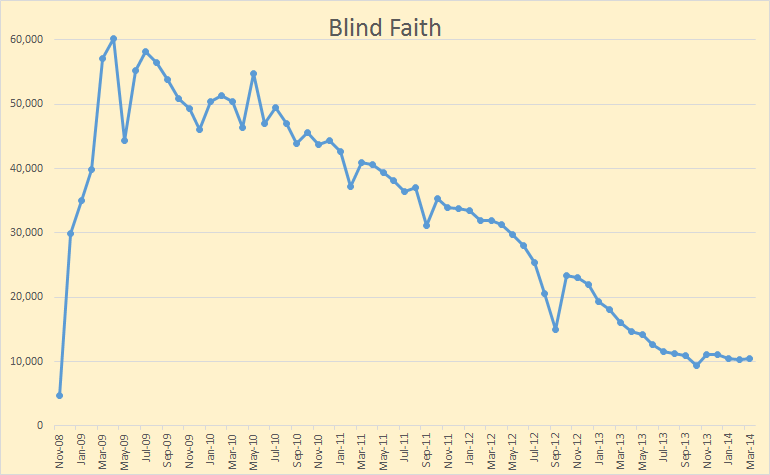 Blind Faith declined steadily for about three years but has leveled out somewhat now. Blind Faith produced 10,456 bpd in March.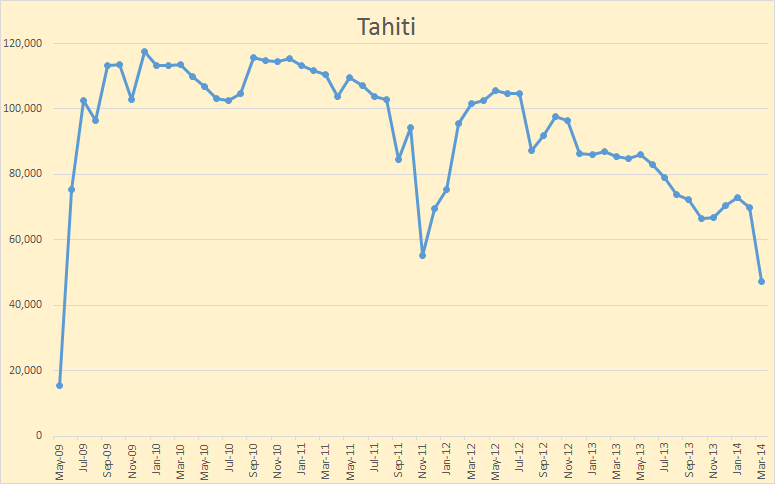 Tahiti held up best of all but has now started to decline a little faster. Tahiti produced 47,273 bpd in March.
News Jacking: 
This article came out last month but is important enough to bring up now.
Washington's Shale Boom Going Bust (The government, not the state.)
To read the headlines, it seems that the USA has emerged out of the blue to the point of becoming the world's oil and gas production giant. All thanks to the Shale Revolution. Recently President Obama made various noises that the US could solve the Ukraine gas dependency on Russian gas because of the spectacular growth of extracting natural gas, and more recently, oil, from shale rock formations across the US. There's only one thing wrong with this picture—"It ain't gonna happen…"
I don't recall anything about Obama and oil in the news, but the author of the article is correct, it ain't gonna happen.
No one expects the President of the US to have the time or the scientific background to delve into the geophysical complexities of shale energy. He naturally relies on competent advisers. What if the advisers, instead of being competent, like in so many government agencies today, are in the sway (and sometimes perhaps pay) of the shale energy companies and their Wall Street investment bankers who have hundreds of billions of dollars riding on promoting the shale hype?
The current US Shale boom is being sustained on steroids, otherwise known as the Fed's never-ending Quantitative Easing zero-interest-rate policy, a stance that shows no sign of reverting to normal interest rate levels as the economy continues to be depressed since the collapse of the 2007 real estate mortgage securitization bubble. In effect, shale drillers are able to keep in business only because Wall Street and other investors continue to throw money at them like it was falling from trees. Tim Gramatovich, chief investment manager for Peritus Asset Management LLC, an $800 million fund, notes, "There's a lot of Kool-Aid that's being drunk now by investors. People lose their discipline. They stop doing the math. They stop doing the accounting. They're just dreaming the dream, and that's what's happening with the shale boom."
That is really a great article. Some folks are getting the message and some are still spreading bullshit.
Tight Oil, Shale Gas to Drive Lower 48 Production from RigZone.
Wood Mackenzie estimates that 21 billion barrels of light sweet crude oil will be ultimately recovered from the Bakken and Three Forks play in the Williston Basin, higher than the U.S. Geological Survey's (USGS) April 2013 updated estimate of 7.4 billion barrels. 
Got that? 21 billion barrels! That is 20 billion barrels more than the area has already produced. The Bakken, this year,reached the 1 billion barrel mark, in cumulative production, two thirds of that in the last three years. If the Bakken were to reach 1 million barrels per day, and hold production at that level, then it would take 55 years to produce that other 20 billion barrels. From Wood Mackenzie no less!
From Wiki: Wood Mackenzie is a global energy, metals and mining research and consultancy group with an international reputation for supplying comprehensive data, written analysis and consultancy advice.
It makes absolutely no sense that anyone with even the slightest knowledge of shale production in the Bakken could come up with such a very stupid estimate. Why would Wood Mackenzie make such a silly prediction? They have to know that is absurd. If they don't then they deserve to lose every client they have.
But the IEA is slowly but surely getting the message. There have been numerous reports lately about the IEA warning of how much oil OPEC is going to have to come up with to meet the estimated future demand for oil. Here, from the IEA's web site, is an article that estimates how much it is all going to cost, else… who knows?
World needs $48 trillion in investment to meet its energy needs to 2035
But only about half that is for oil, the other half is for power generation, transmission and $8 billion for energy efficiency. In other words we have to keep throwing money at this problem, a lot of money, about $2.3 trillion per year. What this tells me is the economies of the world, or most of them anyway, must remain sound and strong and that goes for the world currencies as well. If there is a hiccup, like the scare of peak oil throwing panic into the markets, then the whole thing could go to hell in a hand basket pretty fast.