David Archibald has recently revised his peak date for shale oil. The below was contained in a recent post I received from him:
Ron,
For what it is worth, just to let you know that I have recanted on my estimate of US LTO production.
This is from reading the presentations put out in September by the US independents.   I started with the EOG presentation and then worked through the others that EOG referred to.  If Hubbert-type analysis works for LTO, it may be too early to apply it.
The rig count for the Bakken etc may be down to flat but the fraccing units are pumping a lot more sand and the economics of fraccing have improved a lot over the last two years.  That in turn means that the resource is larger at a given IRR cutoff.  This is currently my best guess of the three major plays: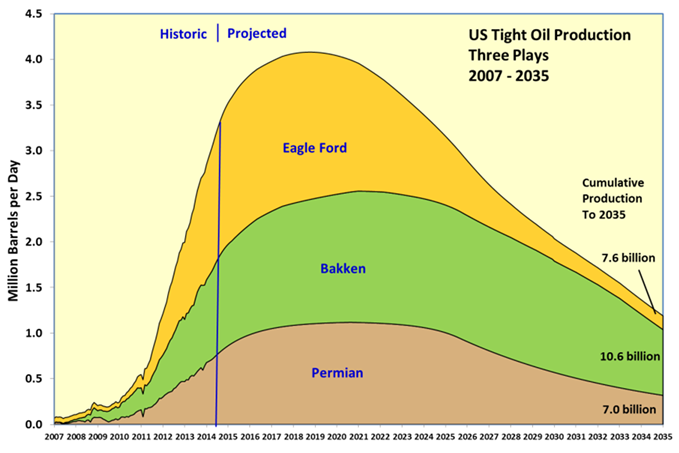 Others are appearing such as SCOOP in Oklahoma.
 I tried to make the graph useful by putting in the cumulative production to 2035 so that people can mentally adjust it for what they think EUR might be.  The Permian has a lot of NGLs and natural gas which means that the energy produced is about twice as large as the oil component.    The reason I didn't make the Permian as peaky as the Eagle Ford for example is that there at lot of stacked plays in the Permian.  Once companies have got acreage and got one horizon working, they don't have to be in a rush to develop the others.
 The US LTO boom is worth about two to three years of conventional oil decline: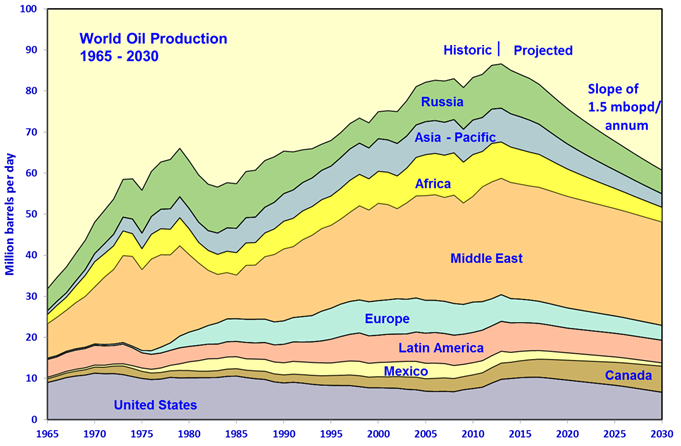 With further demand destruction, the US will become energy independent.

David revised his opinion on LTO after reading presentations by LTO drillers. I am not so sure this is a reliable source… However, eyeballing his first chart, he has LTO increasing from about 3.35 mbd today to about 4.1 mbd in 2019. That is an increase of only about .75 mbd over the next 4 to 5 years or so.
Looking at his second chart it looks like he is predicting the peak of world oil production to be this year, 2014. That falls within my prediction of a peak in 2015, give or take one year.
The EIA's International Energy Statistics export data is pretty poor, with data only through 2010. But their data on imports is much better, updated through April 2014. The data used to make the charts below are in thousand barrels per day through April 2014. Unfortunately they only give import data for OECD nations. We have no data for India, China, Brazil or many other World nations. The OECD members are the following countries:
Australia                 Hungry                 Norway            
Austria                     Iceland                 Poland
Belgium                   Ireland                 Portugal
Canada                     Israel                    Slovakia
Chile                         Italy                       Slovenia
Czech Republic      Japan                    Spain
Denmark                 South Korea        Sweden
Estonia                    Luxembourg        Switzerland
Finland                    Mexico                  Turkey
France                     Netherlands         United Kingdom
Germany                New Zealand        United States
Greece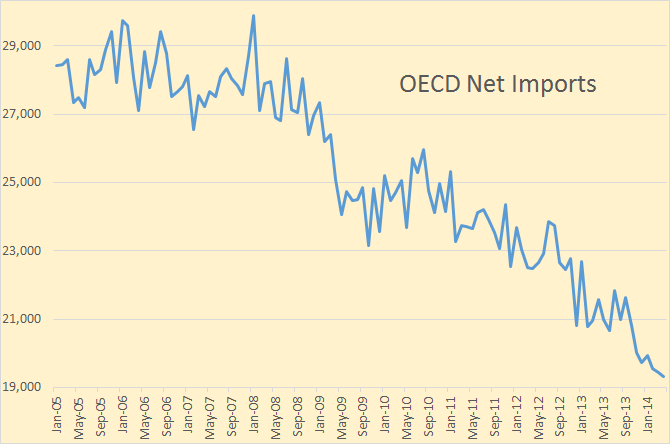 Net OECD imports are down about 9 million barrels per day since 2005
But the chart is misleading. It includes not just producers but net exporters as well. Exports are subtracted from imports to get net imports. Sometimes it is a negative number. So the below chart excludes all major producers except the USA. That is the chart includes USA's imports.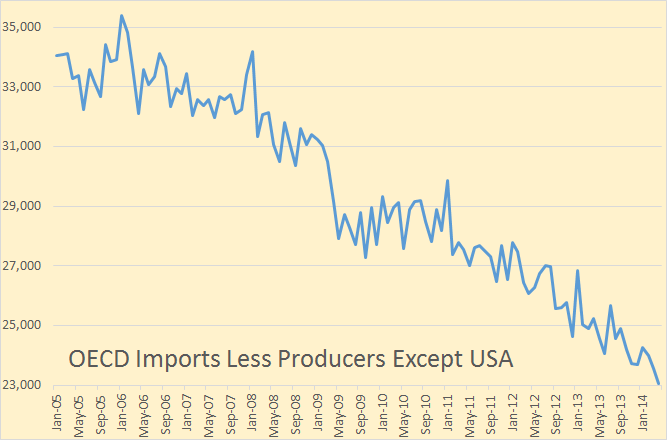 So OECD net imports, excluding major producers but including the USA, are down about 10 million barrels per day since 2005. But what if we exclude the USA also?
Major OECD producers are the USA, Norway, United Kingdom, Mexico and Denmark.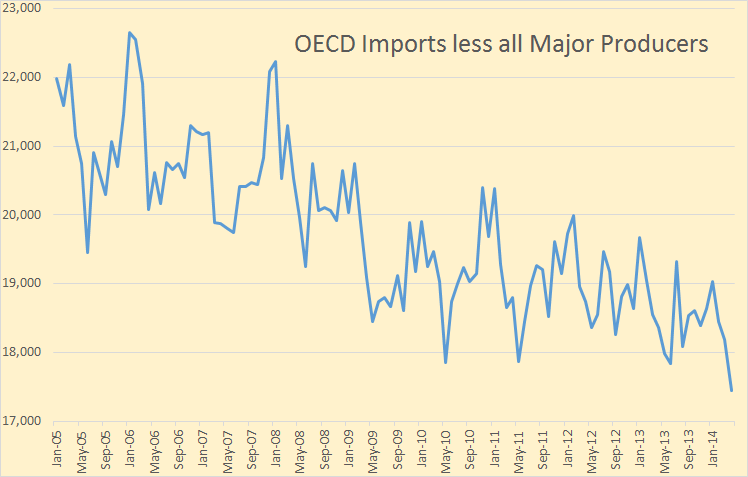 OECD imports less all major OECD producers are down about 3 million barrels per day since 2005.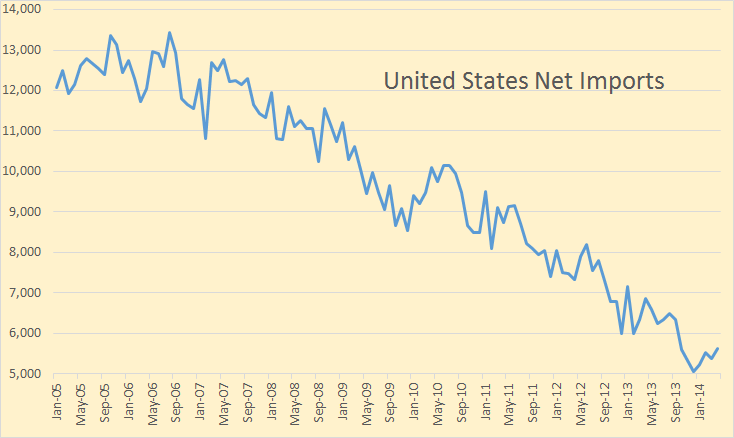 That means that USA net imports are down about 7 million barrels per day since 2005 and 2006.
This is important: Were the USA still importing what we did in 2005 and 2006 the world would be short another 7 million barrels per day. About half this reduction in imports has come from new shale oil and the other half from demand destruction due to high prices. At any rate the USA's effect on World oil supply and demand is very significant.
Note: I send an email notice when I publish a new post. If you would like to receive that notice then email me at DarwinianOne at Gmail.com