North Dakota publishes their Historical Barrels of Oil Production by County which gives county by county production back to 1951. The data here does not include confidential wells but they publish the last couple of months production data that does include confidential wells here: Oil and Gas Production Report. Looking over this data I found something very strange. In October Bakken production was down by 1,598 barrels per day and all North Dakota was down by 5,4054 barrels per day.
All data is in barrels per day with the last data point October 2014.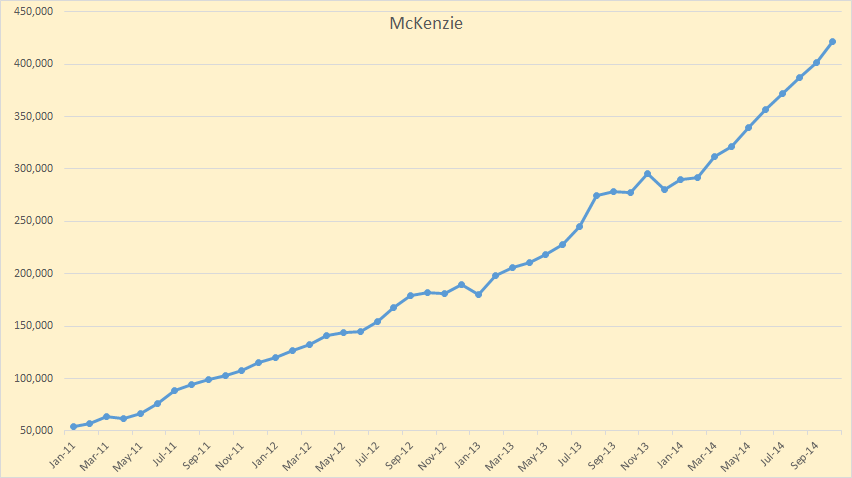 McKenzie County was up 19,609 barrels per day or 4.88 percent. In October McKenzie was up even more than it was in September when the Bakken was up 52.5 thousand barrels per day.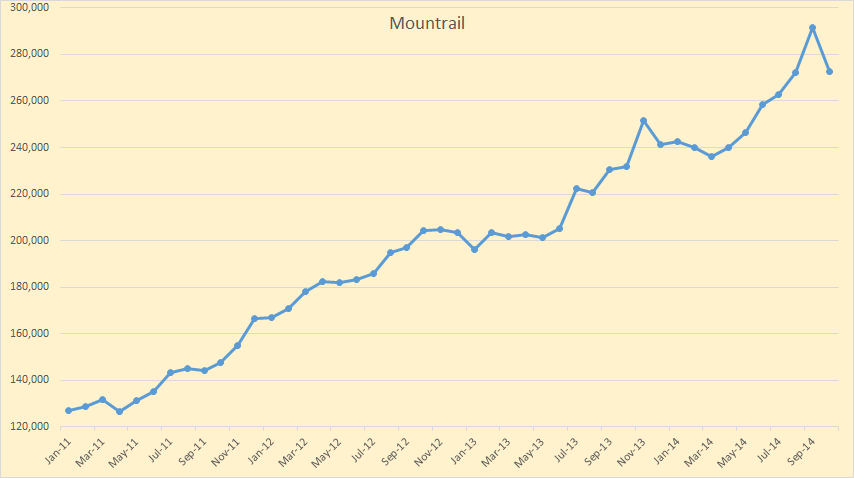 Mountrail Countywas down 18,728 barrels per day or 6.42 percent. There is  more on this story below.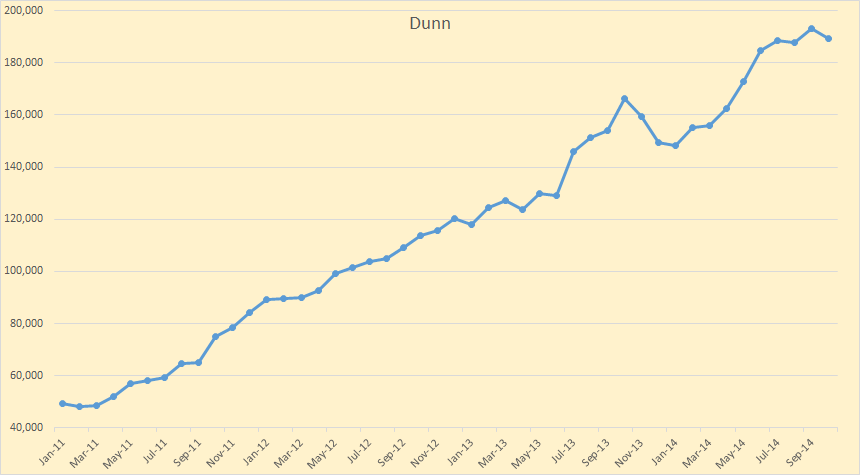 Dunn County was down 3,527 barrels per day or 1.83 percent.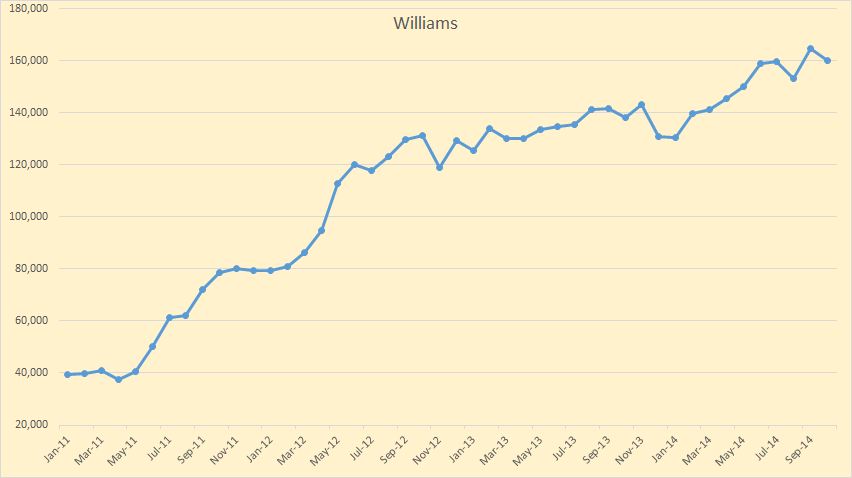 Williams County was down 4,593 barrels per day or 2.79 percent.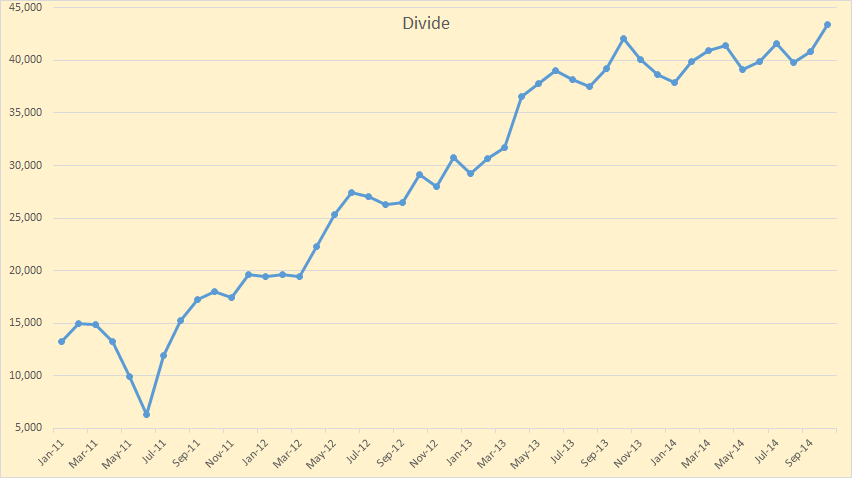 Divide County was up 2,597 barrels per day or 6.36 Percent.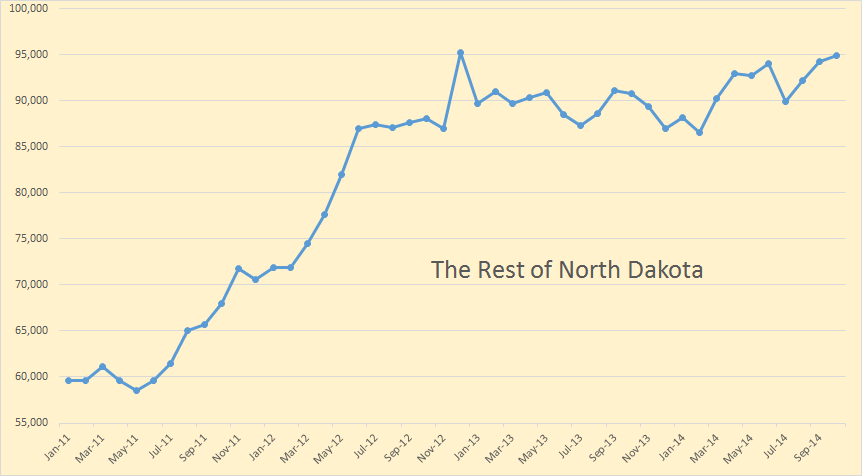 The rest of North Dakota was up 589 barrels per day or .62 percent.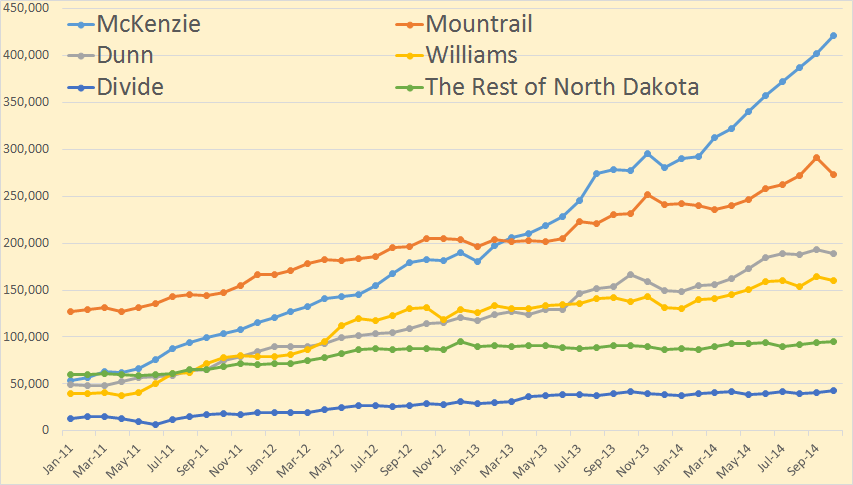 All four major producing counties along with Divide County and the est of North Dakota, zero based so you can get a better idea of the contribution from each county.
But the real story here is Mountrail County. Normally we would expect such a drop, 6.42 percent, if there were no new wells at all. But I collected data from 30 completed wells in Mountrail County in October and Enno Peters' data listed 31 completed wells in October. And neither of these two lists include confidential wells or even all the non-confidential wells. Some of the non-confidential wells  listed did not give production numbers and were therefore not listed in the data base. So somewhere between 35 and 45 wells were completed in Mountrail county in October and production there still fell 6.42 percent.
But there was a noticeable difference in the quality of the wells that came on line in October.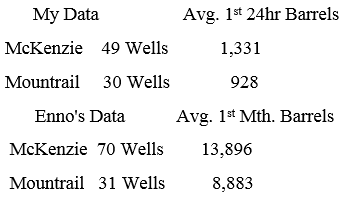 Measuring actual first month's barrels, McKenzie not only had over twice as many wells but the average production from McKenzie's wells were over 36 percent better than the average of Mountrail's wells. Also this is further confirmation that the 1st 24 hour production from a well is a valid indicator of future production from that well.
The take away from all this is that McKenzie County is still very productive and will likely continue to increase in production. However the Mountrail County is over drilled and likely to go into decline, if it has not already. Drilling is very likely to be curtailed in Mountrail and other counties. The decline in these other counties will very likely be much greater than any increase in McKenzie county. After all if production fell 6.4% with 35 or so new wells, imagine what it might be if that number of new wells dropped by 50% or more.
What is happening to US Production? The weekly production reports are not worth a bucket of warm spit since they are just wild ass guesses and we will have to wait until Dec 30th for the Petroleum Supply Monthly, we may be able to get some indication by looking at the weekly import data.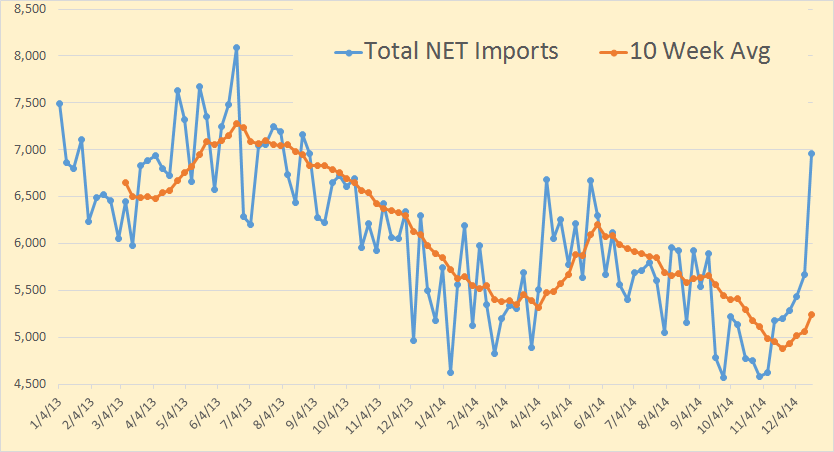 Imports jumped in last weeks report to their highest point since August of 2013. Does this mean that US production is dropping?
On another subject: The EIA's International Energy Statistics just came out with world oil production data for September 2014. World oil production in September was up over 1 million barrels per day. This was not a surprise as the IEA had, over a month ago, informed us of as much. We had discussed this increase before here as one of the reasons for the price crash. A declining world economy was the other reason. Anyway my next post, in about three days, will be on World oil production with data from this report.
In other news: Russia to slash oil output starting next year
Russia may cut its oil output due to low global oil prices and the lack of investment into the country's energy industry, Deputy Prime Minister Arkady Dvorkovich said Thursday.
Given the pessimistic scenario, Russia's oil output could shrink by 10 percent in the next two or three years, which will not produce serious effects on global oil markets, Dvorkovich told Russia's TV channel Rossiya 24.
Note: I send an email notice when I publish a new post. If you would like to receive that notice then email me at DarwinianOne at Gmail.com.