The Bakken and North Dakota production data is in.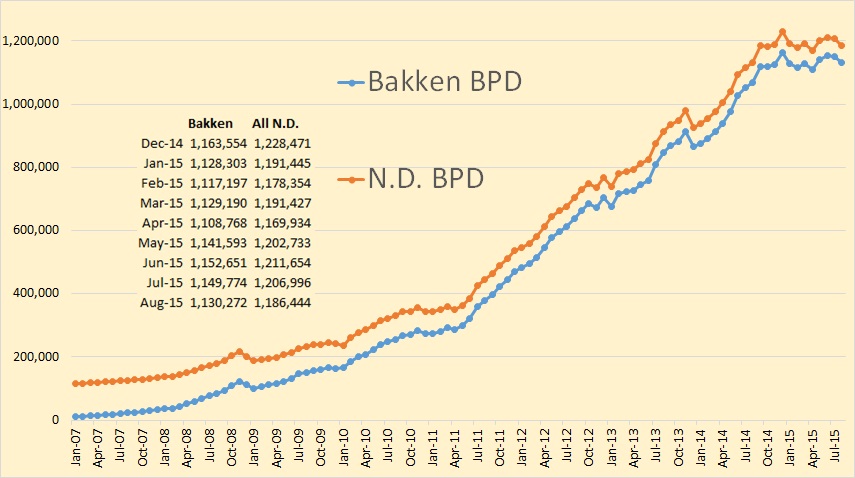 Bakken production was down 19,502 bpd in August while all North Dakota was down 20,552 bpd.
Here is an amplified chart of Bakken and all North Dakota production.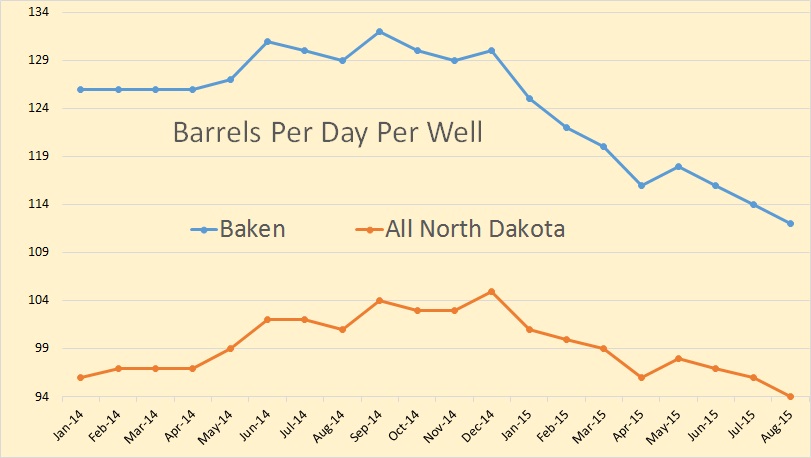 Bakken barrels per well per day is now 112 while all North Dakota gets 94 barrels per well per day.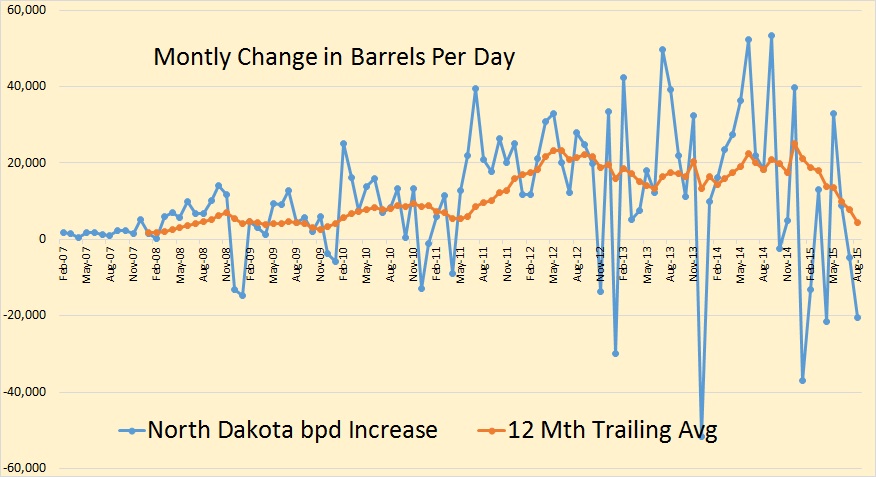 This chart shows the monthly change in North Dakota production. It is likely that by next month the 12 month average change in production will be negative.
Bakken wells producing increased by 69 and ND wells producing increased by 65.
From the Director's Cut
July Permitting: 233 drilling and 0 seismic
Aug Permitting: 153 drilling and 1 seismic
Sep Permitting: 154 drilling and 1 seismic
July Sweet Crude Price1 = $39.41/barrel
Aug Sweet Crude Price = $29.52/barrel
Sep Sweet Crude Price = $31.17/barrel
Today's Sweet Crude Price = $35.00/barrel
(low-point since Bakken play began was $22.00 in Dec 2008)
(all-time high was $136.29 7/3/2008)
July rig count 73
Aug rig count 74
Sep rig count 71
Today's rig count is 67
(in November 2009 it was 63)(all-time high was 218 on 5/29/2012)
Comments: The drilling rig count increased 1 from July to August, decreased 3 from August to September, and dropped 4 more this month. Operators are now committed to running fewer rigs than their planned 2015 minimum as drill times and efficiencies continue to improve and oil prices continue to fall. This has resulted in a current active drilling rig count of 10 to 15 rigs below what operators indicated would be their 2015 average if oil price remained below $65/barrel. The number of well completions fell from 119(final) in July to 115(preliminary) in August. Oil price weakness now anticipated to last well into next year is the main reason for the continued slow-down. There was one significant precipitation event in the Minot area, 6 days with wind speeds in excess of 35 mph (too high for completion work), and no days with temperatures below -10F.
Over 98% of drilling now targets the Bakken and Three Forks formations. At the end of August there were an estimated 993 wells2 waiting on completion services, 79 more than at the end of July.
The drop in oil price associated with anticipation of lifting sanctions on Iran and a weaker economy in China is leading to further cuts in the drilling rig count. Utilization rate for rigs capable of 20,000+ feet is about 40% and for shallow well rigs (7,000 feet or less) about 20%.
Drilling permit activity decreased sharply from July to August but stabilized from August to September as operators continued to position themselves for low 2016 price scenarios. Operators already have a significant permit inventory should a return to the drilling price point occur in the next 12 months.
Highlights of IEA Oil Market Report had an interesting chart this month.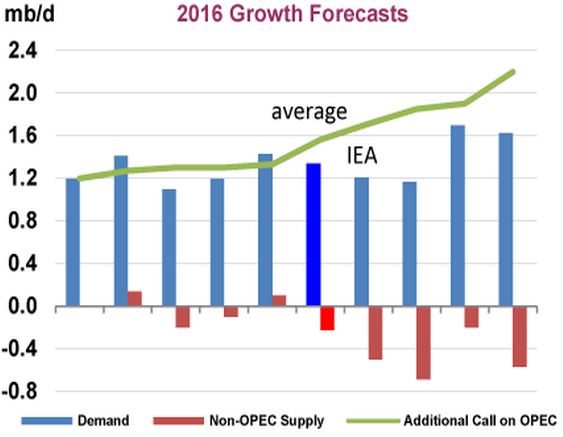 This is a chart of nine different demand growth and production forecasts, sorted left to right on the amount of shortfall in Non-OPEC production. Or, to put it another way, it is sorted on the amount OPEC will have to increase production to keep supply and demand in balance.
The IEA says demand will increase by 1.2 mb/d while Non-OPEC supply falls by .5 mb/d meaning the "call on OPEC" will be to increase production by 1.7 mb/d. The most optimistic prediction says the "call on OPEC" will be only 1.2 mb/d while the most pessimistic prediction says the "call on OPEC" will be 2.3 mb/d.
If the article below has any validity then the decline in Non-OPEC production will be a whole lot more than any of the nine prognosticators are predicting.
Offshore oil output to plunge as producers scrap field upgrades
(Reuters) – Global offshore oil production in ageing fields will fall by 10 percent next year as producers abandon field upgrades at the fastest rate in 30 years, in the first clear sign of output cuts outside the U.S. shale industry, exclusive data shows.
A drop in oil prices to half the level of a year ago has forced producers to slash spending and scrap mega projects that can take up to a decade to develop, but they are also taking less visible steps to cut investment in existing fields that will have an immediate impact on global supplies.
There have been few signs of how cost cuts of around $180 billion will impact near-term production until now. They could erode the glut that has forced down prices, and help balance global production and demand by the middle of next year or earlier, Oslo-based oil consultancy Rystad Energy said.
Data provided exclusively to Reuters by Rystad show a sharp decline in investment to upgrade mature offshore oil fields in order to arrest their natural decline, in what is known as infill drilling.
In three major offshore basins — the Gulf of Mexico, Southeast Asia and Brazil — infill drilling dropped by 60 percent between January and July this year compared with the same period last year, according to the Rystad Oil Market Trend Report, whose data is based on company data and regulatory filings.
The drop dramatically exceeds previous downturns in infill drilling going back to 1986, the data shows.
For example, according to the data, in the Gulf of Mexico, infill drilling on mature wells dropped from 149 wells between January and July 2014 to a total of 61 wells during the same period this year.
Based on this trend, Rystad Energy estimates that global offshore oil production in mature field will decline next year by 1.5 million barrels per day (bpd), or 10 percent, to 13.5 million bpd from 15 million bpd in 2015.
_________________________________________________________
If you would like to be notified when a new post is published then please email me at DarwinianOne at gmail.com