This is a guest post by Jean Laherrère
The problem of forecasting future Bakken production is that estimating reserves of shale oil is harder than for conventional oil and is very unreliable because many confuse reserves and resources, and shale oil reserves depend more from economy than from technology. Many estimate the amount of hydrocarbons generated by the source-rock and believe that a significant percentage could be recovered: the study of the main Petroleum Systems in the world estimate than only about 1% will recovered in conventional fields, no more could be expected in unconventional fields.
US Shale gas production started in 1821 in Fredonia for lighting when whale oil price was about 2000 $2014/b, but was replaced by conventional oil in 1859 because a largely lower price.
How to estimate future production?
Drilling activity is a good way to model production with a shift.
In my MIT Paris paper «The end of the peak oil myth» MIT club de France- Paris 28 April 2014, I was convinced that North Dakota oil production will peak within 2014 using a correlation between oil production and shifted number of rigs, guessing the value of the shift and the relationship between rigs and production.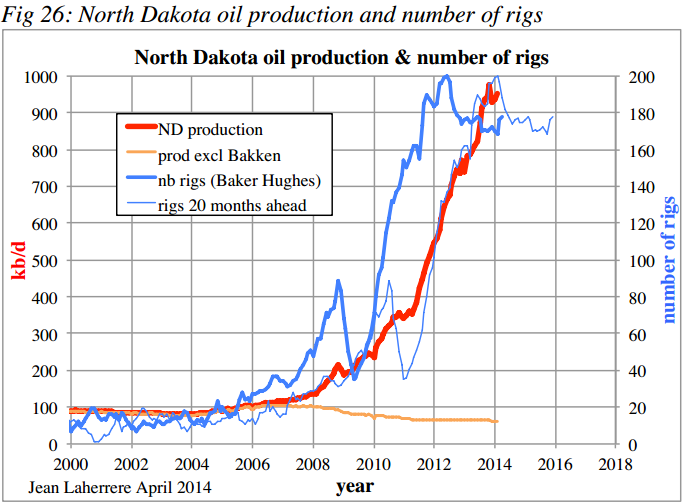 This April 2014 graph is wrong when adding present data at July 2014 (still rising after a minor peak in November 2013) and I have changed the shift from 20 months to 30 months and the correlation oil/rig, but I feel uncertain about the reliability of such graph.
When active in exploration I was used to drill 9 dry holes out of 10 wildcats: I am used to be wrong and I am not afraid of that. To make discovery you have to take risks.
My new model forecasts ND oil production peak in 2015 at less than 1.2 Mb/d, but again this new model could be wrong as the old one.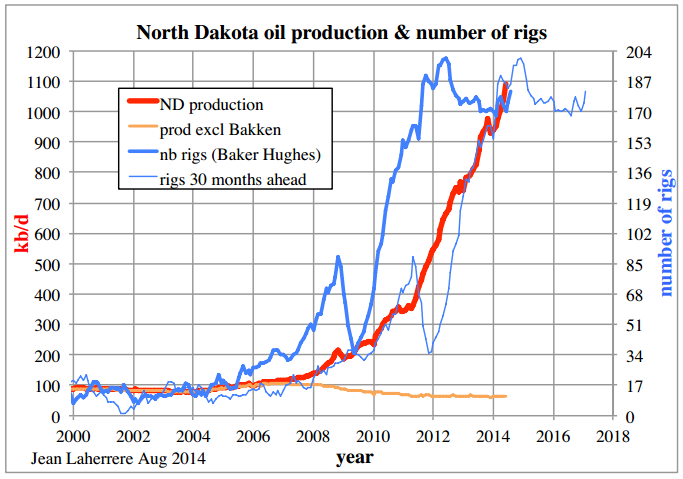 My modeling was based on the Montana oil peaks, which fit well with the number of rigs shifted by 12 months since 2000.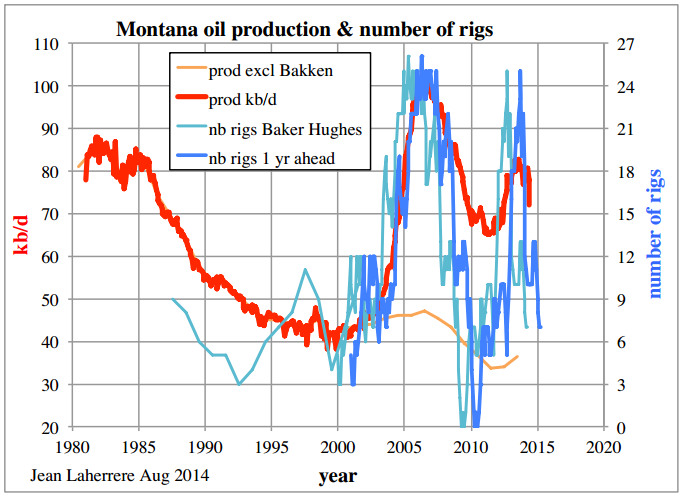 But in Montana the rig number peak was 25 when it was over 200 in ND where also a very large number of wells (>500) are waiting for hydraulic fracturation.
The productivity of the Bakken for Montana & North Dakota since the 1950s varies with time from 10 to 180 b/d/well in ND and from 20 to 180 b/d/well in Montana.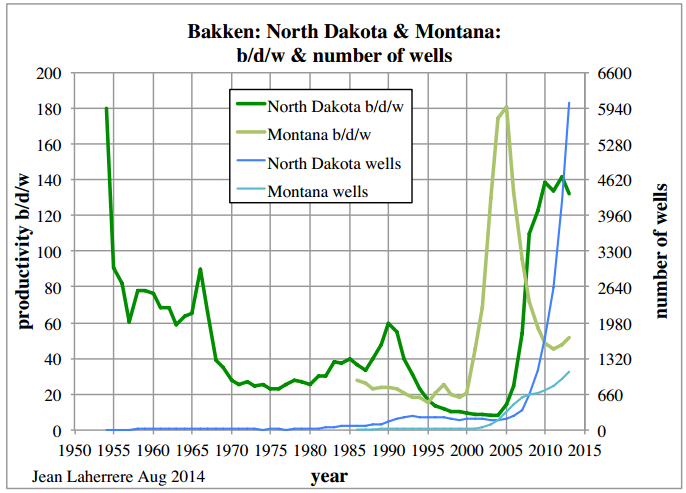 Montana oil production is declining as the number of rigs and it is a good model for ND.
Montana oil production Hubbert linearization is far from being linear, but an ultimate about 2200 Mb looks a fair estimate (present cumulative is 1830 Mb).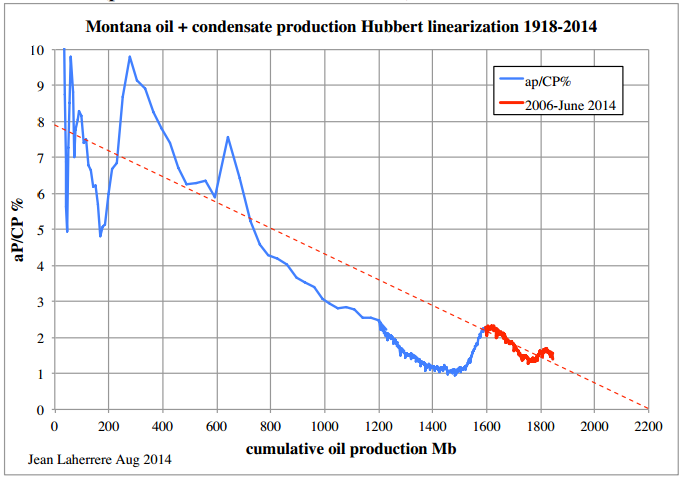 Future oil production is declining from the third peak on 2013 (previous peaks being 1968 & 2006)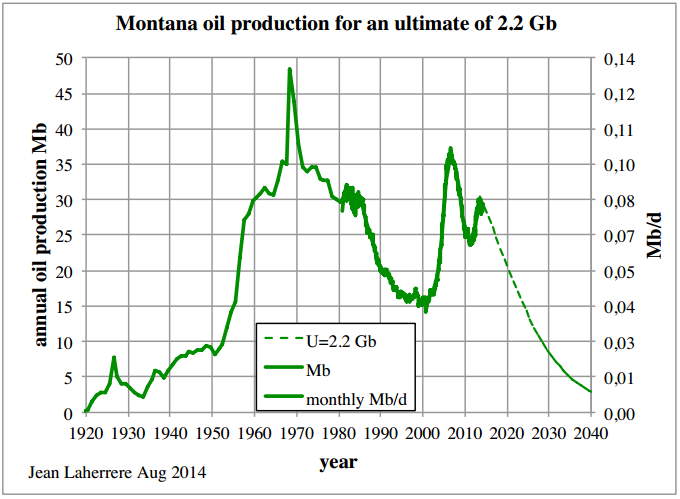 Montana oil production is compared to the number of oil completions: the lag is about one year. But it is obvious that there is no global correlation on the level of production.
Montana has several plays since 1918 and for each play the correlation is different. The Bakken play since 2000 has only two fields with Elm Coulee (peak 2006) and Elm Coulee Northeast (peak 2013)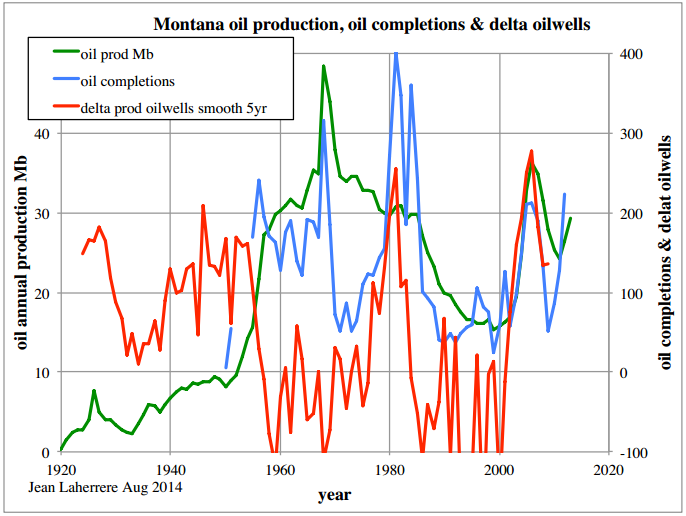 DMR.ND does not provide the number of completion as Montana, but the number of reported producing wells, without giving the breakdown of the increase by new wells and the decrease by abandoned wells.
At end 2013 over 13,600 producing wells were drilled and 9700 still producing of which 6000 were Bakken.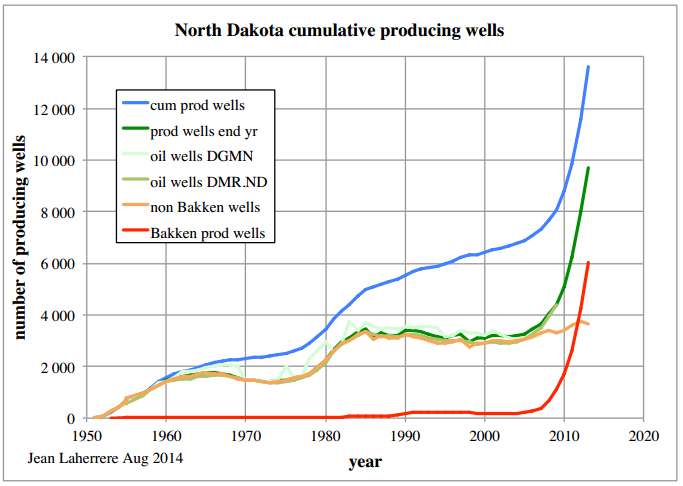 The number of rigs has peaked in 2012 at 200 from Baker and at 213 from DMR.ND.
DMR.ND reports the number of spuds, which does not peak as rigs. The growth of producers (smoothed by 5 years) does follow roughly the spuds but it is hard to use this chaotic measure..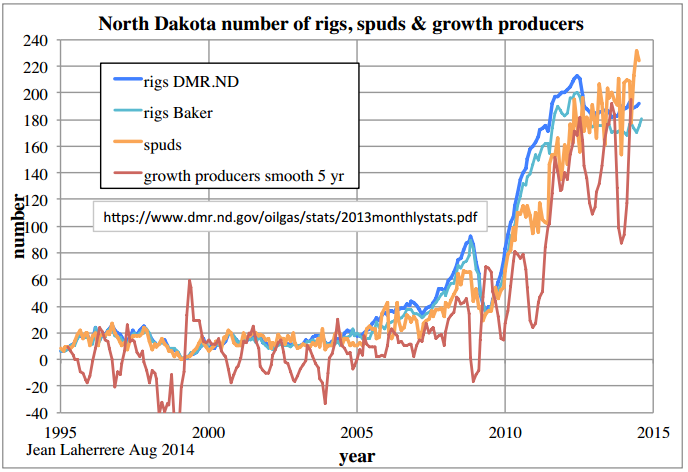 It is surprising to see the number of spuds acting differently from the number of rigs after the rig peak of July 2012.
The plot number of spuds versus number of rigs behaves jointly from 1995 to 2012 and completely apart after. It is strange and indicates a change that I cannot explain.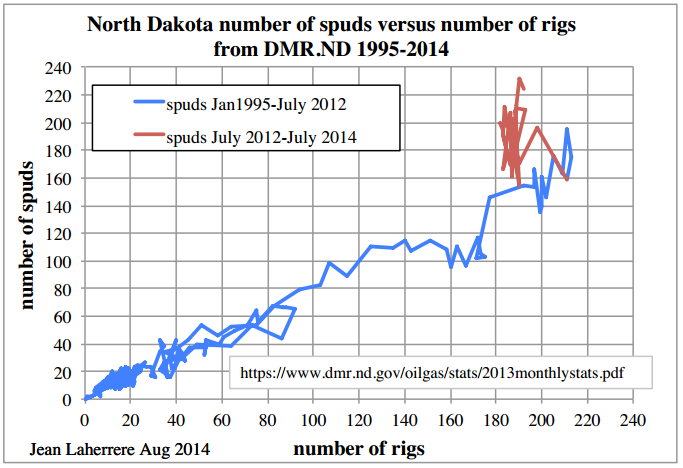 It is known that a large number of wells waits to be fractured (>500 wells), so it is expected to find a discrepancy between spuds and production but not between spuds and rigs. Oil production fits well the number of spuds when shifted by one year (better than with the number of rigs), except for the few months for an unknown reason.
Oil production is constrained by the lack of oil pipes, most of oil is carried by trucks and rail.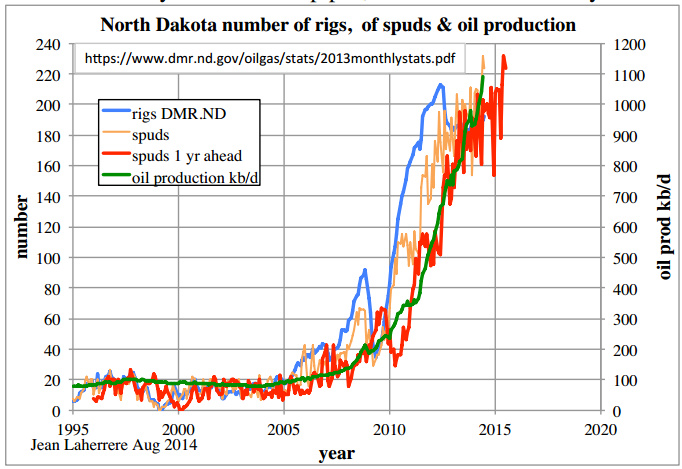 It appears that it is hard to use drilling activity to predict production in the near future.
It is necessary to know exactly the number of fracturation, but I could not find any data on the web.
Flaring more than one third of the ND gas is an expense waste (it is less than 0.8 % for all US) and a shame to burn 12 Gcf per month worth about 0.6 G$ per year. Gas pipes are not built because no one can guarantee 20 years volume (same for oil). Recent rules by the government to diminish flaring (some land owners also request to get royalties paid on flared volume) should constrained oil production.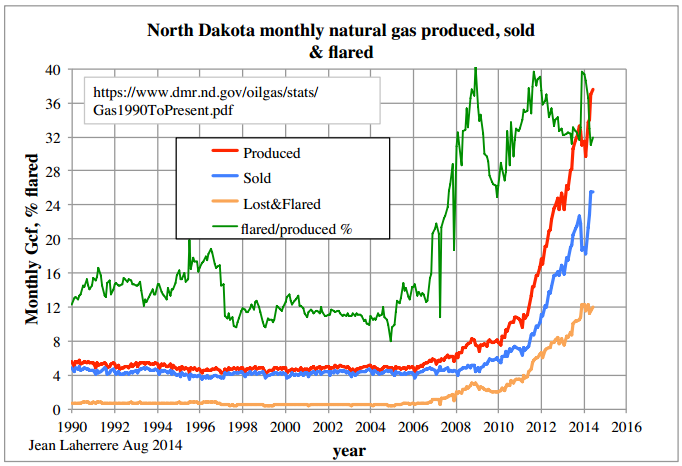 Gas is flared in ND because its price is too low compared to oil price.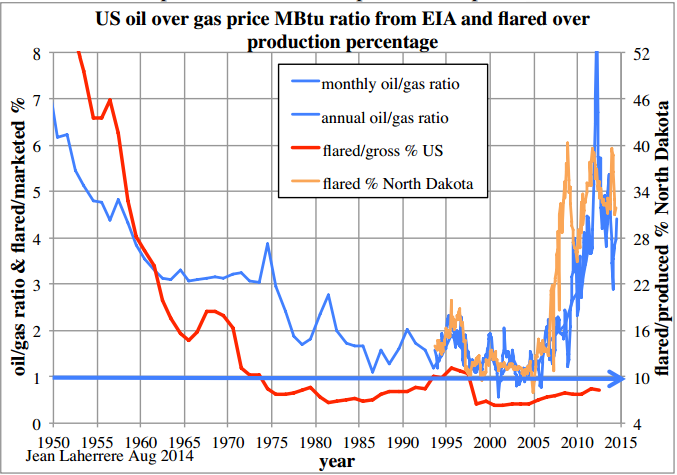 The US price (in Mbtu) ratio oil/gas was about 6 in the 1950s and went slowly down to 1 around 2003, bit it went sharply up to over 5 in 2012 and down to 4 in July 2014.
In AEO2014 EIA forecasts an oil/gas ratio of 3.4 in 2018 and 3.2 in 2040.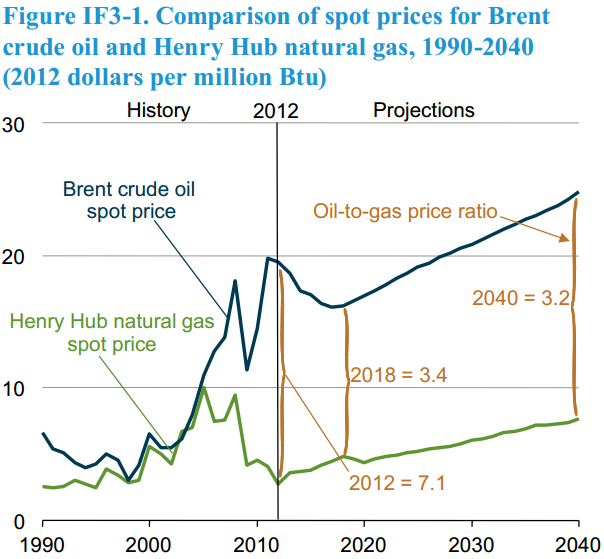 But EIA forecasts a very large range of NG prices in 2040 from 4,5 to 10,5 $/MBtu.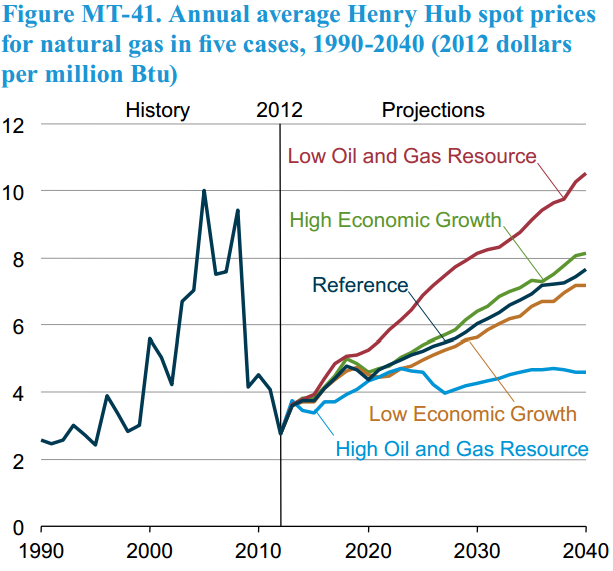 EIA was not very good in forecasting oil price in the past from AEO 1979 to AEO 2014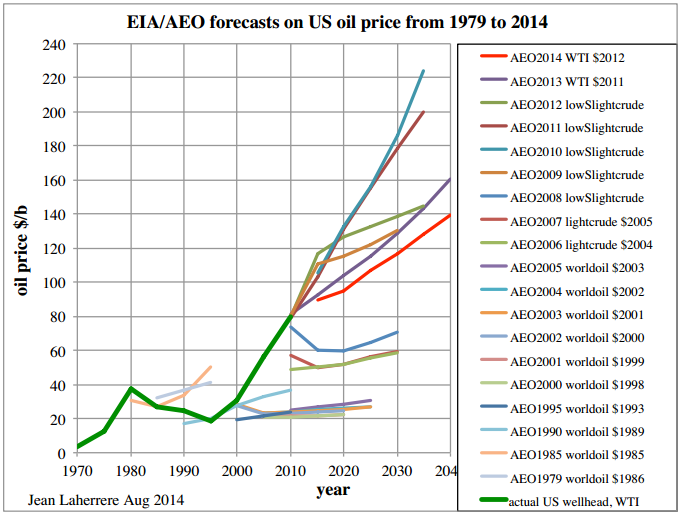 EIA was also quite wrong on forecasting natural price from 1982 to 2014, in particular in 1982 and in 2009.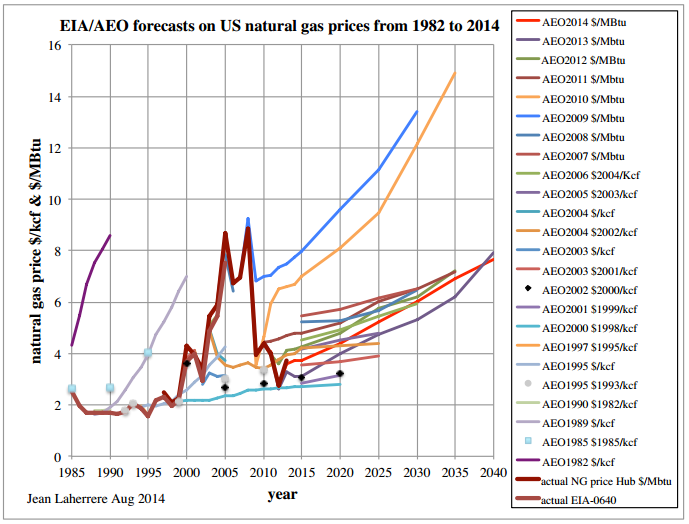 A detailed comparison between AEO NG wellhead price forecasts and actual prices was given in AEO 2011, showing that in 2008 wellhead price was 8 $/kcf when it was forecasted around 3 $/kcf by AEO 1997 to AEO 2001.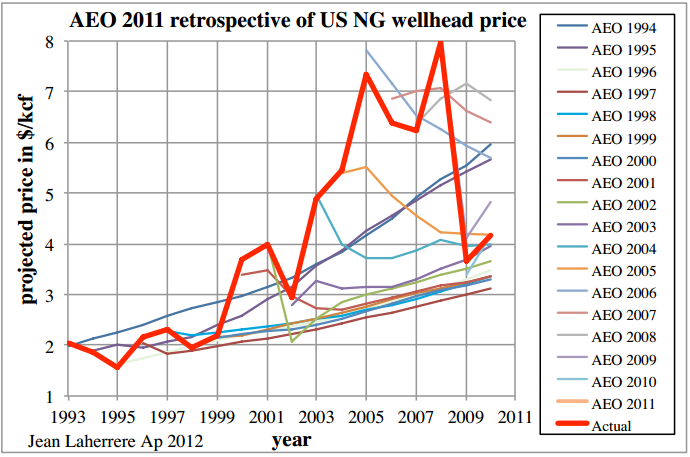 It is not normal to get such ratio oil/NG price: it leads to wasting gas and upsetting all world economy on coal, fertilizer plants etc. The US cost in $/Mbtu of fossil fuels at electric generating plants (EIA table 9.9) displays that oil and NG follows the same behavior from 1973 to 2008 and beyond a complete different one.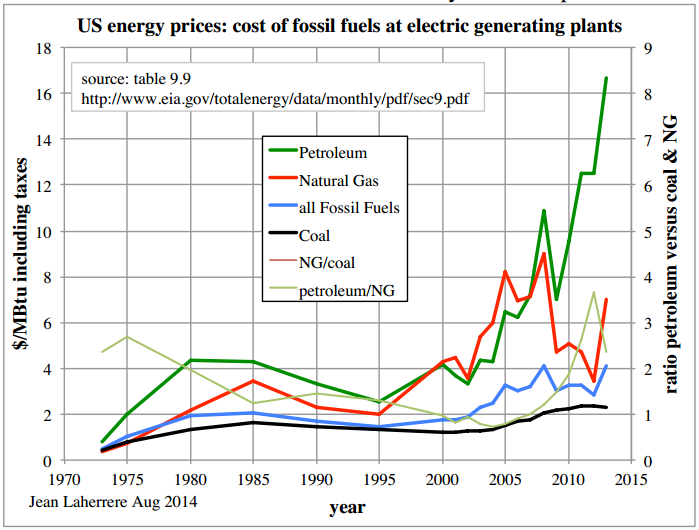 I always refuse to forecast oil & gas price because they behave too irrational and the above graphs comfort my belief.
It appears that it is very hard to forecast future Bakken production in ND using the past drilling activity, contrary with Montana, mainly because the large number of wells waiting to be fractured. The main question is to know if it is due to logistic constraints or poor economic.
Using past ND production is the best hope to estimate ultimates. ND production excluding Bakken could be extrapolated towards 2200 or 2500 Mb.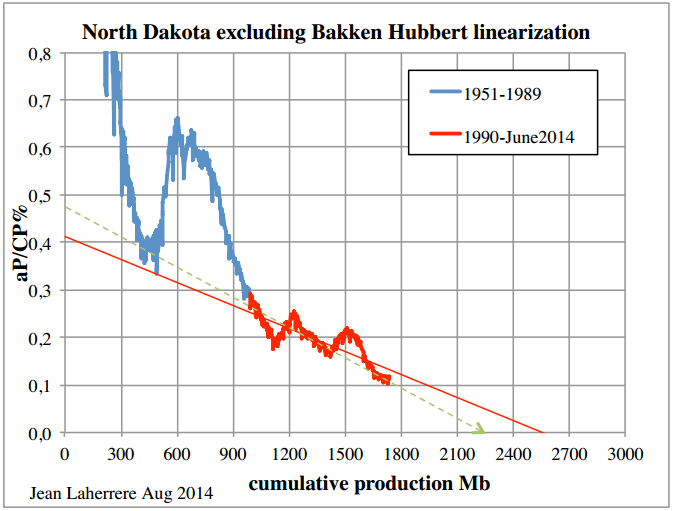 Modeling with 2200 Mb displays a future decline of about 4%/a.
But the Hubbert linearization for ND Bakken only can be extrapolated within a range of ultimates between 2500 Mb and 4000 Mb.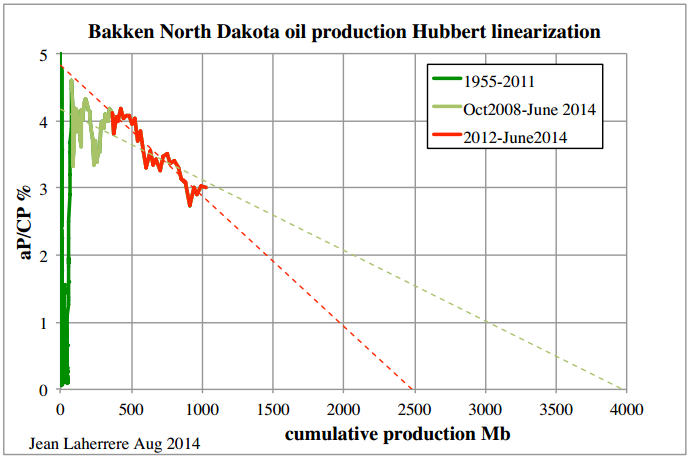 ND oil ultimates varying between 4.7 and 6.2 Gb give the following future production with peak in 2015 and 2016.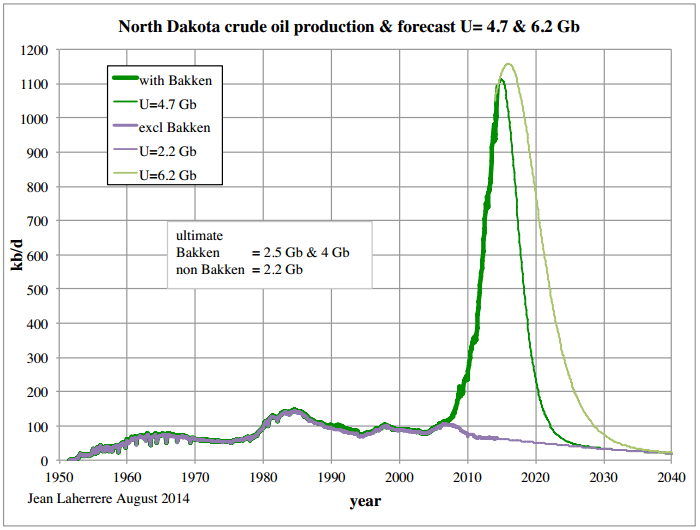 The last peak of ND Bakken productivity per well was at 145 b/d/w in 2010 (but 274 b/d/w in 1954) when down to 126 b/d/w in June 2014.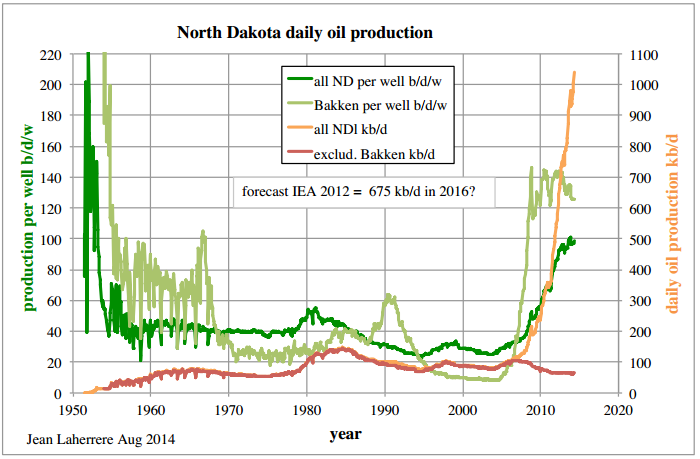 It seems that most oil companies are spending more than their revenues by increasing their debts. Countries can live for a long time with huge debt increase, not companies. They count on the stock market by delivering optimistic reports and keep drilling to avoid the production to decline. With shale oil or shale play, in contrary with conventional where wells are dry or producing, oil can be produced even for a while if not economical.
Such behavior explains why most peak forecasts are wrong. But the main question is about the slope of the decline after the peak. EIA forecast a LTO (light tight oil = shale oil) peak in 2017 it is not too far after my forecast, the big difference is the slow EIA LTO decline.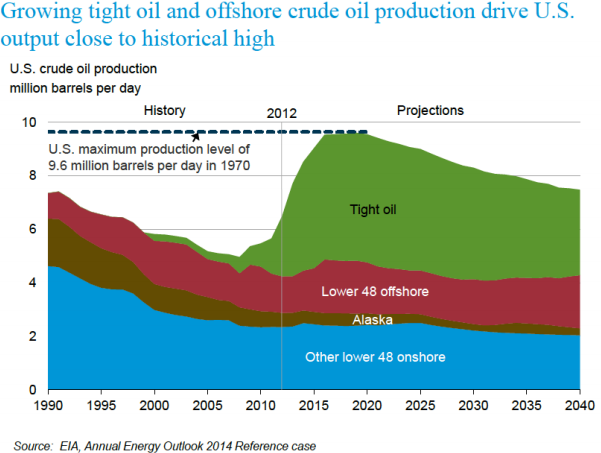 My forecast on USL48 is based on ultimates estimated from different ways, with the breakdown of Texas, North Dakota and deepwater.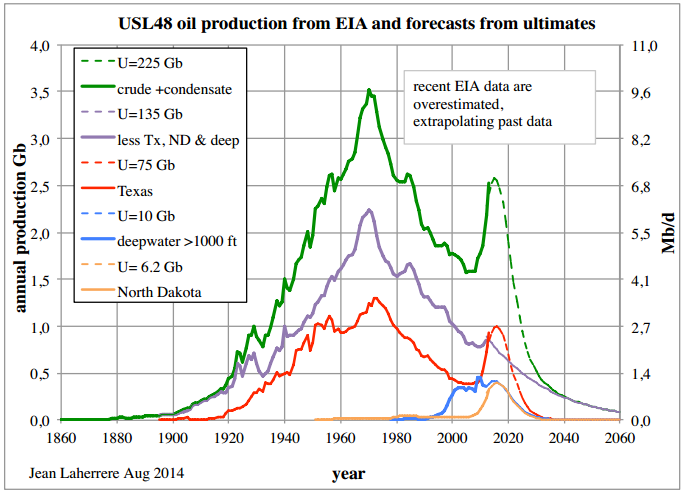 EIA forecasts the US crude oil production at over 7 Mb/d in 2040 when I forecast USL48 crude oil production at less than 1 Mb/d. The difference is huge!
EIA forecasts 140 $2012/b in 2040, allowing expensive oil to be produced when my forecasts on price is not numbered but I feel (MIT April paper) that in the past production was constrained by a ceiling at 120 $2011/b: expensive oil will stay in the ground.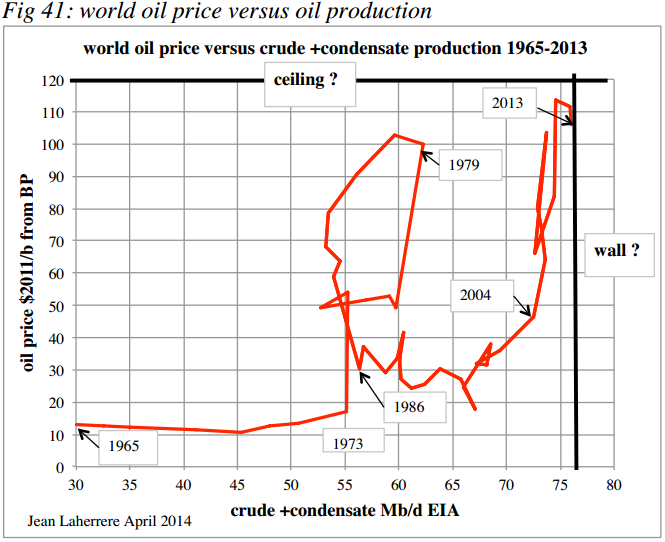 I may be too pessimistic on the value of the US oil peak, but I am convinced that EIA is too optimistic on the LTO decline.
In my April MIT paper I was trying to show that oil data is full of cycles and almost all are
symmetrical like the number of US wells (or the past Bakken production in ND or Montana).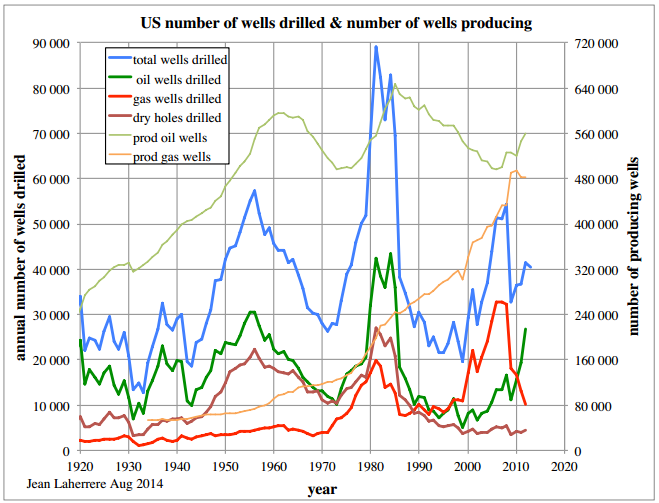 US wells did boom and did burst with the same slope in 1936, 1956, 1981 and 2008 for different reasons. In 1981 it was due to the oil shock, but not in 1956.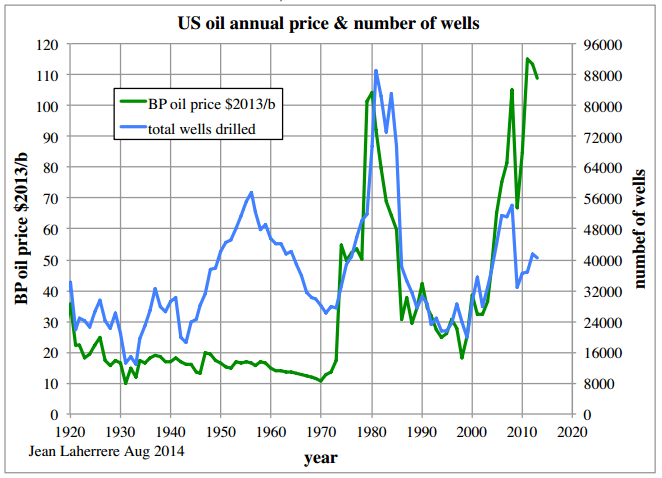 Future is likely to behave like in the past, which is displaying almost symmetrical cycles.
I feel that we will know the answer on LTO production around 2020 and I hope to see it.