The EIA publishes oil consumption numbers for all major nations. However they have data for most nations only through 2013. They do have data for some nations through 2014. Nevertheless a lot can be gleaned from just looking at those consumption numbers. If oil consumption numbers are growing year after year, then there is a good chance that nation is growing economically. But if oil consumption numbers are continually declining year after year, then it is more than a little silly to say all is well, economically, with that nation. Or that is my opinion anyway.
First, who's oil consumption is increasing year after year, or who's economy is booming? All charts below are consumption as total liquids in thousand barrels per day. Some charts are through 2014 while others are through 2013. Whatever the last year is on the yearly axis is the last year for that data.
Important: All charts are consumption, not production.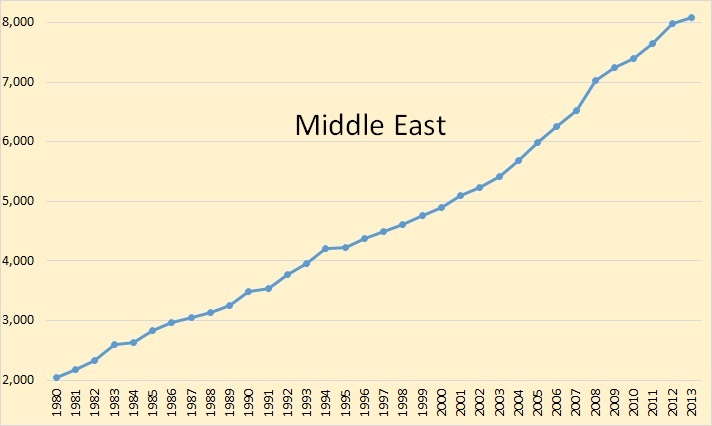 No doubt the Middle East is booming. The reason, most of them are oil producers and oil, for most of this chart anyway, the price of oil was increasing. They had lots of income, their consumption was increasing every year as was their economies.