A few days ago the EIA published the latest update to its International Energy Statistics. The data is updated through May 2014. The data on all charts below is through May unless otherwise stated and is in thousand barrels per day. Also, all data is Crude + Condensate.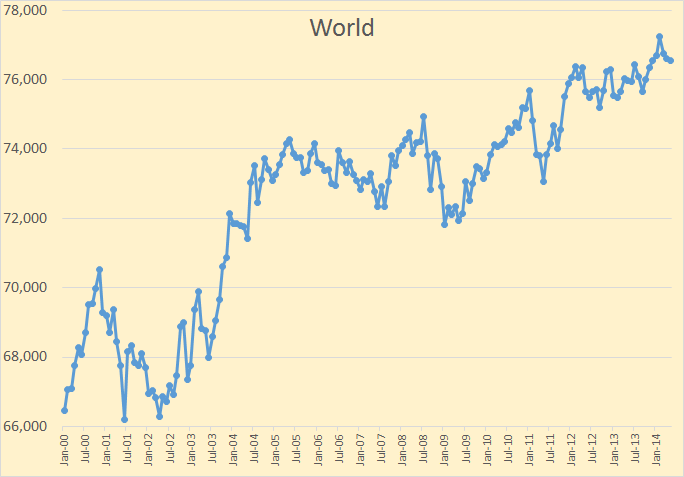 World C+C production was down 72,000 barrels per day in May to 76,540,000 bpd. It was down 708,000 barrels per day since reaching a new all time peak in February of 77,247,000 bpd.
Matt, on his blog Crude Oil Peak, is saying the same thing I have been saying for months. That is US shale oil growth covers up production drop in rest-of-world.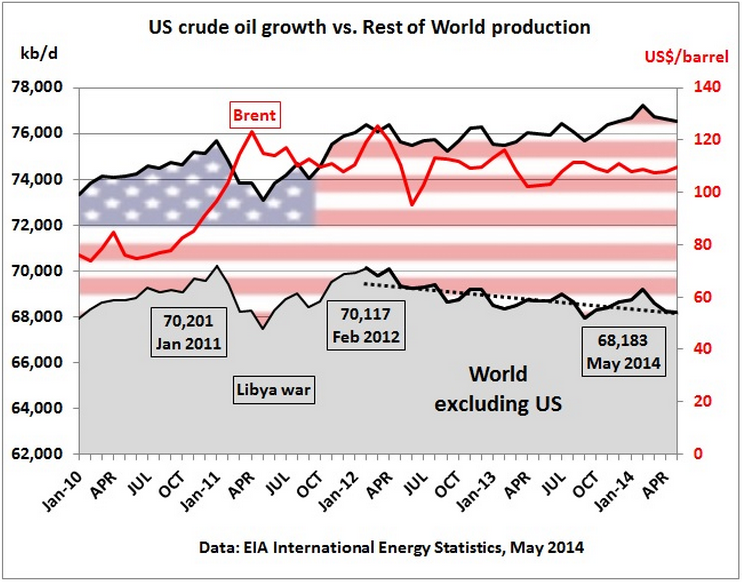 The trend is clearly down and is going to get worse. Below is my graph using the same data.

World C+C production, less USA, is down about 2 million barrels per day since the all time peak. In the past decade world less USA has been up and down many times but I have reason to believe that this time it will not be up again. There are several reasons for this and it involves the peaking of several other countries that have shown considerable increase in the last few years. Not the least of which is Russia.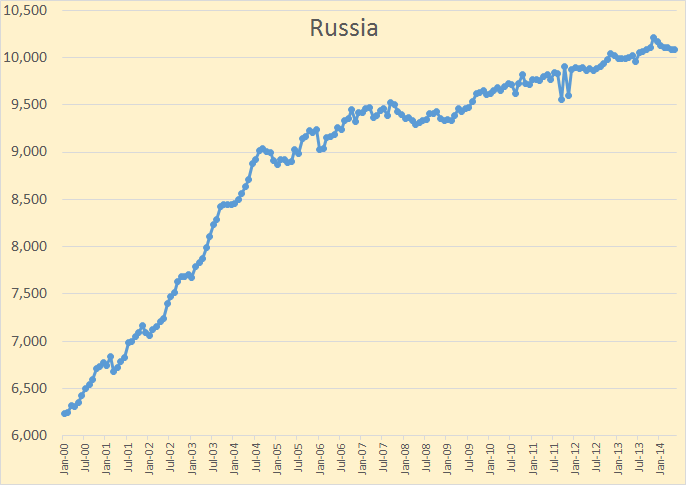 Russia, the world's largest crude oil producer, has peaked. Russia is now in decline. Russian C+C production increased about 2,300,000 barrels per day 2005, the year that World conventional oil peaked.
Without sanctions Russia peaked in November 2013 and would have likely started dropping at 1 to 2 percent per year. But with sanctions the drop is likely to be much faster than that. We had this headline just this morning:
Russian crude oil exports seen down 6pc in Q4
MOSCOW: Exports of seaborne Russian Urals and ESPO crude oil blends were seen declining by 6.2 percent to 50.17 million tonnes in the last three months of the year from the previous quarter, traders said on Monday, citing a quarterly loading schedule.
Some of the decline was due to increased input to Russian refineries but it is likely much of it is due to reduced Russian production. And speaking of Russian Production I am getting suspicious of their reporting. They have completely changed the format at their site CDU TEK.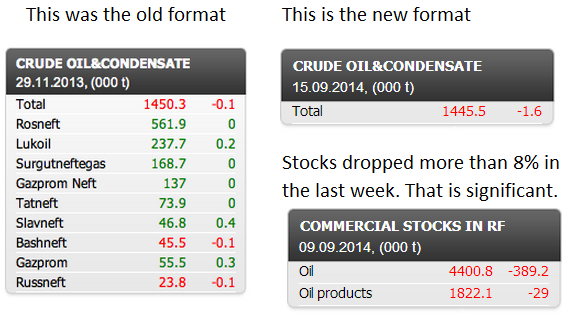 They no longer report production from individual companies, just total production. I think it may be possible that they are doing the same thing as Iran after their sanctions. Iran showed no decline whatsoever in their production numbers for almost a year after sanctions were imposed. And they still show about a quarter of a million barrels per day more than the rest of the world sees as Iran's production.
Perhaps Russia has the same motivation but don't want to bring individual companies into their deception… so they just dropped them from their reporting page. I just threw in the "Commercial Stocks in RF" block because I found it interesting.
Anyway, let's look at the world's three largest oil producers.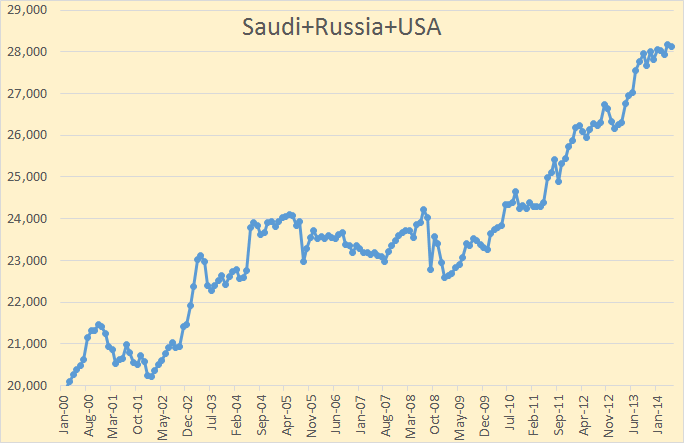 Saudi + Russia + the USA has been on a real five year tear since early 2009. But the combined growth in C+C production has slowed in the last ten months or so. And, I believe, it will peak next year and turn down rather significantly in 2016. Meanwhile the rest of the world….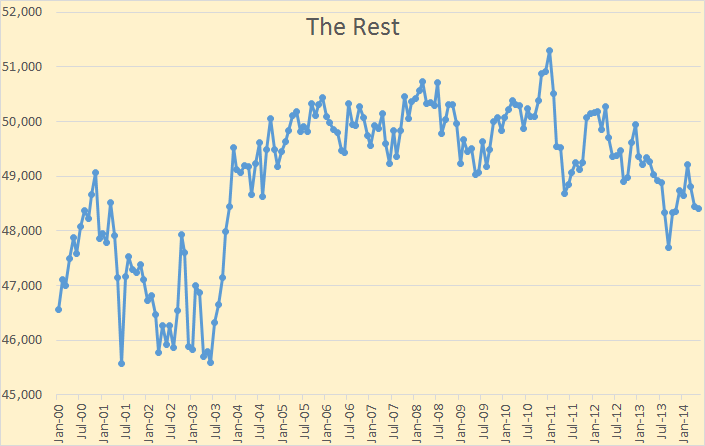 This is a graph of World oil production less Saudi, Russia and the USA. World less these three top producers peaked at 51,292,000 barrels per day and have dropped by 2,884,000 barrels per day in the 40 months since that date.
In other news there is Brazil: Petrobras Monthly Update: August Oil and Gas Production From Brazil Rises By 2.9% Over July.
Its domestic crude oil production grew by 2.7% from 2,049 thousand barrels per day in July to 2,105 MBD last month.
I have used the above figures to update my Brazil chart through August. (Assuming their numbers are C+C and not crude only.)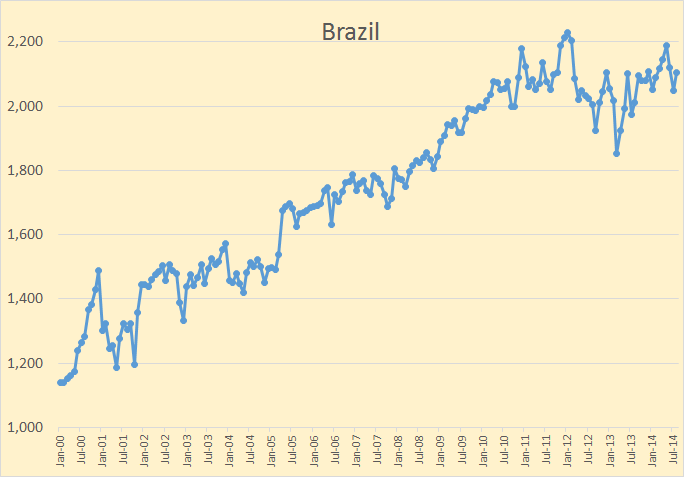 But in other news things don't look so rosy for Brazil.
Brazil "falling off the world oil map" over failed policies
RIO DE JANEIRO – Investors are losing interest in Brazil's oil industry as the country's energy policies raise costs, reduce efficiency and increase risk, Brazil's oil industry association, the IBP, said on Monday.
Without changes Brazil will likely lose out to places such as Mexico, Iran, Iraq and Algeria where policies are becoming more open to private sector investment.
"I went to the three largest oil conventions in the world this year and you hardly heard Brazil's name mentioned," Milton Costa Filho, Executive Secretary of the IBP told reporters at an industry event in Rio de Janeiro.
"Brazil is falling off the world oil map."
The pages Non-OPEC Charts and World Crude Oil Production by Geographical Area have been updated with the data for May 2014.
I send out an email to about the folks that wish to be notified whenever I publish a new post. If you would like to receive that notice then email me at DarwinianOne at Gmail.com