The Cornucopians are exuberant, they believe that collapsing of oil prices dealt the death knell for peak oil. An oil glut, they say, is what we have, not peak oil. But an oil glut is exactly what we would expect at the very peak. After all, that is what peak oil is, that is the the point in time when the world produces more oil than ever in history… and the most it ever will produce.
I am of the firm conviction that the world is at the peak of world oil production right now, or was at that point three or four months ago. I think history will show that the 12 months of September 2014 through August 2015 will be the one year peak. Whether the calendar year peak is 2014 or 2015 is the only thing still in question, or that is my opinion anyway.
The EIA says, in their Short Term Energy Outlook says US Crude oil will peak, at least temporarily, in May 2015.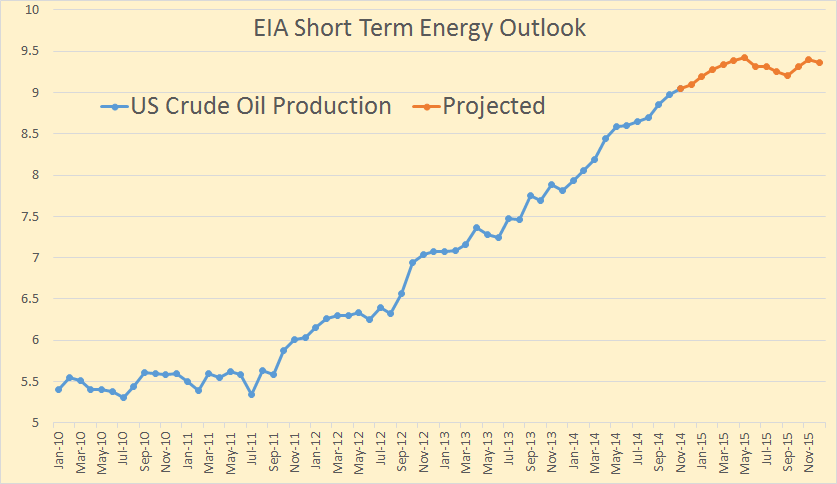 Looking at the area breakdown for total US production: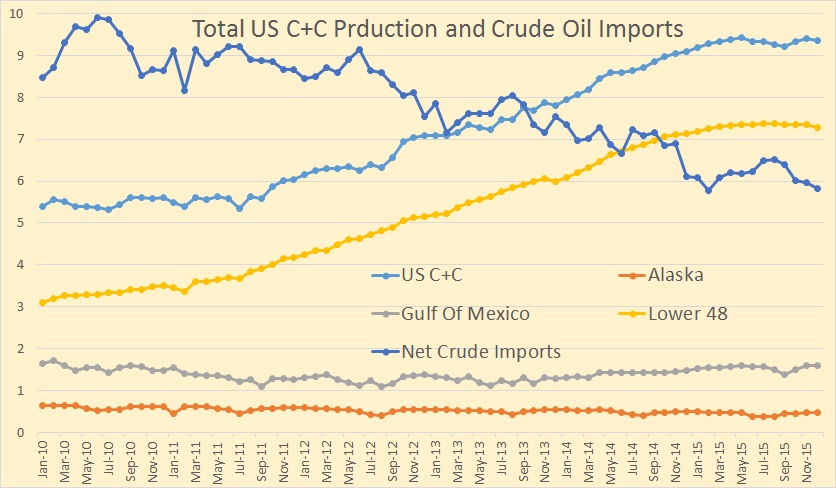 This chart includes net US crude oil imports. Notice how they expect crude oil imports to bottom out in February of 2015 at 5.78 mbd then increase to 6.71 mbd in August before declining to 5.82 mbd in December.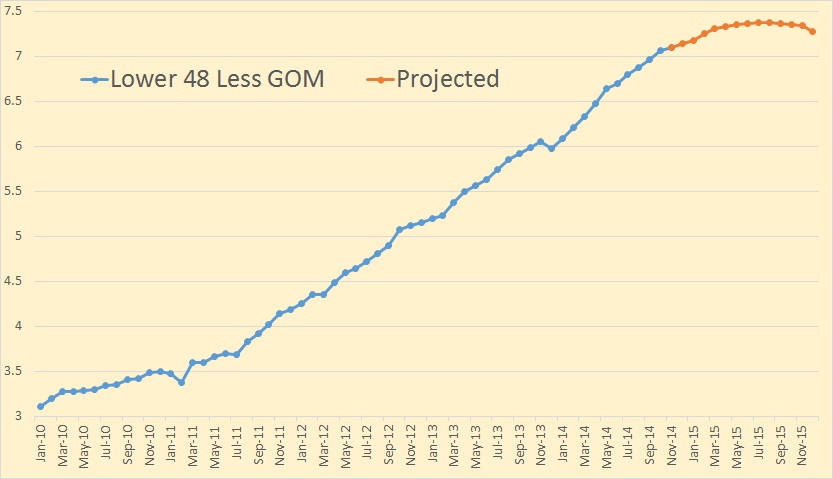 Lower 48, excluding the Gulf of Mexico, peaks in July and August of 2015 at 7.47 mbd, according to the prognosticators at the EIA, before starting a slow decline to 7.28 mbd in December.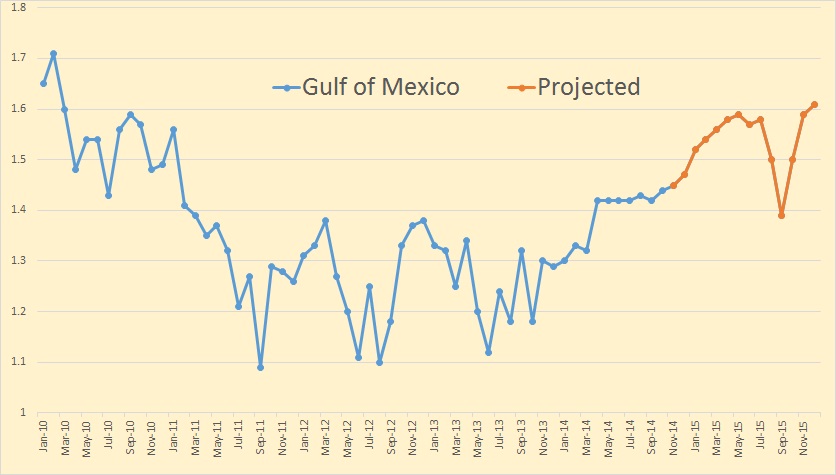 The dip you saw in the first chart came from the projection of the GOM production. I have no idea why they are expecting that dip in August, September and October but I suppose it has something to do with the hurricane season. But if they can predict what will happen to oil production during the hurricane season they are good, really good.
However they are predicting GOM production will increase by 170,000 bpd by December of 2015. I don't really think that is going to happen. However the EIA has come off a lot from their earlier GOM production, or seems to be leaning in that direction anyway. They originally had GOM production at over 2 million barrels per day by 2016.
The new Short Term Energy Outlook is due out Tuesday. I will report on any changes in the EIA's outlook then.
But looking at the rest of the world, data for the two charts below is in thousand bpd with data through September 2014.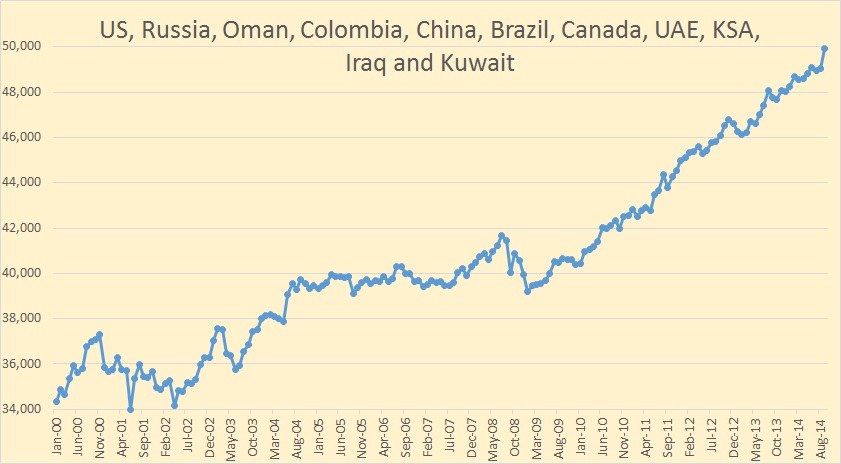 Here is where all the growth has come from in the last five years. The combined production of these 11 nations are up about 10.7 million barrels per day since their low on January of 2009. All these nations, with the possible exception of Brazil and Iraq, will have reached their peak on or before the summer of 2015. Of course if the price increases again then the US and Canada will again start to increase production. But even in here their rapid production growth is over. Any increase after the price rise, if it happens, will be at a much slower rate.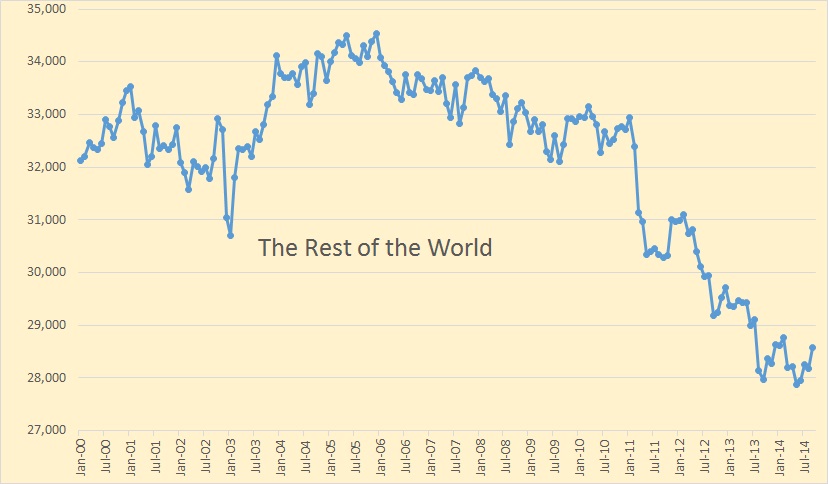 The rest of the world is down and going lower. Of this group only Kazakhstan has any hope of increasing production very much and Kazakhstan will not see anything until 2017, if then.
The Baker Hughes Rig Count is out.
Canadian rig count was up 158 to 366. That still leaves it down 25 rigs from the 391 it was at two weeks ago. I have no idea what is going on there.
But the US oil rig count was down 61 from one week ago. It now sits at 1420, down 188 rigs from the high of 1609 back in October. The Permian suffered the largest loss, down 28 rigs this week.
In other news: Lynn Helms says it takes at least 140 rigs to keep production flat.
At least 140 rigs are needed to maintain October's production level of 1.2 million barrels per day, the most recent figure available, Helms said. Based on a survey of the Bakken's top producers, he expects the rig count to drop to 150 by July 1 and to as low as 125 rigs by the end of the year if depressed oil prices persist.
I believe that figure is a little optimistic but it's his job to be optimistic.  In the short term it is fracking crews, not rigs that will determine whether production goes up, down or stays flat. From my reading of new wells coming on line, November looks to be flat to down, December looks pretty good and January is starting out pretty bad.
Note: I send an email notice when I publish a new post. If you would like to receive that notice then email me at DarwinianOne at Gmail.com.