The Texas Rail Road Comission has has released their production numbers for March. The data is always incomplete and the most recent data is always the most incomplete. Nevertheless one can glean quite a bit from the data even though it is incomplete.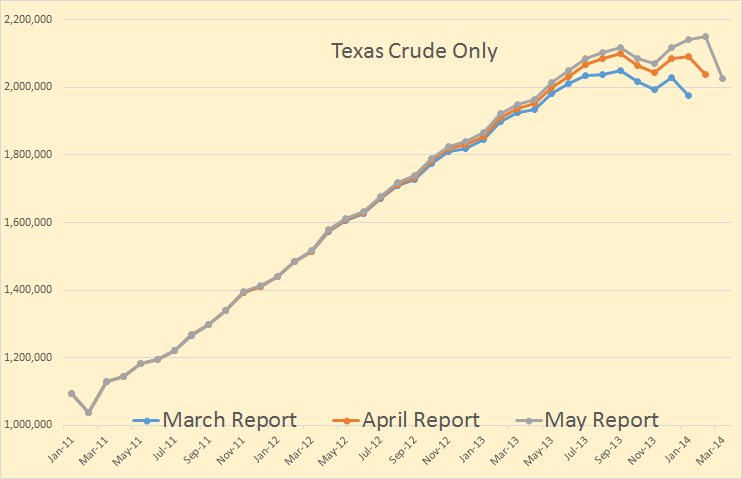 The May Report has data through March, April through February and the March report has data through January. You can see from this chart how Texas upgrades their data as data comes trickling in.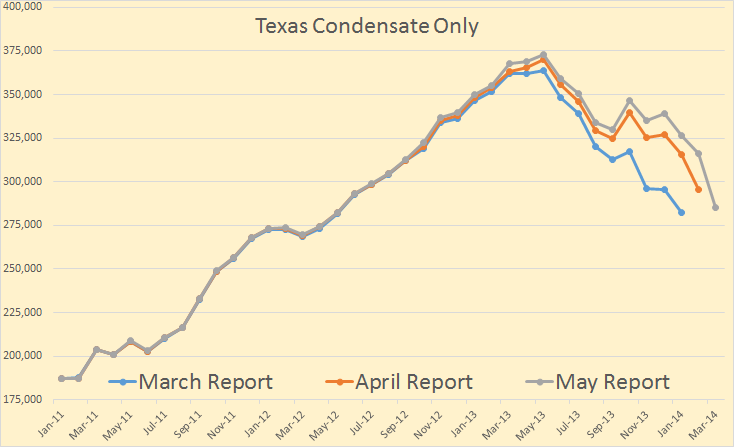 I looks like Texas condensate has peaked. May 2013 is the peak so far. October 2013 is creeping up but I don't think it will overtake May. Regardless of whether May will be the ultimate peak or not there is no doubt that there has been a dramatic slowdown in Texas Condensate production.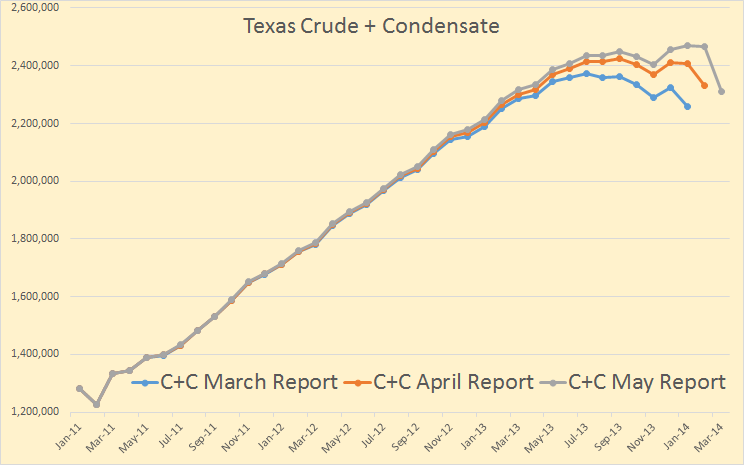 Combine the two and we get what the EIA counts as C+C. C+C has not peaked but I think the increase in production is slowing down.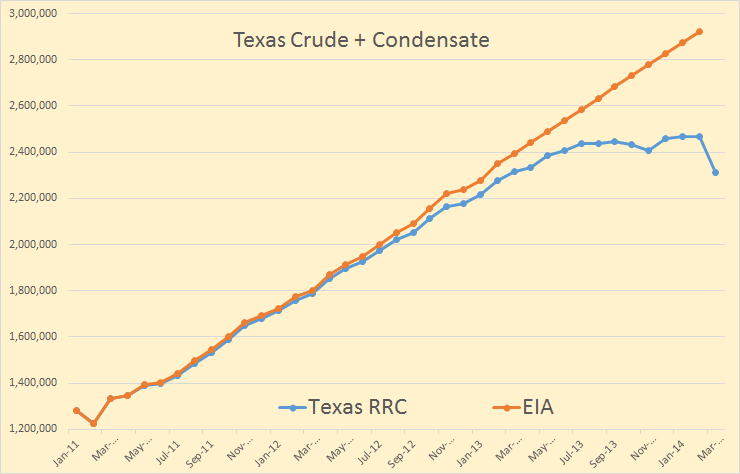 The EIA data is through February while the RRC data is through March. But you can see that the EIA has Texas on a straight line increase for one full year. No doubt the RRC data will keep inching up but I don't think it will ever reach the EIA's estimate of where it will wind up.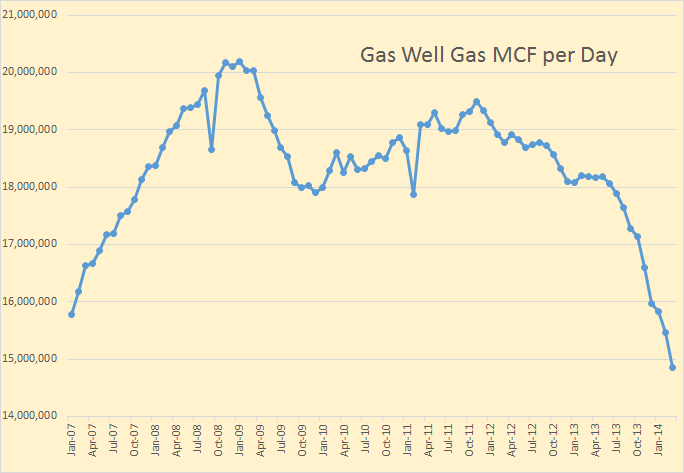 Here there is no doubt that Texas Gas Well Gas peaked back in the winter of 08 and 09. It is down about 25% from that high and still dropping every month.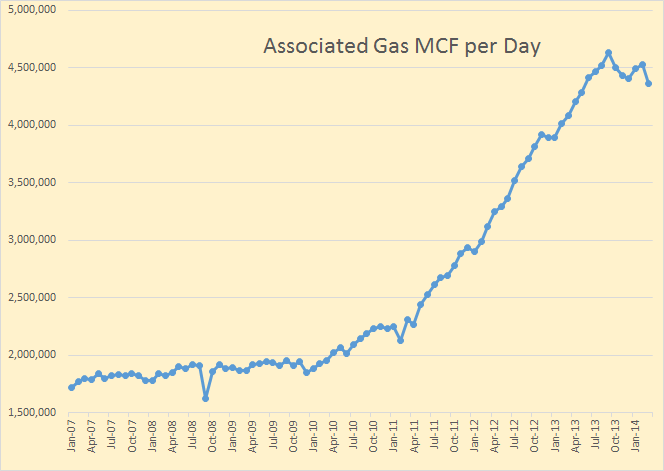 Associated gas, or what the RRC calls casinghead gas, likely has not yet peaked. However it is obvious that something happened back in October. Things are changing in the Gas fields of Texas and it is not for the good.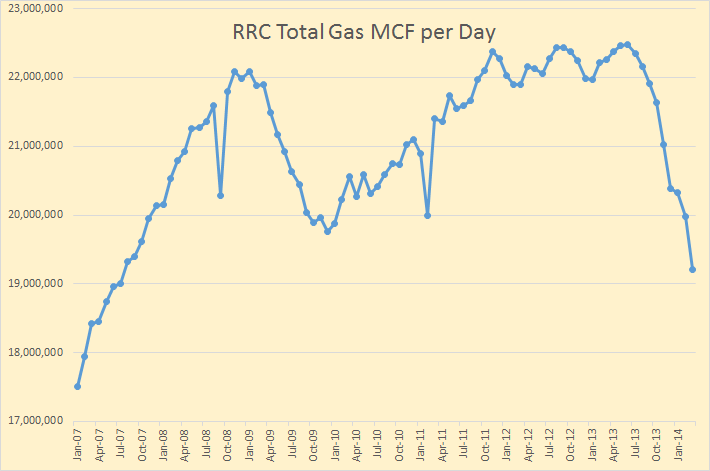 The increase in associated gas is has not been nearly enough to keep gas production increasing in Texas.
But I decided to see what the EIA said about Texas production of Natural Gas. Their data can be found here Natural Gas Gross Withdrawals and Production. (Then download the Excel data for individual states.)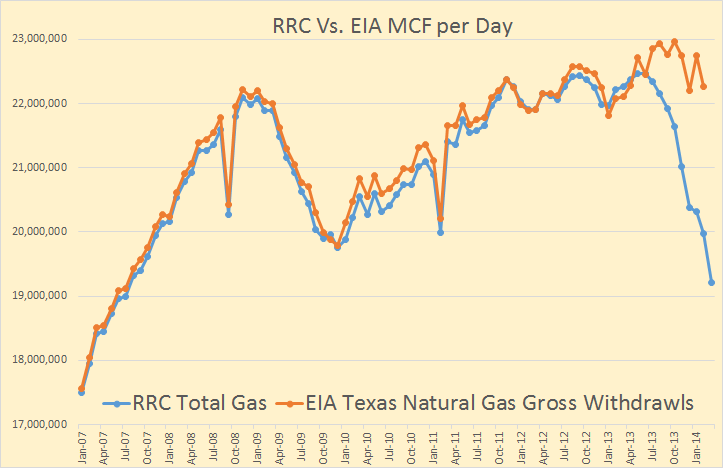 The data is pretty close up through June 2013 then it suddenly diverges. That is very strange. I don't think that can be explained by the EIA trying to compensate for the RRC's delay in reporting. Some of it can but not that much.
Other news: This article states that not just the UK but the entire European Union is running out of fossil fuel:
Fossil fuels: UK to 'run out of oil, gas and coal' in five years
The UK is set to run out of its oil, coal, and gas supplies in a little over five years, a new report had claimed.
The research from the Global Sustainability Institute has said that other European countries are facing similar shortages and that many nations will become entirely dependent on energy imports in the next few years.
"The EU is becoming ever more reliant on our resource-rich neighbours such as Russia and Norway, and this trend will only continue unless decisive action is taken," said Dr Aled Jones, the director of the institute.
This interview with former BP geologist, Dr. Richard Miller was published by Resilience.org back in February. I don't know how I missed it until now but it is one of the best things I have read in years:
"Peak is dead" and the future of oil supply
Q:  You've also been quoted as saying that "we're probably in peak oil today, or at least in the foothills.  Production could rise for a few years yet, but not sufficiently to bring the price down.  Alternatively, continuous recession in much of the world could keep demand essentially flat for years at today's price of $110" [the Brent price].  Yet there are several commentators who believe that prices are setting up for a modest decline.  If prices did drop, say $20 over the course of a year, what impact do you think that would have on world oil supply on down the road?
 

Miller: I think you first have to ask yourself, why would the price fall?  You have two possible reasons.  One would be an increase in supply of cheap oil.  The other would be a decline in demand—a continuation of the current recession.  If the price does drop $20, I think it will be more of a signal that world economies are floundering and demand is sinking. 

I suspect what we're looking at into the future is a long set of short-term oil price and economic cycles.  At the moment, the US economy is pulling a bit ahead, and the extra oil that involves is probably being produced by shale oil, so it's not putting an extra load on global demand.  But if the European economy tried to pull ahead, it would pull up oil demand, and that would be enough to raise the world oil price.  And I think we're probably operating at the maximum price that we can afford at the moment.  If the price goes up, the economy slips into recession, demand goes down, oil price goes down, people start buying more oil and the economy goes up again.  It becomes an oil price saw tooth that will probably never quite fall as low as it was before, it always keeps the price generally trending up.