The Texas RRC Oil and Gas Production Data with production data for August is out.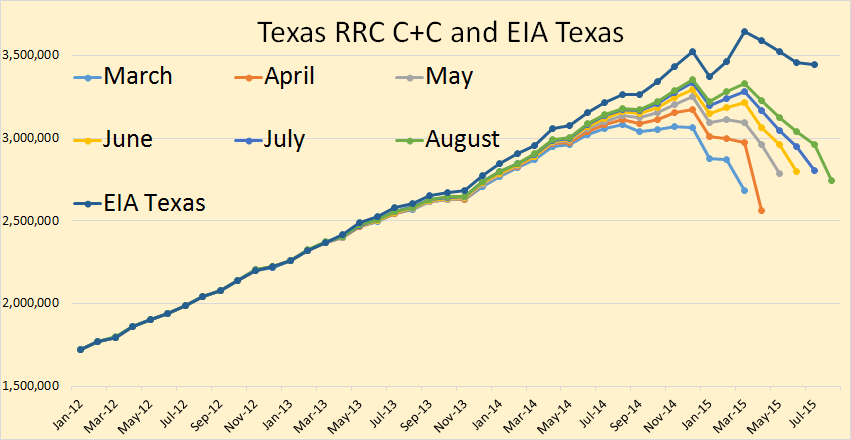 The RRC data is always incomplete but if this month's incomplete data is less than last month's incomplete data then that's a pretty good indicator that production this month is down.
The EIA data here is only through July. They have Texas production peaking in March at 3,644,000 barrels per day and declining by 197,000 bpd to 3,447,000 bpd in July.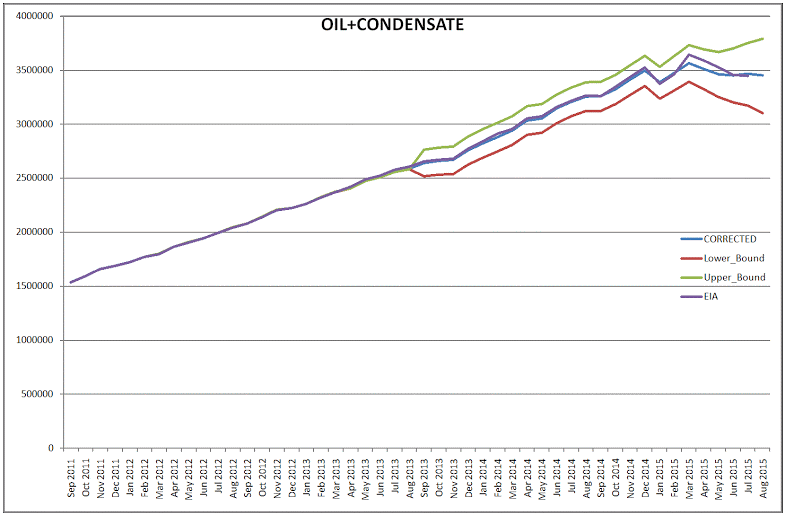 Dr. Dean Fantazzini has Texas peaking in March also, at a slightly lower point than the EIA but they both pretty much in agreement by July.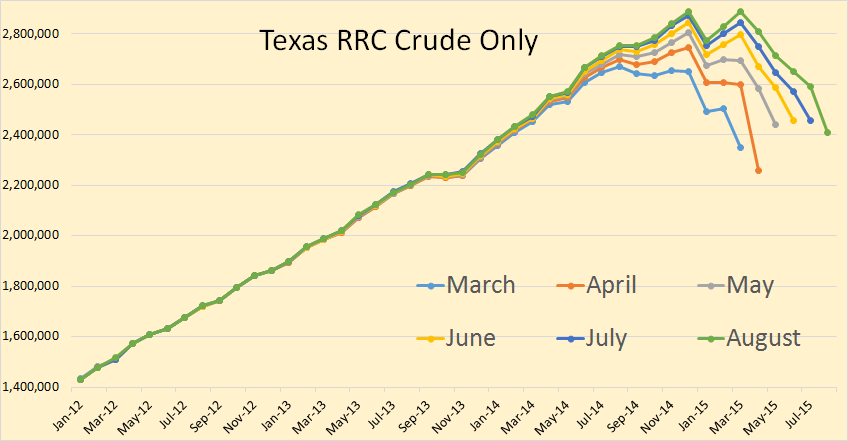 Texas crude only, when the final data comes in, will show the peak in March.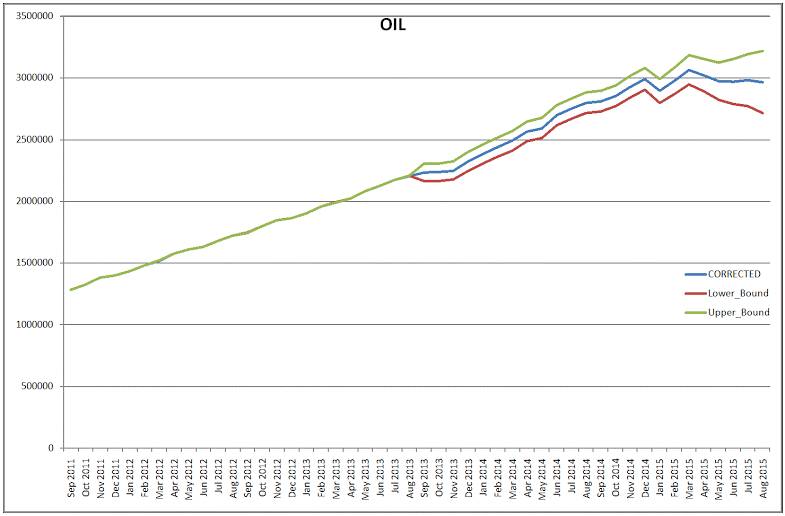 Dean's algorithm still has crude only peaking in March but holding on a plateau since then.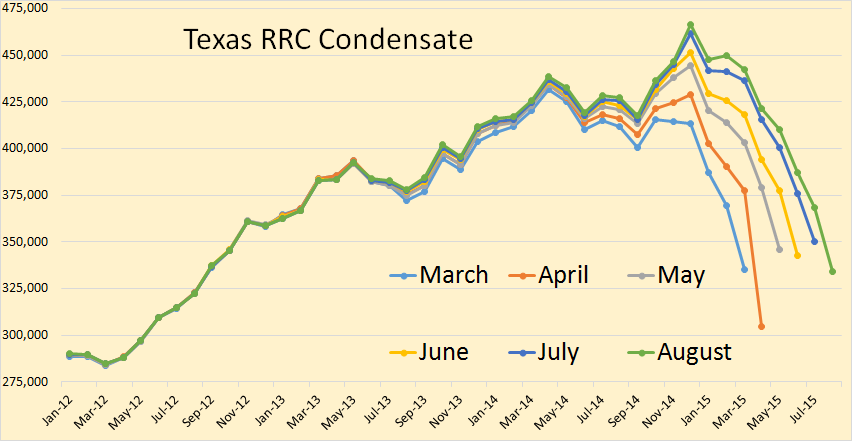 Texas condensate peaked, so far, in December. It is unlikely that any month, in the next year or so, will top December for Texas condensate production.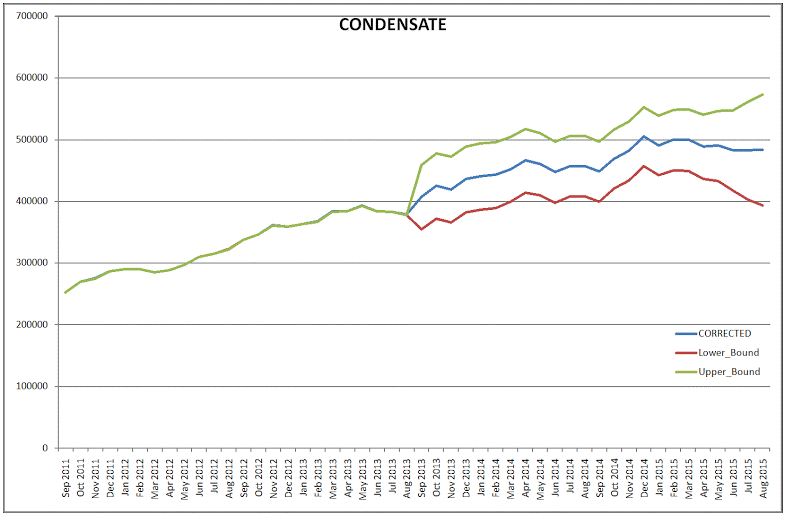 Dean has condensate peaking in December also but not the dramatic drop since then that I think may be happening.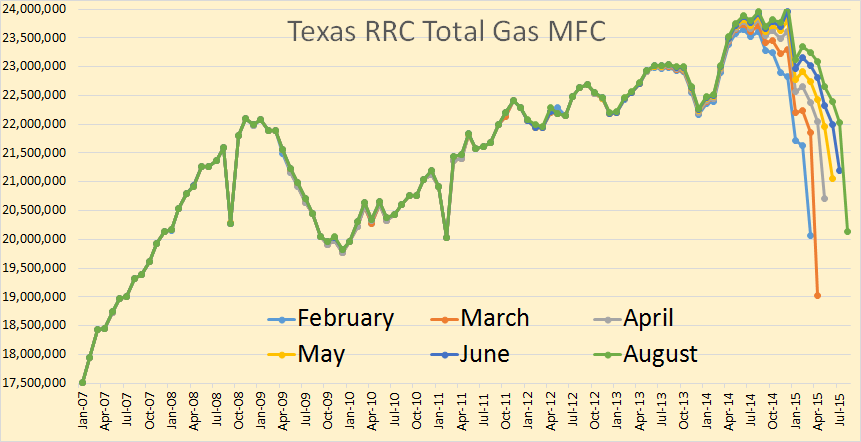 Texas total natural gas apparently took a larger drop in August than did oil.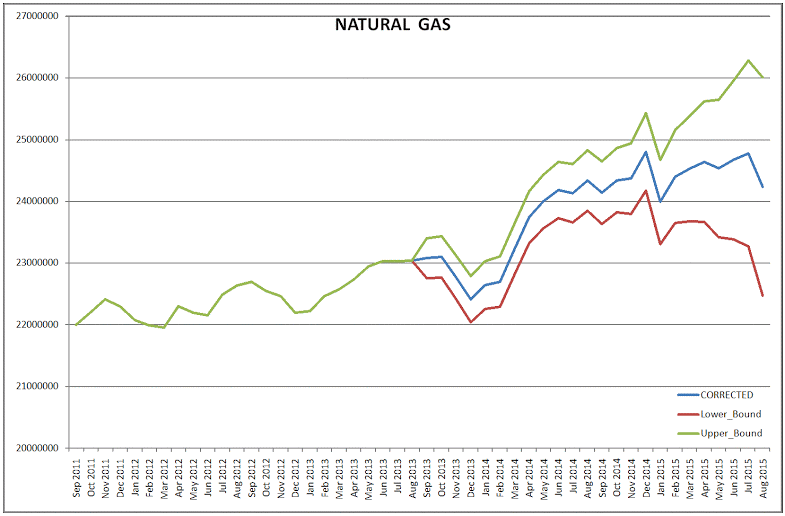 And Dean agrees. The August drop in total gas production almost matched that of last December.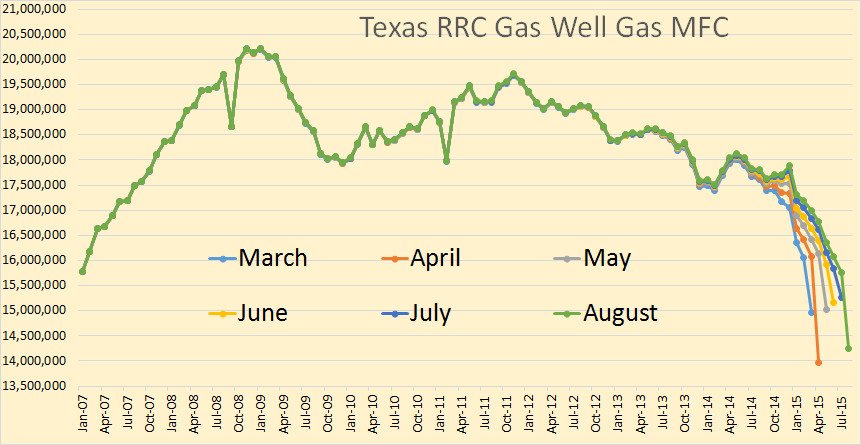 Texas gas well gas may be in serious decline.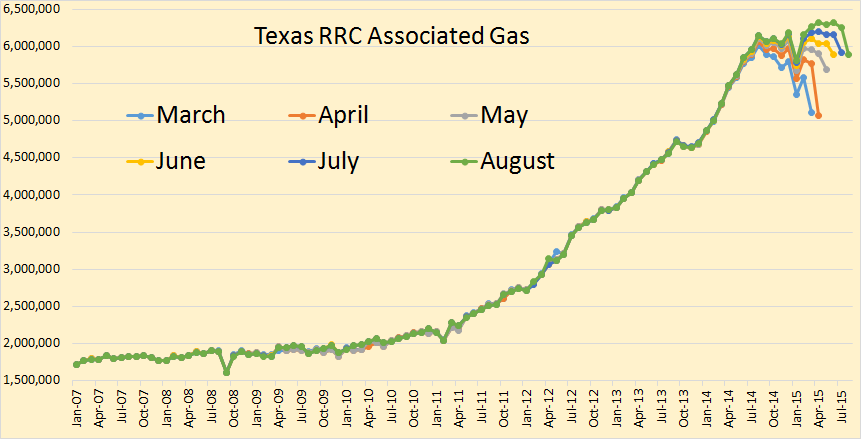 Texas associated gas did not have the dramatic decline that the gas well gas had. But any dramatic gain in associated gas seems to now be a thing of the past.
A new Peak Oil book just came out a few days ago:
Peak Oil: Apocalyptic Environmentalism and Libertarian Political Culture
In recent years, the concept of "peak oil"—the moment when global oil production peaks and a train of economic, social, and political catastrophes accompany its subsequent decline—has captured the imagination of a surprisingly large number of Americans, ordinary citizens as well as scholars, and created a quiet, yet intense underground movement.
In Peak Oil, Matthew Schneider-Mayerson takes readers deep inside the world of "peakists," showing how their hopes and fears about the postcarbon future led them to prepare for the social breakdown they foresee—all of which are fervently discussed and debated via websites, online forums, videos, and novels. By exploring the worldview of peakists, and the unexpected way that the fear of peak oil and climate change transformed many members of this left-leaning group into survivalists, Schneider-Mayerson builds a larger analysis of the rise of libertarianism, the role of oil in modern life, the political impact of digital technologies, the racial and gender dynamics of post-apocalyptic fantasies, and the social organization of environmental denial.
"From Mad Max to Mad Men, this dead-on critique of long held beliefs about masculinity and traditions of American individualism and techno-optimism—all steadily becoming associated with a 'shift towards libertarianism'—is by turns entertaining, insightful, and troubling. The book clearly outlines how these traditions and beliefs present daunting challenges to communities interested in organizing and implementing effective and timely responses to accelerating global climate change."
I just do not get the connection between peak oil and libertarianism. I am not a libertarian and never intend to become one. I think the libertarian philosophy is a little absurd. Like the anarchists, they dream of a world that could never be, a world of little or no taxes and total freedom for everyone. But regardless of what one thinks of libertarian politics, I can find little connection with peak oil or those who follow peak oil and libertarianism. I wonder if libertarianism is a favorite subject of the author and that he is simply trying very hard to make the connection. I may buy this book but I would like to read a few more reviews first.
"…all steadily becoming associated with a 'shift towards libertarianism'…" I am sorry but I just don't believe that is happening.
______________________________________________________
If you would like to be notified by email when I publish a new post just email me at DarwinianOne at Gmail.com