Like BP, OPEC, the EIA and the IEA Russia also publishes an annual energy outlook. It is called the Global and Russian Energy Outlook to 2040. It is published by The Energy Research Institute of The Russian Academy of Sciences and The Analytical Center for The Government of The Russian Federation. I have no idea who these guys are but their titles sound impressive and they seem to be Russian think tanks funded by the Russian Government. But that is just an assumption of mine.
It is a very large 175 page PDF file that appears to be very scholarly and well researched. However they appear to be very optimistic in their prediction of the future oil supply out to 2040.  In one scenario they are not optimistic at all for coal production however.
The report has three scenarios, the Baseline Scenario where business as usual continues until 2040. The New Producers Scenario where oil prices collapse due to overproduction and The Other Asia Scenario which is based on peak coal and the effect this will have on China and India. In that scenario they assume China coal production will peak within the next ten years. The Baseline Scenario assumes adequate supplies of coal will be available however. Only in the Other Asian Scenario do they figure in peak coal. All three scenarios assume plenty of oil will be available through 2040.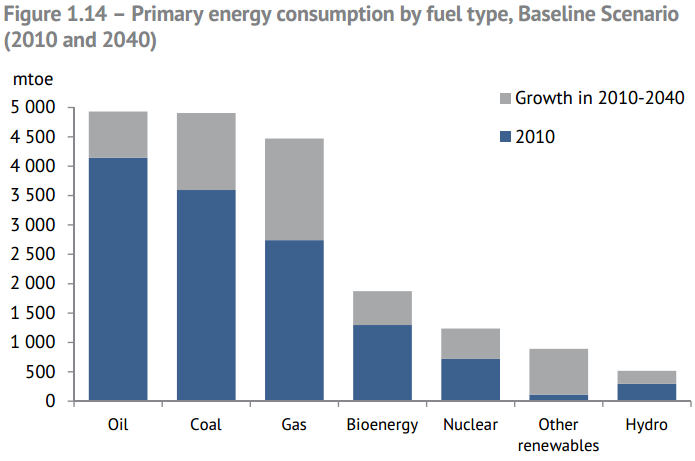 Obviously they don't see any peak in oil production out to 2040, only growth. However they have coal and gas growing even more. And they seem to be very optimistic about "other" renewables. I don't know exactly what that might be.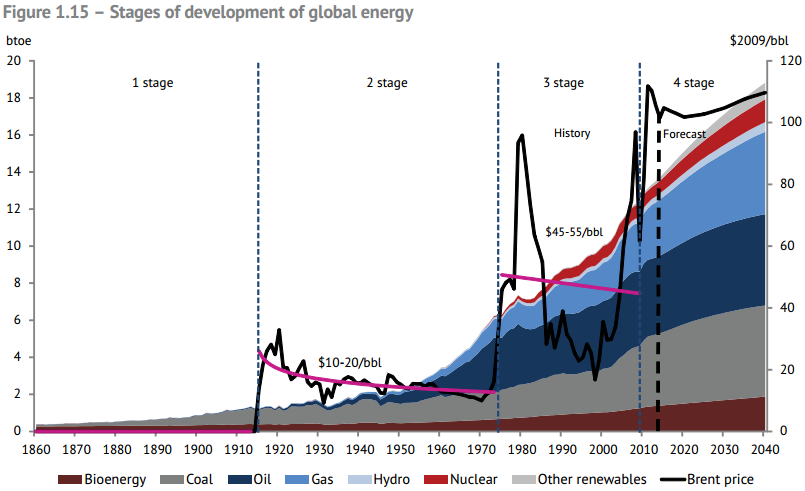 And here is their take with an oil price overlay. It appears they think, because production increases right along with demand, that the oil prices will remain flat.
Below is their prediction of future crude oil production in barrels per day converted from tons per year using 7.27 barrels per ton.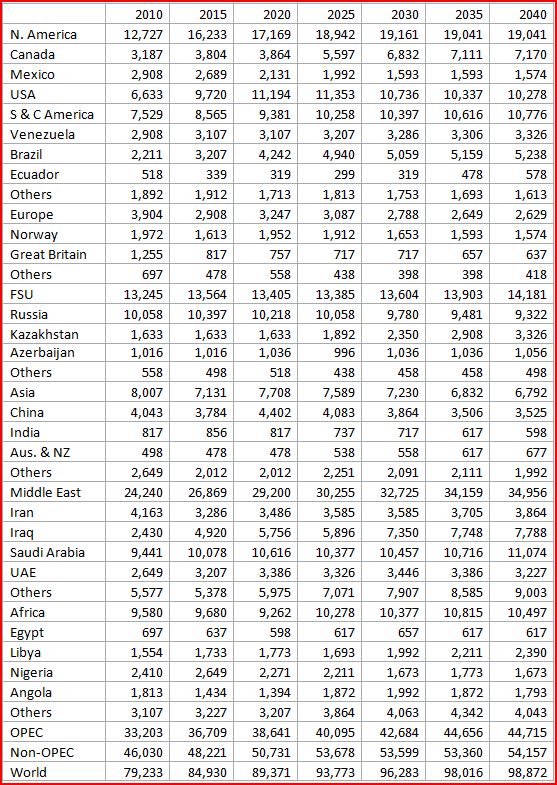 There seems to be some gross overestimates of even current production here but some others, like Russia, China, India and a few others are pretty close. I suspect that they may be counting some NGLs for some countries. But it is the change per 5 year period, the growth or decline is the important thing.
To better see what these Russian Think Tanks are predicting we need to look at the percent change. Here barrels per ton doesn't make any difference. Below is the percent increase or decrease per 5 year period. These are 5 year percentage changes, not annual changes.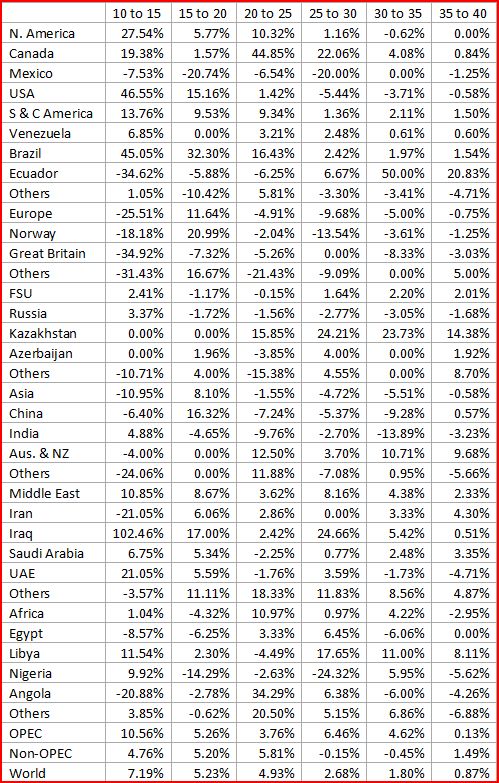 They are some astounding predictions here. They are predicting Norway will increase production by 21 percent between 2015 and 2020. That is an increase 3.9% per year. China does even better and Iraq is the biggest gainer of all, producing 5.75 million barrels per day by 2020. But they have them producing 4.92 million barrels per day in 2015. That is about 1.6 million barrels per day more than they are producing today.
But notice they have Russia peaking by 2015. In fact the number they give for 2015 Russian production is about 100 thousand barrels per day below what Russia says they are producing today, which is just over 1,440 thousand tons per day. And that is about 15 to 20 thousand tons per day below what they said they produced in December. So there is no doubt that these two Russian think tanks believes Russia has already peaked. And keep in mind that this is coming from people who believe almost every other country will continue to increase production for about two decades. These people may be a little naive about the rest of the world but they should be well versed on Russia's production prospects.
By 2020, or a year or so thereafter, the US will be importing only from Canada. They are predicting that Europe and Asia, by 2040, will depend on imports for 77 and 80% of their oil. And this coming from folks who are extremely optimistic about oil production… Scary!

In the Baseline Scenario, the dependence on imported oil in all key importing regions, except North America, will continue to increase. As of 2020, due to increased domestic production, North America will be able to do without crude oil imports from other regions, although the key country in the region – the USA – will depend on its neighbour, Canada, for more than a third of its supplies right up to 2040 (Table 1.11).
And here's why: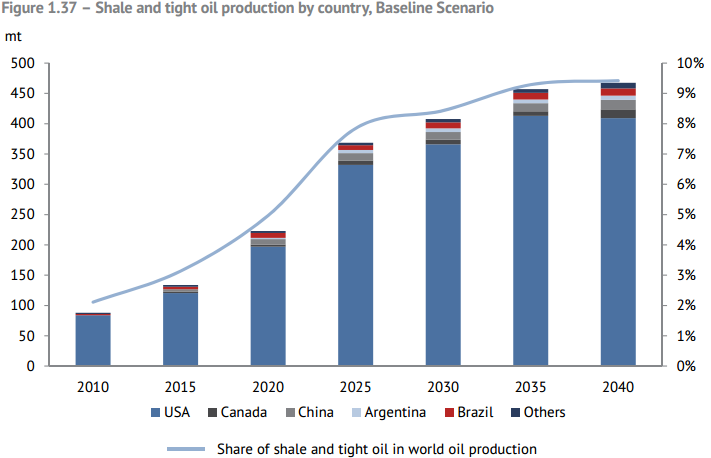 They believe shale oil, by 2040, will be will account for about 9.4% of the world's oil production from about 2.8% in 2015. The lions share coming from the USA. And notice none comes from Russia.
Converting million tons per year to barrels per day, using 7.55 barrels per ton of Light Tight Oil, they have the US producing about 2.5 million barrels per day in 2015, increasing to 4.1 mbd in 2020 and 8.3 mbd in 2040. They have the world producing 2.7 mbd today and about 9.3 mbd in 2040.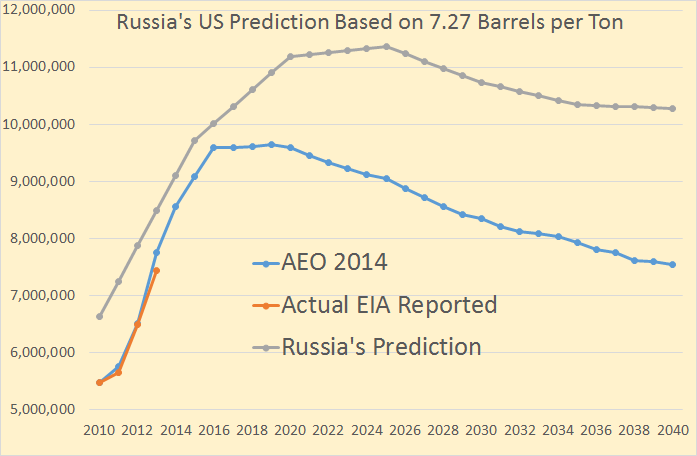 I made the above chart using the Russian data in the table above. I had to make the change linear between the five year data because that is all the data they provided. You may think they are using Crude plus NGLs but if that were so then that would put US production in 2010 at 7.57 million barrels per day.
At any rate they have US peaking around 2025 where the EIA  has the US starting to decline in 2020.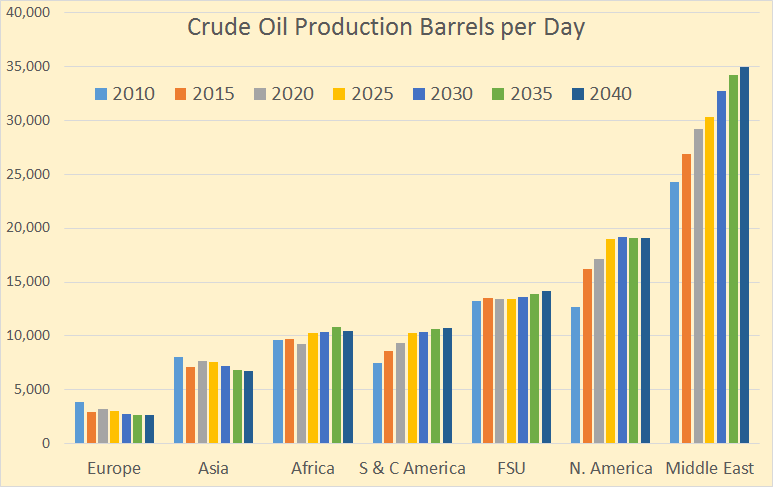 Here is where they expect the increase to come from. They are expecting big things from the Middle East. After 2025 almost all the increase comes from the Middle East.
But as optimistic as these guys are concerning oil world production, they are still not quite as optimistic as the EIA.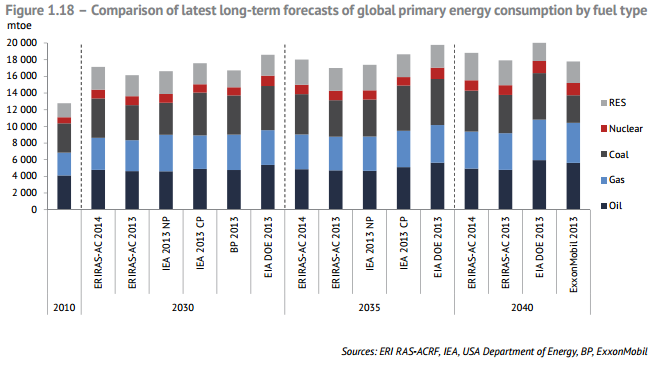 The EIA is far more optimistic concerning coal production also. Everyone expects all types of energy consumption to increase right on through 2040.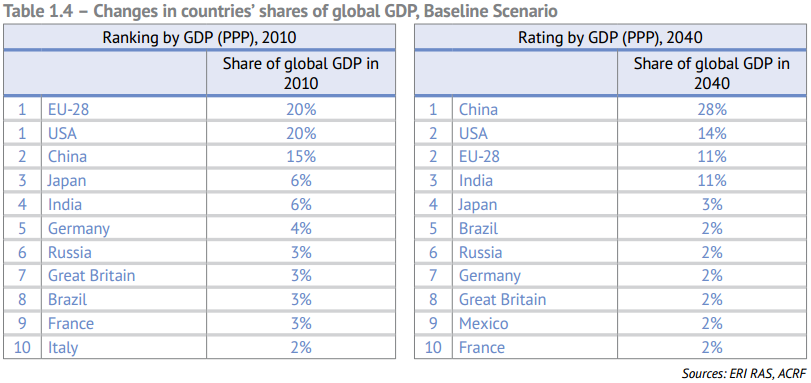 This is their outlook for the future GDP of the world's largest economies. In 2010 they have China's GDP at 25% below that of the USA, but in 2040 they believe China's economy will be double that of the USA.
Russia does everything in tons but the two tables below gives a very good indication of where they see everything going, from GDP, Population, CO2 emission to all types of energy consumption. And they give the annual rate they expects these things to grow.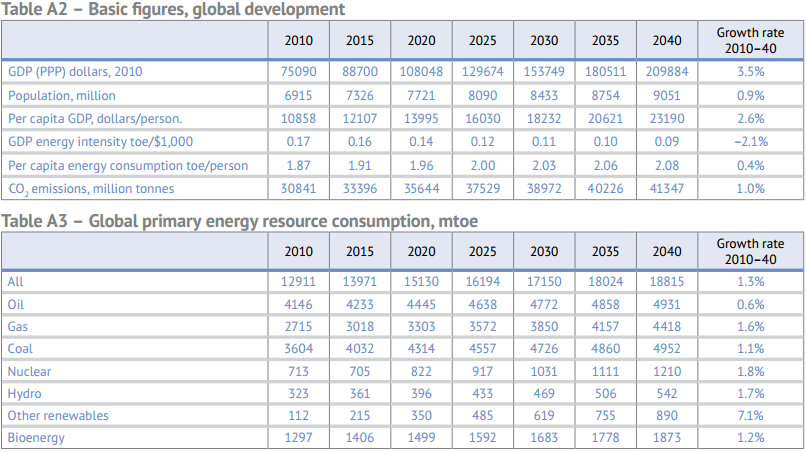 Notice the only thing with negative growth is GDP energy intensity. That is they expect World GDP to grow much faster than energy consumption. They have GDP growing faster than energy by 2.1 percent per year, and that is every year. I am not so sure this is possible. I know GDP is not pegged to energy consumption but there is a definite connection. There is an elastic tether tying GDP to energy consumption and that elastic tether can only be stretched so far before it snaps.