The OPEC Monthly Oil Market Report is just out  with the crude only production numbers for the 12 OPEC countries. The data below is in thousand barrels per day and the last data point is September 2015.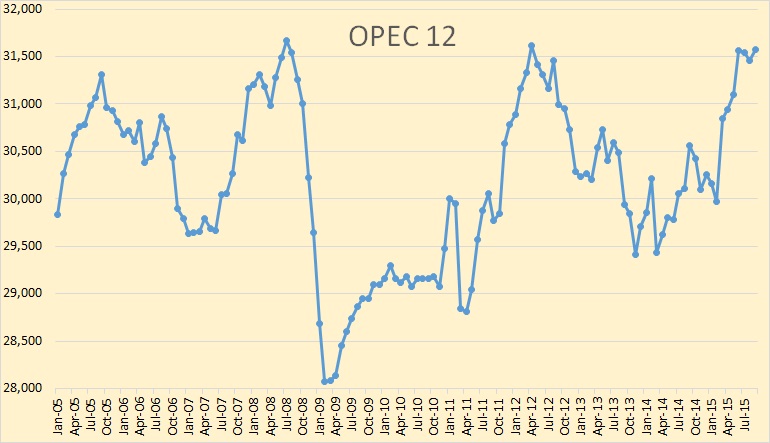 OPEC 12 crude only production was up 109,000 barrels per day in September but that was after the August production numbers were revised down by 82,000 bpd. OPEC crude only production now stands at 31,571,000 pbd. That is just 12,000 bpd above June production but still 100,000 bpd below their peak in July of 2008.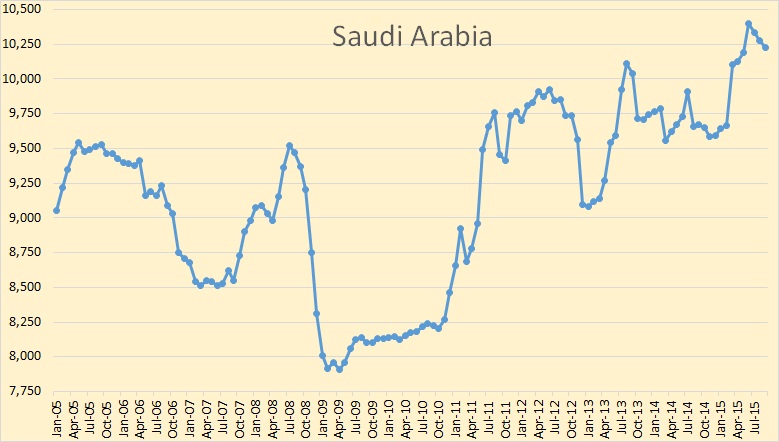 Saudi Arabia was down 48,000 bpd in September to 10,225,000 bpd. That is 174,000 bpd below their latest peak in June.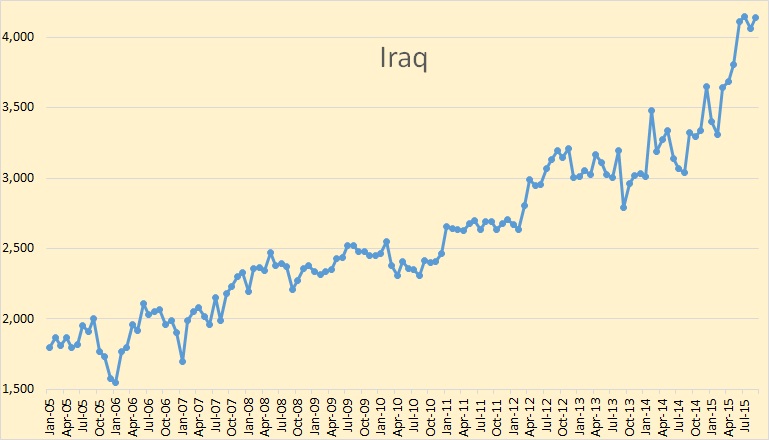 The big gainer in September was Iraq, up 80,100 bpd in September. That is still 5,000 bpd below their latest peak in July.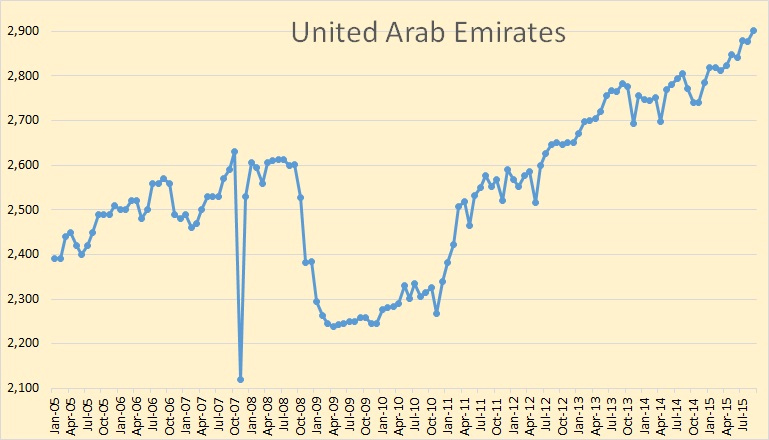 The UAE hit a new high in September, up 24,300 bpd in September to 2,902,000 bpd.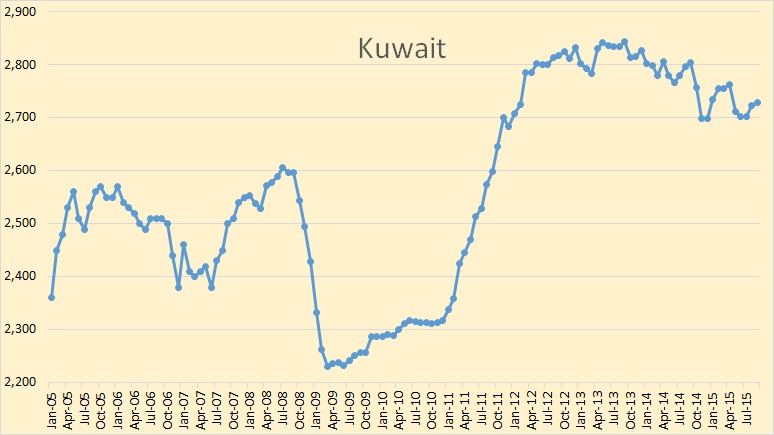 Kuwait, one of the big four that is responsible for all the increase in OPEC production  since 2011, Kuwait seems to have peaked in 2013.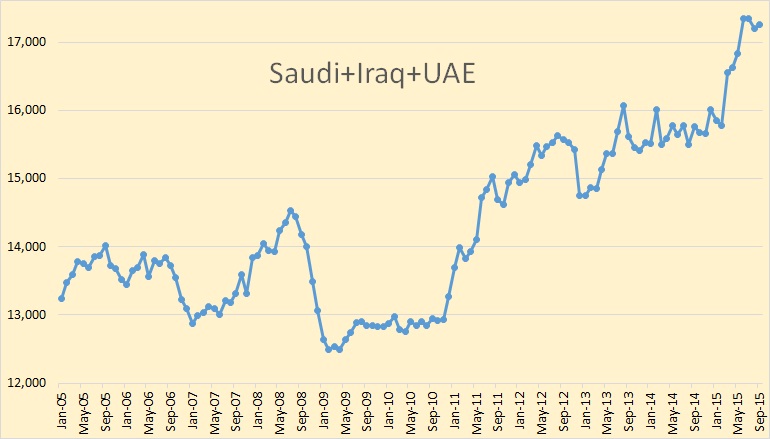 All the OPEC increase in 2015 has come from Saudi, Iraq and the UAE.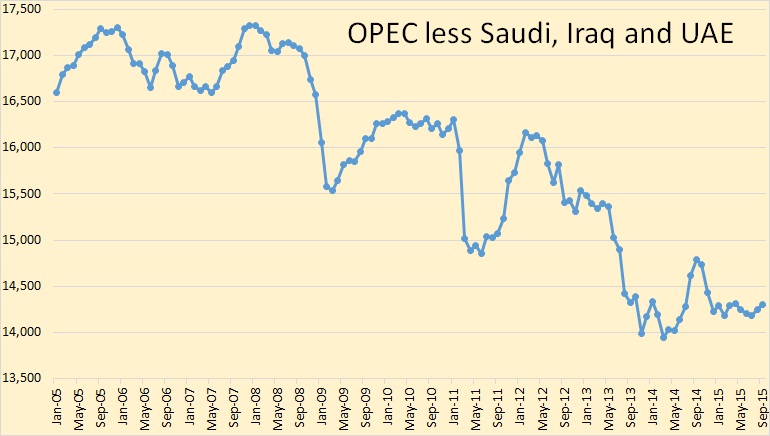 The other nine OPEC countries, when combined, have been flat in 2015.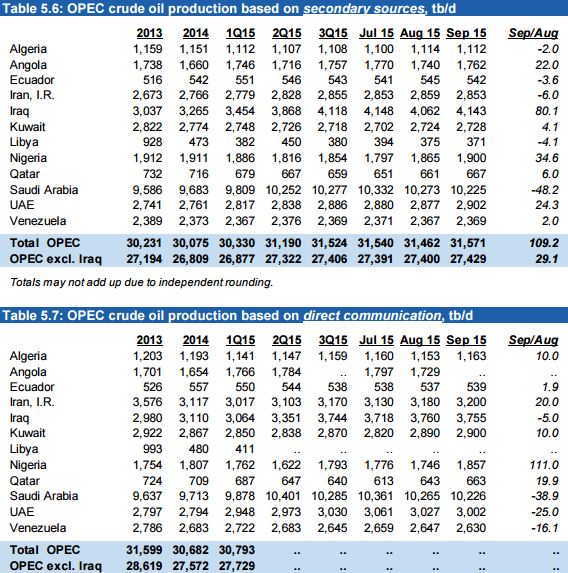 Here are the numbers for all 12 OPEC countries. I always use "secondary sources" for my charts. Notice the difference between what they say they produced when called and what the secondary sources say they produced. Iran and Venezuela always say they produced a lot more than they actually produced. This month secondary sources matches Saudi's "direct communication" almost exact.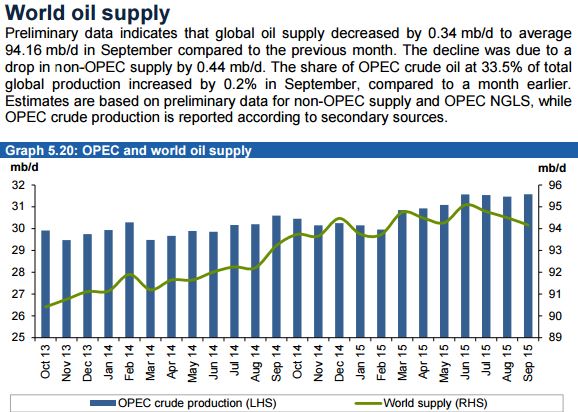 OPEC says world total liquids declined 34,000 bpd in September. Non-OPEC production, they say, declined 440,000 bpd in September. Eyeballing the chart Non-OPEC production looks to be down over 1,000,000 barrels per day since June.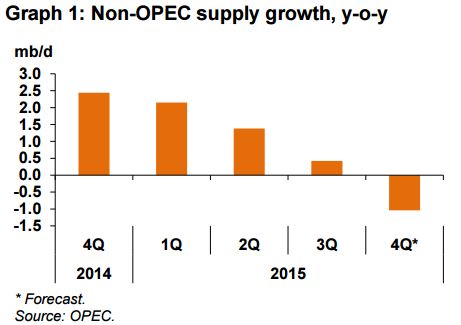 This chart does not contradict the chart above. This is year over year growth change. Although third quarter Non-OPEC production was down it was still slightly higher than third quarter 2014 production. Fourth quarter 2015 Non-OPEC production is predicted to be down versus fourth quarter of 2014.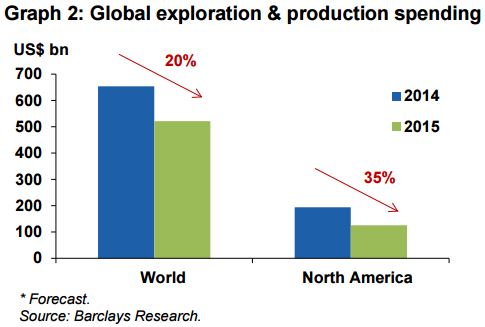 OPEC says world upstream spending will be down only 20% in 2015 but North American upstream spending will drop by 35%. I guess that is because of the big drop in shale spending.