The EIA just released its Drilling Productivity Report for April. In this report they have post what they expect the shale production data will look like through May 2015.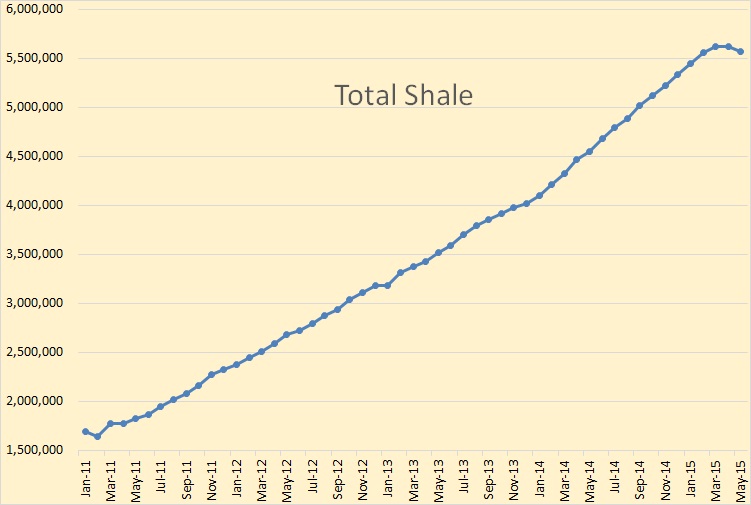 The EIA is expecting a rounded top for shale production. They are expecting a big drop of total shale production in May to the tune of 56,673 barrels per day. In April they had total shale production down 2,098 bpd.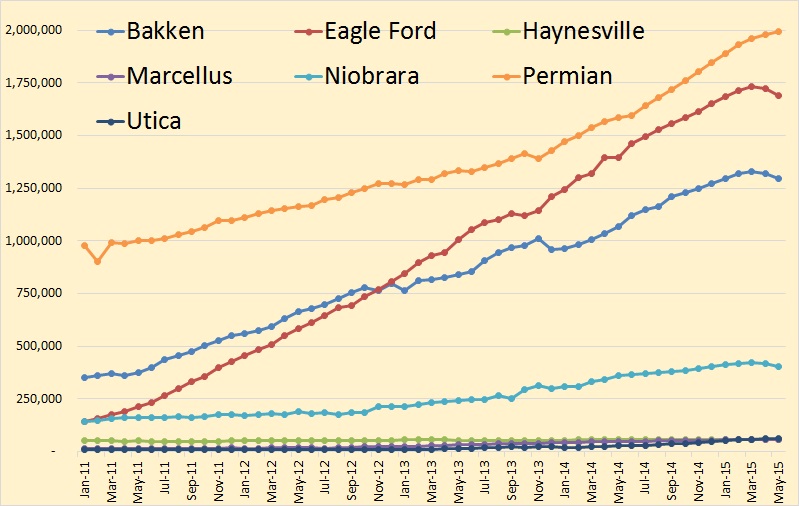 The EIA has Bakken, Eagle Ford and Niobrara down but still has the Permian up by 10,647 bpd.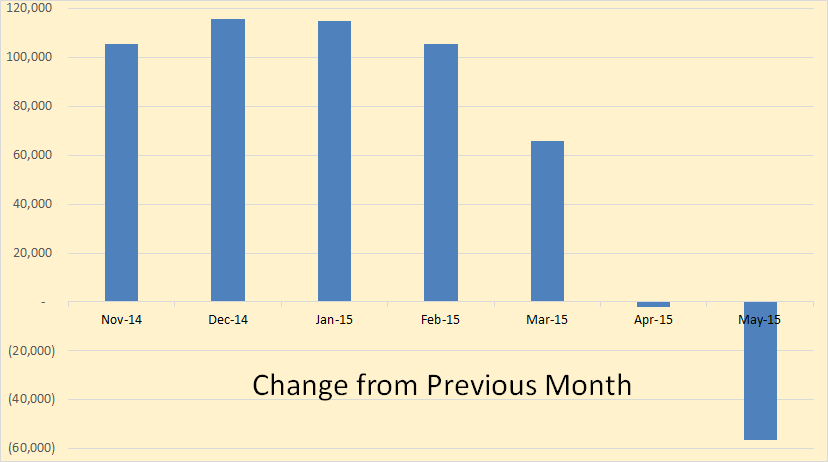 The EIA has total shale up over 100,000 bpd November thru February, dropping to up just66,000 bpd in March and not going negative until April and May. But that is not the way it will eventually turn out.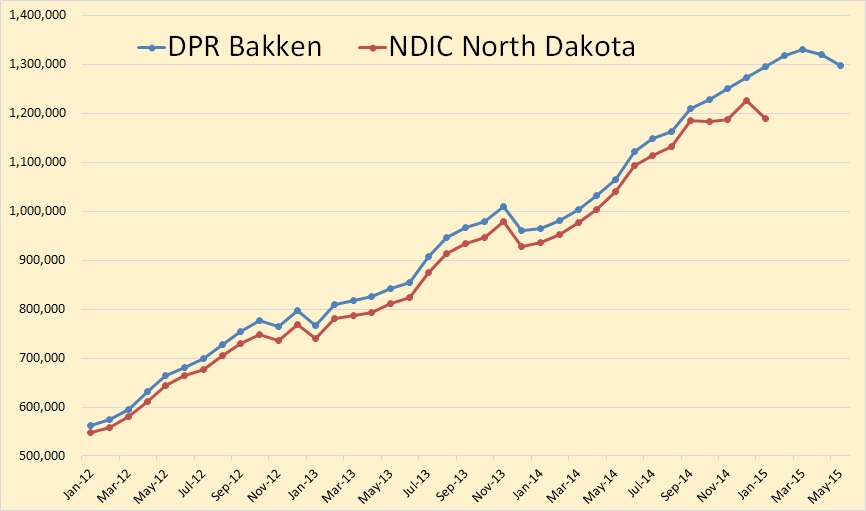 Here I have the North Dakota Industrial Commission data for North Dakota through January and the EIA's total Bakken through May. The EIA's data includes Montana's share of the Bakken. But the point I want to make is the EIA eventually inserts the correct data but only after a lag time of 6 to 8 months. Here they have the correct data through September. But really the Bakken was flat in October and November, had a really good month in December then a terrible month in January. The January production was only 4,000 bpd above September production.
The NDIC February data will be in in a day or two and I think it will show another decline in Bakken production. That should have the NDIC Bakken February production about 100,000 barrels below what the EIA's DPR report has.
The above four charts are the EIA's estimate of what the four major shale producers are expected to do in May. The Permian outperforms the other three because the Permian is only about 55% shale and 45% conventional. It therefore has a lower percentage legacy decline rate than the other three. However I think all four of these charts are well off the mark. For instance they have the Bakken new well production at 61,000 bpd in May. It would take between 150 and 155 new wells for that to take place. That is about 20 to 30 wells more than will likely be brought on line in May.
Also they have May total shale production at least 200,000 barrels per day too high. US shale production peaked in December 2014.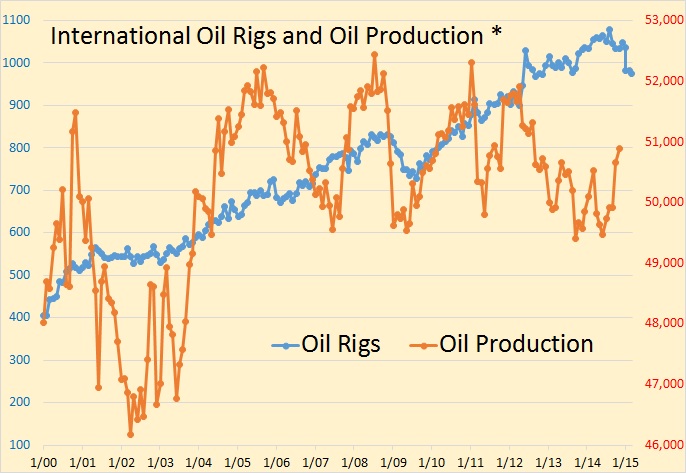 This chart is unrelated to anything above but I thought it important. This compares international barrels per day to rig count. *International, in this case, does not include USA, Canada or FSU. Baker Hughes, to my knowledge, does not track FSU rigs.
But the point is that the rig count increased from under 700 in 2005 to almost 1100 in 2014 with no increase in production. In fat production. In fact 2014 is averaging over 1.7 million barrels per day less tan 2005. All those extra rigs are just not keeping production up.
U.S. on track for record oil production in 2015
American oil production is booming — despite the crash in crude oil prices.
Rystad Energy estimates U.S. oil production will average 9.65 million barrels per day in 2015, exceeding the previous all-time record set in 1970.
And that bit of news just came out today. Amazing!
Notice: There may be another post tomorrow or the day after. I will have a new post it the Bakken data comes out tomorrow or Wednesday, if it does come out tomorrow or Wednesday. I like to keep a post up for three or four days before posting a new one but sometimes I make an exception when fresh data comes out.
_______________________________________________________
Note: If you would like to receive an email notice when I publish a new post, then email me at DarwinianOne@gmail.com