The EIA's Drilling Productivity Report has US shale oil on a steep decline. The below shale oil production charts are the EIA's estimate of what shale production will look like through January 2016. Keep in mind this is the EIA's estimate and not hard production numbers.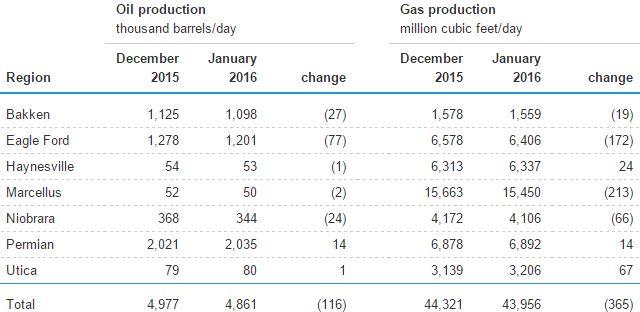 The big drops here are Eagle Ford, Bakken and Niobrara. They have the Permian still increasing in production. An expected drop of 116,000 barrels per day drop in January is very significant.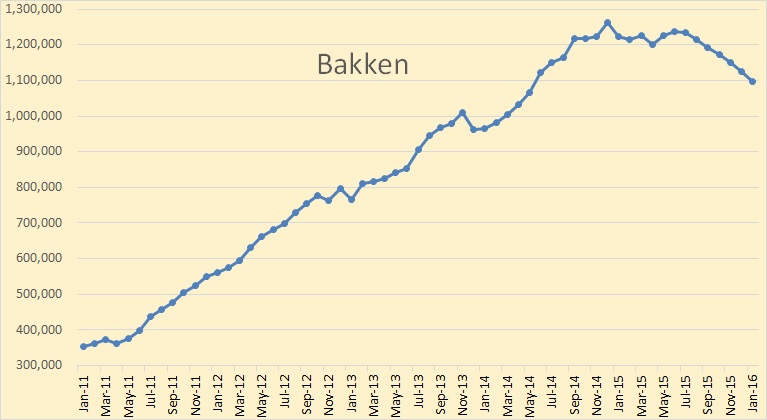 They have the Bakken in a continual decline after July. It is important to note that the EIA's Drilling Productivity Report has the Bakken decline, July thrugh September, very close to what the North Dakota Industrial Commission has. So it appears that the DPR is getting better with its production estimates.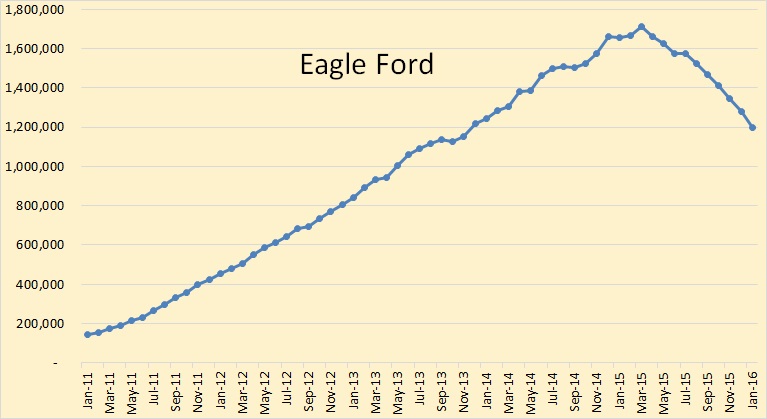 Eagle Ford is where the action is, or isn't, depending on your point of view. Dropping 77,000 barrels per day to start the New Year does not bode well for shale production in 2016.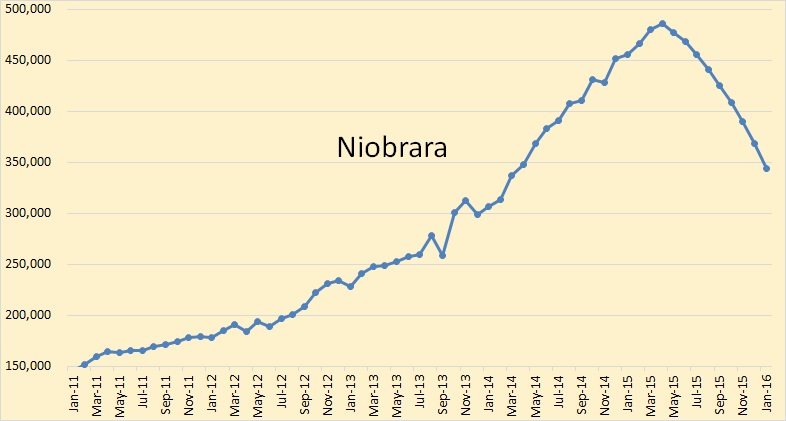 Niobrara appears to have the steepest drop since the March peak. But actually they, if the DPR is correct, will be down 28.37% since March while Eagle Ford is down 29.81%, The Bakken will be down 10.35% while the Permian will be up 7.59%.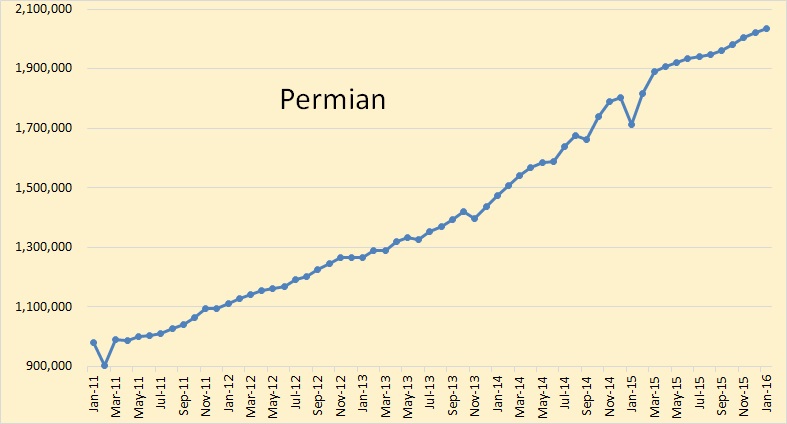 The Permian, which is about half conventional oil, continues to buck the trend and increase production while everyone else is in decline.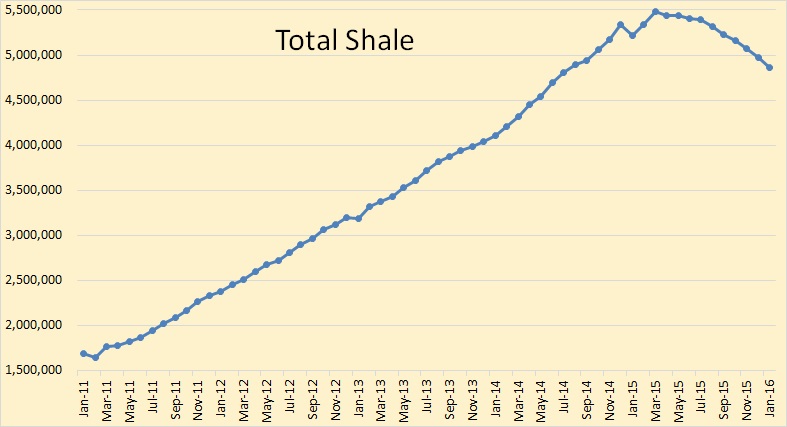 Total for the seven shale areas peaked in March and declined only slightly through July but then heads down in earnest after that. Total Shale, if the DPR is correct, will be down 11.34% March to January.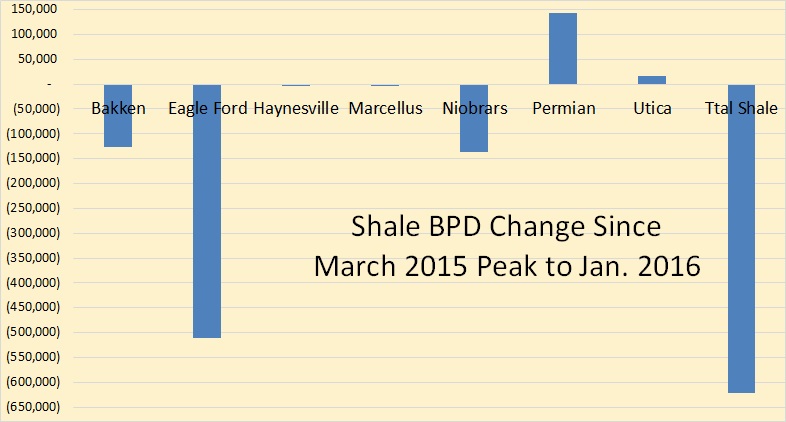 Total shale, if the DPR is correct, will be down 622,000 barrels per day from the peak in March until January.
The Baker Hughes International Rig Count is out with worldwide rig count numbers for November 2015.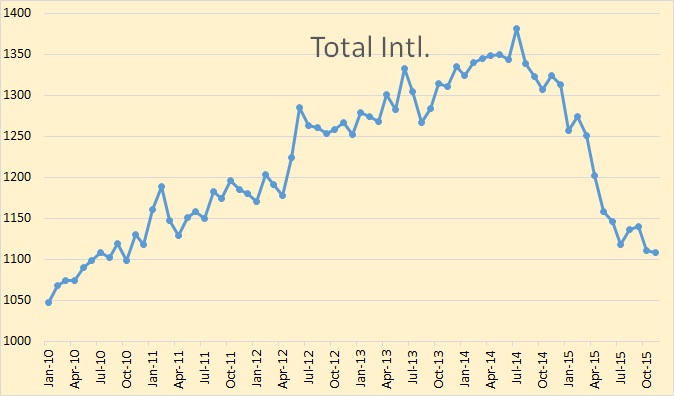 This total international rig count does not include U.S., Canada, on shore China or any of the FSU countries. In November it hit 1109 rigs, both oil and gas, down 273 from a recent high in July 2014.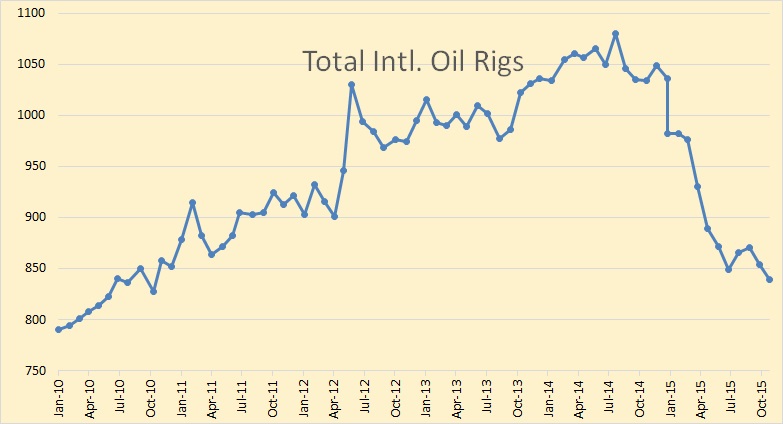 Looking at international oil only rigs gives a very similar picture as does total rigs.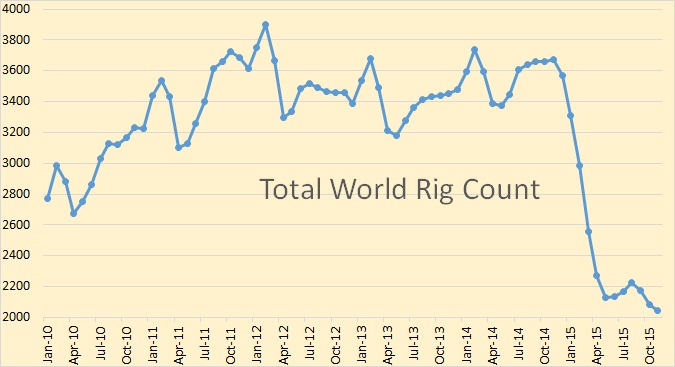 Total world rig count, ex FSU and on shore China, looked like it was heading back up in August but then turned back down and hit a new recent low 2047 rigs in November.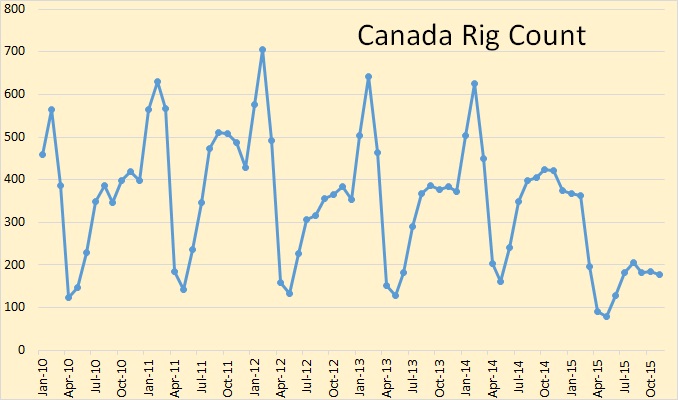 The Canadian rig count is highly seasonal, reaching a high in February and a low in April and May. So it is best to measure Canadian rigs from year to year. In November 2014 Canadian rigs stood at 421. This November they were at 178, down 243 rigs or 58%.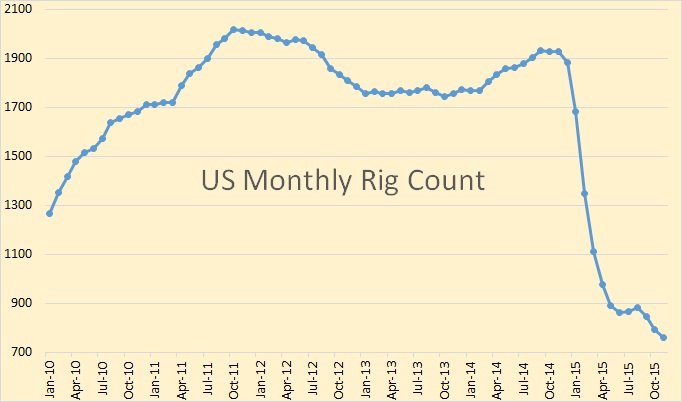 US total oil and gas rigs stood at 760 in November, down 31 rigs on the month.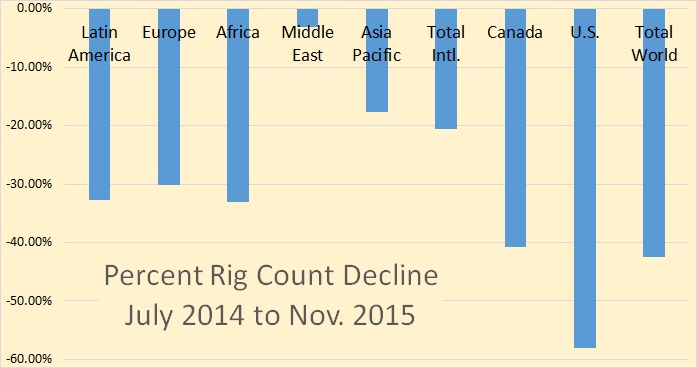 Here I have measured the percent change in rigs from the International high in July of 2014. Note that everyone has suffered heavy attrition in rigs except the Middle East which is down only slightly.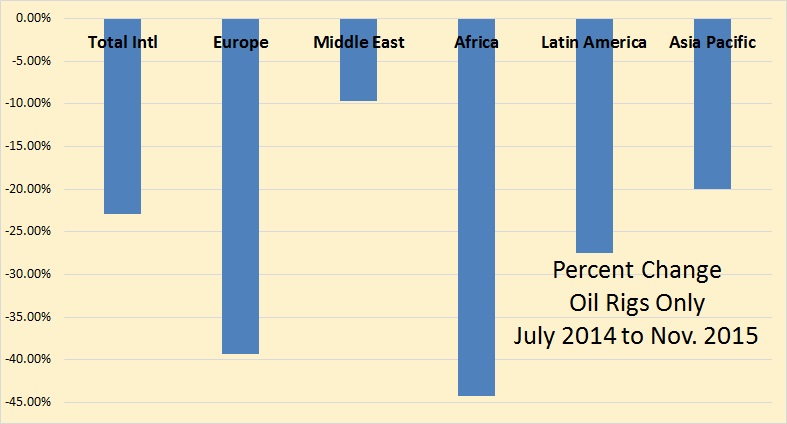 Here we have international percent change of oil rigs only. The Middle East still loses the least percentage and Africa the most.
Below Percent Oil Rig Change for Major Producers, July 2014 to November 2015.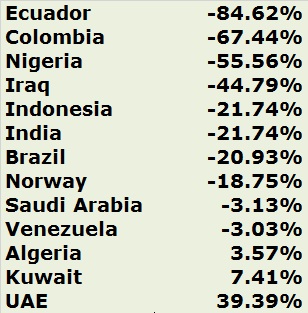 Percent oil rig changes were all over the map. Here I have listed the some changes from major producers, largest decline to largest increase. Iran showed no rigs so no change. This is oil rigs only.
My conclusion from all this, the Drilling Productivity Report as well as the Baker Hughes rig count, is that we are in for a big production drop in 2016. Prices will increase but it will take years before major producers are back up to full speed. And then production will still be well below 2015 production levels.
___________________________________________
I send an email notice whenever I put up a new post. If you would like to be added to that list then email me at DarwinianOne at Gmail.com