There has been considerable discussion lately as to whether or not total collapse of the world't economies will happen in the relatively near future. I think that is the wrong question. Let me explain.
Ecological collapse of the world's ecosystem is a lead pipe cinch. It is already well underway and instead of slowing down, it is gaining momentum fast. Here are just a few examples from recent news.
'Peak soil' threatens future global food security
"Under business as usual, the current soils that are in agricultural production will yield about 30 percent less than they would do otherwise by around 2050."
Surging food consumption has led to more intensive production, overgrazing and deforestation, all of which can strip soil of vital nutrients and beneficial micro-organisms, reduce its ability to hold water and make it more vulnerable to erosion.
Such factors, exacerbated by climate change, can ultimately lead to desertification, which in parts of China is partly blamed for the yellow dust storms that can cause hazerdous pollution in Asia, sometimes even severe enough to cross the Pacific Ocean and reduce visibility in the western United States.
"If we keep treating our soil the way we do, we will have to convert about 70 percent of the earth's surface into agriculture to meet demand for food by 2050 (from about 40 percent now), Crawford said.
Crawford also noted that moderately degraded soil could only store about half the amount of water of good soil, adding to pressure on limited water resources.
Cheap fat may 'spell doom' for Africa's great apes
Scientists warned Thursday that a palm tree with an oily fruit might "spell doom" for Africa's great apes, thanks to demand for palm oil, a cheap fat often used as a replacement for trans fats.
But that land is running out.
"Everything is flattened, often burned. There are scars of burning that is completely devoid of anything. It's like a biodiversity disaster zone," Wich said. "It's quite hard to see."
The island of Borneo, below, the only habitat of the Orangutan, is almost deforested. The land has been cleared to grow palm oil. Only the central mountainous area remains for them to dwell. And those central slopes are today being cleared to grow more palm oil.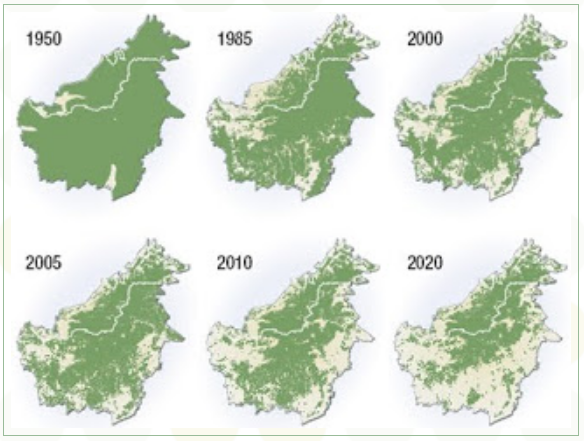 The only great ape, other than humans of course, outside Africa will be extinct in less than 20 years. And soon after that all the other great apes in Africa will be gone also.

Or should I tell you about the Aral Sea: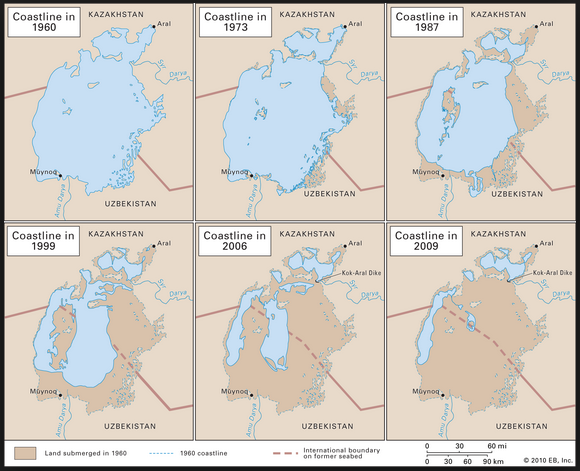 From Wiki: The shrinking of the Aral Sea has been called "one of the planet's worst environmental disasters". The region's once-prosperous fishing industry has been essentially destroyed, bringing unemployment and economic hardship. The Aral Sea region is also heavily polluted, with consequent serious public health problems. The retreat of the sea has reportedly also caused local climate change, with summers becoming hotter and drier, and winters colder and longer.
The rivers feeding the Aral Sea were dammed to grow cotton. Now the cotton fields are salting up and do not produce near as much cotton as the did in the early days of the irrigation project.
The exact same thing, of course, has happened to Lake Chad: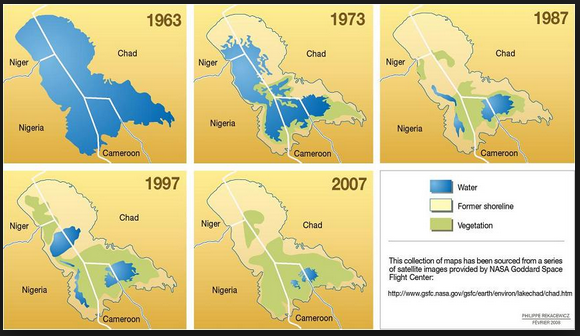 The exact same thing is happening to the other African lakes though Lake Chad is by far the worse… so far.
The world, the entire world is being destroyed in the same manner as the forest of Borneo, Africa and the Amazon. The fertile soils of the world are washing away or being blown away. The rivers of the world are drying up. The Yellow River of China now reaches the sea only in the wet season. The Colorado River in the US and Mexico never reaches the sea anymore.
The water tables of China and India and other parts of Asia are dropping by meters per year. Many irrigation wells in India are dry and many Indian cities are totally without water. Water must be trucked in. In the US, the Ogallala aquifer that covers part of eight states in the Midwest is being depleted. Soon it will feed only half as many people.
And let's talk about fish. This article written eleven years ago, says fish stocks have declined by 90% since 1950. And this article written just four years ago says they all could be gone in 40 years, (36 years from now). Is it not blatantly obvious what we are doing to the ocean? And it is not just the fish, bottom trawl nets are destroying the life that grows on the continental shelf ocean floor. And plastics in the ocean are killing turtles. They think it is jelly fish. And even the wandering albatross are being wiped out. They too are eating the plastic trash and regurgitating it into the gullet of their young. Their skeletal bodies cover Midway and other bird islands.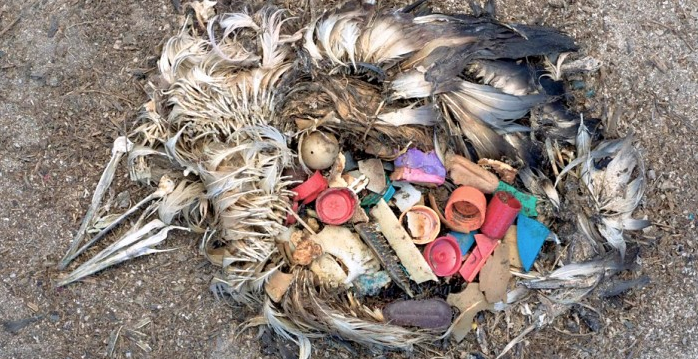 1200 miles from civilization, birds die from eating man-made plastic
And I could go on and on and on about how the world is being destroyed by humans. It is happening everywhere. The ocean fisheries are going away, rivers an lakes are drying up everywhere, forest are being destroyed, cut for timber and cleared for land to grow crops. And even the topsoil we depend on for our very existence is being depleted.
And of course, not the least of problems, is oil, the lifeblood of civilization, will soon peak and then decline… forever. But still people say: "Not to worry, we have technology. We will develop wind and solar power, battery powered cars, trucks and tractors, we will adapt… yes that's the ticket, it will all happen so slowly we will adapt."
To hell you say. What's happening slowly is we are destroying the very earth we depend on for life. It is happening slowly and we are not adapting. We are making no attempt to adapt. We are only making it worse every day. Most will not even admit it is happening. And most of the few who do realize what is happening believe that humans will not suffer that much even if we do wipe out all other mega fauna on earth.
We will do nothing to adapt, slowly or otherwise. Of course we will build battery powered cars but that will only help mitigate the price of oil. We will do nothing to mitigate the destruction of the earth. And trying to adapt with wind and solar power will fall far short of what is needed. It will prove way too expensive and as the peak of oil production will catch us all off guard. A stock market crash followed by a deep recession will likely follow. Private industry will have little capital to convert anything and the man in the street will have even less. But even if they did, that would make little difference in the long run.
The earth, before the industrial revolution, could support, long term, perhaps one to two billion people. Today the earth is so degraded it can support perhaps half a billion, long term. But we are making it worse every day. Collapse is not something that may happen in the future. Collapse is something that is happening today.
Homo sapiens are deep, deep into overshoot. It was just something that naturally happened. It is nobody's fault. It is just what happens to any species when, for some reason or another, happen upon times of plenty. And as Richard Dawkins put it:
If there is ever a time of plenty this very fact will automatically lead to an increase in population until the natural state of starvation and misery is restored.
I cannot say when things will really start to fall apart, but they most definitely will. And I cannot say how long the decline in human population will take but I would guess a few decades. And I cannot say how many humans will be among the survivors, but I would guess less than half a billion. And I cannot even venture a guess as to what life will be like after it all settles out, so I won't guess.
This post is basically an extension to the subject I covered in my essay:
Of Fossil Fuels and Human Destiny