BP has released its Statistical Review of World Energy 2014. There are a lot of things in this report but I am only posting charts on liquid petroleum only. The BP report includes crude oil and NGLs. Their data does not include ethanol or any type of biofuels or process gain. The report actually has data from 1965 but I started all charts from 1990 in order to highlight more recent production. All data is in kb/d.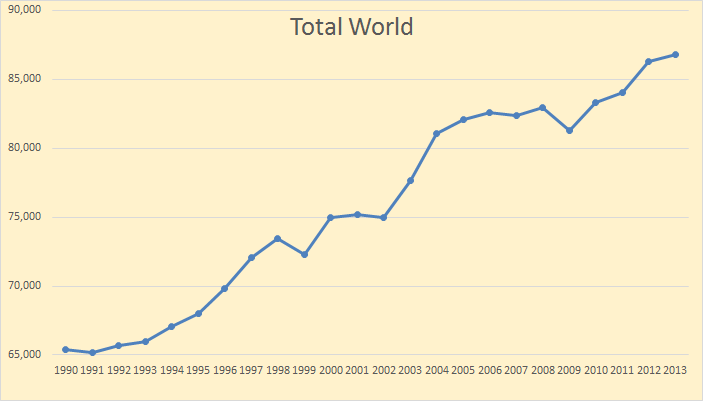 BP has World liquids output up 557 kb/d in 3013.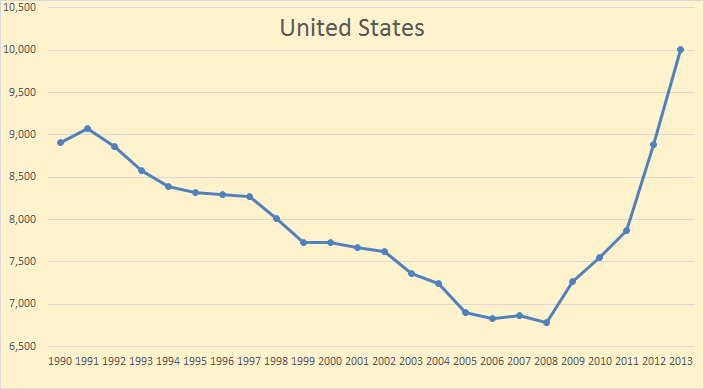 USA liquids were up 1,111 kb/d in 2013.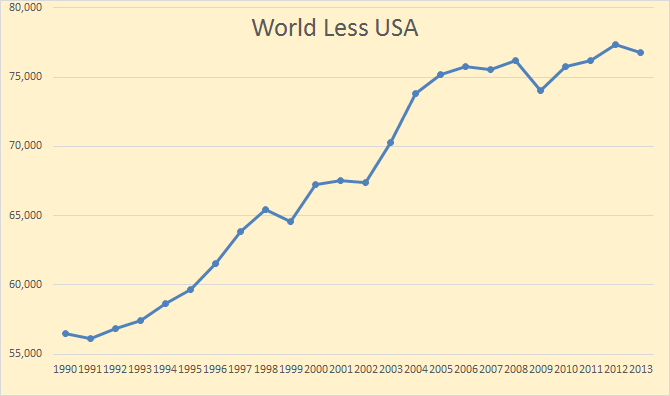 World liquids less USA were down 554 kb/d in 2013.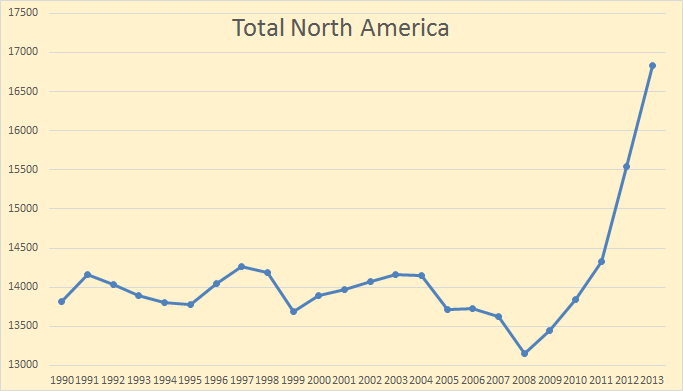 North America is USA, Canada and Mexico. The increase is USA plus Canada minus Mexico and was up 1,283 kb/d  in 2012.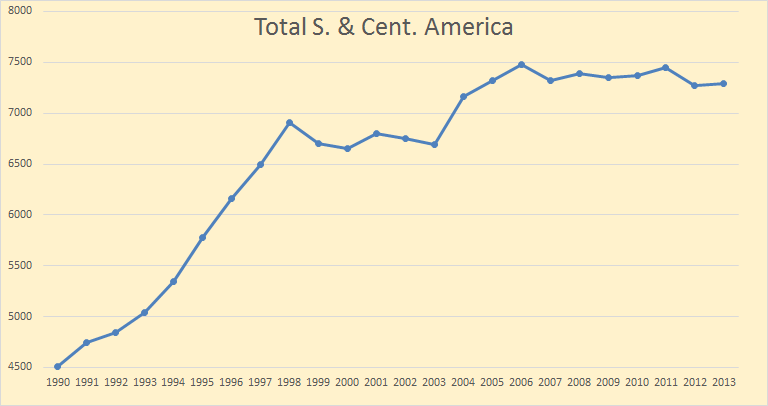 Central and South America was up 19 kb/d but is down 181 kb/d since peaking in 2006.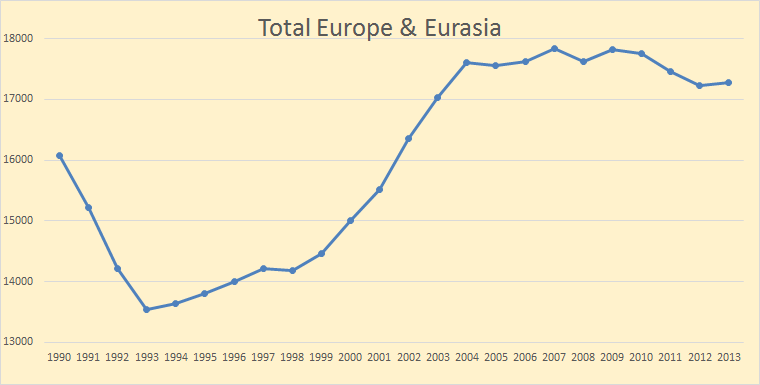 Europe and Eurasia was up 50 kb/d in 2013 but is down 531 kb/d since peaking in 2017.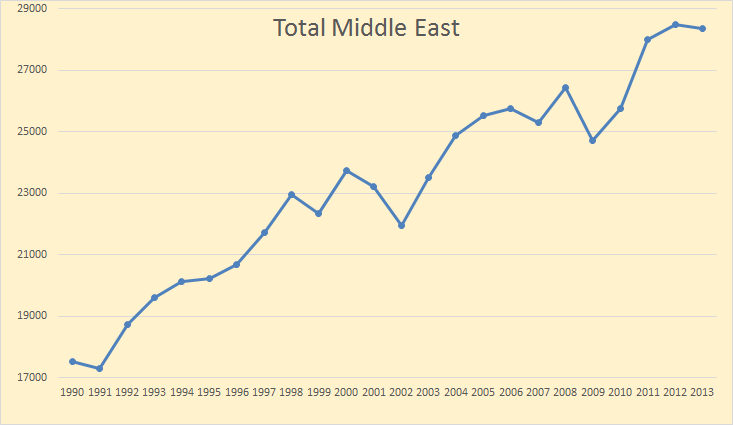 Middle East liquids production was down 126 kb/d in 2013.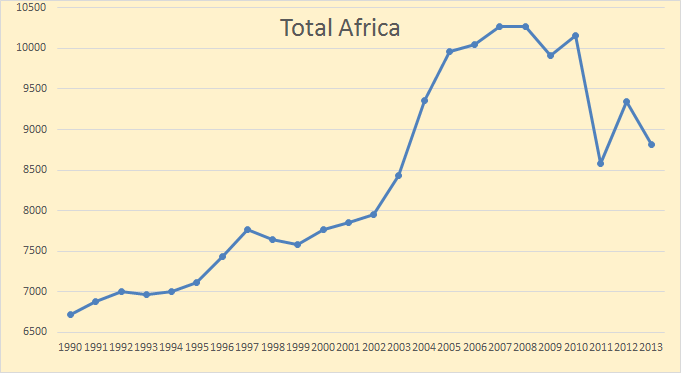 Africa was down 531 kb/d in 2013 and is down 1,457 kb/d since peaking in 2007.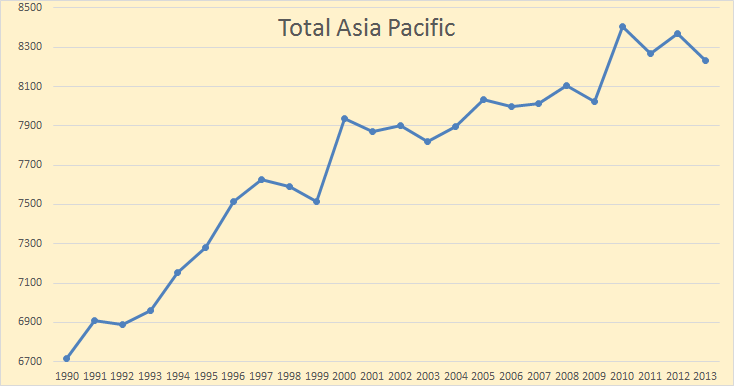 Asia Pacific was down 138 kb/d in 2013 and is down 221 kb/d since the peak in 2010.
Highlights:
World oil production increased by just 560,000 b/d in 2013, less than half the growth of global consumption.
The US (+1.1 million b/d) recorded the largest growth in the world and the largest annual increment in the country's history for a second consecutive year. The US accounted for nearly all (96%) of the non-OPEC output increase of 1.2 million b/d (the strongest since 2002) to reach a record 50 million b/d. Increases in Canada (+210,000 b/d) and Russia (+150,000 b/d) offset declines in Syria (-120,000 b/d), the UK and Norway (-80,000 b/d each) and Australia (-70,000 b/d). OPEC output fell by 600,000 b/d, the first decline since 2009, driven by a decline of 520,000 b/d in Libya.