The Bakken production data published by North Dakota is out with October production data. ND Monthly Bakken Oil Production Statistics (Bakken Only) and ND Monthly Oil Production Statistics (All North Dakota).
The below chart is North Dakota Bakken barrels per day and All North Dakota Barrels per day. As you can see it's mostly Bakken and very little "the rest of North Dakota.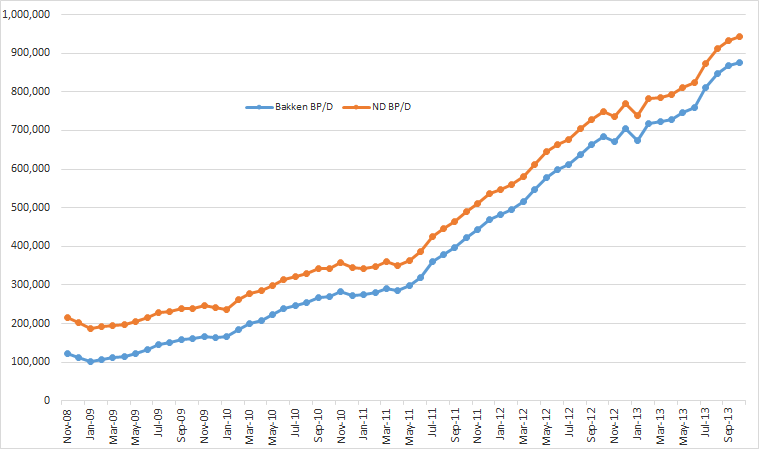 It looks like there is a pattern developing. I charted the month to month percent change in the chart below with a line indicating a possible trend.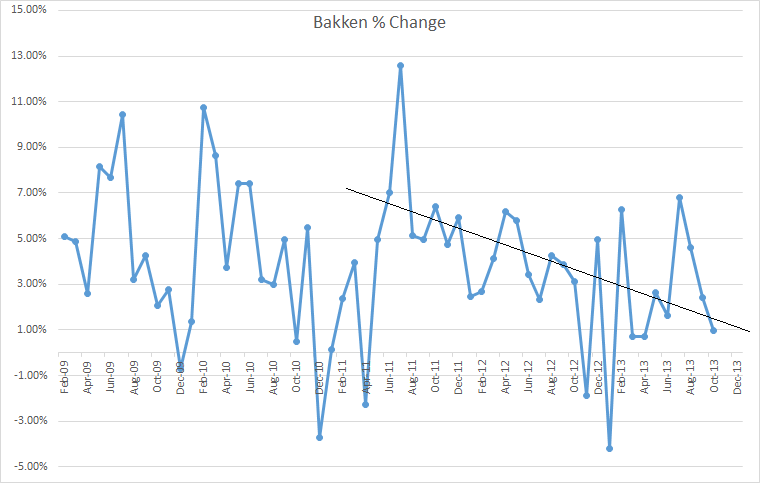 Basically I think you can ignore everything before July 2011. That is because that was the month the surge started, additional wells almost tripled that month and Bakken production has tripled since that date.
From the Director's Cut:
The drilling rig count was unchanged from Sep to Oct and the number of well
completions dropped only slightly from 225 to 202, resulting in only a 1% increase in oil
production. All McKenzie County roads were shut down for 3-4 days due to rain.
McKenzie County has 1/3 of the drilling rigs and 29% of state production. This means
production likely would have been 10,000-15,000 barrels per day higher without that
weather event. Days from spud to initial production increased from 100 to 114. The
uncertainty surrounding federal policies on taxation and hydraulic fracturing regulation
continues to make investors nervous.
We estimate that at the end of Oct there were about 460 wells waiting on completion
services, a decrease of 40.
202 wells were completed in October but production was up less than 1%. Production was up 8,495 bp/d in the Bakken and 8,652 bp/d in all North Dakota. I think that my previous estimate of 150 to 155 new well completions in order to keep production flat was a bit low. If we had only 17o new wells completed in October I don't think there is any doubt that production would have been down. But perhaps in good weather when all roads were open then 155 wells would have been enough.
Actual change (increase) in Barrels Per Day:
| | |
| --- | --- |
| Jul-13 | 51,510 |
| Aug-13 | 37,482 |
| Sep-13 | 20,359 |
| Oct-13 | 8,495 |
Additional wells were 195 in the Bakken and 211 in all North Dakota. Additional wells are new wells + shut in wells re-opened – wells shut in. So that number could be either more or less than new wells.
Helms gives us the price of oil, presumably the price Bakken producers are getting:
Sep Sweet Crude Price = $92.96/barrel
Oct Sweet Crude Price = $85.16/barrel
Nov Sweet Crude Price = $71.42/barrel
Today Sweet Crude Price = $73.00/barrel
Apparently Bakken crude does not fetch the same price as WTI. That is understandable because Bakken crude is so light it can almost be considered as condensate. The reason for this is this is really "tight oil", so tight that only the smallest molecules can escape.
Bakken Barrels per day per well is charted below. As you can see bpd per well had started to drop pretty dramatically before the surge. Then almost tripling the number of new wells per month increased the bp/d per well quite fast. Now it appears to be dropping again. Of course it this is expected as all those old wells are declining quite rapidly.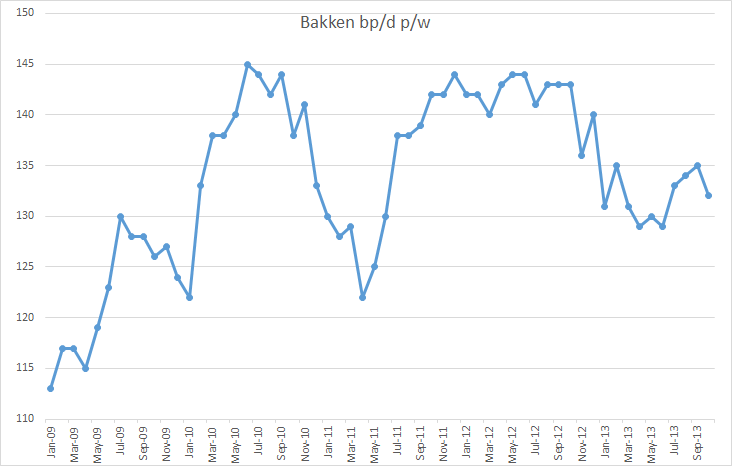 Bakken barrels per day per well had started to recover somewhat to 135 after dropping to 129 but dropped back down to 132 in October. Bp/d per well reached a post surge high 144 back in May and June f 2012.
EDIT: It made the Bakken Breakout: Oil production increasing at a slower pace
EDIT: And a couple of other really important stories on the web:  Inexpensive oil vanishing at alarming rate And: Some ND drilling 'becoming uneconomic'