The Bakken and North Dakota production numbers are in for June. There was a big jump in oil production in June. The Bakken was up 53,162 barrels per day to 1,028,352 bpd. All North Dakota was up 52,148 bpd to 1,092,617 meaning the area outside the Bakken was down about 1,000 bpd.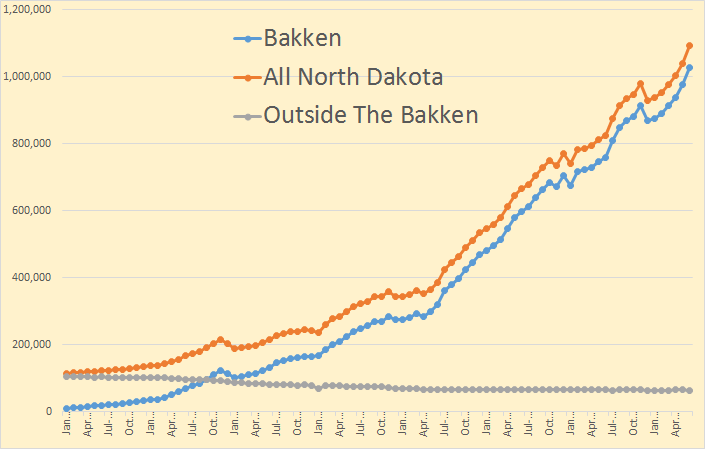 From the Director's Cut:
May Sweet Crude Price = $88.31/barrel
June Sweet Crude Price = $90.03/barrel
July Sweet Crude Price = $86.20/barrel
Today's Sweet Crude Price = $79.50/barrel (all-time high was $136.29 7/3/2008)
The drilling rig count was up one from May to June, and up two more from June to July.
The number of well completions increased as weather impacts eased in June with
significant rainfall on 2 days near Minot and 1 day near Dickinson. However, there were
still 6 to 8 days with wind speeds in excess of 35 mph (too high for completion work).
At the end of June there were about 585 wells waiting on completion services, a decrease
of 25.
For the first time in a couple of years he did not give us the exact number of new well completions, only that they increased. Last month there were 227 well completions and production was up 37,000 bpd so we can assume there were aroun 235 to 240 new well completions in June.
Well completions should not be confused with "additional wells producing. That is and entirely different figure.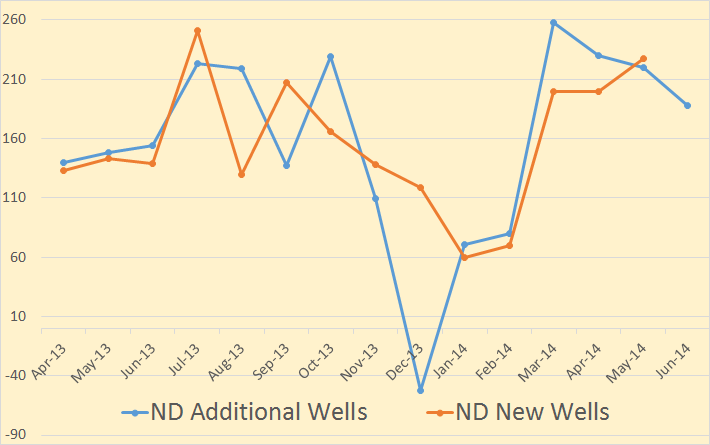 Additional wells producing is new wells completed, plus previously shut down wells brought back on, line minus wells shut down. Sometimes this number goes negative as it did in December of 2013. That month "Wells Producing" dropped by 52 even though there were 119 new wells completed. All data is barrels per day.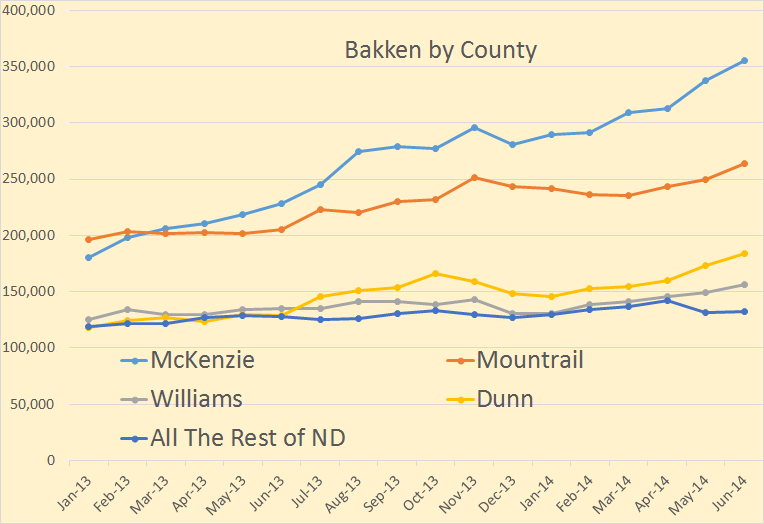 All four counties were up in June. Since October McKenzie is up 77,962 bpd, Mountrail up 32,146 bpd, Williams up 18,619, Dunn up 17,899 and all the rest of North Dakota down 439 bpd.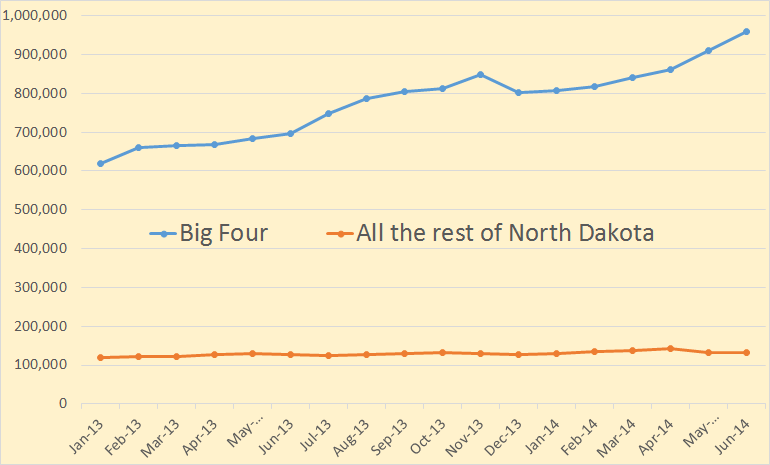 This zero based chart should give you some idea of the dominance of the production from the big four counties in North Dakota.
The EIAs International Energy Statistics has been published with the April production numbers. No big surprises, the world still depends on the USA to hold off peak oil. All EIA data is thousand barrels per day with the last data point April 2014.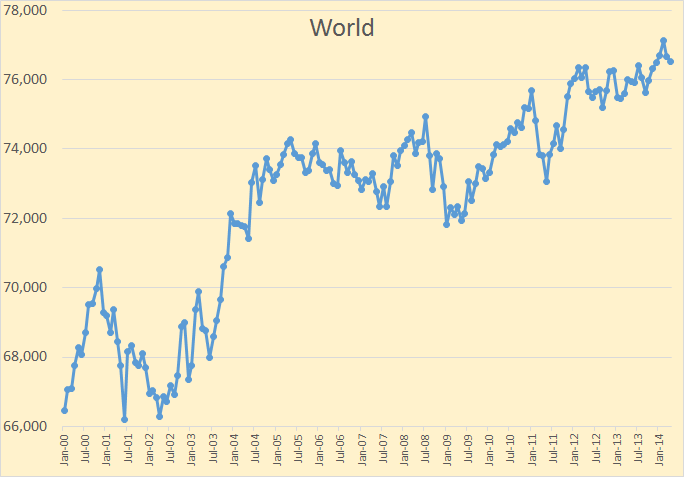 World C+C production was down 157,000 barrels per day in April and down 626,000 bpd since the last peak in February.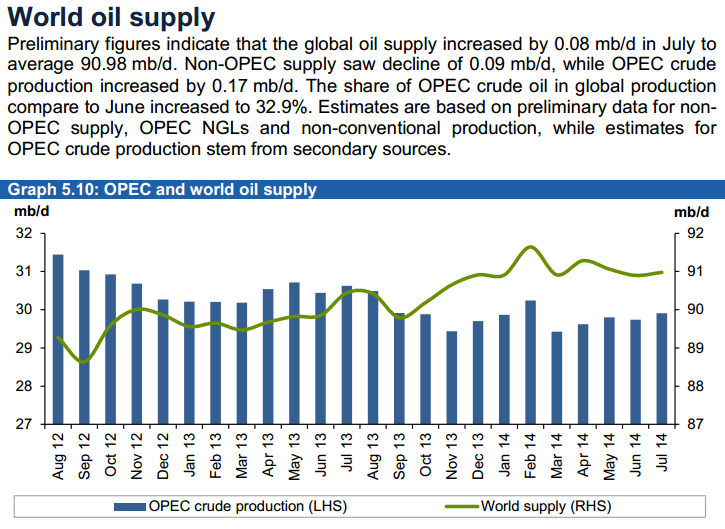 And according to OPEC that was also an all liquids peak that is still holding thru July.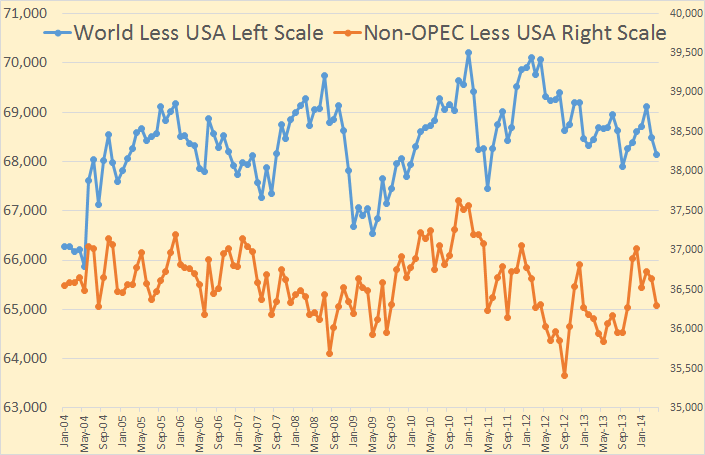 World less USA is down 2.069 million barrels per day since the peak in January 2011 and Non-OPEC less USA is down 1.325 million barrels per day since peaking in November 2010.
I have looked at all the charts of oil producing nations and concluded that only the USA and Canada will any significant increases in production in the next few years. Kazakhstan will have some increase beginning late 2016 and Brazil is finally getting some pre-salt on line, but not much.
I invite you go go to the just updated Non-OPEC Charts page and look at the nations that have recently peaked and especially those that are in long term downward trends.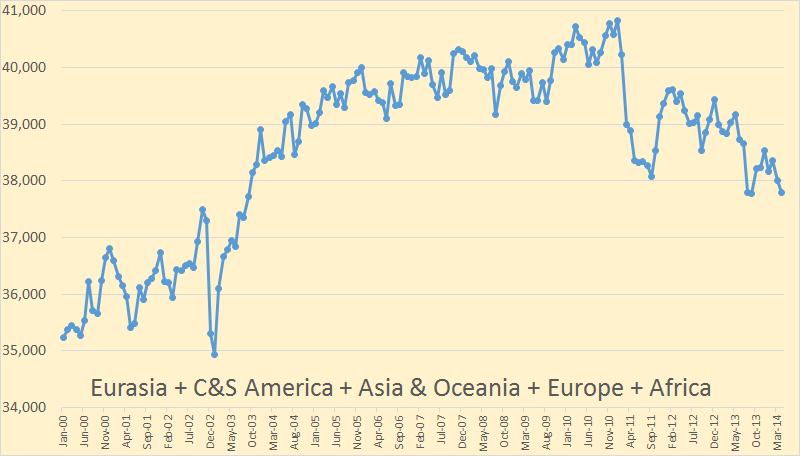 The combined production of six geographical areas peaked in January 2011 and are down just over three million barrels per day since that date. That is everywhere except the Middle East and North America.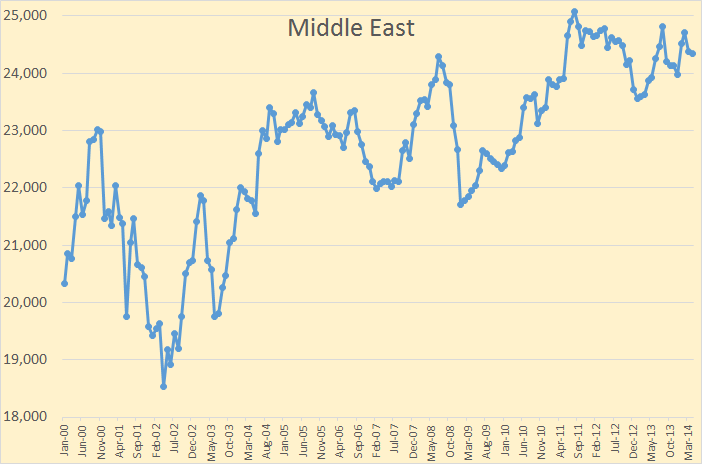 And the Middle East isn't doing all that hot, down 724,000 barrels per day since August 2011. Only North America is booming. Of course things will fluctuate from this April data. The Middle East may go up a little or down a little depending on what happens in Iran and Iraq. But they are on a plateau that, in the long run, can only go down.
The page World Production by Geographical Area has also been updated.