OPEC December Crude Output Falls to 2-Year Low: Survey
Venezuelan Policies
Venezuelan production dropped 235,000 barrels a day to 2.45 million this month, the survey showed. The South American country pumped the least crude since October 2011. Resources have been diverted from energy sector into social welfare programs, sending production lower.
Petroleos de Venezuela SA, the state oil company, was purged after a two-month oil strike intended to oust President Hugo Chavez from power in 2003. Nicolas Maduro, who became president in March when Chavez died, has continued his predecessor's policies.
"It's hard to see how the situation in Venezuela gets any better," said Bill O'Grady, chief market strategist at Confluence Investment Management in St. Louis, which oversees $1.4 billion. "Funds have been used to prop up the government instead of maintaining the oil industry since the PDVSA strike in 2003. It's clear the country is on an unsustainable path."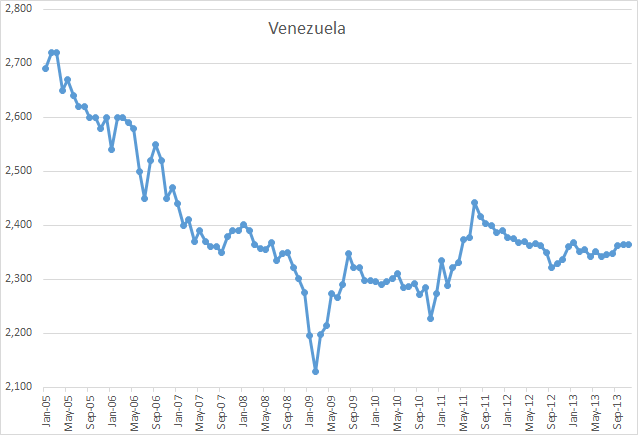 Data for the above graph is from the latest OPEC MOMR published last month and includes data through November 2012. It has Venezuela crude only production at 2,364,000 bp/d in November so it differs considerably from the Bloomberg report above. That report may be using production reported by Venezuela themselves which they reported as 2,854,000 bp/d for November or 490,000 kb/d above what the OPEC MOMR's "secondary sources" said they produced.
From the same Bloomberg link above:
Libyan Unrest
Libyan output was unchanged 210,000 in December, the lowest level since September 2011, the survey showed. Production averaged 1.28 million barrels a day in the first six months of this year before tumbling, according to data compiled by Bloomberg. Two years after the war that swept the late Muammar Qaddafi from power, government efforts to revive the oil industry are being stymied by feuding militias and protests.
"Several producers are benefiting from the Libyan production outages," said Tim Evans, an energy analyst at Citi Futures in New York. "There are higher prices because of Libya's problems and other producers are also able to increase market share at the Libyans expense."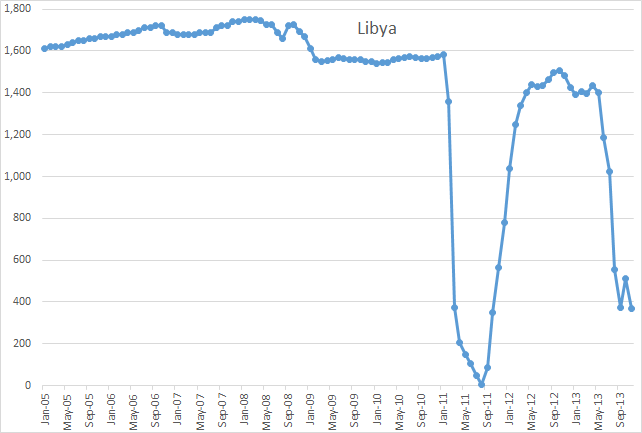 The OPEC MOMR showed Libyan crude only production 371,000 bp/d in November, a considerable difference from the 201,000 bp/d that Bloomberg reports.
Crippled Kashagan oil project a bureaucratic 'nightmare'
Giant Kazakh oilfield Kashagan, which was brought to a halt by leaks shortly after start-up last year, is grappling with a bureaucratic "nightmare" on top of its engineering troubles as it strives for commercial production in 2014…
Kashagan has cost an estimated $50 billion so far, five times early projections, and its 13-year life is a tale mostly of delay.

The above chart was created with the latest data from the EIA. The EIA seems to have put world oil production on the back burner. Their latest update was for July 2013. All data on these charts are in kb/d.
Of course Kashagan will eventually come on line, perhaps late this year. But it is unlikely to be nearly the bonanza they expect it to be.
UPDATE: Back on November 19th I quoted the IEA World Energy Outlook on whether those OPEC claimed massive "proven" reserves actually exist or not. They said:
Indeed our special study of Iraq in WEO-2012 confirmed that, at least for Iraq, the reported reserves correspond to oil that is clearly there, as demonstrated by the plateau production commitments taken by large international companies with access to the detailed geological information about the fields. Given what is known about the regional geology, the reserves reported by Iran, Saudi Arabia, Kuwait and the United Arab Emirates are reasonable, in a 2P sense, compared to those of Iraq.
Got that? The companies bid on those contracts so they knew something that we do not because they had access to detailed geological information of those fields that we do not. And from a headline today:
Iraq Nears Deal on Oil Output Targets
 Iraq's oil minister said Tuesday the country is close to agreeing to sharp cuts with major Western oil companies in production targets set out for them at some of its largest oil fields, casting doubts over Iraq's ambitious oil output targets…
And the article goes on to address those lofty crude oil output goals that have so excited cornucopian prognosticators:
Those goals have long been taken with a grain of salt in the oil industry, with many analysts long expecting Iraq to lower them to more realistic levels.
The article does state that analysts still think Iraq can dramatically increase their oil output. I believe however that those are some of the same analysts that predicted, along with Iraqi politicians, that Iraq could increase production to 12 million barrels per day. And the IEA still expects great things from the Iraq. From the IEA's WEO 2013: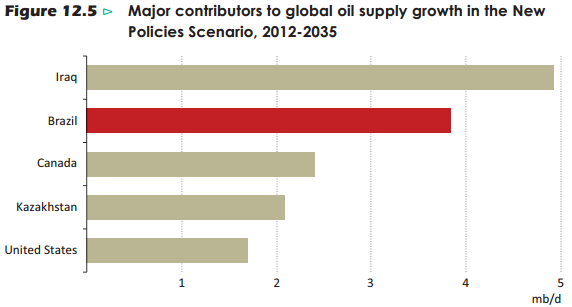 Notice that Iraq and Brazil are the two places where they expect the greatest amount of crude oil increase to come from. But Brazil, like Iraq, is having a very hard time living up to expectations. A couple of recent headlines. First October:
Brazil October Crude Oil Output Falls on Lower Pre-Salt Output
And then November:
Brazil Petrobras Crude-Oil Production Slips 0.1% in November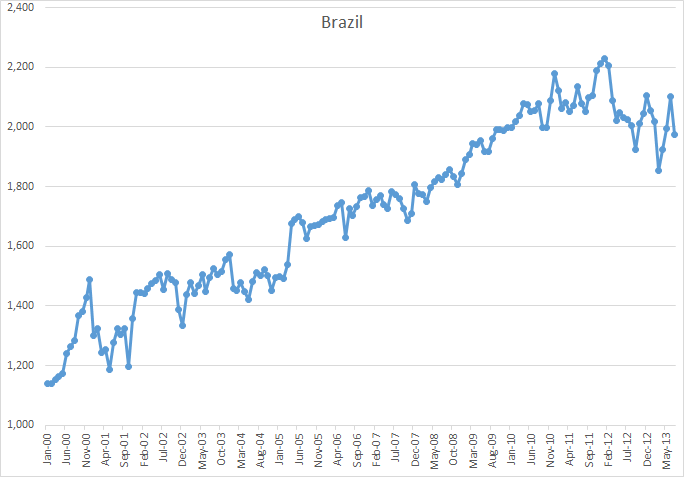 Again, this data is from the EIA which has updates only through July. But it is obvious that Brazil is not going to live up to the IEA's expectations. That great pre-salt bonanza is proving to be extremely expensive and like the deepwater GOM it will have a very high decline rate.