The weekly Baker Hughes Rig Count for North America and the International monthly rig count is out. In the charts below the monthly data is through February 2015 and the weekly data is as of March 6th.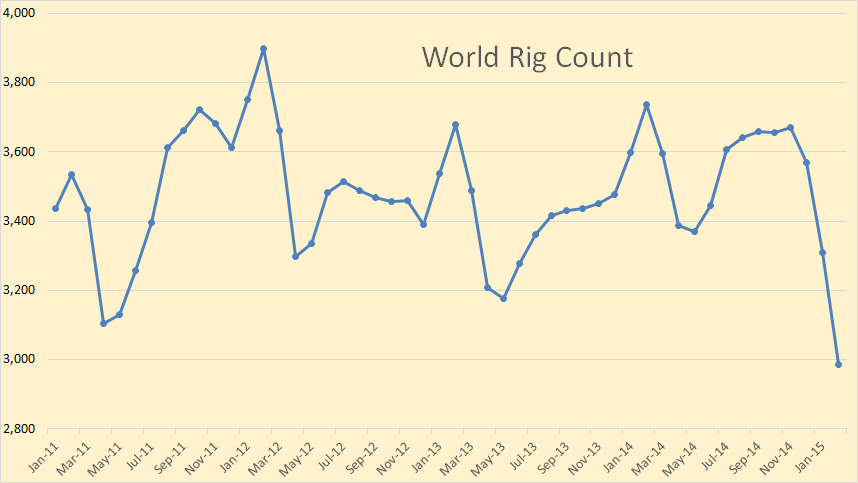 World Rig Count, counting oil, gas and miscellaneous rigs are down 684 rigs over the last three months. The annual spikes you here are caused by Canada.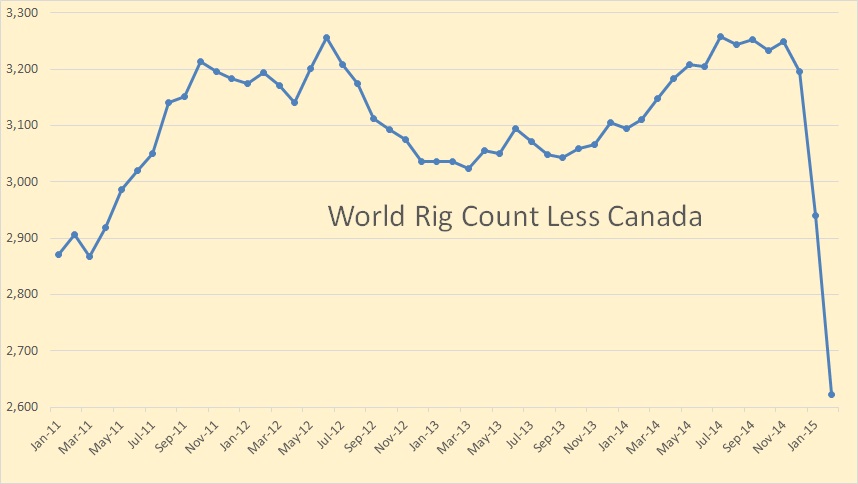 Removing the seasonal Canadian spikes gives you a better picture of what is happening to the world rig count.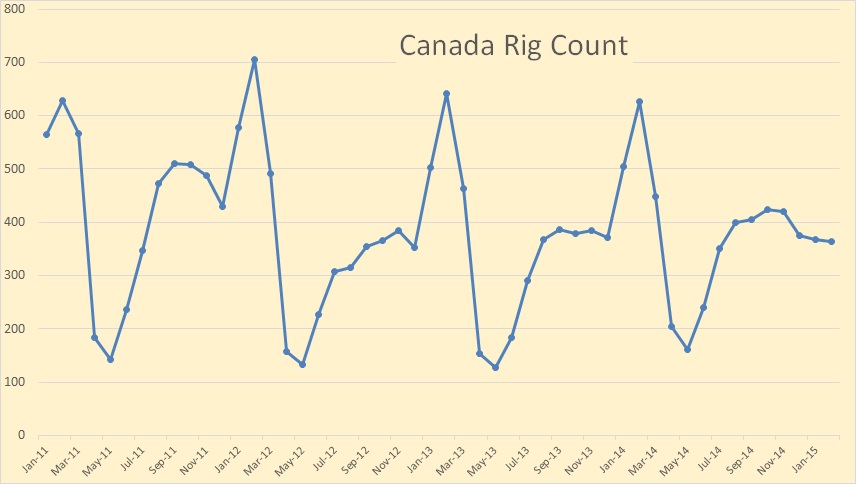 This is the first time since before 2000 when the Canadian rig count did not peak in February.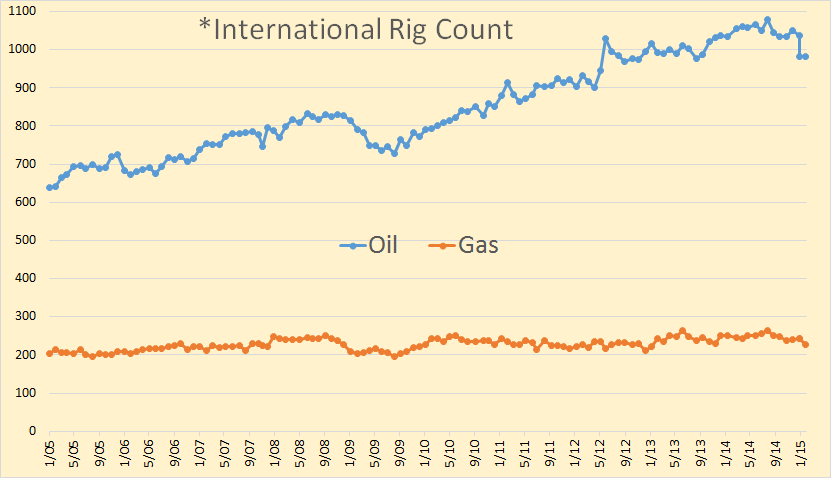 The International Oil Rig Count is down only 67 in the last three months but was unchanged from last month. It now stands at 982. *The US, Canada or FSU countries are not included in this count.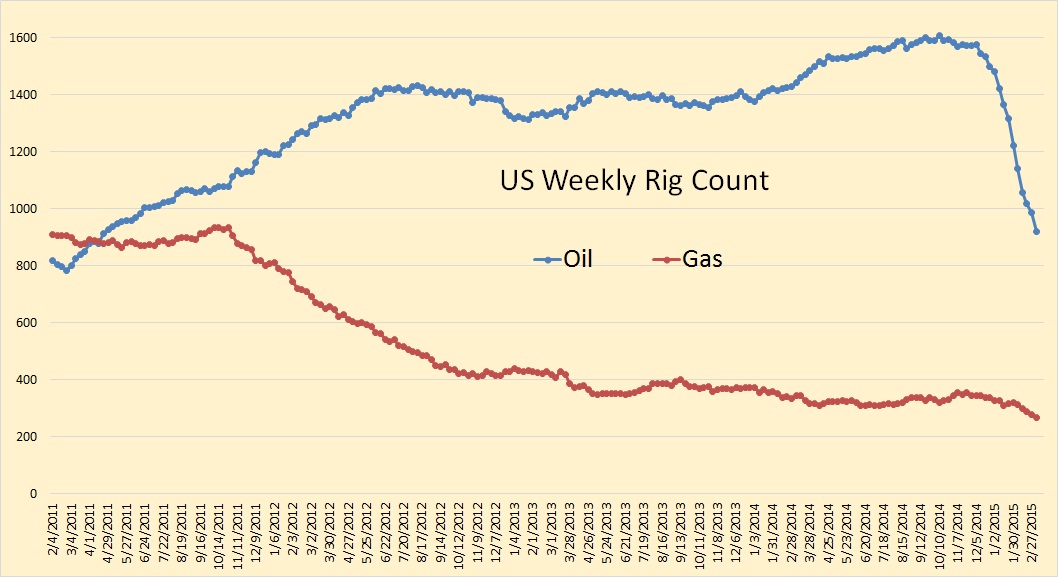 Four years of weekly rig counts shows how dramatic the rig count has dropped. The US total rig count stood at 1920 as late as the first week in December and has dropped 728 rigs to 1192, a drop of 38%. From that same date oil rigs have dropped 41.5% and gas rigs have dropped 22%.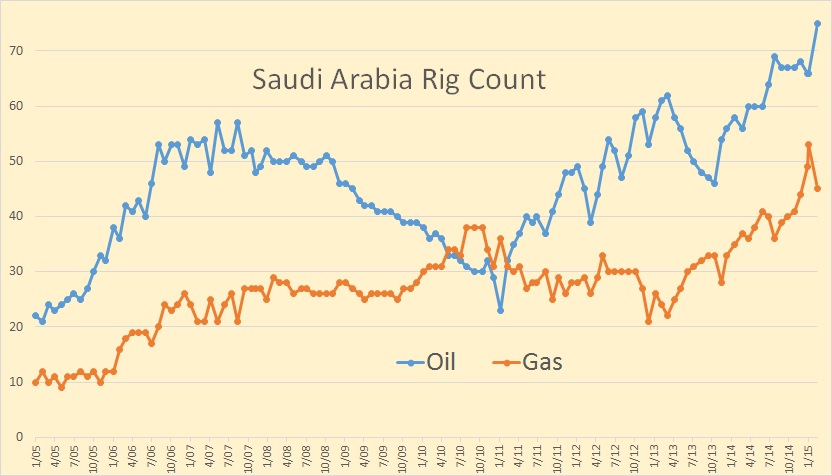 Saudi oil rig count jumped by 9 to 75 in February while the gas rig count fell by 8 to 45.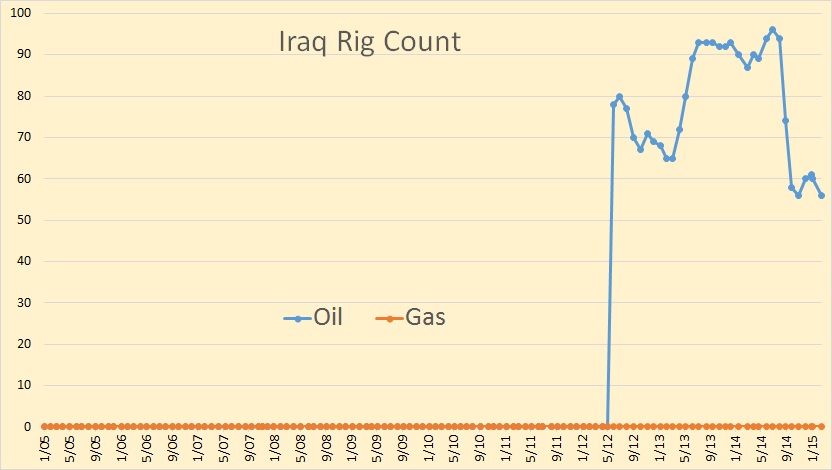 The Iraqi rig count has dropped by 40 since last summer. ISIS likely had a hand in this. However I really don't understand what is going on here with this Baker Hughes rig count. I know Iraq had rigs working well before May of 2012 yet Baker Hughes says the count was zero.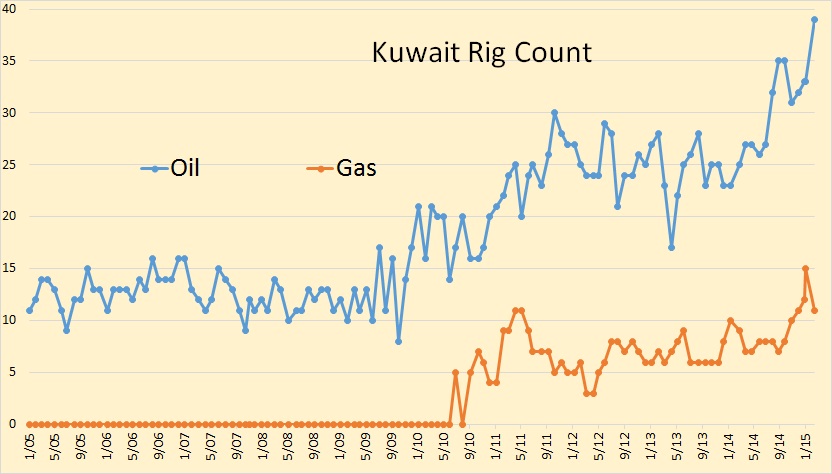 The Kuwaiti rig count has tripled since 2009. They have been working hard to increase their oil production. They appear to have peaked however.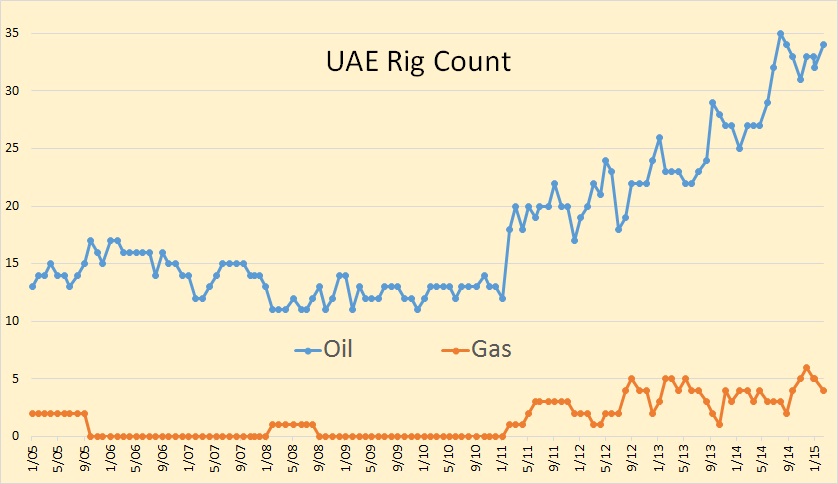 The United Arab Emirates have almost tripled their oil rig count since 2011. They, like Kuwait, have increased their production considerably in the last few years but not they seem to have peaked.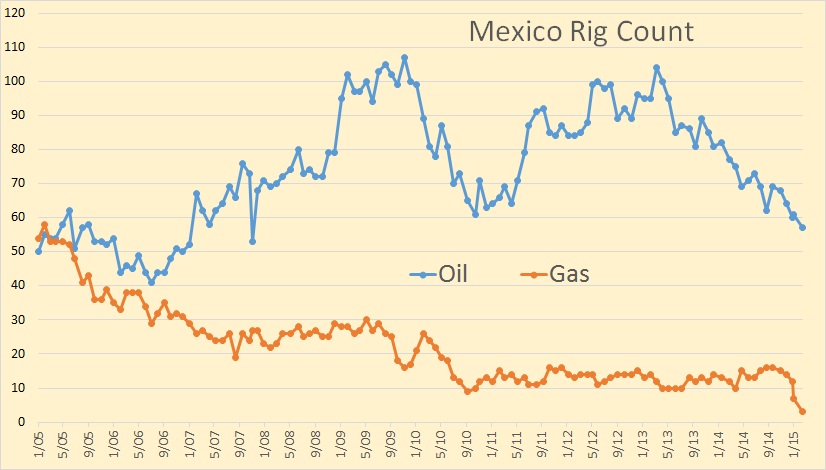 Mexico is an interesting case. In the last two years their oil rig count has dropped from 104 to 57 while their gas rig count has dropped from 16 to 3 just since September.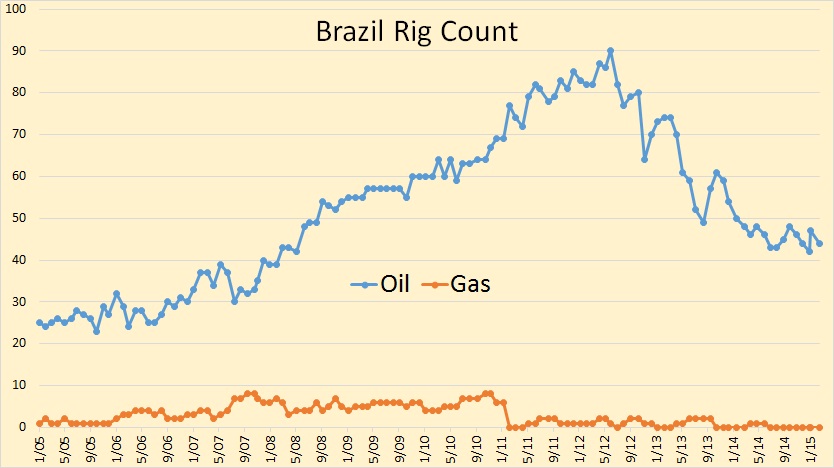 The Brazil oil rig count has dropped from 90 in June of 2012 to 44 in February of 15.
There was another huge drop in the North America Weekly Rig Counts.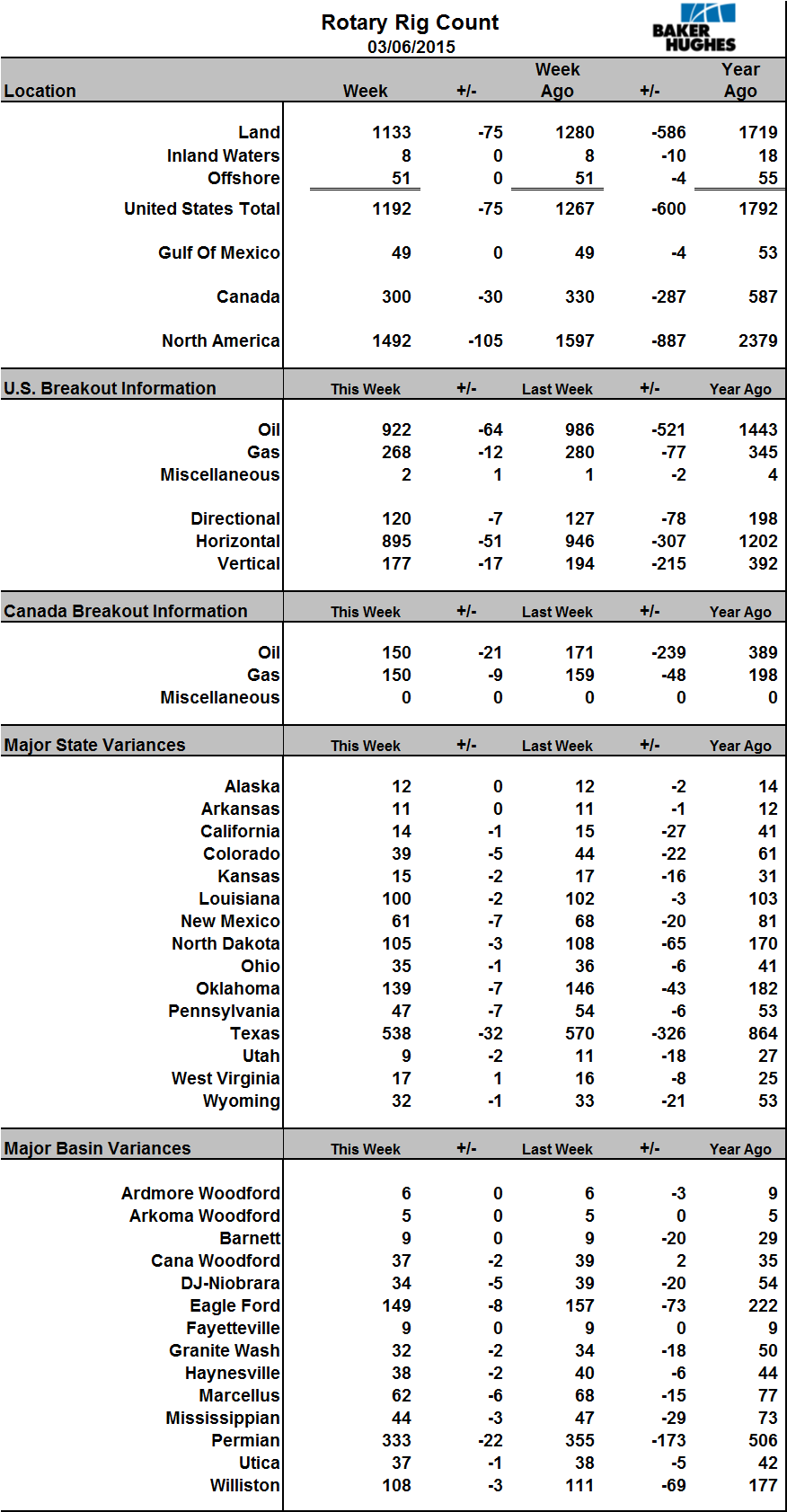 Texas dropped 32 rigs this past week. The Permian had the biggest drop, 22 while Eagle Ford dropped 8.
News Items: While reading Google News articles on oil production this morning I came across the following passage from an article about falling oil production in Qatar.
This "heavy investment" in maturing oil fields should "limit further declines" in oil production, QNB said in its 'Monthly monitor'. 
Heavy investment in maturing fields is called "infill drilling". That is what every major oil producer in the world is doing. Heavy investment in mature fields produces no new found oil, it produces old found oil a lot faster. Limiting declines now increases declines later.
And from the category of "I'm not one to say I told you so… but I did didn't I?
Russian Oil Production to drop 8% by 2016
Lukoil said oil output in Russia could drop 8 percent by the end of 2016, Reuters reported. One of the biggest oil producers in Russia said its revenues were hit by the plunge in oil prices, The Wall Street Journal reported. The decrease in oil prices combined with the rise in inflation and weak ruble worsened by economic sanctions lowered the company's net profit by 40 percent in 2014.
Fedun said oil output could decrease by 800,000 barrels per day by the close of 2016, Reuters reported.
"Everyone will reduce production because everyone is reducing drilling," Fedun said, according to Reuters.
______________________________________
Note: If you would like to receive an email notice when I publish a new post, then email me at DarwinianOne@gmail.com