OPEC has released their Annual Statistial Bulletin 2014. Under the heading of "Oil and Gas Data" there are several tables you can download. I was excited to find one labeled "Table 3.21: World Exports of Crude Oil and Petroleum Products by Country". It turned out to be useless however as it includes a lot of exports of imported products. And they have no table of "Net Imports". However their their table labeled "Table 3.18: World Crude Oil Exports by Country" turned out to be very useful as it seems to measure the same thing as the EIA does in their International Energy Statistics, Crude Oil Exports which also includes lease condensate.
The OPEC export data goes back to 1960 but I have only plotted it from 1990. The EIA data only goes back to 1993. The OPEC data is through 2013 while the EIA data only goes through 2010 except for Canada, Mexico and Norway which goes through 2012. All data is in thousand barrels per day.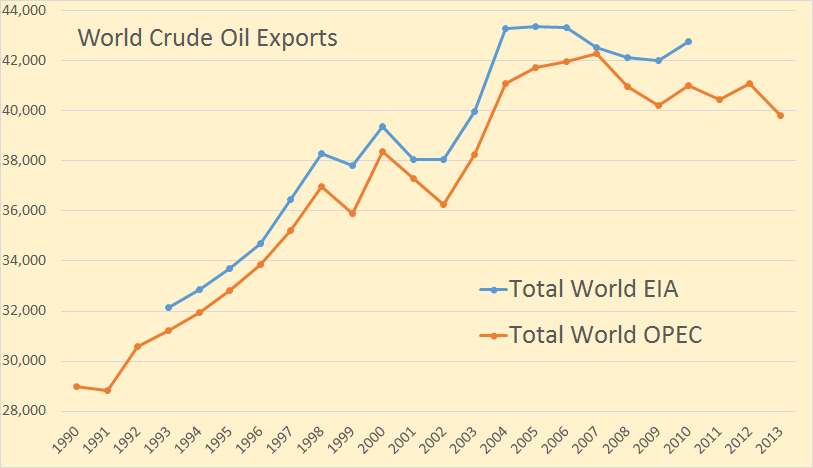 World crude oil exports peaked in 2007 and now stand 42,297,000 bp/d and in 2013 stood 2,467,000 bp/d below that point. World crude oil exports in 2013 were 2,467,000 barrels per day below peak and at the lowest point in 10 years.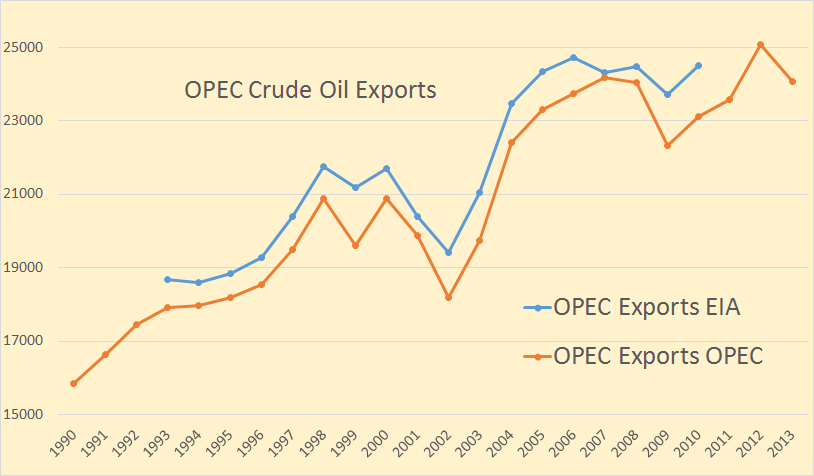 OPEC exports peaked, so far, in 2012 at 25,068,000 barrels per day. Their exports fell by just over 1,000,000 barrels per day last year and I am betting they will fall further this year.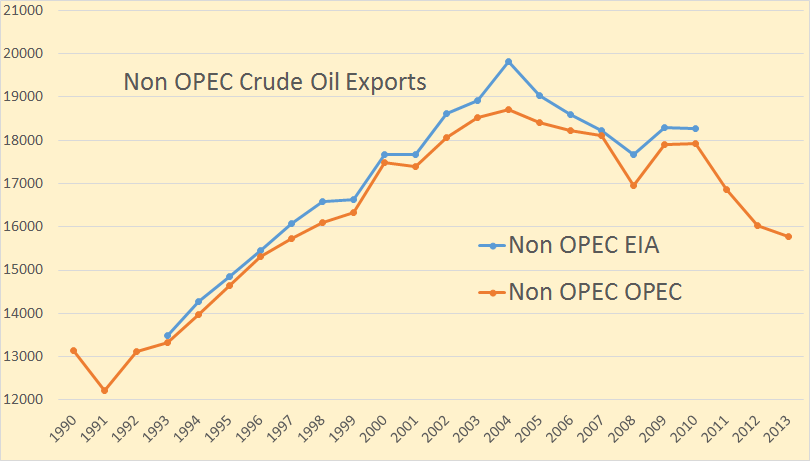 Non-OPEC exports have taken a hit in the last few years, peaking in 2004 and are down just under three million barrels per day since then.
The following charts are the 15 world's largest exporters in order of their export volume and one chart of all the rest of the world combined. Everything is in thousand barrels per day.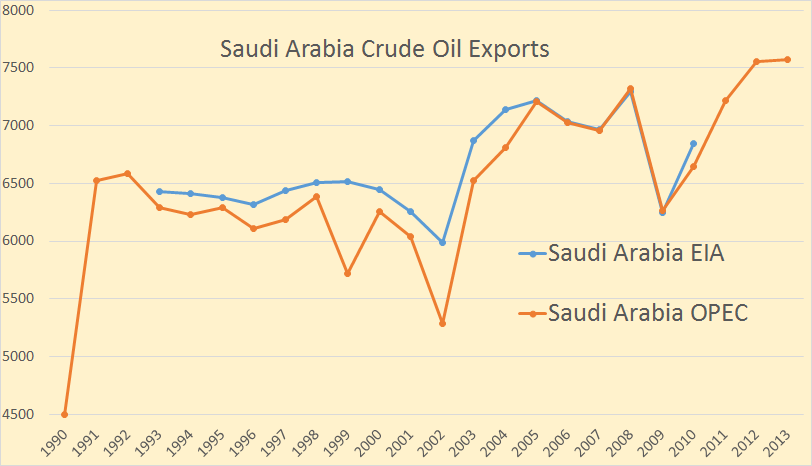 Saudi Arabia's exports barley edged up last year and in 2013 stood at 7,571,000 bp/d.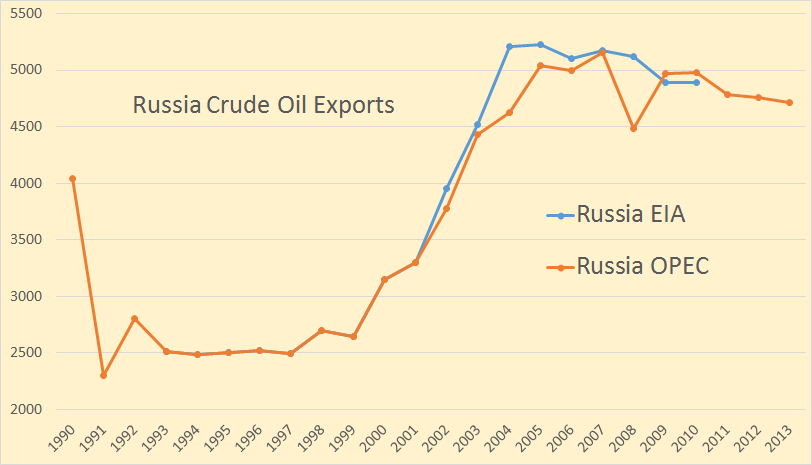 Russian exports peaked back in 2007 though the EIA has them peaking two years earlier. Russian exports are down almost half a million barrels per day since peaking.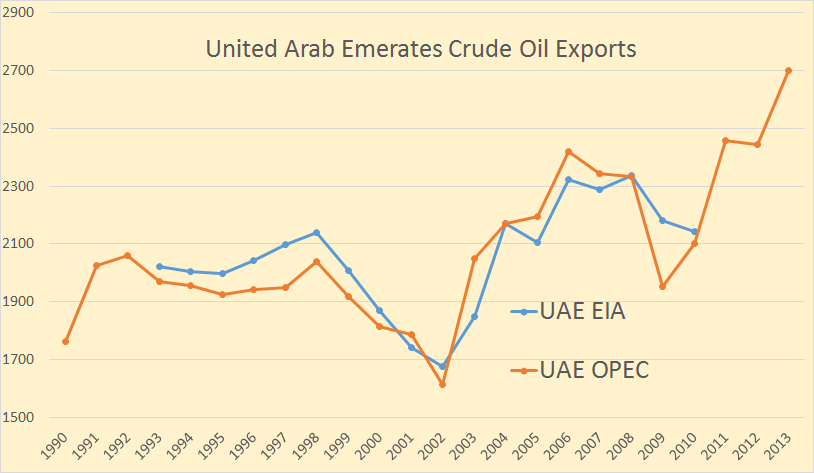 UAE exports have taken off in the last few years. Their exports were up just over 250,000 bp/d last year.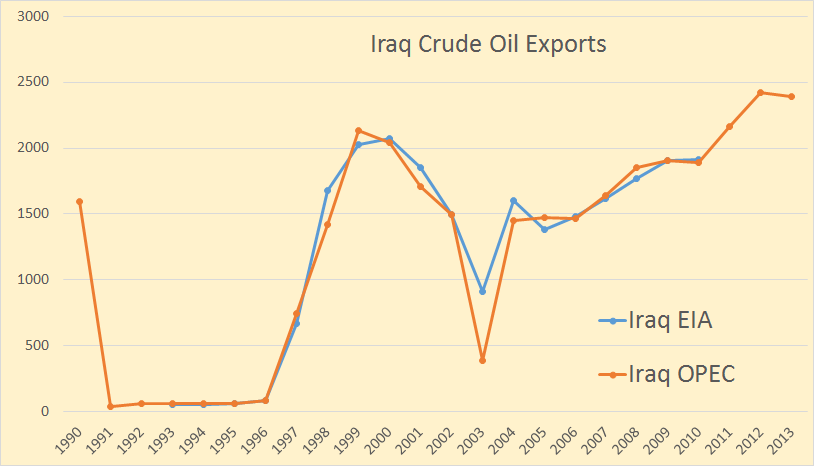 Iraqi exports slipped slightly last year and it looks like they may slip further this year.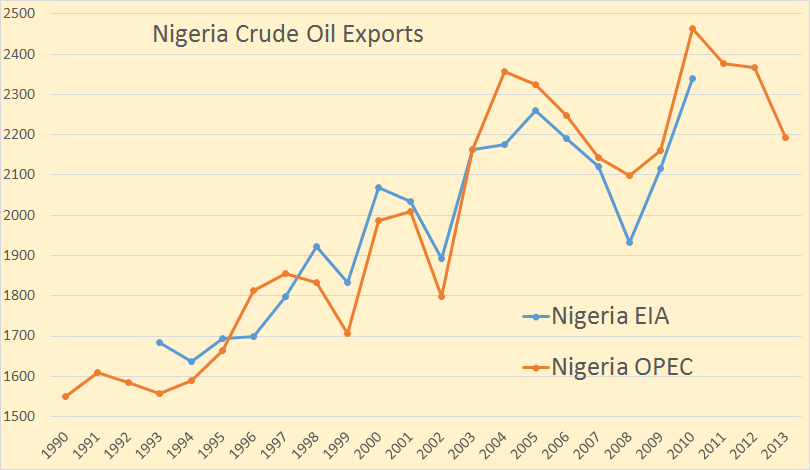 Nigerian exports are down 271,000 bp/d since peaking in 2010.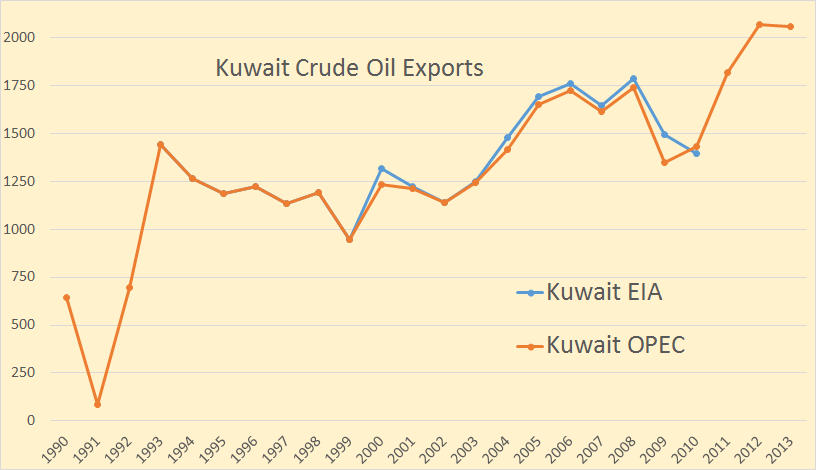 Kuwait exports peaked in 2012 but were down only slightly last year.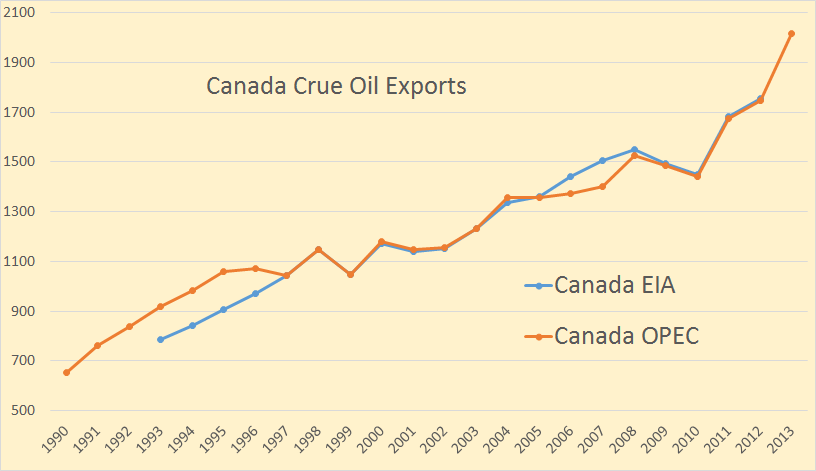 Canadian exports continue to increase, up about half a million barrels per day since 2008.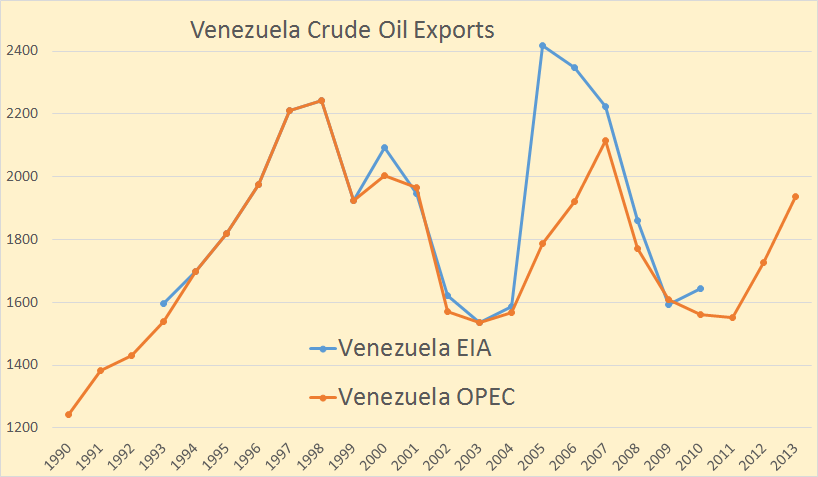 There seems to have been a 600 thousand barrel per day difference of opinion about Venezuelan exports in 2005. It was 2009 before they got back together.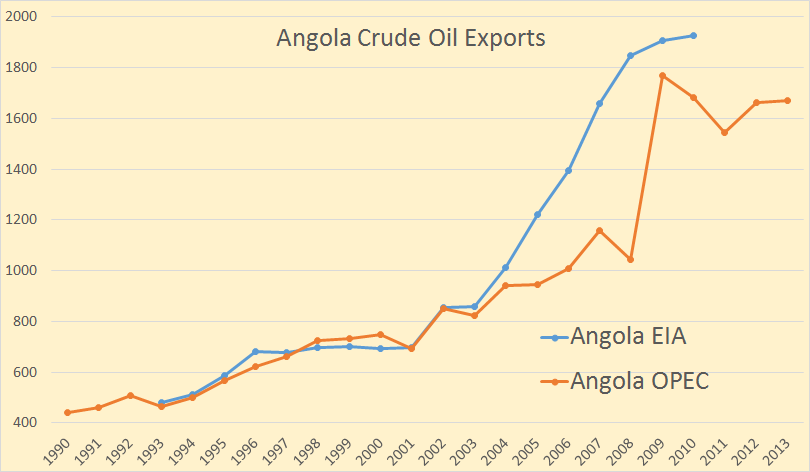 I don't understand how the EIA and OPEC can be so close together in all the years up to 2003 then to be so far apart by 2008.
But there is no disagreement about Mexico. The EIA and OPEC data matches barrel per barrel. I strongly suspect one just copied the other's data here.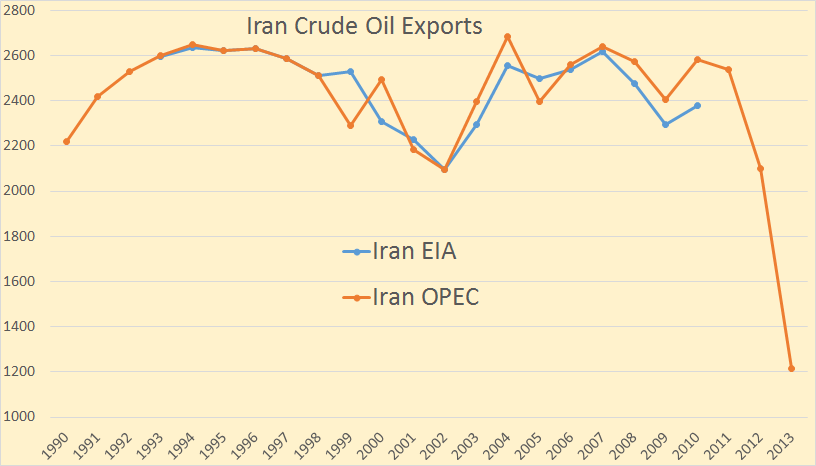 Iran's exports have really taken a hit. In the two years from 2011 to 2013 Iran's exports have actually fallen 400,000 barrels per day more than their production has fallen.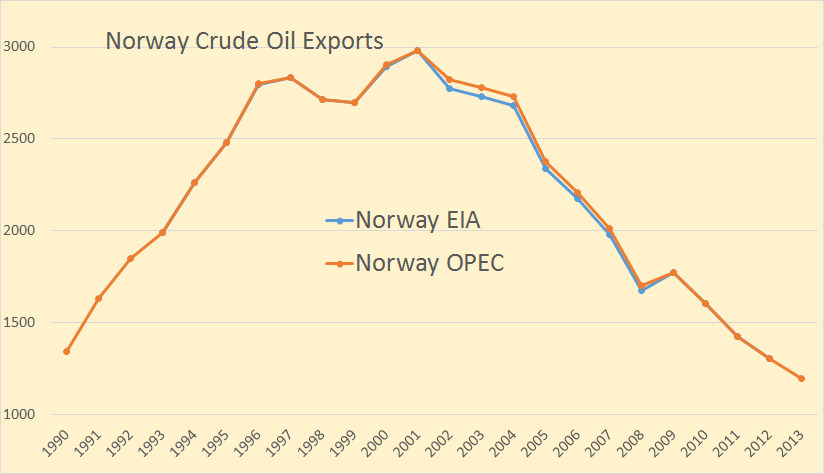 It looks like the EIA and OPEC are also using the same data for Norway. Well almost. The EIA Norway data goes through 2012.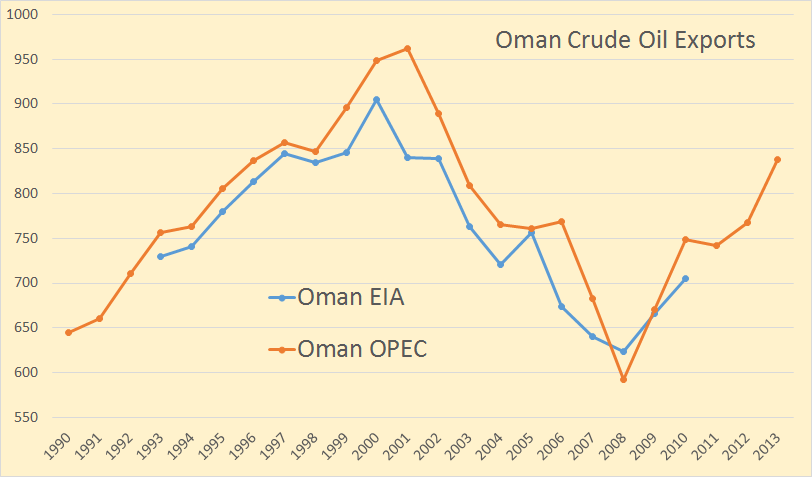 Though crude production is now higher than it was in 2001, exports are still 124 thousand barrels per day below what they were in 2001. I guess that is ELM in action.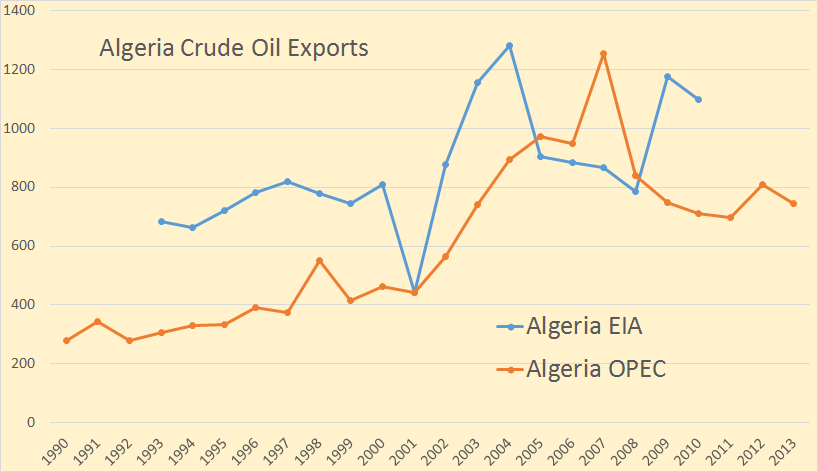 Algeria is the one nation where the EIA and OPEC don't match at all.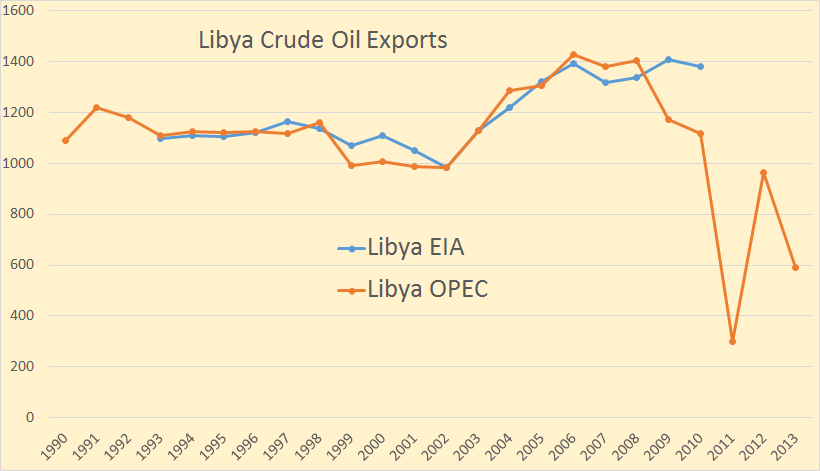 Things are getting worse in Libya. It may take years for them to return to normal… if they ever do.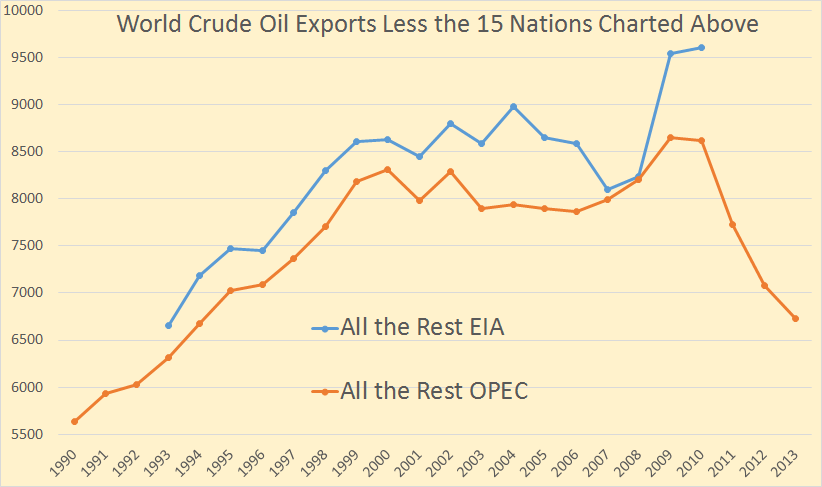 Exports of all the other nations, combined, peaked in 2009 and have dropped almost 2 million barrels per day since.
Just one last note. If you are really interested in Global Warming or Climate Change you can't miss this article: Naomi Oreskes, A "Green" Bridge to Hell
And I just had to post this. News Googling "Oil Production" this popped up:
Why gas pries remain static despite oil production surge
Although US oil production has increased to 16.8 million barrels of crude per day, gas prices are projected to stay static in the near future.
The US is producing 16.8 million barrels of crude oil per day? I didn't know that! Here is where they got that figure:
The US Energy Information Agency (EIA) said July 24 in its weekly petroleum report that refineries took in 16.8 million barrels of crude per day for the previous two weeks, more than the last record set in 2005.
So if refineries took in 16.8 million barrels I guess that means the US produced 16.8 million barrels per day… right?