The EIA's latest Drilling Productivity Report is out. Not a lot of changes since we now know that the EIA just guesses at the production for the last five months, August through December, then plugs in their estimate for the next two months, January and February. In the case of the Bakken they say December production was 1,003,578 bp/d and January and February will be 1,025,634 and 1,050,521 bp/d respectively. For Eagle Ford December production, they say, was 1,221,576 bp/d and they expect January and February production to be 1,251,617 and 1,285,224 bp/d respectively.
The below chart shows the Bakken production change from month to month. I have shortened the time displayed in order to better show the month to month change.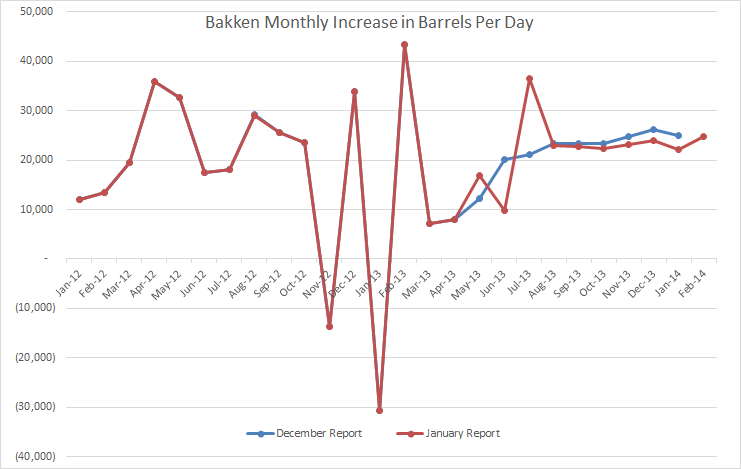 Notice the dramatic change in the January report for May, June and July. Obviously they looked at the real data and saw how different it was from what they had previously just plugged in, and made the necessary changes. They are saying that the Bakken had a really good December, slightly better than January, then things turn up again in February.
Here is the same chart for Eagle Ford.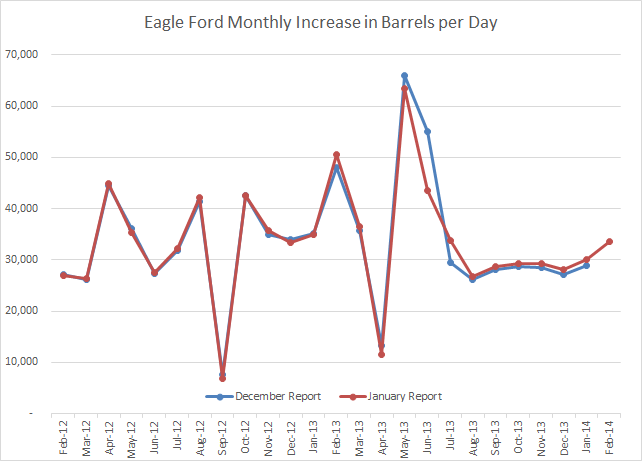 Not such dramatic changes in the Eagle Ford production data. But notice they are expecting an upturn in January and December. We shall see.
But what about the decline rate of all existing fields. Actually they give the decline amount instead of the rate. First the Bakken.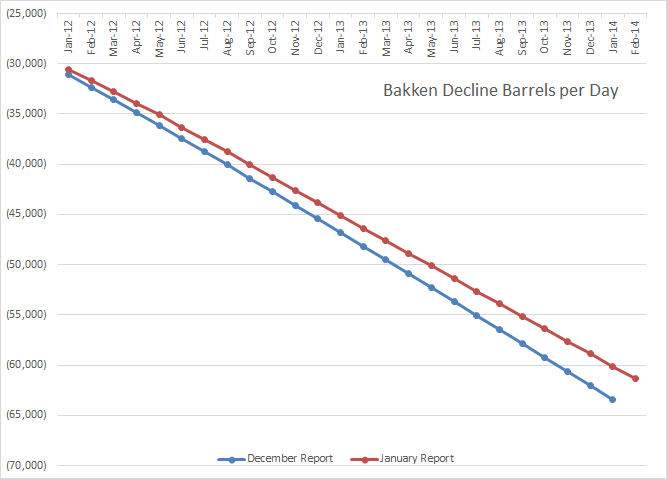 They have lowered their decline for the Bakken. They expect the Bakken to decline by 61,372 barrels per day in February. They originally had December declining by slightly more than that. But no such revisions in the Eagle Ford decline rate. The reason you don't see the blue, or December decline rate below is because it is covered up by the January data.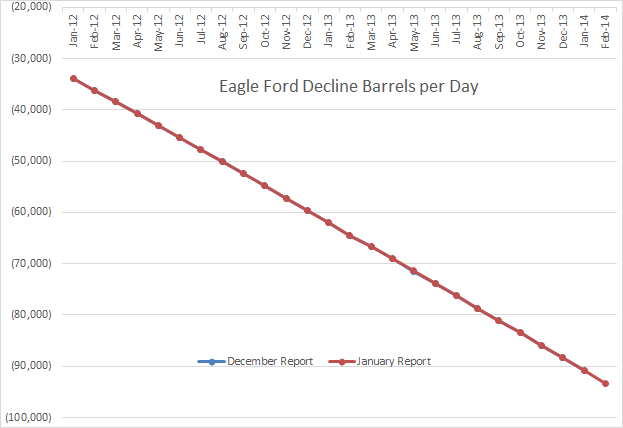 There were virtually no changes is the amount they think Eagle Ford is declining. They say that, in February, existing wells in Eagle ford will decline by a whopping 93,374 barrels per day.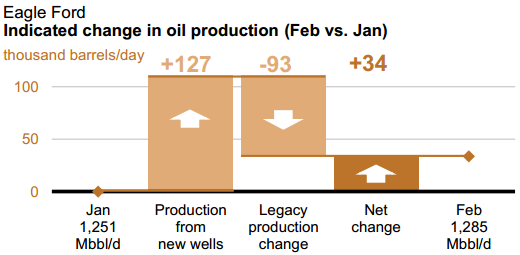 They expect 127 kb/d from new wells, a decline of 93 kb/d from old wells giving them an increase of 34 kb/d.
I have been getting emails every day for the last two weeks or so from Energy and Capital telling us about a miracle out in West Texas. They are pumping their newsletter "Oil and Gas Trader", only $799 for a one year's subscription, recently marked down from $999. And with a one year's sbscription you will get a special report on the West Texas "Petroplex". (That is also the name of an oil company based in Baton Rouge, La. but don't let that confuse you.) This report is all about the source rock of West Texas not that oil company.
The below snippet is from my email but the snipping tool captured only the image, not the links. So the links don't work but this one does: Oil and Gas Game Changer
This is what they are talking about.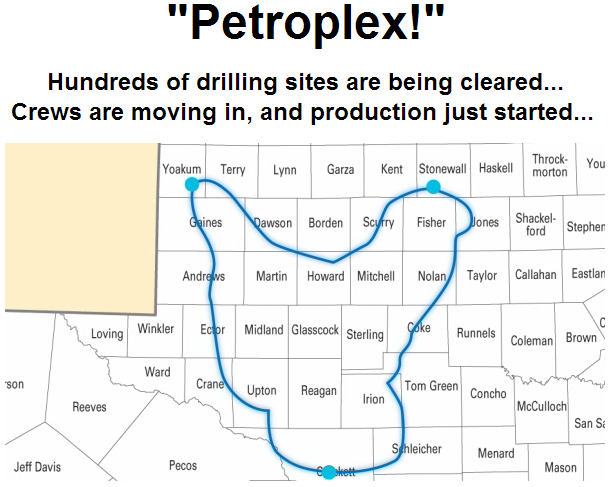 They claim, in this report that the Bakken and Eagle Ford will soon be producing more oil than Libya, Algeria, Kuwait, Nigeria and Venezuela combined. I did the math and that comes to over 9 million barrels per day. Really now? But this new source rock play will produce as much as 100 Eagle Fords or 140 Bakkens. Now folks that is a lot of oil.
Here is the logic. The Bakken and Eagle Ford is "Source Rock", not reservoir rock. Source rock is where alga becomes kerogen and the kerogen, after many millions of years at coffee pot temperatures, is cooked into oil. But if the source rock is too tight the hydrocarbon strings cannot escape. So the oil companies fracture the rock allowing some of the hydrocarbon strings, or polymers, to escape. And even then only the very shortest polymer strings can escape.
What they get from the Bakken and Eagle Ford is natural gas and very light oil, it could almost be considered as condensate. But in the source rock that supplied West Texas oil fields is not tight at all. It is so porous that even the very long polymer strings could escape. Even the stuff that they make axel grease and asphalt from escaped, moved upward being replaced by water, until it hit rock so dense that it could go no further.
All source rocks are not equal. They are saying: "The Bakken and Eagle Ford is source rock, and there is a lot more source rock underneath the Petroplex, therefore we could get a lot more oil from there." I really don't think it works that way.
The Bakken and Eagle source rock is extremely tight while the Petroplex source rock is extremely porous and has already given up most of its oil. Now my question is this, will fracking the source rock where all that West Texas oil originally came from produce more oil than 100 Eagle Fords? I would like to hear from some oil people on this. Or perhaps a better question would be: Will fracking this extremely porous and already drained source rock produce even enough oil to pay for the effort of drilling and fracking?
Notice. The OPEC Monthly Oil Market Report will be out Thursday the 16th with the December production data for all OPEC countries. I will have a new post then along with an update of all the OPEC Charts.