The Texas RRC is out with their latest Oil and Gas Production Data. Looks like oil production has leveled out with March production pretty much level with February. All RRC data is trough March 015.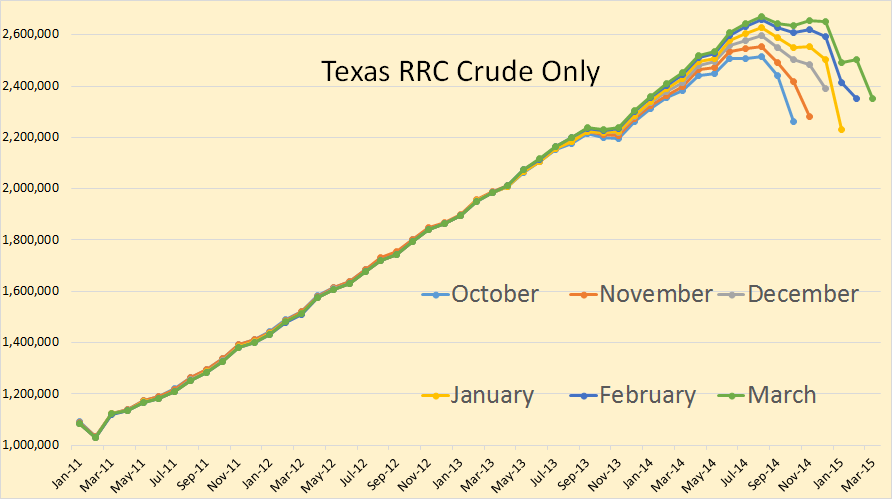 I always show the last 6 months or the RRC data in order to get a pretty good indication of which way data production is moving. From the data you can see that December was a very good month but January was just awful. February was a lot better and March was about the same as February.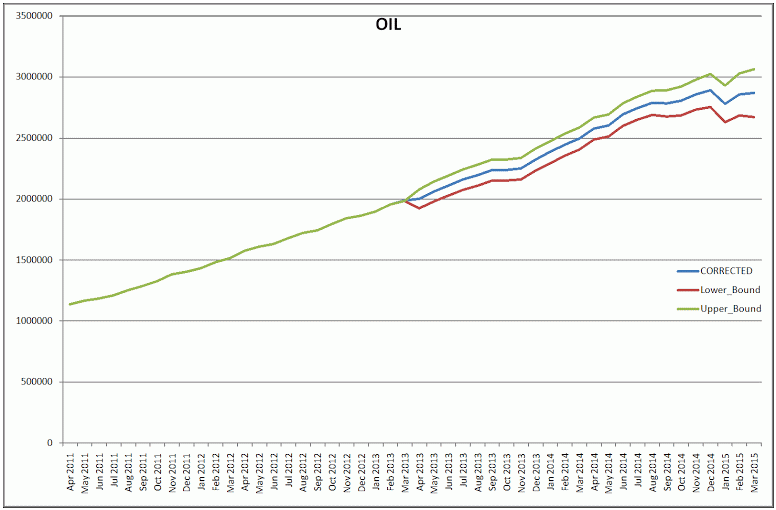 The chart above was created by Dean Fantazzini, PhD, of the Moscow School of Economics. He has developed an algorithm which predicts what the data will reflect after the final data has come in. His data suggests that Texas crude has plateaued.
For more on the underlying methodology of Dr. Fantazzini see:
Nowcasting Texas RRC Oil and Gas data (ongoing project)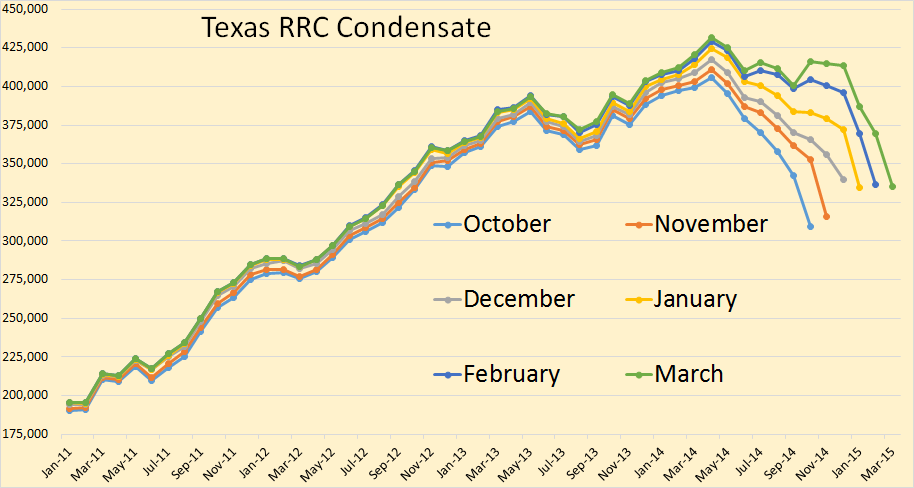 Condensate seems to have plateaued as well.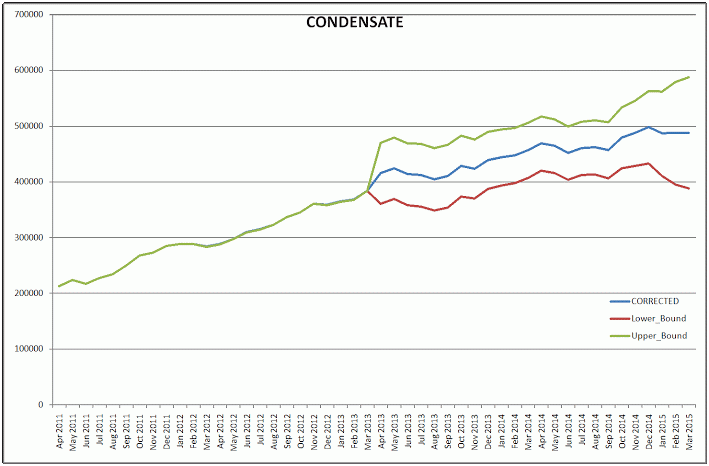 And Dean't data confirms that the last three months condensate production comes in at a little below the December numbers.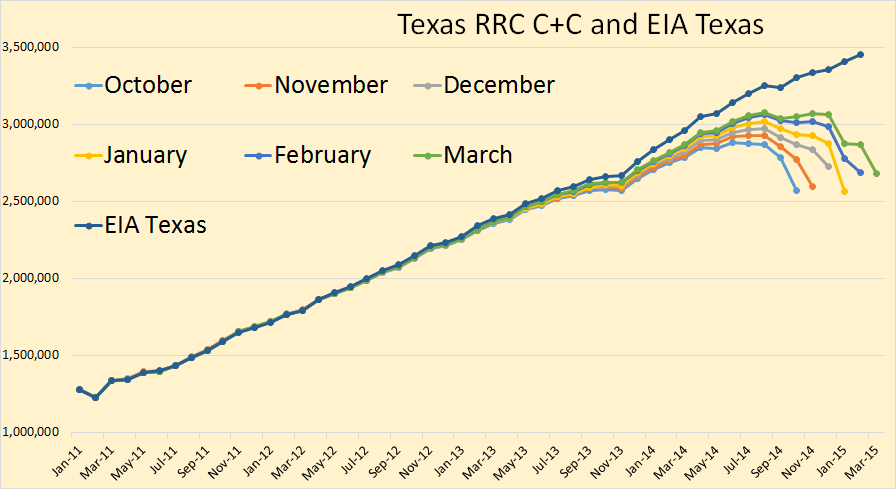 Adding crude and condensate we get what the EIA counts, crude + condensate. The EIA data is only through February while the RRC data is through March.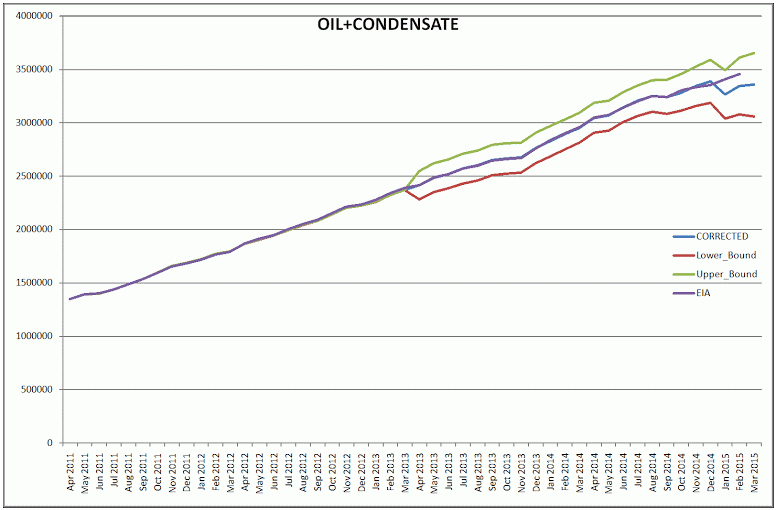 Dean has Texas C+C slightly higher than the EIA in December but falling well below them in the last three months. It looks like that Texas has plateaued, so far, at about the December production level.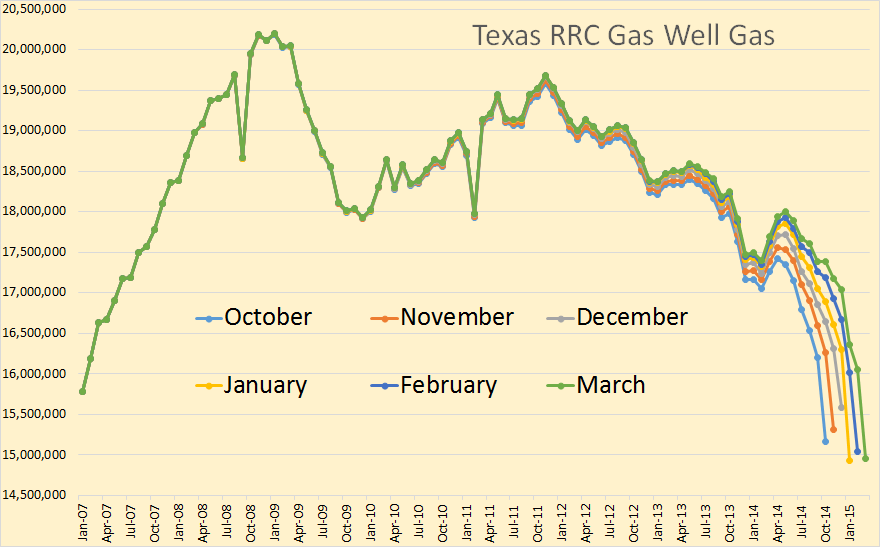 Texas gas well gas seems to be in serious decline.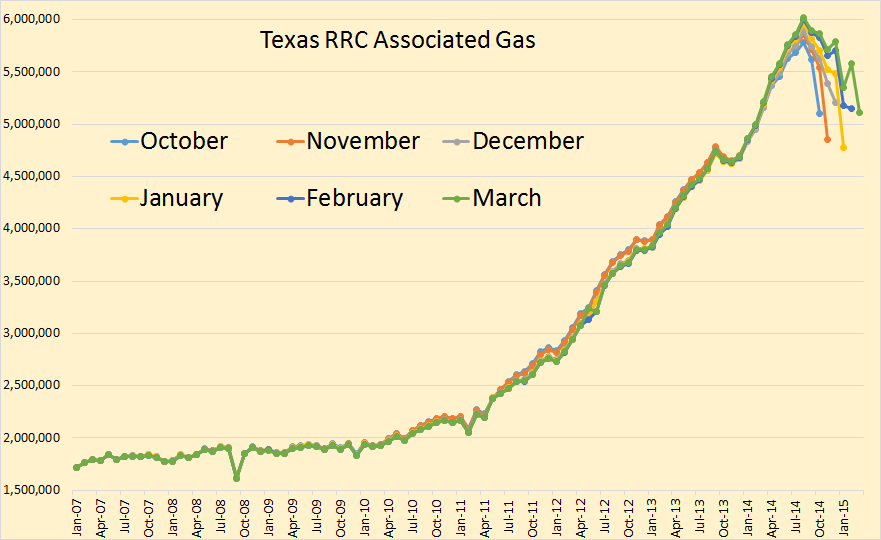 Texas associated gas has been increasing but will now likely plateau along with oil.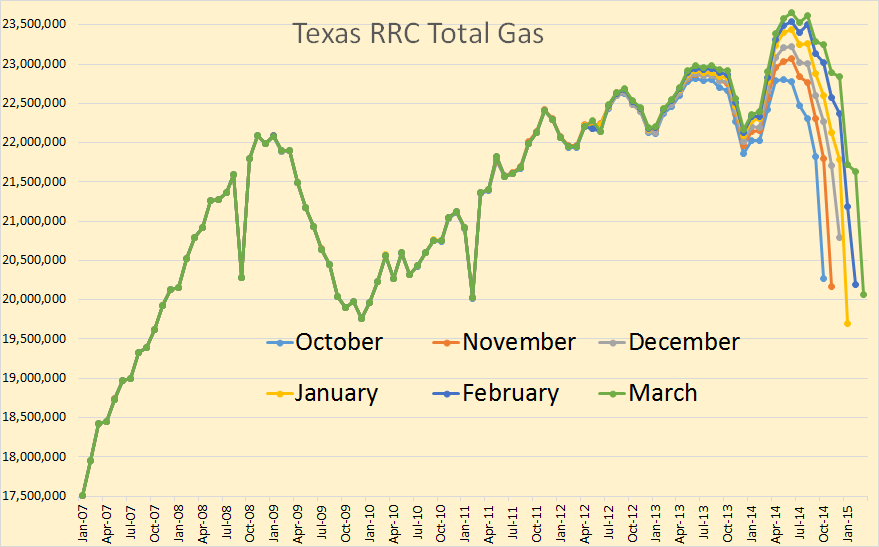 Texas total gas in March comes in above January but well below December.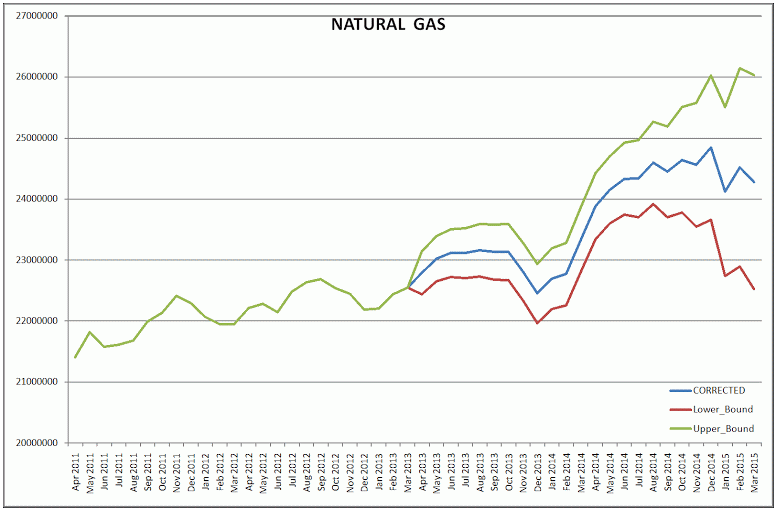 And Dean's algorithm has Texas total gas peaking, so far, in December.
Art Burman Oil Prices Will Fall: A Lesson in Gravity
The oil price collapse is not over yet.  It is more likely that Brent price could fall back into the mid-$50 range than that it will continue to rise toward $70 per barrel.  
That is because oil prices have risen based on sentiment alone. The fundamentals of supply and demand indicate a dismal reality: oil prices will fall and may fall hard in the near term. 
David Archibald Thorium: the last great opportunity of the industrial age
It is a significant fact that half the protein the world eats has its origin in fossil fuels. We are all aware of the green revolution that, amongst other things, saw dwarf strains of wheat increase yields by a couple of hundred percent. There was another revolution in agriculture sixty years prior to the green revolution. That was the development of the Haber-Bosch process of combining hydrogen and nitrogen to produce nitrogenous fertiliser.
The plants that produce that fertiliser, the source of half of the protein we eat, run on natural gas or coal. One day these fossil fuels will run out. Does that mean that half of our population starves? It does if we don't have a way of producing nitrogenous fertilisers cheaply using something other than natural gas or coal.
And it won't be sunbeams or wisps of the wind that will keep people fed. Those things barely pay for themselves, if that. Take the case of the Ivanpah solar facility in California built at a cost of $2.2 billion. Rated at 392 MW, Ivanpah is a near 20-fold scale up from the previous largest solar thermal facility of 20 MW in Spain. Despite all the engineering that went into the design of Ivanpah, it operated at least 40% below design in 2014.
Shell's Arctic voyage marks beginning of peak oil era
Although, Mr Simmons was perhaps wrong in focusing on a potential collapse in Saudi Arabia's oil production he was right in warning about the dangers of "Peak Oil" but too early in predicting its onset. That time is now upon us. Despite, oil prices being forced lower over the last six months the world is entering into a "peak oil" scenario whereby the cost of a barrel could  feasibly quadruple to around $200 per barrel over the next 10 years.
And finally a report from the Financial Review that tells it like it is:
BHP Billiton's Tim Cutt says 'staggering' oil discovery shortage trend risks oil price spike
But in the last two decades, the industry has been finding less than half the amount it has consumed each year. Current consumption is running at over 30 billion barrels on an annual basis.
"In the past four years discoveries were less than 10 billion barrels per year and in 2014 they amounted to less than six," Mr Cutt said.
 "That's only a fifth of current consumption! This is a staggering trend and represents an opportunity and responsibility."
___________________________________________________________
Note: If you would like to receive an email notice when I publish a new post, then email me at DarwinianOne at gmail.com .