The Texas RRC Data is out. All RRC data below is through May. The EIA data is through April.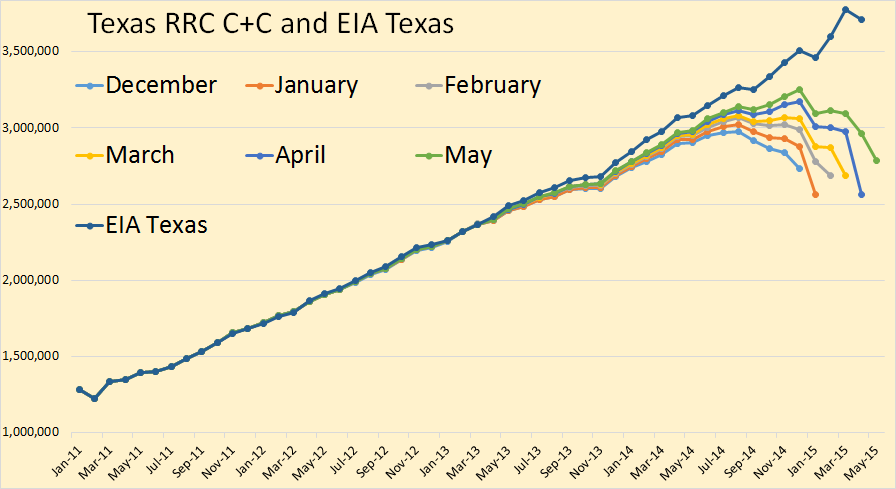 There appears to be an increase in Texas May crude oil production. You will notice that the EIA has departed from their usual practice of just estimating Texas C+C production up about 50,000 bpd for every month for the last six months or so. They have a new method or estimating Texas production which is explained in the first link below the charts.
That new method has Texas C+C production down 64,000 barrels per day in April. The May Texas production data will be out on July 31, in the Petroleum Supply Monthly.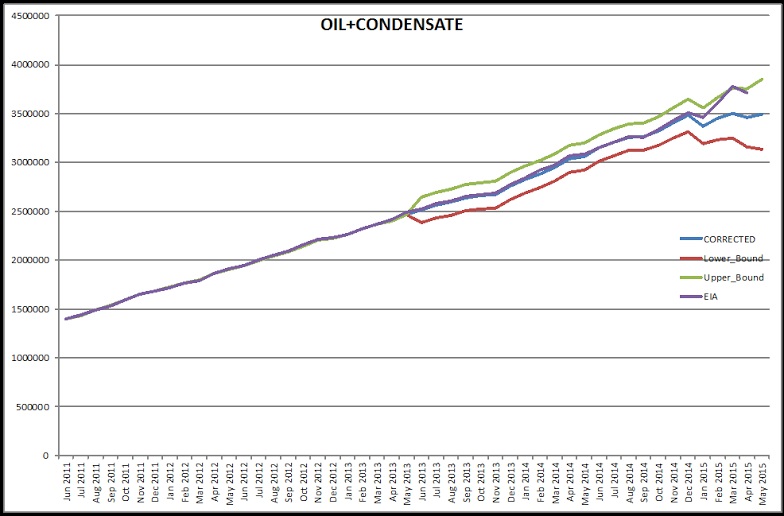 Dr. Dean Fantazzini has calculated what the data wil eventually look like and given us the 95% confidence bounds. He has Texas C+C basically flat since December.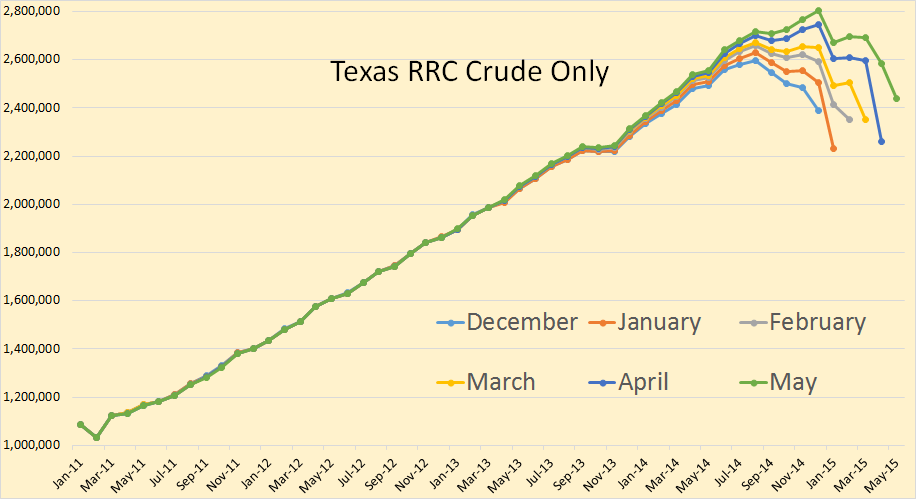 Texas crude only appears to have had a very good gain in May.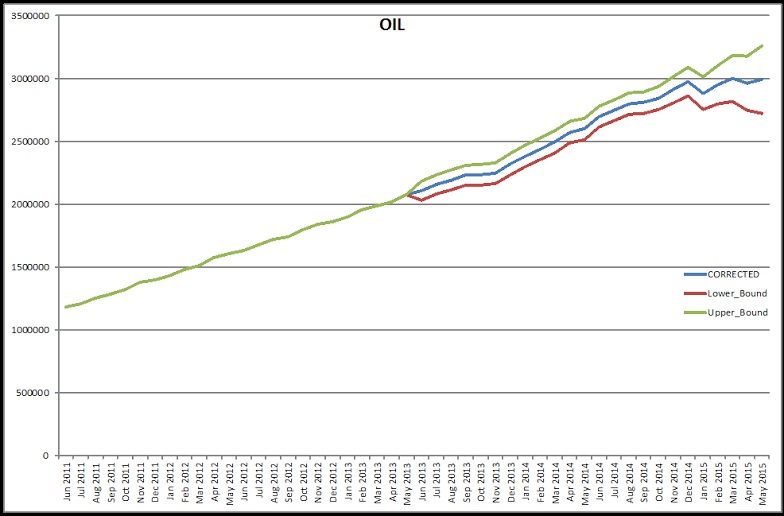 Dr. Fantazzini has Texas crude only showing only a very tiny gain since December.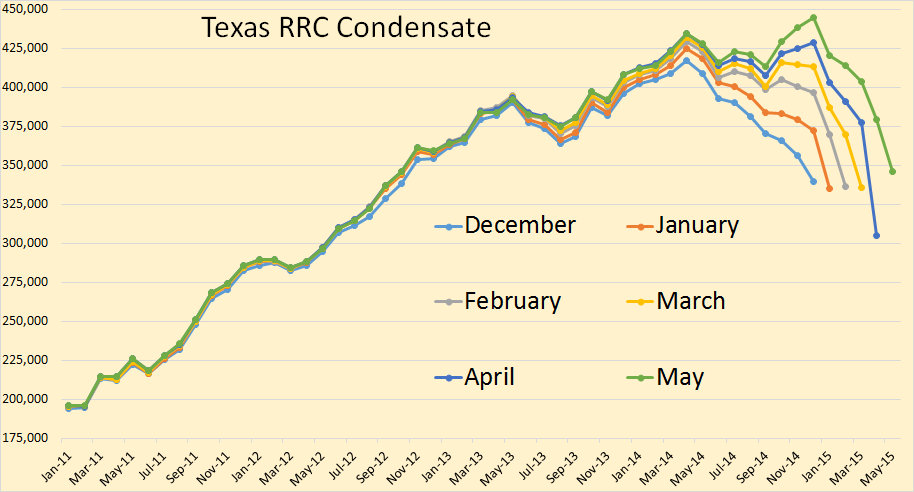 Texas Condensate was up slightly in May but not nearly as much as crude.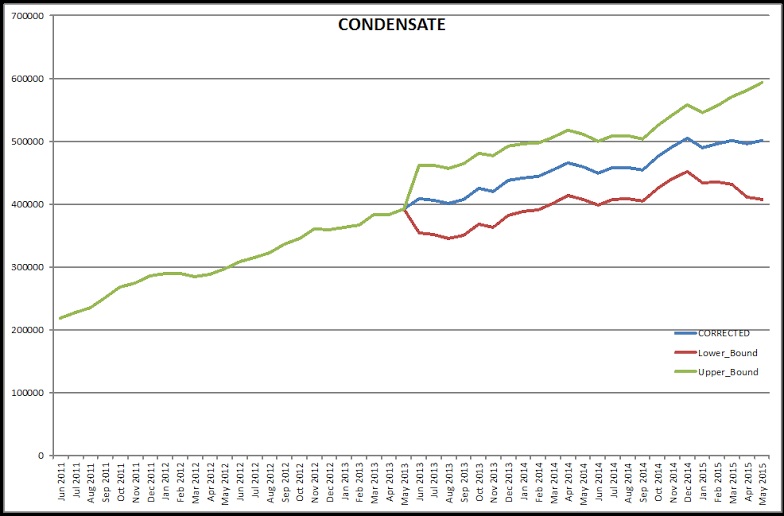 Dr. Fantazzini has Texas condensate flat to slightly down since December.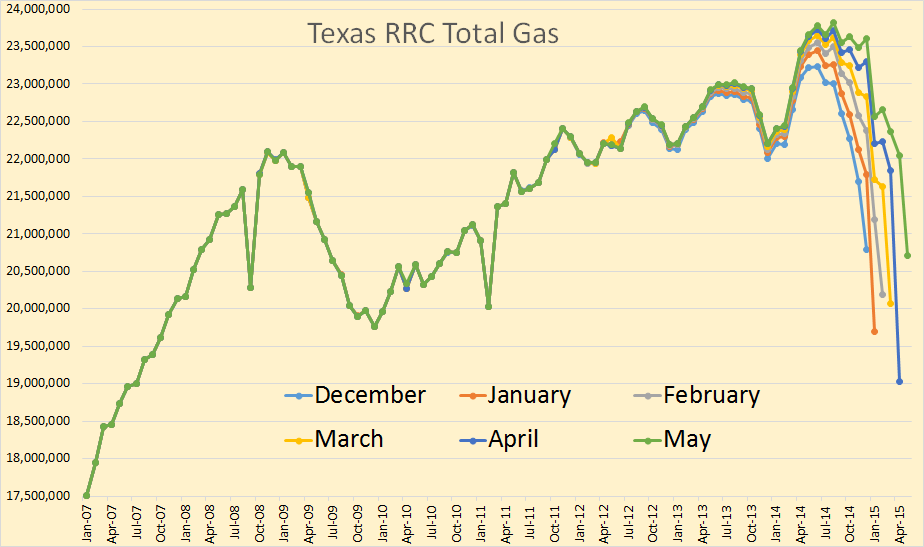 Texas total gas was also up in May over the last few months.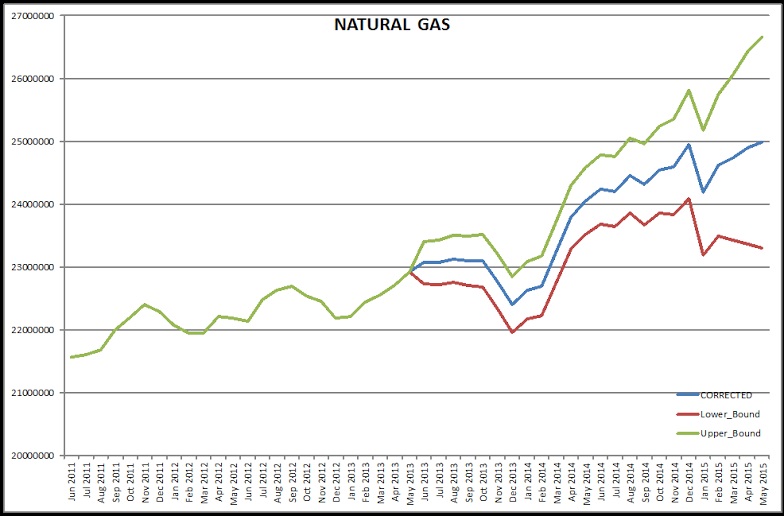 Dr. Fantazzini has Texas total gas making a new high in May but only slightly higher than the December peak.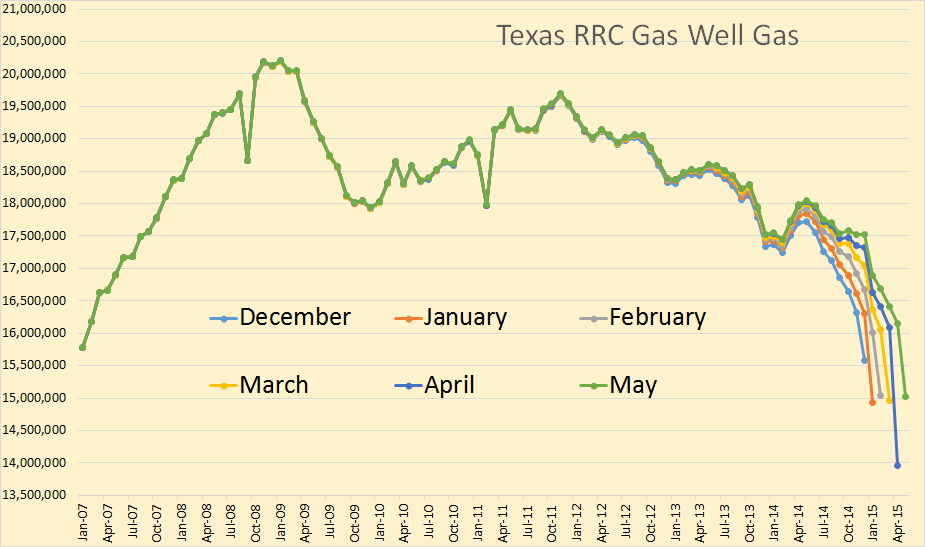 Texas gas well gas was up in May but it still appears to be below the level reached in December.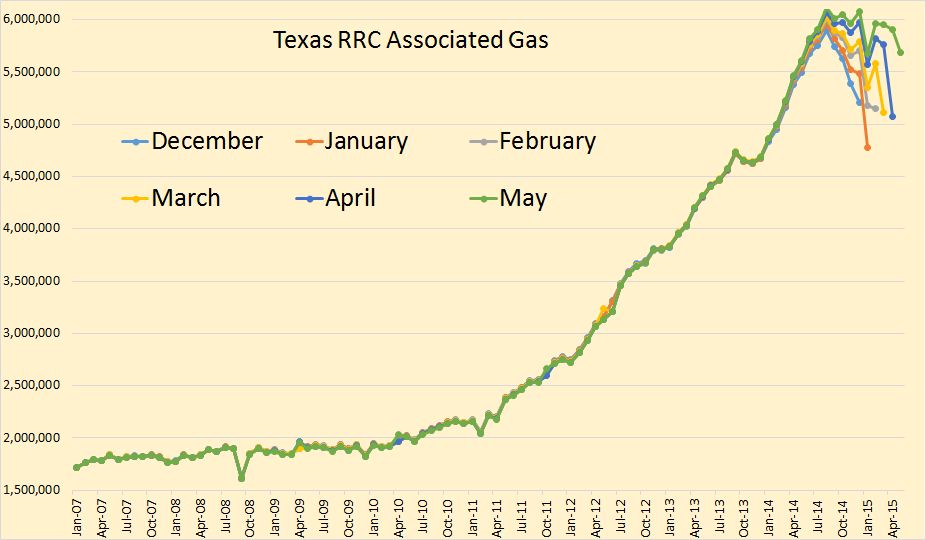 The biggest gain of all appears to be in associated gas, or what the RRC refers to as casinghead gas.
The following three charts are also from Dr. Dean Fantazzini. I don't quite understand them but his definition is below.
I also attached a plot about the dynamics for the oil (only) correcting factors. As you see, in the last two months, the factors for the closest months T and T-1 have jumped a little: my impression is that in the last two months the RRC is trying to increase the amount of oil data processed. Interestingly, this is not happening for condensate and natural gas, instead.
Below is part of the explanation of how the EIA is now calculating Texas Crude plus Condensate production, hoping to get better accuracy than in the past. If this really interest you then you should click on the link and read the whole article.
How much oil does Texas really produce? The EIA now says it has a better way to count
HOUSTON — The U.S. Energy Information Administration is trying to make its oil production estimates faster and more accurate. That will mean going around Texas' top industry regulator and straight to the producers to get the numbers.
Recent price swings in crude oil markets have necessitated the shift, said Gary Long, an EIA petroleum engineer, as production has swung faster during the downturn than it did at any point during the long buildup of the shale oil boom.
"We were basically just using a ruler and adding 50,000 (barrels) a day, and that worked pretty well for a while," he said. "But after the downtown and the talk of the (production) rollover… we thought 'Our methodology isn't going to see that.'"…
Accordingly, the EIA has been experimenting with going straight to producers to get its production data. The process would resemble how the group arrives at its natural gas data, Long said.
The top 80 percent or so of producers by the amount of crude they pump would report to the EIA how much they produced across the state. That data would then form the backbone of a production estimate by the EIA, whose analysts would estimate the rest.
"We actually started surveying operators or producers," Long said, saying that the next monthly estimate may be made using the new methodology if all goes well. "That data has started coming in. We're looking at it, we're evaluating it."
The Fracking revolution has ended any talk of peak oil?
Arizona congressman: We need new energy policy, now
The energy world we live in now was unthinkable just a decade ago. Policy back then was shaped by talk of peak oil and fears of increased reliance on Russian or Middle East imports. President Bush used his State of the Union address that year to push Congress for legislation to reduce environmental oversight and expand domestic drilling. As I remember it, the mood in Washington could best be described as frantic.
So much has changed since then. Domestic development is now booming so fast that Big Oil has set its sight beyond our shores and wants to end the export ban. The underground fracking revolution has ended any talk of "peak" production.


But this next one is even better. Peak oil and global warming are both fading bogyman myths.
Will brutal commodity selloff derail Fed interest rate hike?
Yesterday, WTI got smacked around again, breaking apparently weak support at $50 and briefly dipping to $49 and change before closing barely up once again. WTI has strengthened somewhat this morning, up at $50.87 bbl., a positive jump of 72 cents or slightly less than 1.5 percent on the morning, as of 11 a.m. EDT.
That's scarcely encouraging, however, given a market that greatly fears a tidal wave of Iranian oil, which may or may not happen anytime soon. Elsewhere, given the continuing, fairly steady rig count in U.S. shale ranges, the bogey man of "peak oil," like global warming climate change, seems to be one of the many fading myths of our time, at least for the next 10-20 years or so. 
And Dan Yergin says we will reach Peak Oil Demand… in the 2030s.
Cheap Oil and Amazing Cheap Energy: The World According to Dan Yergin
There will be worldwide peak oil demand. We think it's going to be in the 2030s.
Kemp: North Dakota Oil Well Completions Slow Sharply
No new well completion reports have been filed in North Dakota since July 10, the longest gap this year, according to daily activity records published by the state's Department of Mineral Resources (DMR).
Completions, rather than wells drilled, provide the best guide to short-term changes in output, since operators can always delay completing a well and putting it into production, either because they are waiting for completion crews to be available or to wait for better prices.
Completion is usually defined as a single operation including the stimulation and testing of a well as well as the installation of surface production equipment ("Dictionary of petroleum exploration, drilling and production" 2014).
North Dakota's regulators consider a well completed when the first oil is produced through wellhead equipment into tanks from the ultimate producing interval and after the well has been cased.
"In no case shall oil or gas be transported from the lease prior to the filing of a completion report unless approved by the (DMR) director," according to state rules.
Completions reported to the DMR are published in its daily activity reports. The number of completions reported each day is volatile because operators have some discretion about when to file their forms; there are indications that operators often file a clutch of reports for related wells at the same site at the same time.
If the slump continues over the next few days, it could be a sign that shale producers are deferring putting more wells into production to save cash and wait for better prices.
But the slump did not continue. Today, July 22, there were 28 "Producing Wells Completed" and 9 "Confidential Wells Plugged or Producing". That brings total wells brought on line in July to 62 putting us on track for a total of 87 wells for July. That is still way below the number required to keep production flat.
_________________________________________________________
Note: If you would like to receive an email notice when I publish a new post, then email me at DarwinianOne at gmail.com .