The Texas RRC Data Base came out a few days ago. The data is reported through September but of course it is incomplete. The data from the field comes in very slow in Texas and the RRC only reports the data they receive. All data is through September and is in barrels per day.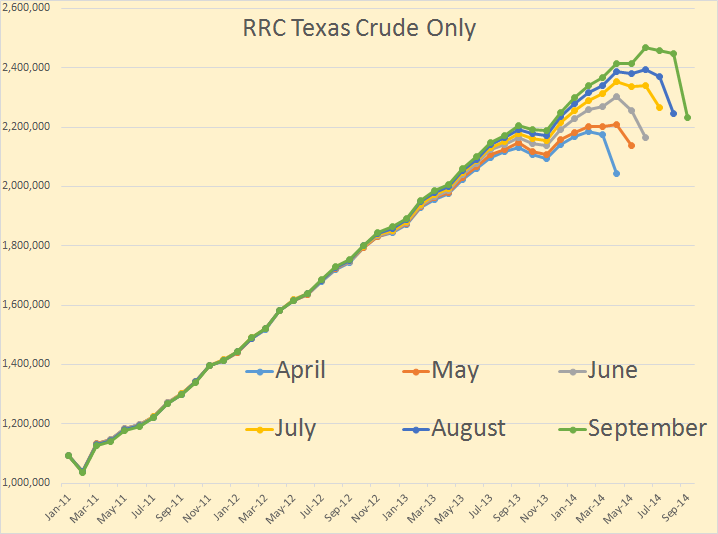 Crude only has shown a slight downward trend for the last two months. After revision, when the final data comes in, production will likely still be up slightly but if this is any indication, it will be up less than in months past.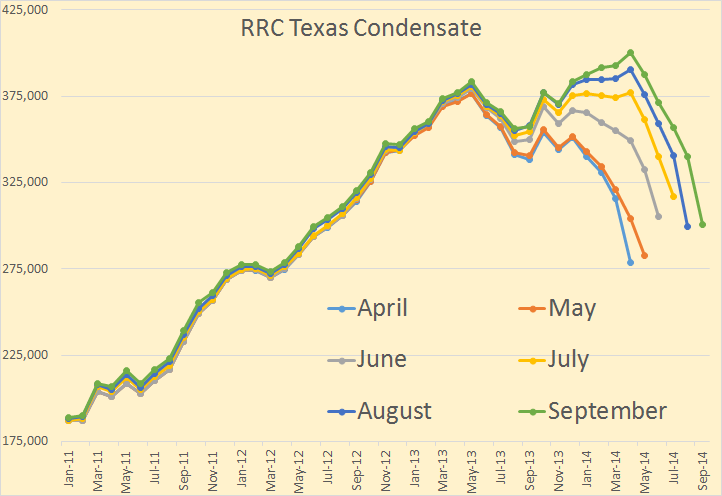 Texas condensate production started a dramatic slowdown in June of 2013. It actually declined three months in a row, June, July and August of 2013 but then started to recover. But production growth has slowed since that date.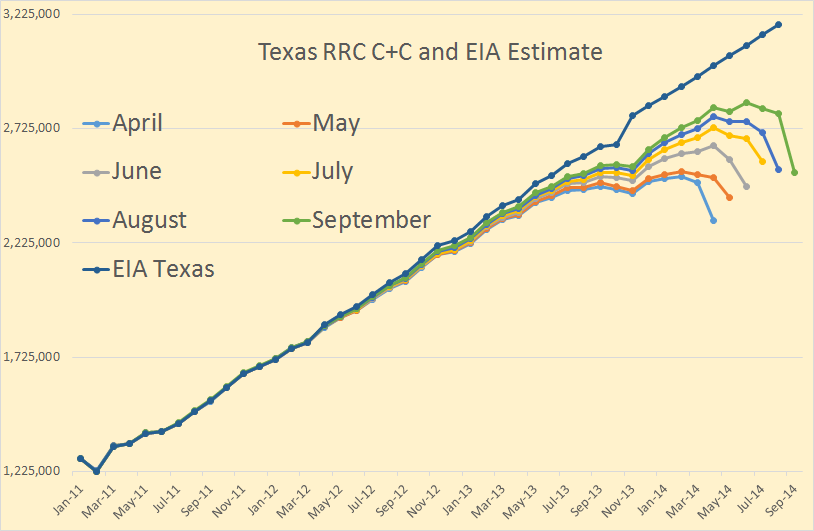 Adding the two we get what the EIA reports, Crude + Condensate. I have included the EIA's estimate which is only through August. The EIA is just guessing here of course and this guess seems to be revised by a few barrels every month. Of course they eventually get it right as the dip in October 2013 shows.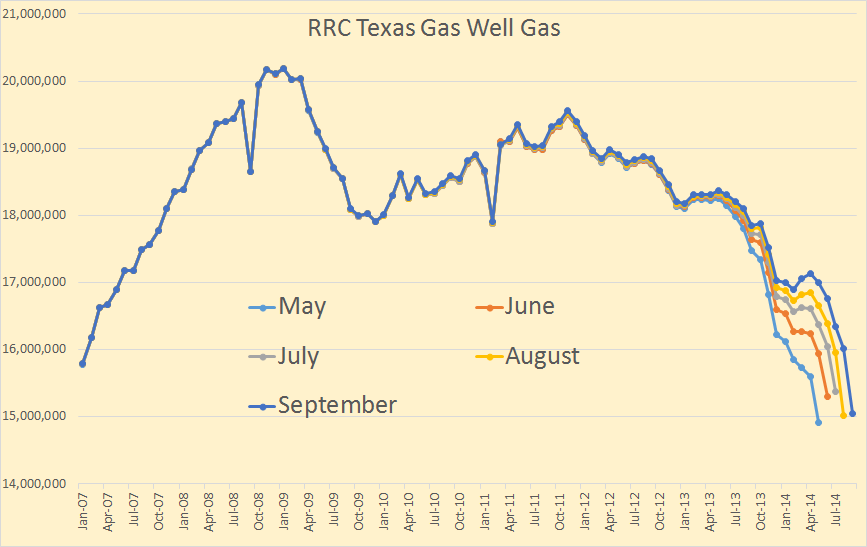 Texas gas well gas peaked back in January 2009 and reached a lower peak in November of 2011. But it appears to have peaked unless much higher prices spurs a lot more drilling.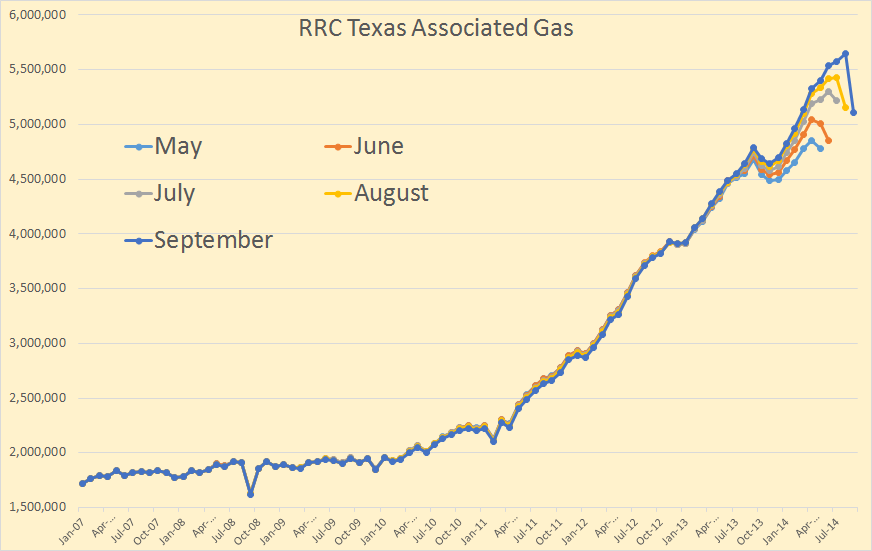 Texas associated gas is still increasing because oil drilling is still increasing. Texas associated gas accounts for about 22 percent of Texas total gas.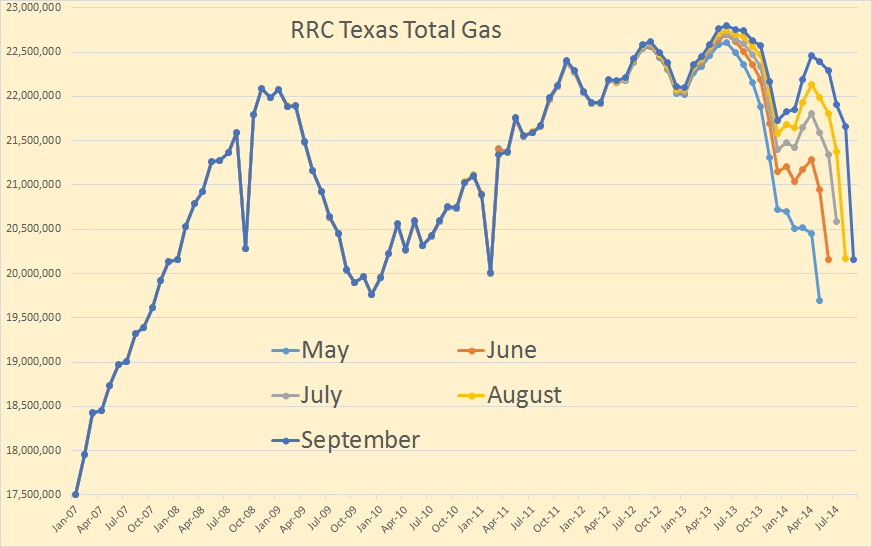 Adding the two we get Texas total gas. Total gas production still appears to be increasing but only slightly.
Other News:
Water is the biggest output of U.S. oil and gas wells
The biggest product of the U.S. petroleum industry is not oil, gas or condensate but water — billions and billions of gallons containing dissolved salts, grease and even naturally occurring radioactive materials…
Argonne estimated that more than 7.5 barrels of water were produced for every barrel of crude, and 260 barrels of water for every million cubic feet of natural gas, based on state and federal records for onshore oil and gas production…
But the vast majority of water from onshore oil and gas wells, accounting for more than 92 percent of all produced water, is re-injected underground to maintain pressure in the reservoir (71 percent) or into non-producing formations for disposal (21 percent).
This is interesting since, in most shale fields, like the Bakken, they do not have injection wells where water is injected just to keep the pressure up. That just doesn't work very well in tight oil fields. What I think they do is just drill injection wells in permeable rock solely for getting rid of water that comes up with the oil as indicated in the link below. It is from the Bakken permit list. Bold mine.
NDIC Permit List For November 14th, 2014.
#90323 – WHITE OWL ENERGY SERVICES, INC, WHITE OWL JOHNSONS CORNER SWD 1, NENE 23-150N-96W, MCKENZIE CO., 835′ FNL and 360′ FEL, SALT WATER DISPOSAL, BLUE BUTTES, 'Tight Hole', 2463′ Ground, API #33-053-90323.
A Different Kind of Oil Crisis
"It is increasingly clear that we have begun a new chapter in the history of the oil markets," the IEA stated in its November oil market report, observing that the world's oil supply is outstripping projected oil demand—the opposite of what was happening just over six years ago when oil prices peaked.
For countries whose finances are heavily or almost wholly reliant on high oil prices, it's a tough time. At current price levels, the national budgets of Iran, Venezuela, Nigeria, Iraq, Libya, Russia and Saudi Arabia will not break even, which could force these countries to burn up precious cash reserves, as well as leading to infighting over market share, upsetting an already fragile world order.
Note: I send an email notice when I publish a new post. If you would like to receive that notice then email me at DarwinianOne at Gmail.com.