The Texas Rail Road Commission has just released their Oil & Gas Production Data through May. There are four categories of data, Crude, Condensate, Gas Well Gas and Casinghead Gas. Casinghead gas is what most folks call Associated Gas. That is gas that comes up with the oil in oil wells.
On all oil charts the July Report has data through May 2014 and is in barrels per day. Also the last month, May in this case, is always exaggerated on the low side. That is the data is incomplete back to about two years. But the last month is always far more incomplete than the previous months.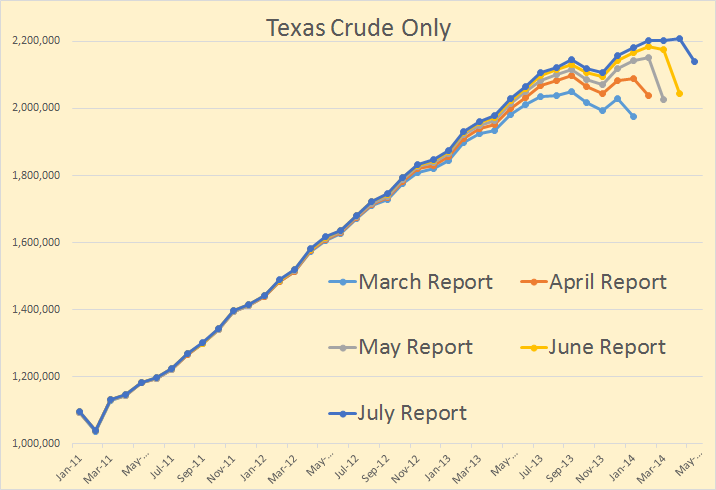 This data is of course incomplete but even from the incomplete data we can get an idea of the average monthly increase. I calculate that Texas Crude only is increasing at about 40,000 barrels per day per month.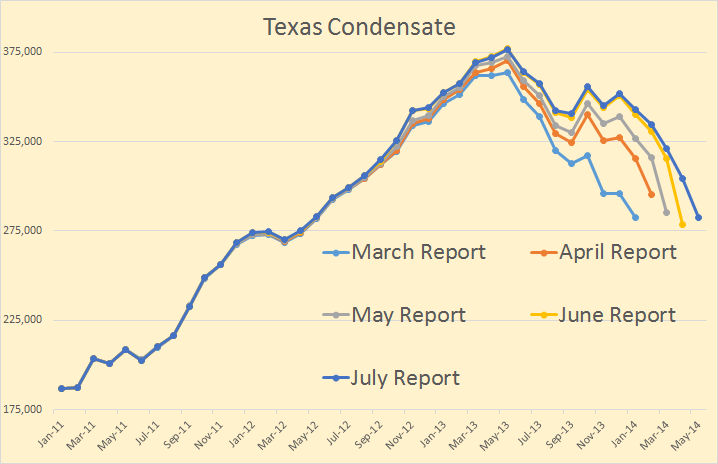 I think Texas Condensate peaked back in May of 2013 and is now declining at about 500 bp/d per month.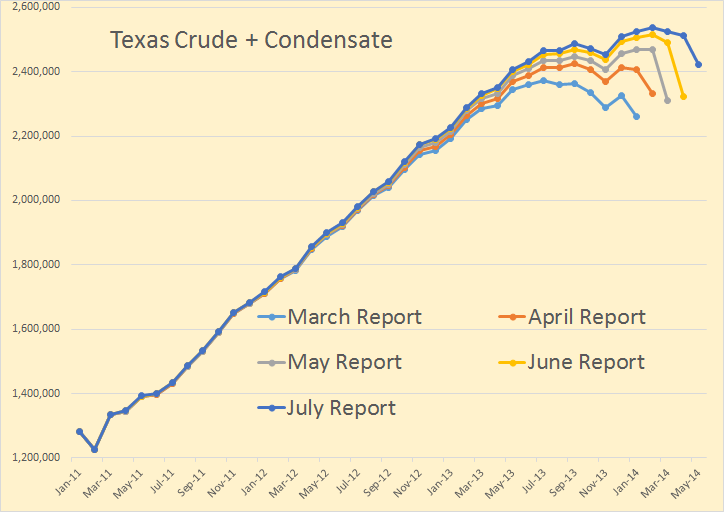 Texas C+C, which is what the EIA measures, I calculate, to be increasing at about 40,000 barrels per day per month.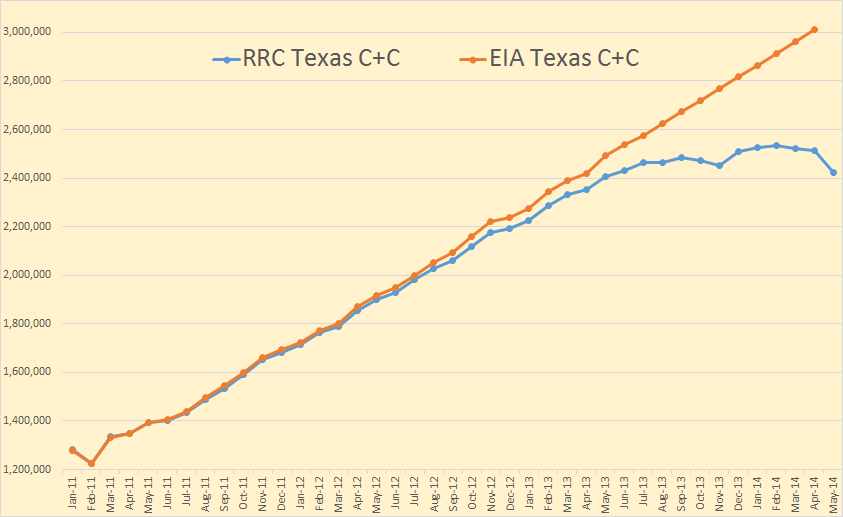 The EIA data here is through April while the RRC data is through May. As the Texas RRC data is incomplete, the EIA estimates what it will be when all the data is finally in. They estimate that Texas C+C inreased by 49,000 bp/d in April and 48,000 barrels per day every month for the previous 7 months prior to April.
What they appear to be doing is taking the average increase for the previous year, prior to July 2013, and assuming that increase will hold. I don't think it will at all. Due to the decline in condensate, and perhaps other causes, Texas C+C appears to be increasing at about 40,000 bp/d, or perhaps a little less. And that increase is declining.
All Texas Gas data is in thousand cubic feet per day with the last data point May 2014. Also keep in mind that the RRC gas production numbers are incomplete also.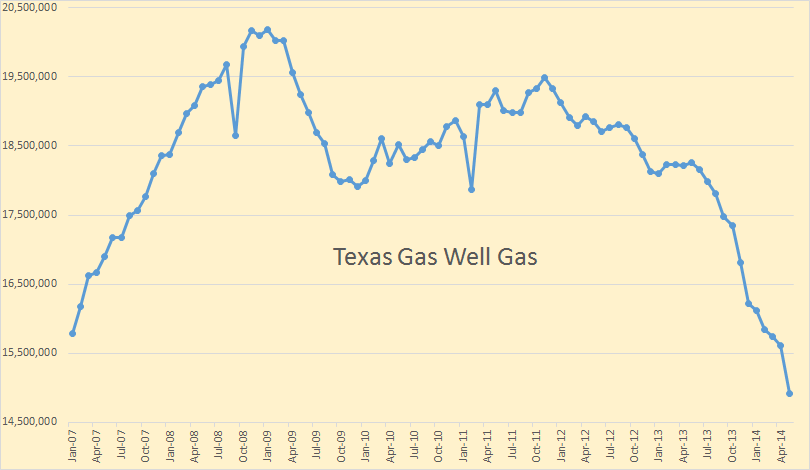 Texas Gas Well gas has clearly peaked. However that peak may be due to the price of gas rather than geology. Drillers are clearly losing money on gas so they have cut back quite dramatically on drilling for gas only. As of this writing, the price of natural gas is is $3.79 per million BTU. Horizontal multiple fracked wells need about twice that to break even.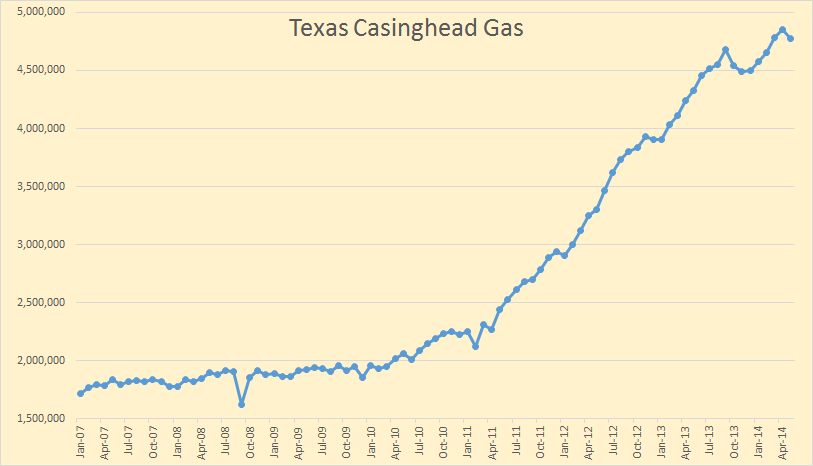 Texas Casinghear Gas, or Associated Gas, obviously has not peaked. As long as long as crude oil production keeps increasing then associated gas production will also keep increasing.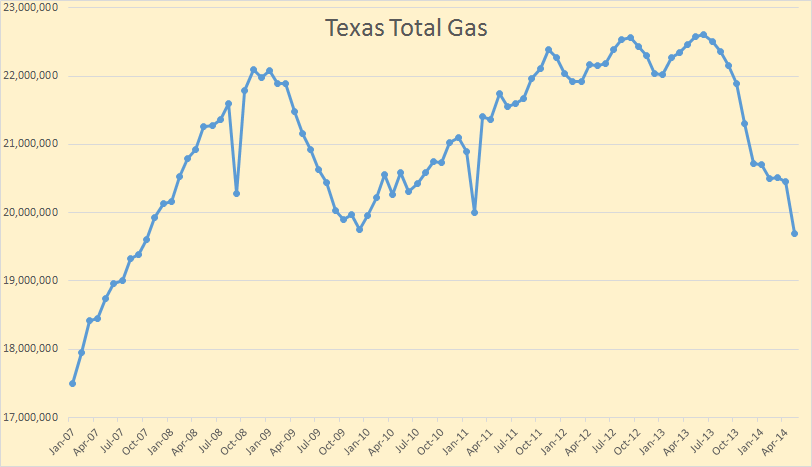 Texas total gas appears to have peaked also. It is unlikely that production will reach the point it reached in June 2013. That is however, unless the price of gas doubles soon.
I posted earlier of Landman, who lives and worked most of his life in the Permian. He sent me the Oil Report from the Midland Reporter-Telegram newspaper. In that oil report there is a section for "Completions" which were completions for that week. Some of the completions were pretty good but most were pitiful. Here are the first 20 listed. They list Barrels of oil, Gas in MCF, and Barrels of Water, per day in that order. I have not picked the worst wells out but listed the very first 20 wells in the order they appeared in the paper.
BO   MCF    BW
191  435   311
 12   55    15
182  187   320
170   72  1162
  7    4    32
110   81  2269
  2   28   228
110   40   163
 12    1   271
  2        349
 38   14   169
275  315  3052
170  149  1132
330  358  1230
372  277  2622
517  769  1142
883       1291
112   56  1579
 65        472
 25        545

Energy and Capital has been pumping the Permian to the high heavens for many months now. They call it "The Petroplex". I just don't see it. I don't understand how those Permian drillers are even breaking even.