The Texas RailRoad Comission released their Oil & Gas Production Data with production data through July 2014. The data was actually released Thursday but was all messed up. They corrected their mistake Friday except for condensate. Then yesterday they updated everything. As I have stated before, the RRC data, for the last several months, is incomplete. Nevertheless we can gather some indication of what is happening.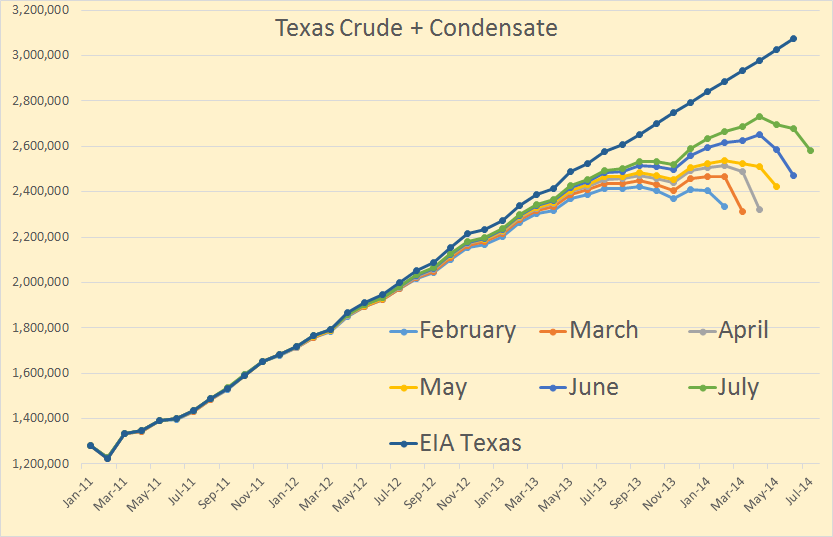 Texas C+C is still increasing at a pretty hefty clip. The EIA data is just an estimate of course but I think it is pretty close to what the data will show when it is all in. I have included six months of data to show how it is increasing month to month.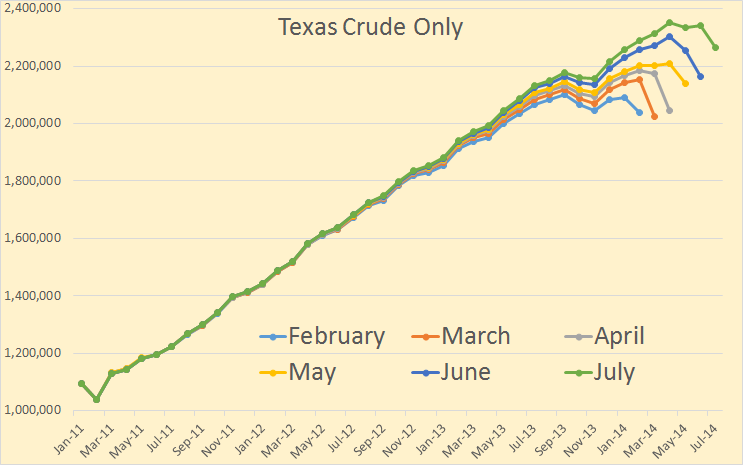 Texas crude only was down in October and November but has been up every month since. The declines in the last few months is due to incomplete data.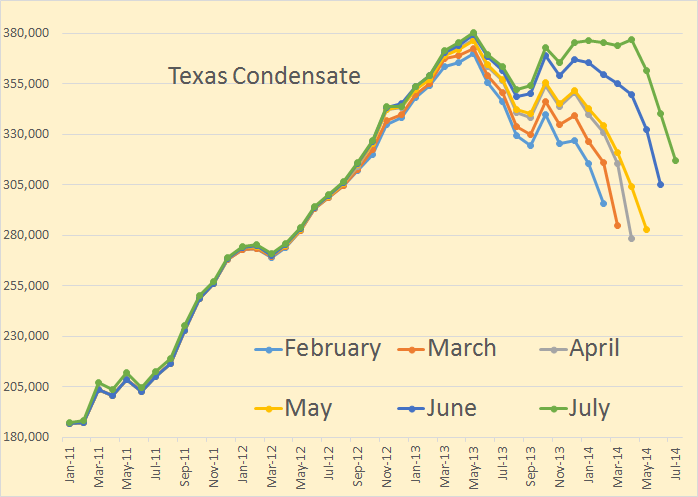 Texas condensate production is definitely slowing down. I thought it had peaked in May of 2013 but now it looks like the early months of this year will surpass condensate production of last May. But we definitely had down months in June, July, August and November. And now if condensate is increasing any at all it is at a very slow clip.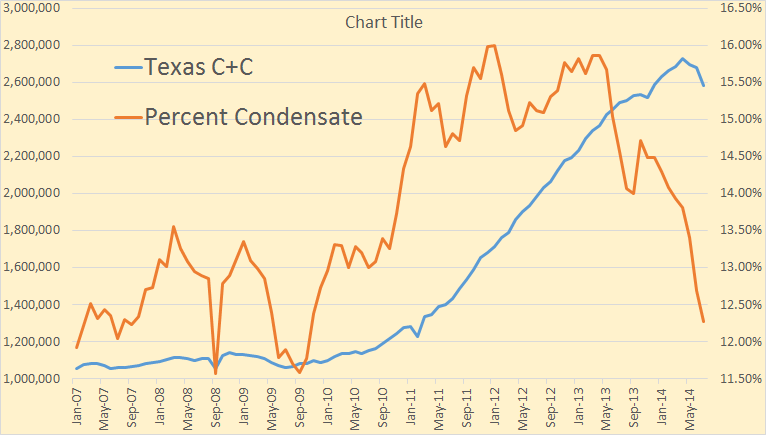 This chart I found most interesting. It is the percent of Texas C+C that is condensate. I know the last few months are incomplete but it is incomplete for both, so the relative comparison should still be pretty close. Notice that before the days of heavy fracking in Eagle Ford, condensate averaged about 12.5 percent of C+C. Then when fracking began the the percent condensate rose about 3 percent to about 15.5 percent. Then in June of last year it started to drop rather fast… and is still dropping, about back to where it was before Eagle Ford and fracking.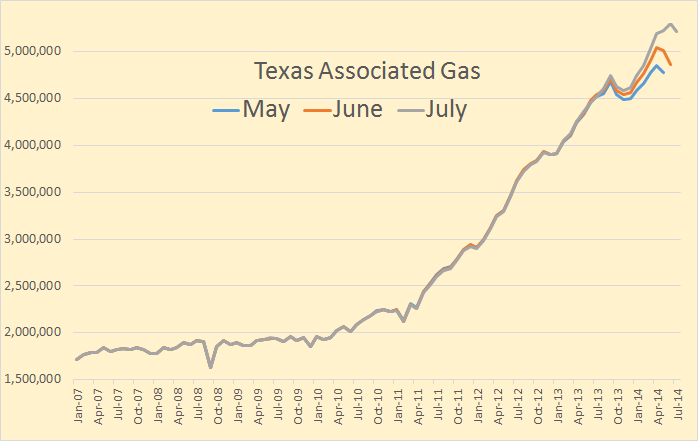 Texas associated gas began rising with Eagle Ford and fracking and is still rising. I don't mean to imply that fracking is only in Eagle Ford for there is fracking in the Permian also.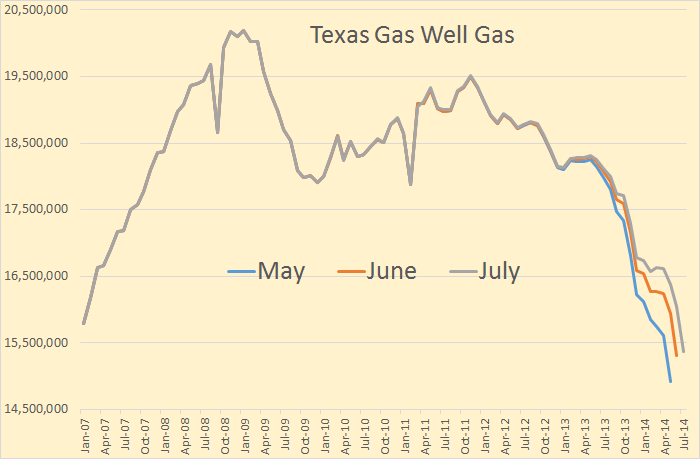 Texas gas well gas appears to be in decline. Though it is up some months, it is mostly down.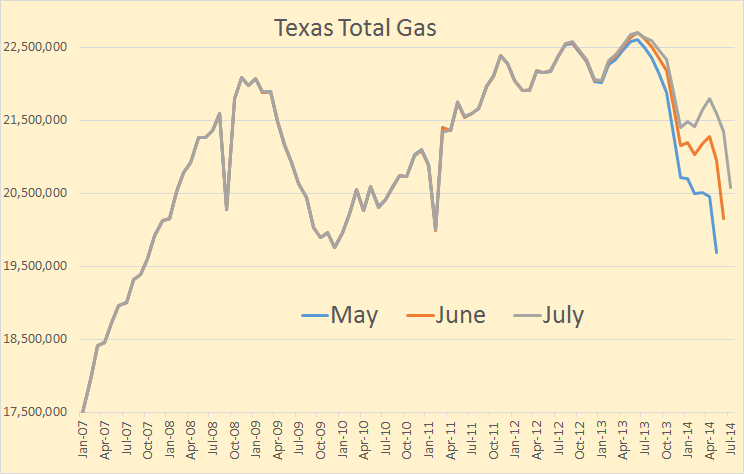 The result of the two appears to be a plateau or perhaps dropping a little as of late.
And in the news, bold mine:
U.S. oil and gas production is indeed up, but at great cost
Robert Bryce, a fellow at the Manhattan Institute, suggests that fossil fuels are here to stay (The Herald, Viewpoints, Sept. 7) because "innovation in the oil and gas sector … has resulted in faster and cheaper drilling, which, in turn, has turbocharged the growth in hydrocarbon production."
Mr. Bryce's views were shared by most conventional energy analysts until very recently. When I completed my bachelor's degree in geophysics at Texas A&M University in the early 1990s, none of my geology professors ever mentioned the topic of depletion. Instead the focus of my coursework was on advanced methods of seismology including three-dimensional imaging and horizontal drilling as a means to extract more oil at a lower cost. These methods have indeed been successful in extracting more oil but only at a much higher cost: at the pump and more insidiously to people's health, the welfare of communities and to our environment…
In 1964, Dr. Hubbert predicted that worldwide conventional oil production would peak sometime between 2000 and 2010. He based this prediction on the fact that there is, on average, a 40-year lag between discovery of new oilfields and peak production. Peak discovery of new, easily-developed, large oil fields was in 1965. It now appears that Hubbert was again correct. The two largest producers, Saudi Arabia and Russia, are now in decline.
Note: Russian oil production appears to be on a plateau, slightly below their peak in November and December. I do not expect to see much decline until sometime next year. And that drop will be rather insignificant… at first.