The EIA has released their Petroleum Supply Monthly with September production numbers for states and total US. It was pretty much a non event. So I am just releasing this post as an open thread.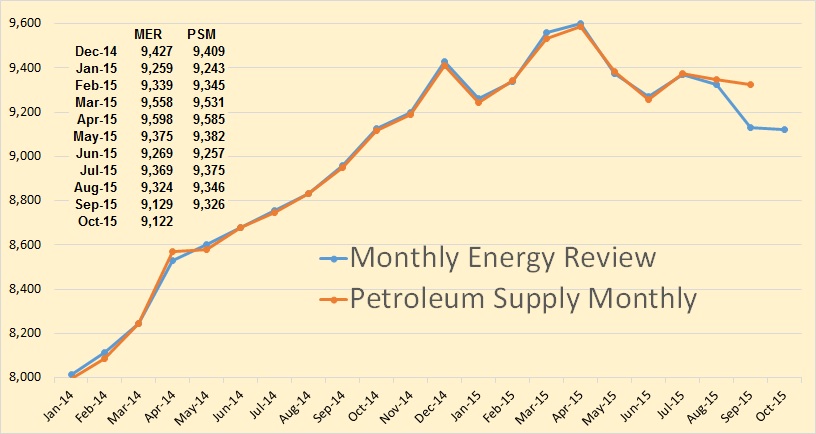 The Petroleum Supply Monthly has US production down 20,000 bpd in September. The EIA's Monthly Energy Review which came out a few days ago with data through October, has US Production down 195,000 bpd in September and down 7,000 bpd in October.
The Petroleum Supply Monthly showed very little change for most state's production. The largest change was North Dakota, down 24,000 bpd in September but we covered that a few days ago.
US they have US production down 20,000 barrels per day in September.
The below was in my email box. No link available.
FOR IMMEDIATE RELEASE
November 30, 2015
EIA expands monthly reporting of crude oil production with new data by API gravity
New data released today by the U.S. Energy Information Administration (EIA) show that for the first nine months of 2015, the majority of crude oil produced in the Lower 48 states was light oil. As categorized by API gravity, a measure of the density of oil, the largest share of production was in the 40.1 to 45 degree API gravity range (see chart).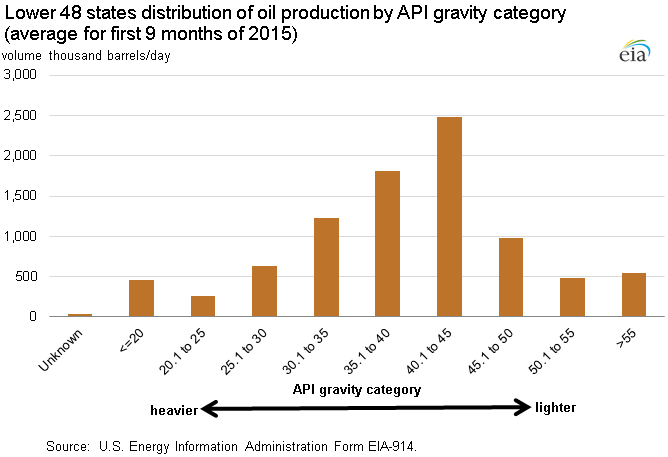 The new data come from the recently-expanded EIA-914 survey which tabulates production from oil and natural gas well operators. EIA surveys operators for their production in 15 individual states and the federal offshore Gulf of Mexico. Production from the remaining producing states is collected in an other states category. The results are published in the Monthly Crude Oil and Natural Gas Production Report.
Aggregated production volumes for the Lower 48 states are reported for 10 API gravity categories that range from less than 20 degrees, to more than 55 degrees along with an unknown or not reported category. For individual states, four category breakouts of production by API gravity are provided: less than or equal to 30 degrees, 30.1-40 degrees, 40.1-50 degrees, and greater than 50 degrees.
"These new data on API gravity will give energy analysts a better handle on a variety of issues related to U.S. crude oil production, such as refinery inputs and utilization, crude oil trade, and regional crude oil pricing," said EIA Administrator Adam Sieminski. "Knowing more about the quality of domestic crude oil production can help oil markets operate more efficiently."
Slightly more than half of Lower 48 production during the nine months of 2015 had an API gravity above 40 degrees. Production increases over the past several years in the Bakken, Permian Basin, and Eagle Ford formations accounted for almost all of crude oil production growth in the United States, and consist of light crude oil from low-permeability (tight) formations.
Crude oil streams vary throughout the Lower 48 states. For example, production in California, North Dakota, and Texas has significantly different characteristics. Most of California's oil is heavy, with more than 90% having an API gravity of 30 degrees or less. Oil produced in North Dakota tends to be light—more than 90% of production has an API gravity of 40.1 to 50 degrees. Texas has a broader distribution of crude oil quality, with most production ranging from medium gravity oils to light oils.