Please post all non petroleum related comments below.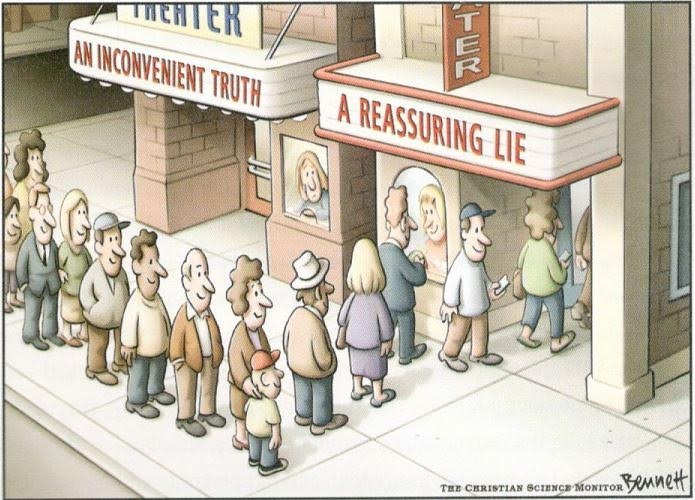 In this post I am going to post a few "Reassuring Lies". It is my opinion that these are reassuring lies and they do not necessarily represent the opinions of Dennis Coyne. Although I am sure he does agree with #1.
1. Global warming and climate change do not exist. But if it they do exist they are natural phenomena, not caused by human activity.
I will have no comment here as this straw is thrashed daily on this blog.
2. Renewable energy will easily replace fossil energy with little or no pain.
No comment here either as I have expressed my opinion on this subject many times.
3. There will be little need for energy storage because the wind blows somewhere all the time.
Hilarious!
4. Battery technology will advance to the point where even long haul trucks can be battery powered.
Actually only a few people believe this one. So I guess there is some hope.
5. By far the biggest reassuring lie of all deals with the overshoot of the human population and the problems it has caused for the last century or more. The lie is that it is not a real problem, or at least not a problem that we cannot solve.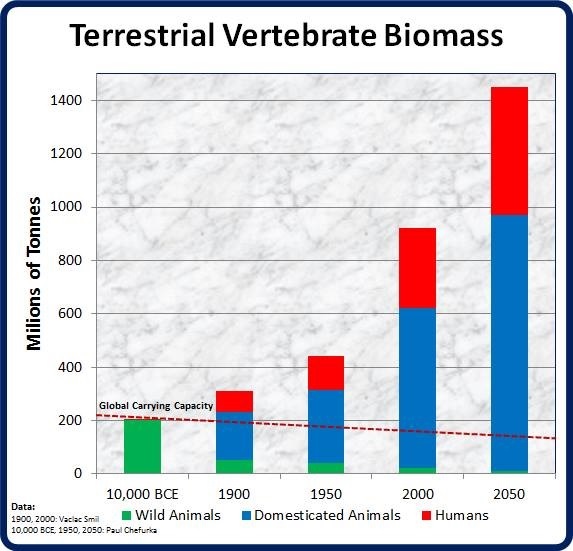 We are now at over four and one half times the earth's terrestrial biomass carrying capacity. And we continue to wipe out our wildlife.
Three very important things can be derived from the above graph. One, we are wiping out. The Earth has lost half its wildlife in the last 40 years.
Of course terrestrial wildlife is not the only thing we are wiping out. Ocean fisheries are disappearing fast and most are already gone. Coral reefs are in the process of dying off. Deserts are expanding. Rain forest and dry forest are being cut down and hauled off. Water tables are dropping fast, especially in the world's most overpopulated places like India and China. And air pollution, especially in China kills thousands every day.
There is no solution to the population overshoot problem because we are already way past the long term carrying capacity of the earth. Simply slowing the population growth and then slowly reversing it in one or two hundred years will solve nothing. Almost all the earth's wildlife is already gone and what little is left is disappearing at an alarming rate. And all the disastrous things I posted in the paragraph above are speeding up, not slowing down.
Notice that I did not mention "The Hydrogen Economy" because that stupid lie is so absurd hardly anyone believes it anymore. But it did have its hour upon the stage until it got laughed off by an unruly audience.
Thanks to Paul Chefurka for the terrestrial biomass chart.