The July OPEC Monthly Oil Market Report is out with all OPEC Crude Only production data for June 2015.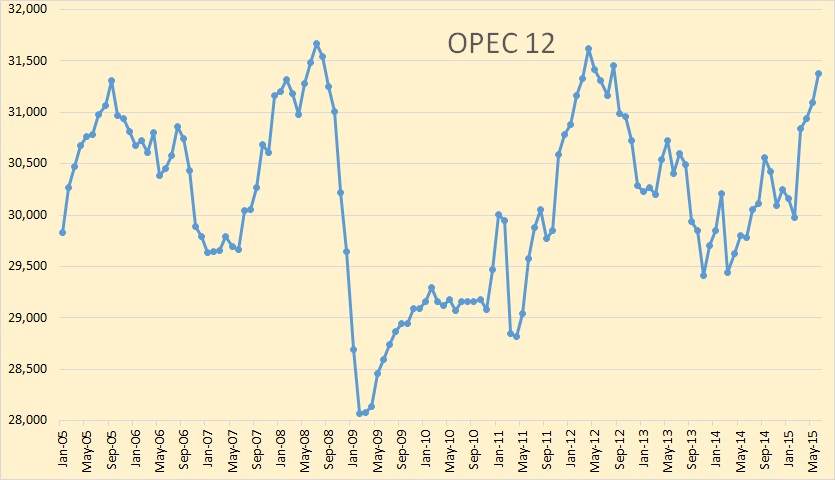 Crude Only production for the entire OPEC 12 as up 283,000 barrels per day in June to 31,378,000 bpd. But that was after May production had been revised up by 120,000 bpd. So counting May's revisions and June's numbers, OPEC production was up 403,000 bpd from what was originally reported last month.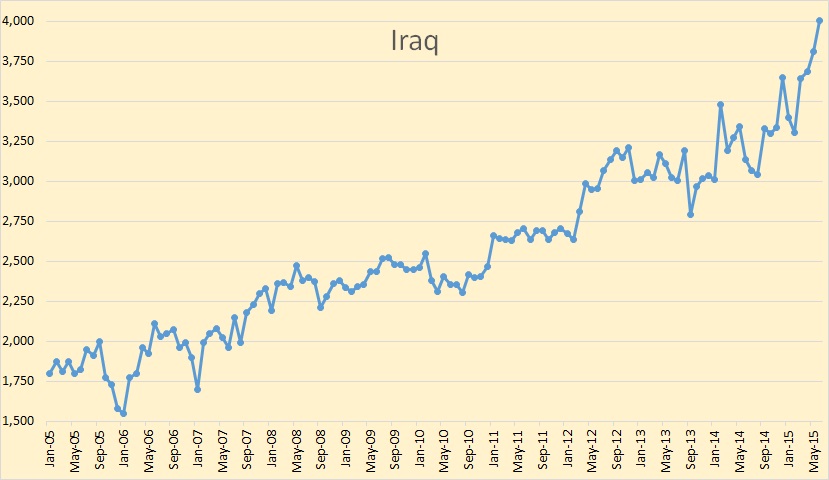 The biggest gainer, by far, was Iraq, up 198,600 barrels per day over May to 4,007,000 bpd. It is interesting to note that Iraq via "Direct Communication" say they only produced 3,591,000 bpd in June, 416,000 bpd less than what "Secondary Sources" said they produced.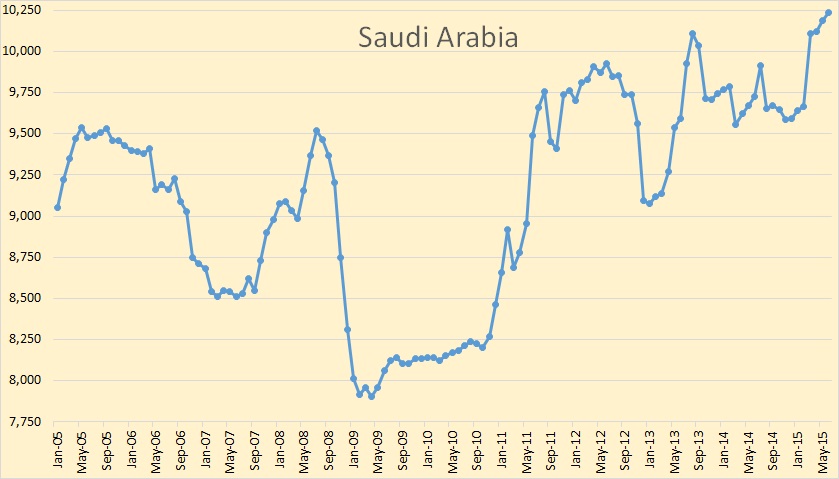 Saudi Arabia was up 48,400 bpd in June to 10,235,000 bpd. That is just over one half million barrels per day above their 2014 average.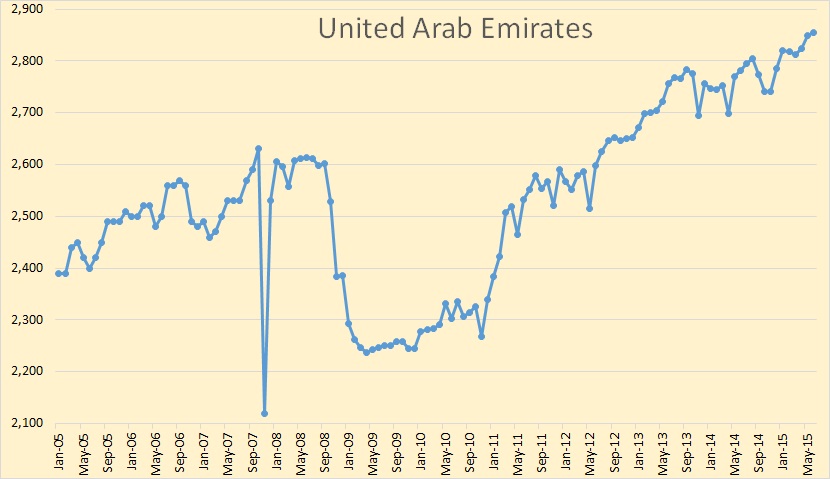 The United Arab Emirates barely increased production in June, up 6,800 bpd to 2,855,000 bpd.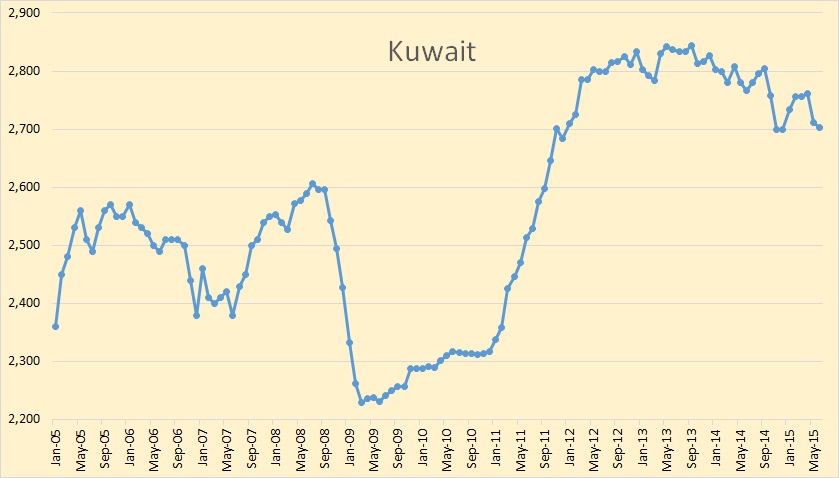 Kuwait was the only one of the big four to decline in June. They were down 9,000 bpd from May to 2,703,000 bpd and down 41,000 bpd from their peak September of 2013.
I call Iraq, Kuwait, the UAE and Saudi the big four because since the first half of 2008 they have been responsible for keeping OPEC production almost flat since 2008. The first half of 2008 these four countries averaged 16,626,000 barrels per day. For the first half of 2015 they averaged 19,201,000 bpd for an increase of 2,575,000 bpd.
The other eight also rans have been in a steady decline since 2008. In the first half of 2008 these eight countries averaged 14,615,000 bpd. In the first half of 2015 they averaged 11,531,000 bpd for a decline of 3,083,000 bpd.
All OPEC nations, during the first half of 2008, averaged 31,240,000 during the first half of 2008. During the first half of 2015 all OPEC nations averaged 30,732,000 bpd for a decline, so far, of 508,000 bpd. But OPEC production dropped significantly after July 2008 and ended the year averaging 31,066,000 bpd. Their high, since 2000, was 2012 when they averaged 31,143,000 bpd. I think it highly unlikely they will reach that average this year.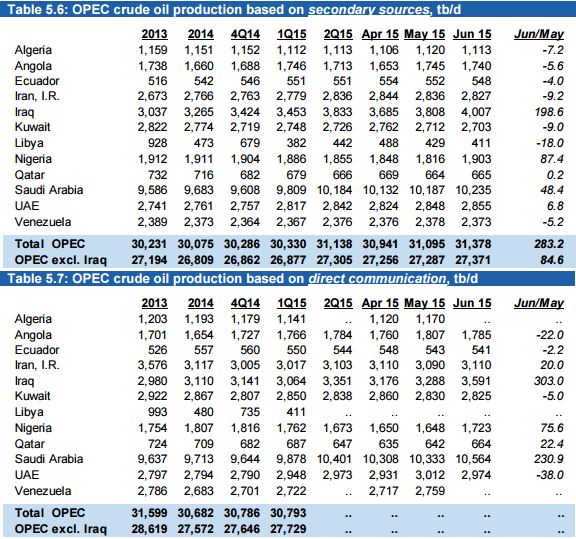 Here are the data for OPEC as reported in their Monthly Oil Market Report.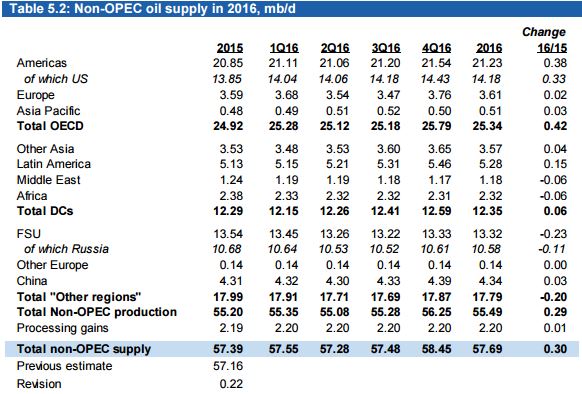 Just one other item of note. OPEC expects Non-OPEC total liquids to increase by just 300,000 bpd in 2016. They expect the US to be up 380,000 bpd.
The page OPEC Charts has been updated with the June data for all 12 OPEC nations.
The below link was sent to me by Joel Kopel and I am extremely thankful to him for the effort. It is a 1 hour 27 minute video lecture by Mr. Vladimire Milov, founder and president of Russia's Institute of Energy Policy. The lecture lasts 40 minutes and the rest is a question and answer period. I found that part even more interesting than the lecture.
I think this is the most rewarding video I have watched in many months. It is a real eye opener about the workings of Russia's oil and gas energy policy. Some parts were a real surprise, even a little shocking for me. And for what it's worth, Mr. Milov says 2015 will be the year Russian oil production begins to decline.
Russia's Energy Market: Under Sanctions and Confronting a Low Price Environment
Mr. Vladimir Milov, Founder and President, Institute of Energy Policy
The Center on Global Energy Policy and the New York Energy Forum hosted a presentation and discussion with Mr. Vladimir Milov, founder and president of the Institute of Energy Policy. Mr. Milov has served in Russia as Deputy Minister of Energy (2002), adviser to the Minister of Energy (2001-2002), and head of department at the Federal Energy Commission (1999-2001). Since leaving the Russian Government in 2002, Mr. Milov has become active in Russian politics, serving as Chairman of the "Democratic Choice" opposition party.
The lecture was taped in January 2015. Mr. Milov mentions that Russia hopes that the sanctions would be lifted in July of this year. They were not: Russia and "Crimea & Sevastopol" sanctions renewed and Russia slams EU sanctions renewal as pointless 'blackmail'.
If you are at all interested in Russian oil and gas production, or even peak oil in general, you should definitely watch this video. (The podcast is just an audio of the same lecture.) I would like to get some input from some of the Russian experts here. I imagine opinions will vary. But I loved it and saw no reason to question any of Mr. Milov's opinions.
__________________________________________________________
Note: If you would like to receive an email notice when I publish a new post, then email me at DarwinianOne at gmail.com .